You are fond of shopping activities or just hanging out in Kuta Bali; therefore, you should visit Beachwalk Bali, the largest shopping center in Kuta Bali. Furthermore, Beachwalk shopping mall Bali is one of Bali's international standard malls. In addition, I think that Beachwalk Shopping Center has the best design in the Mall, which is very interesting to look at.
Bahasa Indonesia, "Beachwalk Kuta Shopping Center Bali, Mall Design Terbaik, Lokasi Cinema XXI & Jam Buka" >>>
Bali Beachwalk Shopping Center has an exceptional design with an open space concept. A perfect combination of water, a lush garden green environment, and the sea breeze. Therefore, forming a relaxing and enjoyable atmosphere that is different from other shopping malls you find.
Beachwalk Kuta Shopping Mall offers plenty of things for travelers who would love to shop—located in the ideal location, near Kuta beach. Kuta Beachwalk occupies an area of approximately 3.7 hectares. Most people say it is the most extensive shopping mall in Bali. If this is true or not, I am not entirely sure.
Beachwalk shopping center is located just behind the shoreline of Kuta beach Bali. You only have to walk about 5 minutes and then cross the road to get to the Kuta beach location from Beachwalk Kuta shopping mall, for a first-timer will find the shopping mall layout quite confusing. Also, during my first visit, I lost locating the car park.
Read More, "Unique Cafe In Bali – List Of 5, Instagram Worthy & Hipster Guide To Bali" >>>
Opening Hours & Location Of Beachwalk Bali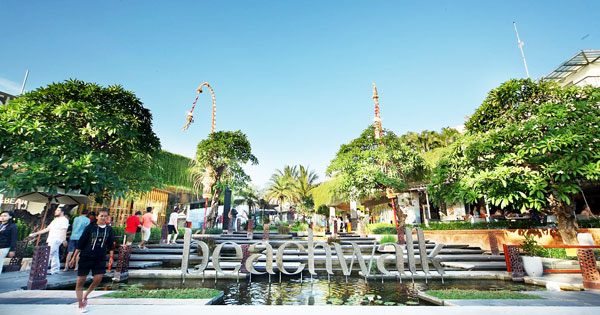 Beachwalk Mall Kuta the address at Jalan Pantai Kuta Bali. The location of Kuta Beachwalk is very strategic; on the west side of the Mall is the location of Grand Istana Rama hotel and on the east side of Beachwalk Kuta shopping mall is Sheraton Bali Kuta Resort.
Beachwalk shopping mall opening hours are from 10:00 – 22:00, and the most crowded time for visitors is from 17:00 to 19:00. Please click this link to see the location of the Beachwalk Shopping Centre on Google Maps.
Distance & Travel Time To Beachwalk Mall Kuta Bali
Knowing the time and distance of a place to visit while on vacation in Bali is essential. The goal, you will easily make an efficient holiday itinerary in Bali.
The following is the distance and travel time to the Beachwalk Shopping Center from several well-known tourist attractions adjacent to the Beachwalk Shopping Center.
If you depart from Balangan Beach, heading to the Beachwalk Shopping Center will cover a distance of 19.5 Kilometers with a travel time of approximately 55 minutes.
Let's say you depart from Ngurah Rai Airport; going to Beachwalk Shopping Center will take 20 minutes with a distance of 3.5 kilometers.
If you depart from Petitenget beach Seminyak to the Beachwalk Shopping Center, it will take 35 minutes, with a distance of 9 kilometers.
Search, "10 Best Things To Do In Kuta Bali" >>>
Always Loaded With Tourist Visits
Everyday beach walk shopping mall in Kuta is crowded with visitors. Therefore, road congestion happens every day, especially on holidays and weekends. Finding parking space is difficult during peak season in Bali, even though Kuta Beachwalk mall has a vast underground car park. The underground car park can accommodate up to 1,000 vehicles.
When you enter the Kuta Beachwalk mall, you will see a significant pond with lots of water-filled grooves. The mall design is elegant, combining modern elements with a traditional green park. Beachwalk Mall Kuta Bali is very suitable for families and children. I am sure your kids would enjoy visiting Kuta Beachwalk Mall because there is a beautiful fountain at the front of the Mall. Also, there is a Kidz Station on the 3rd floor of Kuta beach Beachwalk Bali.
Read More, "Tips & Guide How To Shop In Kuta Bali You Need To Know" >>>
Shop & Eat At Beachwalk Bali Shopping Center
Store, restaurants, Foodmart Gourmet Bali, a drug store, and other visitor facilities will be visible when you enter the Kuta Beachwalk Mall. Also, Most stores have large quantities of products. Most of the products at Beachwalk Bali are branded goods and are expensive.
Besides international products, you too can find a domestic brand product, so all budgets are catered to. Famous brand products you can find in Kuta Beachwalk such as Coach, Kate Spade, Mango, Lacoste, Michael Kors, Swarovski, and Under Armor. Many other products with famous brands are also available at Kuta Beachwalk Mall. Also, some product names are unfamiliar to me as a local Balinese.
Besides the store at Bali Beachwalk mall, there are many restaurants, such as Eat & Eat restaurant, located on the 3rd floor. Eat & Eat restaurant offers plenty of meals, ranging from Indonesian Chinese food to some Japanese cuisine—the food price range from IDR 50 K to IDR 100 K.
To make payment for the meal, you need to get a card from the cashier and fill it with a balanced. You will use the card to pay for a drink and food. Let's say there is some balance left; you can get the balance in cash at the cashier.
Also, several restaurants provide a lounge with Kuta beach views on the first floor, such as Cafe Sardinia. If you want to buy drinks such as tea or coffee, you can find Chatime or Starbucks coffee shop.
Must Read, "10 Best Shopping Spots In Kuta Bali Popular Among Travelers" >>>
How To Get Beachwalk Shopping Center
Beachwalk Kuta Mall is one of Bali's most popular hangout places, especially for Indonesian from Jakarta. Therefore do not be surprised if most of the visitors are from Jakarta. The best way to visit Beachwalk Kuta Mall is by taxi, motorbike, or rent a car + driver in Bali.
Taxi
If you stay at a hotel in the southern part of the Bali tourist area, finding a taxi to get to the Beachwalk Shopping Center location is very easy. Taxis are available from taxi meters such as Blue Bird, and online taxis are also available.
Motorcycle/Scooter
Finding motorbike/scooter rental services in Bali is very easy; you only need to search using Google.
For motorbike rental rates in Bali, it depends on the type of motorbike and the year of motorbike assembly. The more recent the scooter, the higher the rental expense. Bali's average motorbike rental cost is around IDR 80,000/24 ​​hours without fuel.
Bali Car Rental
If you want to use a vehicle as a way to get around in Bali, it's a good idea to get a car hire with a driver. This way, you won't have to think about finding a parking space. Don't hesitate to contact us at Wira Tour if you need car rental services and drivers in Bali.
We, Wira Tour, provide a wide selection of car rental types for your holiday transportation needs in Bali. We provide Toyota Avanza car rental services and Toyota Innova Reborn car rental services.
For those of you who are on vacation to Bali with more than 7 participants, it's a good idea to use a microbus rental service in Bali, such as an Isuzu ELF rental or a Toyota Hiace rental.
See "Kuta Bali Vacation Guide for First-Timer" >>>.
Beachwalk Bali Cinema Session Times
If you like watching the latest box office movie, you can find Cineplex 21 in a digital format at Kuta Beachwalk shopping mall. Beachwalk Cineplex XXI opened on October 12, 2012, on the 2nd floor, providing three studios.
Deluxe studio 1 with capacities of 206 seats.
Two deluxe studios with a seating capacity of 144 seats.
Studio premiere with 50 seater capacity.
Ticket Price To Watch Box Office Movie At Beachwalk XXI
Studio Deluxe: Monday – Thursday: IDR 50.000, Friday: IDR 60.000; Saturday – Sunday and Public Holiday: IDR 75.000.
Studio Premiere: Monday – Thursday: Rp 100.000, Friday: Rp 150.000; Saturday – Sunday and Public Holiday: Rp 200.000.
Find Out On, "6 Cool Hang Out Places In Seminyak Bali Is Compulsory To Try For Coffee Culinary Experience" >>>.