Currently, there are new tourist attractions in Bali which is suitable for visitors who have vacationed in Bali with family and kids. The name of the tourist attraction is Taman Nusa Bali history & cultural park.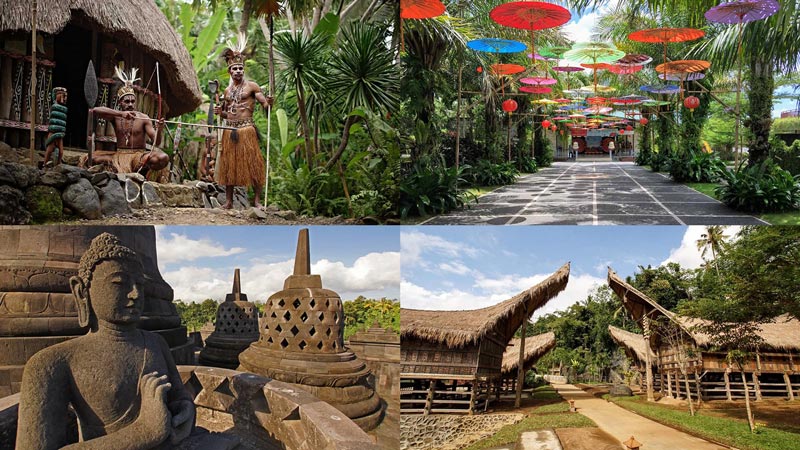 Consequently, you must be wondering, what kind of tourist attraction is Taman Nusa Bali? Therefore, let's continue reading this page, to find out the answer.
Bahasa Indonesia: "Taman Nusa, Tempat Wisata Keluarga Di Gianyar" >>>
General Information About Taman Nusa Bali
Furthermore, Taman Nusa Bali is a cultural park that focuses on Indonesian culture. In this cultural park, there is so much culture knowledge obtained by visitors. The information visitor gets about the culture of various tribes in Indonesia. Most importantly, in providing cultural information from different ethnic and tribal groups in Indonesia, Taman Nusa Bali presents it in an interactive manner and interactive way, with the aim of facilitating visitors in understanding Indonesian cultural information.
Also, spatial and architectural in this Cultural Park looks very united with the surrounding environment. Due to it combined with the scenery of the natural background of the mountains. This cultural park complex builds on the top of a cliff. Therefore, you see Melangit river from above.
Taman Nusa Bali area, built on 15 hectares area. Also, each building has been constructed based on Indonesia's history and the culture of each tribe in Indonesia.
Read Here: "Tree House Karangasem Regency – Things To Do In Bali With Teenagers" >>>
Point Of Interest & Thing You Gone See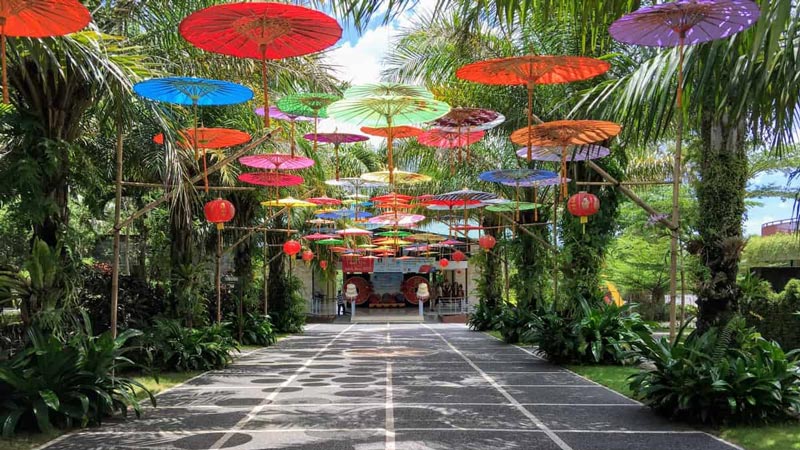 If you are visiting Taman Nusa Cultural Park with your family and kids, to make it easier to understand the displayed information, you and the children will pass one by one building from each tribe in Indonesia with a different concept.
Prehistoric & Bronze Age of Indonesia
Your journey with family and children at Taman Budaya Nusa Gianyar Bali, you will start from ancient Indonesia history with a spatial and natural design that looks primitive. Moving forward, then you will see a spatial that resembles the bronze age.
Kingdom Age Concept
Your trip to this cultural park followed by a spacious layout with the concept of the imperial period in Indonesia, one of them is a small replica of Borobudur temple. When I visited Taman Nusa Gianyar, the Borobudur temple replica at Taman Nusa is the favorite spot for taking pictures by teenagers.
Kampung Budaya / Cultural Village
Things that you can see in this cultural park, not only for historical information, however in this cultural park there is also a spatial themed culture of the various tribes in Indonesia. There are about 60 houses with a traditional design representing each tribe in Indonesia, not only tribal house design, you and your family also able to see the arts and culture of each tribe.
The Beginning, Independent and Present Day of Indonesia
To represent the beginning of Indonesian history, you will be able to see the statue of Maha Patih Gajah Mada, Replica of Trowulan Temple and Gapura that depict the Sumpah Pemuda (Youth oath). Indonesia's history during the independence era also displayed in this cultural park. Also, you will see the statue of Indonesian First President Soekarno and vice president Bung Hatta.
For the Present Day of Indonesia, the Taman Nusa Bali features a three-dimensional miniature (diorama) in the form of a miniature railway with a 1:87 dimension comparison scale. There are more than 50 types of locomotive miniatures equipped with passenger cars and freight cars. Train miniatures are controlled automatically through computer programs.
In addition to locomotives miniature, you also see a miniature of buildings and landscapes of Indonesia. The area of this diorama is about 200 square meters. Next, you will pass the region with Indonesia's modern concept. In modern Indonesia, represented by a heritage of Indonesian handicrafts such as batik, wayang, embroidery, and traditional weaving. At the end of the park tour, you will be able to see natural scenery in the form of terraced rice fields and magnificent views of the Melangit river.
Supporting Facilities Taman Nusa Bali
Auditorium.
International Standard Restaurant.
Cafeteria.
Exhibition space.
Souvenir shop.
Indonesian Restaurant.
Address & The Location of Taman Nusa Gianyar
Taman Nusa located in Gianyar regency, one of the regencies in Bali which has many famous tourist attractions such as Ubud Village Bali. If you are interested in visiting Taman Nusa Bali, you will need a location map and address Taman Nusa Bali.
For those of you who are a first timer in Bali, when you visit Taman Nusa Cultural Park at Gianyar Bali and other attractions in Gianyar, you will need transportation. The best transportation to have a holiday in Bali is to use car rental and driver services in Bali.
The address is on Jalan Taman Bali, Banjar Blahpane Kelod, Sidan Village Gianyar Regency. To make it easier for you to find the location of Taman Nusa Cultural Park in Gianyar. Please use below Google map below!
Taman Nusa Cultural Park Gianyar is open daily, from 09:00 – 17:00. To be able to enter the area of Taman Nusa Gianyar, every visitor will be charged an entrance fee. So how much is the entrance fee of Taman Nusa Cultural Park Gianyar? You can find out, by click the below link!
Find Out: "Taman Nusa Cultural Park Gianyar Entrance Fee Price" >>>
Favorite Attraction & Activities In Bali
While most traveler who has a vacation in Bali will have a holiday with family and kids, and Bali island supports very well for family travelers. There are plenty of interesting attractions and activities in Bali suitable for families with children. At this moment, the most favorite attraction in Bali for family travelers such as:
While for family travelers who have a holiday with kids and looking for fun and adventure activities, they will choose to have Bali white water river rafting and marine sports activities in Bali.
Find out more: "Top 20 Kid-Friendly Things To Do In Bali For Family Holiday" >>>