Bali, a renowned tourist destination in Southeast Asia, offers an enchanting artistic and cultural experience, one of which is through the performance of the Barong Ritual Show. There are numerous locations to watch this show in Bali, including Tanah Kilap, Pemogan, and Denpasar. So, if you plan to visit Bali, include this in your holiday agenda to buy tickets online at reasonable prices and enjoy cultural tourism in Bali through the Barong Dance in Tanah Kilap.
Bahasa Indonesia, Harga Tiket Tari Barong Tanah Kilap Bali.
Locations for Barong Dance Performances in Bali
Apart from Tanah Kilap, Denpasar, you can also witness the Balinese Barong Dance at various other locations, such as;
The dance performance features two main characters, Barong and Rangda. These two symbols play crucial roles in this performance, representing the eternal struggle between good (Barong) and evil (Rangda).
There are various forms of the Barong artistic performance in Bali, but the most popular among them is the Barong Ket/Ketket, shaped like a lion and symbolizing goodness. Furthermore, Barong Ket is this show's most frequently appearing character, offering visitors a unique experience of enjoying cultural tourism in Bali.
Barong Dance in Tanah Kilap: An Extraordinary Cultural Performance in the Heart of Bali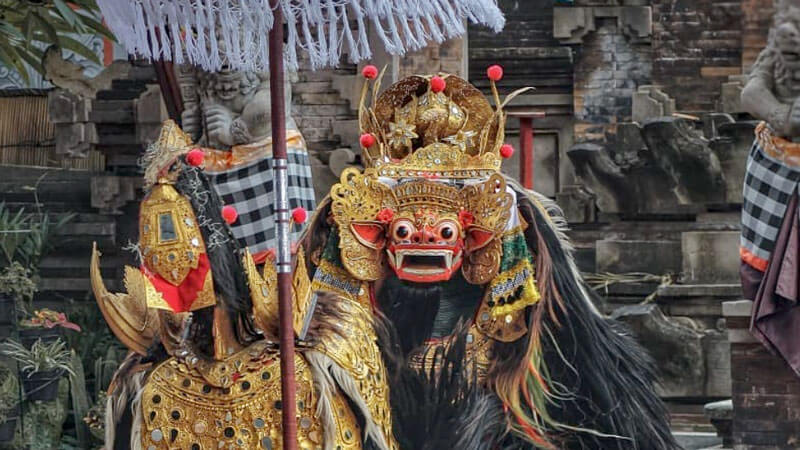 This Balinese art performance narrates the story of the perpetual conflict between good and evil, a narrative deeply ingrained in the life and traditions of the Balinese people.
Furthermore, the Barong Dance performance location in Tanah Kilap, Denpasar, is incredibly popular with local and international audiences, primarily because the performance stage is near a popular tourist area in South Bali.
What Makes the Barong Dance in Tanah Kilap So Appealing?
While watching the Barong Tanah Kilap Dance performance (YouTube), when tourists see the costumes and listen to the gamelan music, it's hard not to be captivated by this cultural journey in Bali. Besides, the seating capacity is vast, accommodating up to 900 spectators.
Moreover, the audience can interact with the dancers after the show ends. This interaction is an integral part of the cultural tourism experience in Bali, providing tourists with an opportunity to understand better and appreciate Balinese art and culture.
Latest Barong Tanah Kilap Ticket Prices
To enjoy the spectacular Balinese Barong artistic performance, the ticket prices are affordable compared to the Uluwatu Kecak and fire dance, allowing you to experience Balinese culture. Furthermore, there are two types of Barong mythical show ticket prices: publicity tickets and online tickets. The following is a list of ticket prices for the Barong Tanah Kilap Dance in Denpasar, Bali.
| Category | Publish Price | Online Rate |
| --- | --- | --- |
| Adult | IDR 150.000 | IDR 100.000 |
| Child (Age below 10 years) | IDR 50.000 | IDR 25.000 |
Facilities Offered with the Purchase of Tickets
Facilities offered with the purchase of a ticket include comfortable seating, parking, and an informative guide on the Barong Dance. Consequently, visitors get a fantastic show and an experience of learning about Balinese history and traditions.
Barong Dance Performance Schedule in Tanah Kilap
The Barong Dance performance at Tanah Kilap, Pemogan, is available daily from 09:15 to 10:15 AM. This reasonably flexible schedule lets you catch this fantastic show at your convenience. Below are the specific details of the Balinese Barong Dance schedule.
| Adverb | Time |
| --- | --- |
| Check-In Time | 09:00 |
| Gamelan starts | 09:15 |
| The dance starts | 09:20 |
How to Order Barong Dance Tickets at Tanah Kilap
You can purchase tickets for the Barong Dance at Tanah Kilap online through us. Please contact Wira Tour Bali customer service to ensure the availability of tickets for the Barong Dance Bali shows on your desired date. Given this traditional Balinese dance's popularity, we recommend ordering tickets at least one day in advance to avoid disappointment.
Explanation Regarding the Entrance Ticket Prices for the Bali Barong Tanah Kilap Dance
The publication price refers to the Bali Barong Ritual Show ticket price, which you can obtain if you buy directly at the performance venue.
On the other hand, online prices are what you will incur if you purchase tickets through Wira Rental Car (Wira Tour Bali).
To simplify finding the location of the Balinese Barong legendary performance in Tanah Kilap, you can follow the provided Google Maps link.
Tips for ordering tickets online vs on location
Online bookings offer convenience, lower fares, and the certainty of securing tickets, while on-site purchases offer flexibility but at a higher price. If you purchase tickets at the performance venue, please come before the performance to avoid missing out on access. Your choice should align with your personal needs and comfort level.
Terms and Conditions for Purchasing Barong Dance Tickets
Before buying tickets for the Barong Tanah Kilap Dance in Bali, you need to take note of the following conditions:
Tickets are only valid by the spectator's name, which should be the same as stated on the voucher, and the show date specified on the voucher.
Wira Tour Bali reserves the right to refuse requests for online purchases for the Barong Dance if tickets for the requested day are sold out.
If a spectator arrives late at the dance performance venue and wishes to cancel their ticket, we will not provide a refund.
Cancellation of online tickets on the reserved show date will incur a revocation fee equal to the total ticket price.
Clients who withdraw ticket orders 1-2 days before the booked performance date will be charged a revocation expense of 50% of the total cost.
Customers must pay in full at least one day before the desired show date.
Before making a payment, we strongly recommend each customer confirm the availability of tickets with Wira Tour Bali's customer service.
Please read and understand these terms and conditions before buying tickets for a smooth and satisfying viewing experience.
Tips for Enjoying the Barong Dance Performance
Meanwhile, to fully appreciate the magic of the Barong Dance, it is advisable to arrive early and secure the best seats. Show respect by refraining from speaking loudly during the performance and switching off electronic devices. We also recommend wearing sarongs and shawls to show respect when entering the performance area.
Furthermore, adhere to the instructions given by the on-site staff and immerse yourself in every moment of this performance, which powerfully represents the richness and historicity of Balinese culture.
Maximizing Your Holiday in Bali
After indulging in this mesmerizing dance, continue your adventurous holiday in Bali. Consider taking a tour of Ubud and Kintamani. Alternatively, stroll along Jimbaran Beach while savouring delicious grilled seafood, or visit the Garuda Wisnu Kencana Cultural Park and Uluwatu Temple to witness the captivating Kecak Fire Dance.
Moreover, the Tanah Kilap area is conveniently located near Petitenget Beach Seminyak and Kuta Beach.
Why You Must Experience the Barong Tanah Kilap Dance
Furthermore, attending a Barong Dance performance at Tanah Kilap is crucial to your Bali holiday. The intricate artistry and historical narratives showcased through this dance will deepen your appreciation for Balinese culture. Don't hesitate; secure your tickets and plan to relish this invaluable cultural treasure as soon as possible.
Conclusion
In summary, Bali is not merely about breathtaking beach vistas and enchanting sunsets. Part of the allure of Bali lies in its rich and diverse culture, with the Tanah Kilap shows providing an excellent medium to experience this. Given the affordable ticket prices for these cultural performances and their daily availability, there is no reason to miss out on this significant aspect of Bali's cultural heritage.
Are you prepared for this cultural exploration? Have you scheduled to watch the Balinese Barong performance during your Bali holiday? If not, delay no further. Purchase your tickets now and embark on this fantastic journey.
Please contact us for further queries about this performance or ticket purchases. We'll be delighted to assist you in planning these cultural experiences during your Bali vacation. To view more photos and videos from the Barong Dance performance at Tanah Kilap, follow Barong Tanah Kilap on Instagram.