Most families will love to do a holiday in Bali with kids. The question is, which Bali activities and attractions will kids like to see? If you and your children love animals, especially birds. Then while on holiday in Bali, visit the Bird Park in Gianyar, one of the best things to do in Bali for families you should not miss. Because in Bali Bird Park, you will see many species of birds, scarce species you can usually see on television. Furthermore, this page includes a vacation guide to Bali Bird Park, including promo admission prices, show schedules, bird collections, visitor facilities, transportation, and the best time to visit.
Bahasa Indonesia, "Semua Hal Yang Perlu Anda Tahu Sebelum Liburan Ke Taman Burung Bali" >>>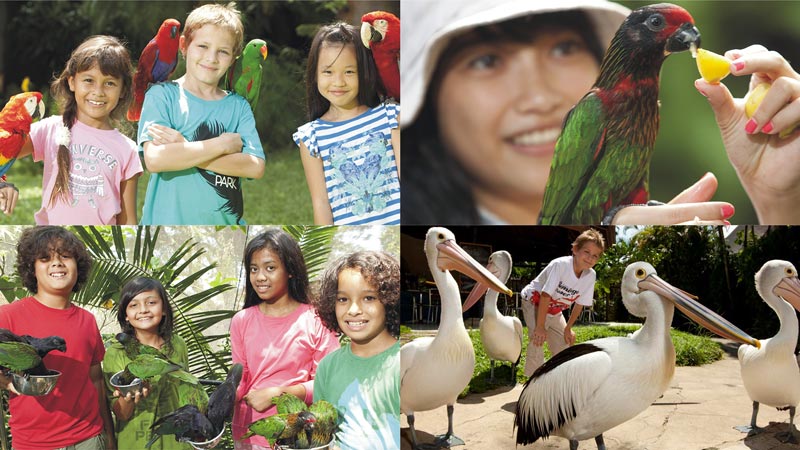 Ready to embark on an unforgettable avian adventure at Bali Bird Park? Our guide has covered you with all the essential information you need to make the most of your visit. Discover the entrance fees, visitor facilities, locations, and opening hours so that you can plan your day accordingly. Bali Bird Park has something for everyone, from fascinating bird exhibits to breathtaking shows. Don't miss out on this must-see attraction – read our guide now!
Read More, "Top 10 Things To Do In Bali With Kids" >>>
General Information About Bali Bird Park
The following is general knowledge regarding Bali Bird Park and queries customers frequently ask us.
When is The Bird Park open?
Bali's Bird Park is built on ​​two hectares and has various bird collections—both local birds and birds from abroad. Twenty years ago, Bird Park Gianyar was opened in 1994 and became Indonesia's largest bird park.
How many birds are there in Bali Bird Park?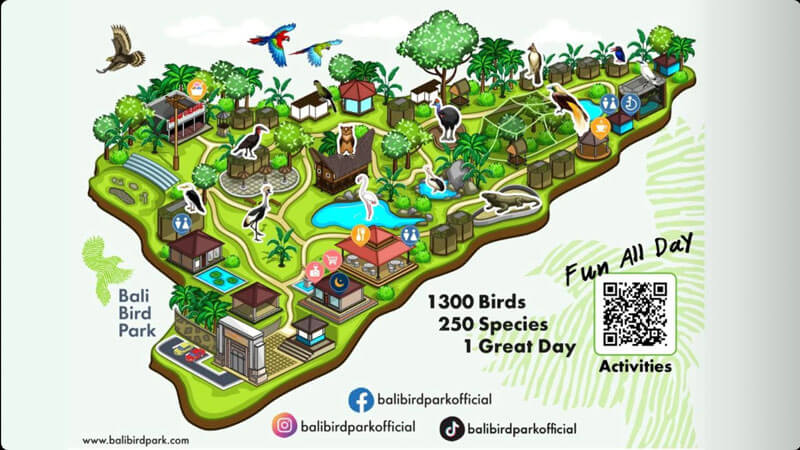 Bali Bird Park is one of the favorite attractions for tourists who vacation in Bali with family and children. About 1,300 birds of 250 species are kept in the Bird Park Gianyar. Such as birds of paradise, Kaswari, pigeons, pelicans, storks, parrots, and many others. The bird park Gianyar is also famous for its scarce birds, the Bali Starling/Myna.
Every day, tourists who visit Bird Parks in Gianyar reach around 300 – 400 people. Especially during the high season, Bali's Bird Park will be crowded with tourist visits. In addition to seeing various birds, Bird Park visitors can also take pictures with birds.
Find Here, "Things To Do With Kids In Nusa Dua & Tanjung Benoa Bali" >>>
Bird Species Collection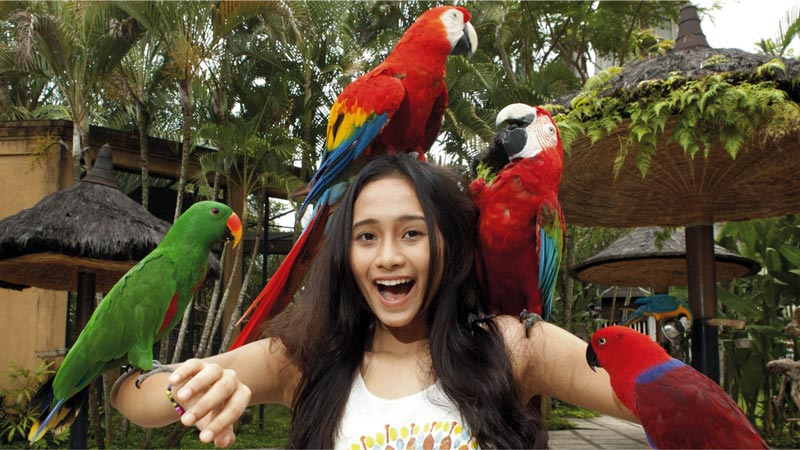 Bird Park in Bali has a comprehensive bird collection. Collection of birds from abroad, some of which originated from Indonesia. On Bird Park Gianyar, each bird will place based on the region of their original habitat, also supported by planned life, recreated as the primary habitat. There are seven areas of this park:
South American birds include the Macaw Scarlet and Hyacinth Macaw (a giant parrot).
Birds from southern Africa, such as African gray parrots, are known to mimic human voices. I have never seen as many parrots as in this Bird Park. So if you like to see large parrots with many colors, you must visit Bali Bird Park.
Birds from Sumatra, such as the Red-winged parrot and the Eagle Owl, are characterized by bulging ears and powerful claws.
Birds from Kalimantan. Such as the Nicobar Pigeon, Crested Serpent Eagle, and Great Argus Pheasant.
Birds from Papua. Such as the Cassowary, Golden Pheasant, and Western Crowned Pigeon.
Birds from Java include the Javanese Hawk-eagle, Asian Fairy-Bluebird, and Sunda Scops Owl.
Birds from Bali are like Bali Starlings, Bronze-tailed Peacock Pheasant, and Black-naped Fruit Dove.
A trip to Singapadu Bird Park is more educational and entertaining for children. Children will learn about birds, educate kids to love animals, inform their kids to preserve nature, and keep rare birds from becoming extinct.
Read More, "Vacation Itinerary For Family To Bali" >>>
Bali Bird Park Events Schedule
What's in the Bali Bird Park? The following is the Bird Park Show Program.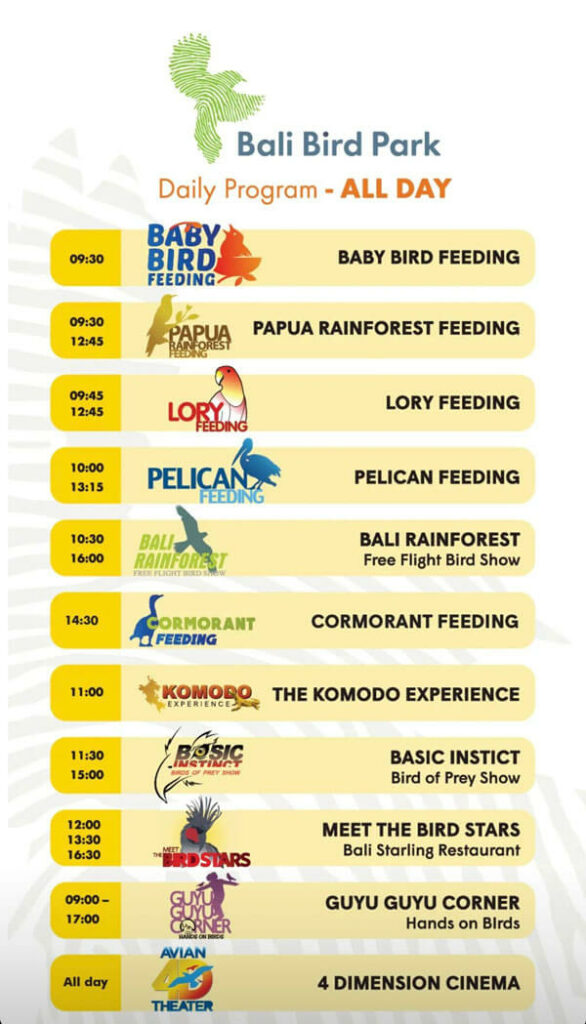 Read More, "Daily Activities Schedule Bird Park Bali" >>>
Activities & Events in Bali Bird Park
Besides seeing many bird species, you can also see bird attractions. Visitors, especially children, will love demonstrations and interactions with birds provided by Bird Park. Every performance in Bird Park is held every day with a specified schedule.
Please see the photo above if you need to comprehend the attraction's schedule in Gianyar Bird Park. The following types of activities and attractions are available at Bali Bird Park.
1. Bali Rainforest
This attraction will show visitors, especially children, while parrots and cranes are flying show.
2. Basic Instinct
The attraction of birds catching prey, such as eagles and owls, which fly, then swoop down while catching prey.
3. 4D Theater
Another new activity is now available at this park, called the 4D bird cinema. This 4D bird film will display a movie about the bird and its surrounding habitat in a 4D graphic.
4. Komodo Experience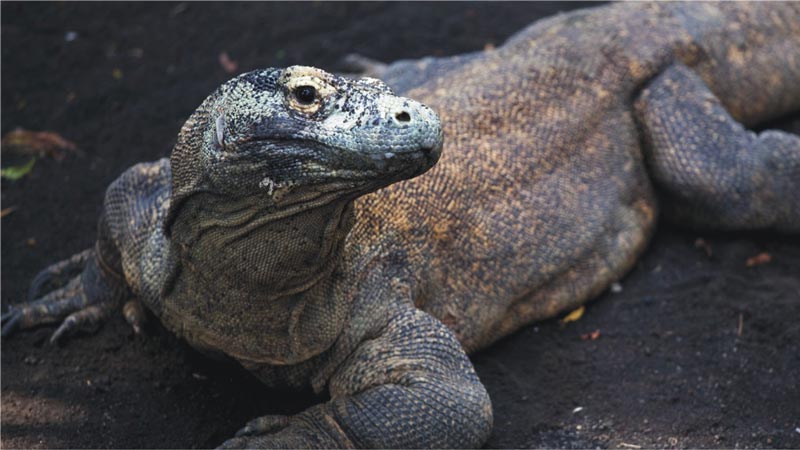 This activity will show officials feeding the Komodo dragon. Please note that the Komodo Experience exhibition is available every day at 11:00 am.
5. Guyu Guyu Corner
At the Guyu Guyu Corner attraction, you will have a photo session with the birds. Parrots with colorful feathers will land on your shoulders, and you and the kids can take pictures with the birds.
6. Papua Rainforest Feed
The Papua Rainforest Feed show will reveal officials feeding fascinating birds from Papua.
7. Lory Feeding
Bali Bird Park Officers will allow you and your children to feed rainbow-colored lories and Parrots.
8. Meet the Bird Stars
This attraction will show the performance of the Black Palm Cockatoo bird, which is good at entertaining visitors.
9. Pelican Feeding
Feeding Pelican, At this attraction, you can throw some fish to feed Pelican birds.
Find more information on Bird & Reptile Park's daily activities schedule by clicking the link below!
Read more, "7 Regions Exhibits Bali Bird Park" >>>
Visitor Facilities
Want to have a drink or to have a light snack? Bird & Reptile Park Gianyar also provides a restaurant with an open-air layout that merges with a beautiful tropical garden.
Some shops sell souvenirs related to birds. The price is very affordable. Kid visitors especially stop by this place to buy their favorite bird toys.
Not just a bird that you will see in this park, a reptile from South East Asia is also available. At the same time, 8 meters python snakes, Komodo dragons, and monitor lizards are also available.
Bird Park Bali is a Bird Park for tourist amusement and practice in conservation and protecting Indonesian wildlife, focusing on endangering Bali Starling. The park design creates friendly disability access, so the pathway for wheelchair access and parent with a baby-carrying stroller will be convenient.
Rainforest Cafe.
Bali Starling Restaurant.
Children's play area.
3 Toilets in the park.
Retail shop Sebun.
Enormous vehicle parking area.
Find Here, "Top 5 Budget Bali Kids Restaurant & Great For Family" >>>
Bali Bird Park Location
The address is Jalan Serma Cok Ngurah Gambir, Singapadu, Batubulan, Gianyar district – Bali. About 12 km east of Denpasar and can be reached within 1 hour and 15 minutes from Ngurah Rai Airport via By-Pass road Ida Bagus Mantra.
If you need directions to the Bird Park in Gianyar, please use Google Maps map by clicking the below link.
See Here, "Bali Bird Park Google Maps" >>>.
Time & Mileage
If you stay overnight in the area of ​​Ubud and your hotel is close to the Ubud Monkey Forest attraction. Heading to Bali's Gianyar Bird Park from Monkey Forest Ubud will cover a distance of 11 kilometers, with a travel time of 30 minutes.
If you stay in the tourist area of ​​Jimbaran and your hotel is close to the location of Garuda Wisnu Kencana culture park. Then you need 1 hour 15 minutes travel time, with 34 kilometers distance.
As for those who stay around Kuta Beach ​​Bali, you will need 1-hour travel over 21 kilometers to get to Bird Park.
The Best Way to Go to the Location
There are many vacation transportation choices that you can use as transportation to get around Bali. Holiday transport selections on the island are also available for all budgets. However, Bali's best holiday transportation is private vehicles, motorbikes, or cars.
Scooter Rental
Finding scooter rental services on the island of Bali is also very easy. You only need to use Google to search for motorcycle rental services in Bali close to your hotel. Scooter hire in Bali averages around IDR 100,000 – IDR 300.000 per 24 hours usage without fuel; therefore, you need to fill up the tank before traveling far with a scooter.
Car Hire
If you want to visit the Bird Park Bali attraction in a private car, you also can find car hire services in Bali. Bali has two car hire alternatives: a self-drive car rental and a car rental with a driver.
If you are confident about driving a car in Bali, you can get a self-drive car rental, with a price of around IDR 350,000/1 car without fuel. So it would be best to fill the empty tank with enough gasoline.
Car rental price with driver and fuel in Bali is around IDR 600,000/12 hours. Finding a car rental in Bali is the same; you must use Google. However, renting a car with a driver in Bali is recommended if you are not used to driving on Bali road.
Find Here, "A Guide On Vacation Transportation In Bali" >>>
Opening Hours
The opening hours of the Singapadu Gianyar Bird Park start from 09:00 – 17:00 and are open daily, except during Nyepi. Please do not bring a dog or pets. Dogs and pets are not allowed to enter the park, and they will scare the bird.
Best Time To Have A Vacation At Bird Park Bali
Furthermore, we often ask customers about the best time to vacation at Gianyar Bird Park by providing Bali water sports packages and Bali rafting trips. The best time for a holiday to Gianyar Bird Park will depend on your criteria.
If you don't like crowds, you should visit Gianyar Bird Park in the afternoon around 14:00. Bird Park in Gianyar gets crowded with tourists visiting from 10:00 to 13:00.
To witness the Komodo dragon feeding spectacle, it's advisable to visit before 11 am as the daily show starts promptly at 11:00 am.
Bali Bird Park Entrance Fee
Then how much is the entrance ticket to the newest Bali Bird Park? The latest Bali Bird Park entrance ticket prices for adults and children are the following.
| Category | Publish Admission | Online Admission |
| --- | --- | --- |
| Adult | IDR 385.000 | IDR 305.000 |
| Child | IDR 192.500 | IDR 150.000 |
| Infants | Free Of Charge | Free Of Charge |
Information on Entrance Ticket Prices
The entrance ticket price listed in the table above is the entrance price for one person.
Aged 2-12 years are categorized as children.
Under two years of age is categorized as an infant.
The Bird Park Gianyar entrance ticket price in the table above is for International tourists.
The Bird Park admission ticket is valid daily, including national and public holidays.
Furthermore, the Bird Park entrance ticket price is valid until March-31, 2024.
The published ticket price is the Bird Park entrance ticket that customers will get if customers purchase the entrance ticket directly at Bird Park.
The online admission is the Wira Tour Bali ticket price for the Bali Bird Park that you will get if you reserve the Bali Bird Park entrance ticket with Wira Tour Bali.
If you visit Bird Park Gianyar with at least 20 people, tour guide services will be provided free of charge by Bird Park. But you have to make a reservation the day before.
Bali Bird Park Tickets include services and taxes.
Find Here, "Best Things To Do In Legian Bali For Families" >>>
Bali Bird Park Ticket Prices Include
Admission.
Includes all scheduled shows.
Feeding activity.
4D cinema.
Guyu-Guyu Photo Corner.
How To Book Bali Bird Park Promo Entrance Fee
To book entrance tickets for the Bali Bird Park Promotion, please get in touch with Wira Tour Bali customer service at +62822-4714-8333 (ID) | +62 813 3956 3400 (EN) WhatsApp ready. You can fill out the booking form below.
Booking Form
Voucher Exchange
After we receive payment for the entrance ticket, our reservation staff will send a voucher to you via WhatsApp or email.
You don't require to print the vouchers.
You don't require to create a reservation before visiting Bird Park when you retain the voucher.
You only need to display the voucher from your smartphone when you reach the Bird Park area at the ticket counter.
Apart from that, you will also be asked to scan a barcode using the Peduli Lindungi application.
General information
Visitors must show a valid identity card when exchanging Bird Park entrance ticket vouchers. Suppose visitors cannot establish a valid identity card. In that case, Bird Park has the right to refuse visitors to access the Bird Park area.
Visitors can go in and out of the Bird Park area on the same day by showing the stamp in the visitor's hand.
Visitors can feed the birds but only give birds the food that Bird Park has provided.
Also, visitors are prohibited from littering.
Damage or loss of visitors' personal belongings is not the responsibility of Bird Park.
Access Policies Covid 19 Pandemic
Only healthy travelers are permitted to enter the Bird Park area. In addition, visitors must at least get the first dose of the Covid-19 vaccine.
Before entering the Bird Park area, every visitor must do a QR scan using the Peduli Lindungi application. In addition to QR scans, visitors can also show a Covid-19 vaccine certificate.
Every visitor is recommended to wear a mask while in the Bali Bird Park area.
Things You Can't Bring
Visitors are prohibited from flying drones in the Bird Park area.
Visitors are not allowed to bring food and drinks from external.
Visitors cannot bring pets such as dogs or cats to Bird Park.
Rescheduling Terms
To be able to reschedule your visits, require a maximum of 2 hours before the Bali Bird Park closes. Rescheduling can only be accomplished on the visit date stated on the voucher.
The maximum rescheduling of Bali bird park visits is two times.
Then, the rescheduling visit request to the Bali bird parks up to 14 days from the initial visit date.
Rescheduling requests involve all participants contained in 1 booking.
The rescheduling requests to another day only apply if the Bali Bird Park entrance ticket price does not change.
When customers have created a Bali Bird Park rescheduled visit, if customers cancel the visit, all payments cannot be refunded.
Cancellation Terms
Bali Bird Park, entrance ticket bookings, and cancel requests on the same day as the visit date are subject to a 100% cancellation fee.
Customers request to cancel Bali Bird Park entrance ticket bookings one day before the confirmed visit date after 16.00 (Bali time); a 50% cancellation fee will be charged.
Bali Bird Park entry tickets cancellation requests one day before the confirmed visit date, before 16.00 (Bali time), then we will refund customer payments. Refunds do not include service fees, bank transfer fees, PayPal fees, and administration fees.
---
Frequently Asked Questions
In providing rafting tour services in Bali, we often get customers' questions about Bird Park Gianyar. Tourists frequently ask the following topics about the Bird Park in Gianyar.
Does the entrance fee at Bali's Bird Park cover all shows?
All Bali Bird Park Gianyar shows are included in the admission price. All you need to consider is the schedule of each show.
How long does it take to see all the shows of Bali Bird Park?
You will need 3 hours to get around Bird Park Bali if you must see all areas and watch many attractions.
Do I have to pay when taking photos with birds?
When you require to get a photograph with a bird, and you use your camera, it's free. However, professional photographer services are available at Bali Bird Park to take photos. You will need to pay for the services of a professional photographer if you buy a printed photo for IDR 150,000 / 1 photo.
I want to see Komodo dragons. Does the Komodo dragon's feeding show available every day?
If you wish to catch a glimpse of the Komodo dragons, you need to visit their cage. However, witnessing their feeding spectacle is restricted to a daily show at 11:00 am.
Great Things To Visit Nearby Bali Bird Park
Bird Park, in Gianyar, offers an inline route with Batubulan village (which produces wood and sculpture crafts) and the center of gold and silver crafts in the Celuk village Gianyar.
Whereas for exciting tourist attractions which are close to Bird Park locations such as:
Hidden Canyon Beji Guwang.
Things To Do In Bali With Kids
There are many kid-friendly things to do in Bali besides visiting Bird Park. Furthermore, suppose you are looking for something different on your holiday in Bali and would love to make your kids happy. In that case, we suggest you join Night Safari Bali.
Maybe whitewater rafting in Bali can be the best thing to do in Bali with children. Before you join Bali river rafting with a kid, I recommend you read about the best river rafting in Bali for kids.
Find Here "10 Most Recognized Kids Holiday Activities In Bali" >>>