Firstly, you know Bali, right? It's not just about beach bumming and temple hopping. Dive a little deeper, and you'll find that Ubud has a whole other vibe—like whitewater rafting on the Ayung River. If you're up for some adrenaline-pumping action, you don't want to miss Graha Adventure Rafting. Stick around, and we'll spill the tea on why it's a total win for families, from the rapids to the perks.
Baca dalam Bahasa Indonesia.
Why Choose Graha Adventure Rafting for Your Ultimate Ayung River Experience?
Regarding water rafting in Bali, Graha Adventure at Ayung River Ubud stands out for various reasons, such as safety, thrilling rapids, and unique attractions. Here's the rundown:
Navigating the Ayung River's Class II-III Rapids: A Beginner's Haven
New to rafting? Or are you an experienced rafter looking for your next challenge? The Ayung River has you covered, offering difficulty levels ranging from classes II to III. Check out rafting tips for beginners here.
Furthermore, the river's proximity to famous spots, like Ubud Royal Palace and Monkey Forest, makes it a strategically found adventure.
Prioritize Your Safety with Graha Adventure Rafting's International Standards
Safety is paramount, and Graha Rafting Ayung River Ubud ensures that by meeting international safety guidelines. Life jackets, helmets, and dry bags are just some essential gear. Moreover, they even offer insurance coverage in collaboration with Jasa Raharja. So you can plan a worry-free Bali rafting adventure with your entire family.
Also, each boat accommodates up to six rafters, guided by a certified professional who has received permits and training by international safety standards.
Are you planning to bring children? Graha Rafting guarantees the safety and comfort of the entire family. Learn more about kid-friendly rafting here.
Diverse Rapids for an All-inclusive Rafting Experience
Whether you're seeking a family-friendly rafting tour or something a bit more challenging, Ayung River rafting caters to all levels of adventurers. Graha Adventure Rafting offers just the right blend of thrills and leisure.
Meanwhile, if you want a more hardcore experience, consider rafting on the Telaga Waja River. Why choose Ayung over Telaga Waja? Check out our detailed comparison here.
Unique Features That Set Graha Adventure Rafting Apart
Regarding the whitewater rafting experience, Graha Adventure on the Ayung River in Ubud is your go-to for safety and comfort. But it's not just about the thrills.
Here, you'll feel the adrenaline while sailing through stunning tropical forests, passing under the cool shade of native trees, observing the local wildlife, and being captivated by the centuries-old rock reliefs at the river walls.
Also, whitewater rafting with Graha Adventure is more than an adrenaline ride; it's a holistic experience. Here's a quick rundown of what awaits you:
Immerse Yourself in Bali's Natural Beauty: From Start to Finish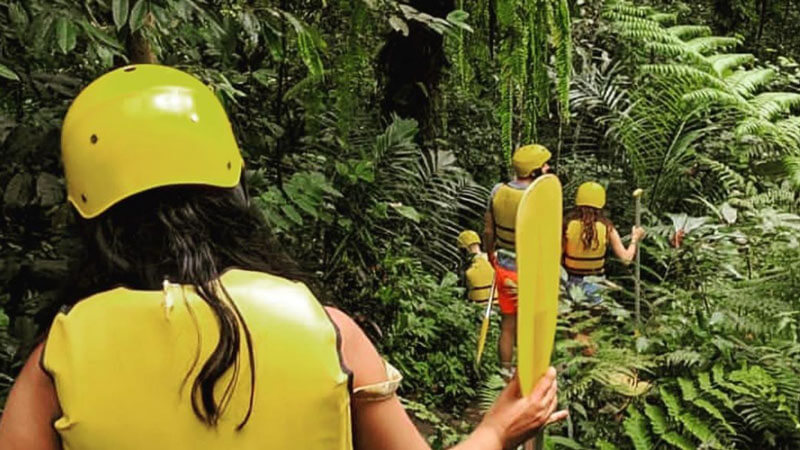 Your day starts with a picturesque trek, offering you a sneak peek into Bali's rich biodiversity. So, it's not just a rafting trip; it's a nature excursion guided by experts.
Get to Know Bali Beyond the Rapids: Cultural Insights from Certified Guides
The guides at Graha Adventure Ayung River Ubud are not only safety experts but also your cultural liaisons. They'll spice up your trip with local tales and insights into Balinese traditions.
All You Need to Know
Your guide will offer opportunities for optional activities like swimming or snapping waterfall pics, but make sure to check drink prices at any rest stops. Guides are a significant aspect of the experience—choose wisely.
What Facilities Does Graha Adventure Rafting in Ubud Offer?
From the moment you arrive, you'll notice the various amenities geared towards enhancing your comfort and readiness.
What to Know Before You Go
Above all, at the starting point in Kedewatan, Graha Adventure provides various facilities to ensure comfort.
Head over 30 minutes early to slip into your rafting gear; changing rooms and lockers are available. Grab a locker key when you register; they will return your deposit when you're done.
Drove in? There's roomy parking for cars and even tourist buses.
Hungry after conquering the rapids? The on-site restaurant serves local faves in a family-friendly space, and there's even a kids' menu upon request.
Duration and What to Expect
All in, plan for roughly 4 hours to savour the entire experience, including the actual rafting and post-rafting activities. Perfect for a half-day adventure, don't you think?
How to Get to Graha Adventure Rafting
Getting to Graha Adventure is a breeze, whether by public transportation or special shuttle services. Google Maps can be your best guide if you're a solo traveller.
Detailed Guide: Graha Adventure Rafting Ayung River Ubud Prices and Packages
No one likes hidden costs, so let's discuss what to budget for your Graha Adventure Rafting experience, from self-arrival options to pick-up packages for groups.
Self-Arrival Pricing (No transport included)
| Category | Age Range | Price (IDR) |
| --- | --- | --- |
| Adults | 11-65 years | 250,000 |
| Children | 6-11 years | 230,000 |
Note: This is if you roll up to Graha Rafting Ayung Ubud in your own set of wheels.
Packages with Pick-up (Minimum 2 People)
Shuttle service is covered for Central Ubud. For the rest, keep scrolling.
| Category | Price (IDR) |
| --- | --- |
| All Ages (6-65 years) | 280,000 |
Additional Costs for Pick-ups in Popular Bali Areas
Kuta, Legian, Seminyak—you name it. Graha Adventure Rafting offers pick-up services for an extra fee, depending on your location.
| Area | Additional Cost (6 seats) |
| --- | --- |
| Kuta, Legian, Seminyak, Sanur | IDR 375,000 |
| Uluwatu, Canggu, Nusa Dua | IDR 425,000 |
What's Included?
Buffet lunch with an Indonesian menu
Whitewater rafting guide
Welcome drink
Towels and lockers
Insurance
Rafting gear
Heads up: These rates are valid through December 31, 2023.
Important Information Before Joining a White Water Rafting Adventure on the Ayung River with Graha Adventure
Graha Adventure on the Ayung River, Ubud, operates daily and provides two time slots to maximize your water rafting experience. New to the whitewater game? Our handy guide, 'The Ultimate Guide to Whitewater Rafting Adventures in Bali,' is your go-to prep manual.
Schedule, Locations and Adventure Details
For morning trips, you must arrive between 09.00 and check-in at 09.00 at Graha Rafting Ayung Ubud.
Meanwhile, check-in starts at 13:00 at Graha Rafting Ayung Ubud for afternoon trips.
You will start your adventure from the Payangan area by descending around 300 steps to the Ayung River.
After completing the white water rafting, you will climb up around 300 steps to reach the finish point in Kedewatan.
Transportation is available that will take you from the registration location to the rafting start location and from the finish point to the registration location.
Please contact us for further information about start locations, final finishes, and registration sites.
So, are you wondering what to pack for this unforgettable journey?
Tips and Frequently Asked Questions for Your Graha Adventure Rafting Experience
It's always better to be prepared. Before venturing into the exciting world of Ayung River whitewater rafting with Graha Adventure, here's what you need to know.
How to Prepare for Your Graha Adventure Rafting Journey in Ubud
From what to pack to recommended attire, we've compiled a pre-rafting checklist to ensure a smooth and enjoyable day on the Ayung River.
Essential Items: Pack an extra set of clothes, a towel, a waterproof camera, toiletries, and necessary medications.
Dress Code: Opt for lightweight, quick-drying attire. Read our guide, Items to Pack and Attire Recommendations for Whitewater Rafting in Bali.
Footgear: Trekking sandals or sports shoes are recommended. Rentals are available at the registration point.
Fitness Level: A reasonable level of physical fitness is necessary. Be well-rested.
Food Intake: Eat a meal rich in complex carbs 2-3 hours before the activity.
Best Time: The ideal rafting season in Bali is from May to September.
Do you feel anxious about weather circumstances while rafting? Read our article about whether joining the Bali Rafting Adventure when it rains is safe.
FAQ Regarding Graha Adventure Rafting in Ubud
The following are frequently asked questions about white water rafting on the Ayung River with Graha Adventure:
How Do I Get There?
App-based taxis or private vehicles are your best options, as public transport is not readily available near Graha Ubud.
Is there a weight limitation for white water rafting?
Yes, 100 kg is the cut-off for each participant for safety reasons.
Is Graha Adventure Rafting Safe for Kids?
For safety reasons, children under 6 are not recommended to participate.
Do I Have to Be Able to Swim?
Although it is a valuable skill, you don't need to be able to swim to go white water rafting. All needed safety equipment and professional guidance are provided.
What Happens If I Lose an Item During Rafting?
Immediately inform your guide or the team; they will assist you in finding it.
Does Graha Rafting Have Competitors?
If you are curious, Sobek Rafting Ubud Bali is the leading competing company for Graha Adventure on the Ayung River in Ubud.
Who Should Avoid Rafting?
Those with heart issues, spinal injuries, under alcohol influence, or pregnancy should abstain from this activity.
Customer Testimonials and Reviews
Travellers from around the globe vouch for the quality experience at Graha Adventure Rafting. Take, for example, a review from Travel Ginger, a UK tourist: "The guide was highly professional, and the river was simply enchanting!"
How to Book White Water Rafting at Graha Adventure Ubud
Graha Adventure is the place to go if you're considering exhilarating White Water Rafting in Ubud Bali. To secure your spot, you must make your reservation at least one day before your planned rafting day.
For bookings, you've got a couple of solid options.
First, you can fill out the 'Ayung River Rafting Order Form' provided below.
Alternatively, you can ring the Wira Tour reservation team at +62 813 3956 3400 or +62 822 4714 8222. WhatsApp is also available for your convenience.
Graha Whitewater Adventures in Bali Order Form
Simplifying Your Payment for the Ultimate Graha Adventure Rafting Experience
Ready to secure your spot for an unforgettable rafting journey? At Wira Tour Bali, we've got your back, offering various seamless payment options as seamless as the Ayung River. Take a look below to see which method suits you best.
Bank Transfers
No fuss, no muss. Transferring money directly from your bank can be a straightforward way to finalize your rafting package. Here's how you can do it:
BCA Bank: After booking your rafting experience, you'll get the account number to transfer the payment.
Bank Mandiri: As with BCA, we'll provide the necessary account details once your booking is confirmed.
Online Services
Are you comfortable with online payments? We've got some widely-trusted options here:
PayPal: Preferred by many for its safety and reliability, it is another smooth way to secure your adventure.
Wise (Formerly TransferWise): Ideal for international travellers. With Wise, you can skip the annoying conversion fees and pay in your currency.
Digital Wallets
In the modern age, who carries cash? Digital wallets make payments swift and hassle-free.
GoPay: Simply scan the QR code or punch in our phone number to complete the payment process, and you're all set to make a splash!
Don't hesitate to contact Wira Tour Bali for more specific payment instructions and information. We're here to assist in making your rafting trip as enjoyable as possible.
What You Need to Understand About Payments
Once your transaction is successful, please confirm so we can process your Ubud Adventure Activities immediately.
Payments should be made in full before the activity day; sorry, no same-day payments.
Read the refund terms to know what you're signing up for.
Securing Your Spot and Checking-In
How to Use Your Voucher
Upon arrival at the Graha Rafting Check-In location, you'll need the voucher sent to your smartphone—no need for prints.
Rescheduling Your Graha Adventure Rafting Experience
If you need to reschedule your White Water Rafting in Ubud Bali, submit your request at least a day in advance and before 18:00 (Bali Time).
Your Guide to Refunds
Cancellation fees are steep if done on the activity day—100% of the price, to be exact.
Cancel a day prior before 18:00 (Bali Time), and you'll incur a 50% fee.
Additional service expenses and transfer fees are non-refundable.
Customer Service at Your Fingertips
Need to cancel or modify your rafting schedule? Our customer service team is just a call away for any further processing required.
More than Just Rafting: Additional Activities at Graha Adventure
The Graha Adventure Rafting experience doesn't have to end at the riverbank. Extend your day with these thrilling Ubud Adventure Activities:
ATV: Go off-roading through muddy trails.
Cycling: Navigate scenic trails and behold Bali's stunning rice fields.
Kayaking: A different water adventure for those looking to mix things up.
Hiking and Trekking: Whether it's forest trails or rice fields, you've got options.
Adding a side quest or two to your rafting adventure with Graha will make your day excellent and epic.
Wrap-up: Your Graha Adventure Rafting in Ubud Bali
Your journey at Graha Adventure Rafting on the Ayung River promises more than just thrills—it's a culturally enriching experience that's one for the books. From varied difficulty levels to many other Ubud Adventure Activities, there's something for everyone here.