There are many choices of exciting holiday activities that you can do while on vacation in Bali. There are indoor and outdoor activities. Populer Bali outdoor holiday activities include Bali river rafting, Bali watersport at Tanjung Benoa beach, elephant rides in Taro Ubud, camel safari in Sawangan Nusa Dua, cycling in Ubud, and Bali ATV ride adventure activities. Specifically, on this page, Wira Tour offers low Bali ATV ride adventure prices with the best operators. Therefore, if you want to try ATV riding activities in Bali, please continue reading this page. You will find prices, locations, and how to order an ATV rental in Ubud Bali. Apart from that, this outdoor activity is also known as Bali Quad Bike Adventures.
Bahasa Indonesia, Harga Sewa Quad Bike Bali.
Bali Vacation Adventure Activities
Before I explain ATV ride activities in Bali, it's a good idea to explain briefly about exciting holiday activities in Bali.
First of all, during our experience as a tour and travel agency providing Bali adventure activities, Bali car rental with drivers, Bali tour packages, water sports Bali and others Bali activities. We know the holiday destination for tourists to the island of Bali is not only visiting the famous attractions of Bali.
Currently, besides visiting Bali's attractions, travelers also try outdoor holiday activities available on the island of Bali. Here are some examples of outdoor activities that are very popular with tourists.
Highlights of ATV Ride Adventure Bali
Participants of the Bali ATV ride will get a different atmosphere and sensation when riding an ATV. So ATV riding activities will add to the excitement of your vacation in Bali.
In addition, the riding duration of a Quad Bike adventure is quite extended, approximately 1.5 hours. 1.5 hours is more than enough time for travelers to see the rural atmosphere, forest areas, rice fields, and rivers while riding a Quad Bike.
The most exciting route is passing through the river area with a river bed in the form of small rocks; mud makes it challenging when riding a Quad Bike.
The Quad Bike adventure ride activity is suitable for all holiday goals to Bali. Such as for family holidays with children, honeymoon holidays, school holidays, office outings, or holidays to Bali with friends.
The Quad Bike uses an automatic transmission with four wheels, so it's easy to drive.
Bali Quad Bike rental prices are meager, and there are two categories available: the single ATV package and the tandem Quad Bike adventure.
Including a Quad Bike adventure guide who will accompany all participants; one guide will lead in front, and the other guide will be at the back.
Find Here, Sobek Rafting Telaga Waja River Price.
What Are ATVs?
Even if you've seen ATVs, most of you probably need to comprehend the details about quad bikes. Here I briefly explain the ATV vehicle.
Judging from the abbreviation of the word ATV, which comes from the sentence all-terrain vehicle, it means that ATV vehicles are designed to be able to get through all terrain. Like being able to pass asphalt roads, rivers that are not too deep, and offroad roads such as dirt, sand, mud, and gravel.
See the BMW Rafting Telaga Waja River Price.
Quad Bike / LUV
Besides being known as ATV, this all-terrain vehicle is also known as Quad Bike. Because the shape of the vehicle is like a motorbike but utilizes four wheels, by using four wheels, the Quad Bike rider will get stability and balance when steering the Quad Bike at low speeds when traveling Off-Road terrain.
There is also another name for Quad Bike vehicles, namely LUV (light utility vehicle). So if someone mentions a LUV or Quad Bike, they mean an ATV vehicle.
Find Out 5 Things You Need To Know About Bali River Rafting.
Quad Bike Steering & Seating
Quad Bike vehicles use a steering wheel similar to a motorcycle handlebar. Then the driver and passenger seats it is also shaped like motorcycle saddle. Therefore, ATV vehicles are called Quad Bikes (4-wheel motorbikes).
See Favorite Holiday Activities in Ubud.
Types of Quad Bike Vehicles
For the choice of Quad Bike vehicle, it is designed with two options. A single ATV, the Quad Bike saddle is designed for one passenger. Then ATV type tandem, the seat is designed for two people, one driver and one passenger.
There are two types of Quad Bike tires, some use low-pressure tires, and some use non-pneumatic tires.
Find Out, Ticket Prices for Sobek Rafting Ayung River Ubud.
ATV Riding Guide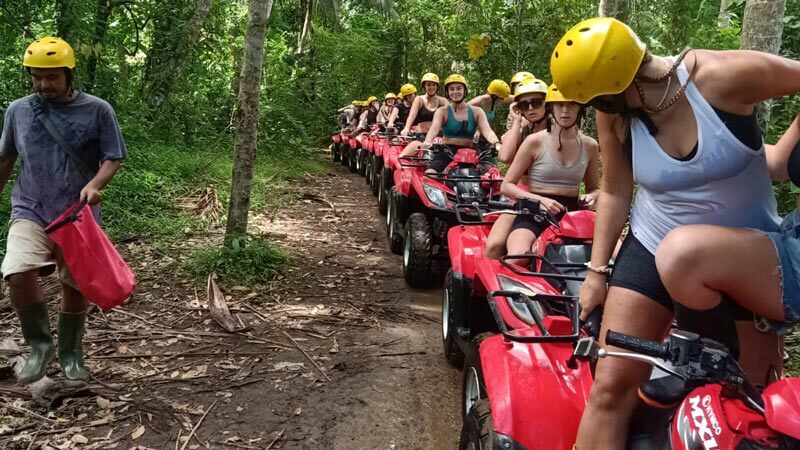 If you are familiar with riding a motorcycle, you will quickly figure out how to ride an ATV. You only need to know the position of the throttles, brakes, and transmission.
When you try to ride a Quad Bike in Bali, before the Bali ATV activity starts, the guide will explain how to drive an ATV vehicle. Such as the position of the throttles, brakes, and transmission.
Then, you will be invited to test ride the Quad Bike in the lobby yard area where you checked in for the Bali Quad Bike Ride. The average time to try Quad Bike for visitors to get familiar with ATV vehicles is around 5 minutes.
In addition, the type of Quad Bike available uses an automatic transmission. So if you are used to riding an automatic motorbike, you will quickly become familiar with riding a Quad Bike.
See, Prices for Mason Adventure Rafting Ubud.
Are Bali ATV Ride Adventure Safe
The activity of riding an ATV is very safe, even safer than riding a scooter on Bali road. The reason is that driving a Quad Bike is safer because a Quad Bike uses four wheels, so the driver does not need to maintain the vehicle's balance. Even when the ATV vehicle stops, the driver doesn't need to lower their foot and only requires to press the brake.
In addition, Quad Bike safety is due to route elements. The route passed during the Quad Bike adventure ride is more off-road, so the Quad Bike's speed will be slower than you ride a motorbike on the highway.
Furthermore, all participants in the Quad Bike adventure ride are required to wear helmets and boots. You must be wondering why participants are required to wear boots. Quad Bike adventure participants wear boots to protect their feet from water, mud, and gravel splashes. So that the participant's feet are not dirty and cold because they are not exposed to water splashes.
Find Out 10 Safety Tips When Bali River Rafting Tour.
Quad Bike Adventure Guide
Increased safeness for Quad Bike adventure participants is also supported by accompanying ATV participants with professional Quad Bike guides.
With participants accompanied by guides when renting Quad Bikes in Bali, if there are problems with ATV vehicles, the guide will handle these problems.
Quad Bike adventure guides were positioned in front of the participants. Also, another ATV guide is at the back. Guides in front will lead the route, and a guide at the back can supervise all the obstacles of the ATV participants.
See Here, Mason Kayaking Adventure Ayung River Price.
Location of Bali ATV Ride Adventure
There are many places or locations to try ATV riding in Bali. However, most of the Quad Bike adventures in Bali are carried out in the Gianyar district. Some are located in the village of Payangan and Singapadu because the two village locations are close to the central Ubud area. That's why ATV riding activity is often known as Bali ATV Ubud.
Bali Top Adventure – Recommended Best ATV Providers in Ubud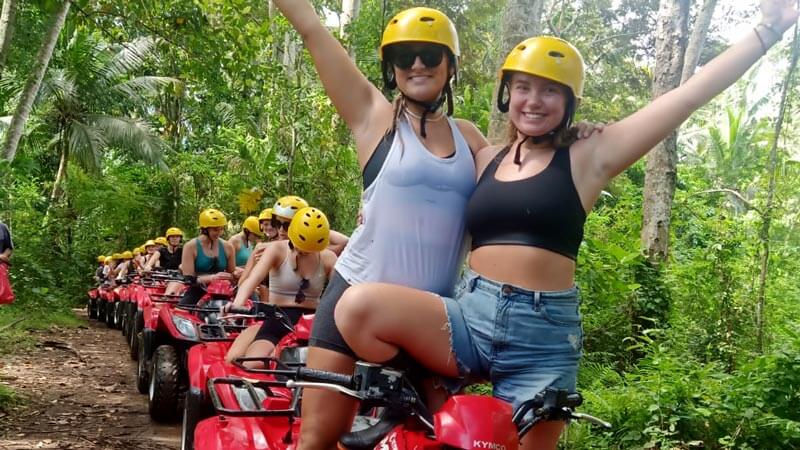 Many ATV operators on the island of Bali have different spots, and the prices for Quad Bike adventure rides in Bali are also diverse. One of the operators that we recommend for you to try the Bali ATV ride activity in Ubud is Bali Top Adventure.
The following things make us recommend Bali Top Adventure as the best ATV ride activity provider in Bali.
The ATV vehicles used are new with automatic transmissions.
The Bali ATV adventure activity area is in the village of Singapadu Sukawati, Gianyar. Therefore, the Quad Bike adventure spot is adjacent to several famous tourist attractions in the Gianyar district. Such as Tegenungan waterfall, Sukawati art market, Bali Zoo, Monkey Forest Ubud, and Bali Bird Park.
The zone for Quad Bike adventure is just a short distance from the tourist areas of the southern part of Bali, such as Denpasar, Sanur, and Kuta.
Provide insurance for ATV ride Ubud participants.
The price for the Bali Quad Bike ride includes food and mineral water.
The Ubud ATV ride activity duration is quite long, approximately 1.5 hours.
Bali Top Adventure staff service is amiable.
The Quad Bike Ride guide is willing to help participants and explain what the participants see during the adventures.
All the advantages above make us recommend Bali Top Adventure as one of the best ATV providers in Bali.
Then, are you interested in trying ATV riding activities while on vacation in Bali? If so, you will ask about the Bali ATV Ride Ubud price.
Bali ATV Ride Price – Ubud Quad Bike Adventures
| Category | Publish Rate | Online Prices |
| --- | --- | --- |
| Single ATV | IDR 1.100.000 | IDR 472.500 |
| Tandem ATV | IDR 1.500.000 | IDR 675.000 |
Prices for Ubud Quad Bike Adventure included
Furthermore, the ATV ride in Ubud includes all the equipment needed to ride ATVs, such as ATV Vehicles, Boots, and Helmets.
Quad Bike adventure includes lockers, bath towels, shower facilities, and changing rooms.
The price for a Bali ATV adventure includes insurance for participants.
In addition, the price for an ATV ride in Ubud includes mineral water, which is available during the Ubud ATVs adventure.
Quad Bike adventure rates include lunch with a menu of fried rice, fried noodles, and mineral water.
Bali ATV rental rates include a guide who will accompany participants during the ATVs ride.
The published rate is the price obtained by participants who come or book directly with the Quad Bike adventure operator.
Meanwhile, the online rate for renting a Quad Bike adventure is the price for when participants make a Bali ATV ride booking with us. So the price for an ATV ride in Bali is lower if you order online.
The price for a single ATV in the table above is for one person. At the same time, a Tandem ATV ride is the price for two people, one driver and one passenger.
Description Bali Top Adventure ATV Ride Ubud
The duration of a Quad Bike ride in Bali is approximately 1.5 hours. The time duration you require to get through the ATV adventure route depends on the speed of the ATV ride.
The ATV main route in Ubud that you will pass includes rice fields, rivers, small waterfalls, main roads, and forest areas with lots of green trees.
The opening time to join the Quad Bike ride with Bali Top Adventure is from 08:30 – 17:15.
The ATV vehicle brand used for the Bali ATV adventure is Kymco.
Single ATV means the participant rides the ATV alone (1 participant in 1 ATV).
While the Tandem ATV has two participants, one person drives the ATV, and the other a passenger (1 unit of Tandem ATV).
For booking a tandem ATV (1 driver and one passenger), the number of participants must be multiples of 2 participants, then 4 participants, and the subsequent multiple.
There is no difference in activities or facilities between booking an ATV ride in Bali on-site or online.
Bali Top Adventure Quad Bike Rental Rates Excluded
The ATV rental cost excludes a shuttle. If you require a shuttle, there will be an additional fee according to the pick-up and drop-off location. Don't hesitate to contact our Bali ATV ride reservation if you want a shuttle.
Bali ATV rental rates do not include participant documentation during the Quad Bike Ride activity. The Bali ATV rental operators provide documentation services that you can buy directly at their location.
The price for renting a Quad Bike in Bali does not include participants' expenses. For example, participants buy a beer at the ATV ride location.
Booking Bali ATV Ride Adventure
You can contact our reservation service to order Bali quad bike adventure activities. You can get the Bali ATV ride adventure reservation department at our place in several ways.
The minimum order time is one day before the ATV ride adventure activity date. Furthermore, during the high season in Bali, it's a good idea to have booked the Bali ATV ride Adventure activity one week before the activity date.
Telephone number, Phone: +62813 3956 3400 (WhatsApp Ready).
Meanwhile, our office telephone number at +6236 6558 1096 (Office telephone).
Email address, info@raftingbali.net
Furthermore, you can also fill out the Bali quad bike order form below.
Booking Form Bali ATV Ride Adventures
Voucher Redeem
After your Bali Quad Bike adventure booking is confirmed, we will send a voucher to you via WhatsApp or Email.
You are not required to print the vouchers received; you only need to save them on your smartphone.
On the Bali quad bike adventures date, you head to the activity location according to the Bali ATV ride Ubud time slot you ordered. To find Bali ATV adventure activity locations, you only need to click on the Google Maps link below, Bali Top Adventure locations on Google Maps.
When you arrive at the Bali ATV ride location with the Bali Top Adventure operator, you only need to show the voucher on your mobile phone to the reception staff at Bali Top Adventure.
Location of Bali Top Adventure for Ubud ATV Rental
The address or location of Bali Top Adventure, an ATV rental provider in Ubud Bali, is on Jalan Raya Kengetan, Singapadu Kaler Village, Sukawati subdistrict, Gianyar Regency, Bali. To create a more straightforward for you to find the location of Bali Top Adventure, please use Google Maps by clicking the link below.
See Bali Top Adventure Google Maps.
Items You Must Bring When Joining Quad Bike Adventures
Please bring a change of clothes and a plastic bag to carry the clothes used during the ATV ride.
Use clothes made of non-absorbent fabrics.
Also, remember to bring sunblock to protect your skin from the sun.
Camera, it's a good idea to use an action camera to document Quad Bike riding activities.
You also need to carry toiletries in the form of soap and shampoo.
Hand Sanitizers.
Bali ATV Rental Terms & Conditions
The minimum age of participants who can drive a Quad Bike is more than ten years to 65 years.
Participants will first do a Quad Bike test drive in an open area. The purpose of the test driver is for the guide to know whether the participant can drive an ATV.
If the participant cannot control a Quad Bike, the guide will sit behind the participant to keep the participant safe.
The age of participants playing Quad Bike adventure covered by insurance is 5 – 65 years.
Insurance for participants playing Quad Bike Adventure is provided by the ATV operator, namely Bali Top Adventure.
Furthermore, parents who order single ATVs with children aged 5-10 years are free of charge if the child acts as a passenger and rides with their parents.
The minimum age of child passengers who can ride with their parents is five years.
If there are child passengers under 5, they want to ride with their parents during Quad Bike Adventure. So children under five do not get insurance coverage from the Quad Bike Adventure rental operator.
Quad Bike adventure activities are not permitted for participants with a history of heart disease, pregnant women, and participants with epilepsy.
Terms of Rescheduling
To reschedule Quad Bike Bali rental activities on a different date, please contact the Bali ATV ride Ubud rental reservation at our place.
We cannot determine the availability of a reschedule in advance because it depends on the number of ATV orders the Quad Bike Adventure operator receives on the change date requested by the customer.
Furthermore, rescheduling requests at least three days before the date of the activity on the Quad Bike adventure that the customer previously ordered.
Terms of Cancellation of Bali ATV Rental Orders
Please get in touch with the Bali Quad Bike Ride reservation at our place to cancel an order for Bali Quad Bike Adventure.
Then, canceling the Quad Bike Adventure Bali rental activity on the same day as the ATV ride activity date is subject to a cancellation fee of 100% of the total payment.
Cancellation of the Bali Quad Bike rental activity that the customer makes one day before the activity date that has been ordered, before 17:00 (Bali Time), there will be a cancellation fee of 50% of the total Bali Quad Bike Adventure rental payment.
Furthermore, cancellation of the Bali Quad Bike ride activity one day before the activity date that has been ordered, after 17:00 (Bali time), is subject to a cancellation fee of 100% of the total activity payment.
Bali Quad Bike Ride order cancellation two days before the activity date that has been ordered, there is no cancellation fee, but the total refund does not include service fees, PayPal fees, or bank transfer fees.
Bali Attractions & Holiday Activities Nearby
Before vacationing in Bali, most travelers will plan a vacation schedule or what is known as a Bali holiday itinerary. When you want to try the Bali ATV ride in Ubud, arrange a Bali holiday itinerary. You will look for tourist attractions and other Bali holiday activities adjacent to ATV ride locations in Bali.
The following are Bali attractions and holiday activities in Bali, located close to the ATV ride location in Ubud Bali.