Bali offers stunning views and thrilling adventures like Bali Quad Bike. Why is Bali ATV Ride important for your holiday? It's simply because, at an affordable price, you can feel the adrenaline rush as you pass through steep terrain, rocky rivers, and rice fields, all within 1.5 hours! In this article, we will discuss details regarding the Bali ATV ride adventure, including how to ride an ATV in Bali, starting from how to get low prices, locations, how to order, to safety. Do you want to know how to get the best Quad Bike experience in Bali at a low price? Are you ready for an unforgettable adventure in Bali? Here's your complete guide!
Bahasa Indonesia, Harga Sewa Quad Bike Bali.
A Brief Overview of ATV Adventures in Bali: Duration and Challenging Routes
Bali ATV Ride Adventure: Exploring the Unseen Bali
Ready to venture on an exciting ATV ride adventure in Bali, allowing you to explore Bali's off-beaten paths and hidden gems? Ride through rocky rivers, challenging mud, forest terrains, and mesmerising rice fields with Quad Bike Tours in Bali. Whether you're seeking Ubud ATV Riding or prefer the scenic trails in Gianyar ATV Riding, the island offers plenty for adventure enthusiasts.
Duration: Approximately 1.5 hours, providing ample time to explore the countryside, forest areas, rice fields, and rivers.
ATV Riding Routes in Bali: Traverse rocky rivers, challenging mud, forest terrains, and more for an unforgettable experience.
Fun: Great for all travellers, whether it's a family vacation, honeymoon, school trip, or office outing.
Vehicle: Equipped with automatic transmission and four wheels, making it user-friendly.
Price: Very affordable, with options for both single and tandem riders.
Security: Guided by a professional who accompanies all participants for a safe experience.
Unravelling the ATVs
ATVs, or all-terrain vehicles (Quad Bikes or LUVs (light utility vehicles), are designed to navigate various terrains, including asphalt, shallow rivers, and off-road paths like dirt, sand, mud, and gravel.
Resembling a motorcycle with four wheels, they provide stability and balance on rugged terrain and are steered with a handlebar. Their seating can accommodate solo or paired adventurers.
In Bali, you can find two main ATV types: single for solo riders and tandem supporting two people, often with non-pneumatic tires that don't use air. Whether you're familiar with this adventure vehicle, there's always more to learn about its intricate details and features.
ATV Riding Guide in Bali
1. Comparison with Riding a Motorcycle
Riding an ATV is similar to riding a motorcycle, mainly if you are accustomed to automatic motorbikes. The automatic transmission on the Quad Bike makes it easy to control, allowing you to become quickly familiar with this vehicle.
2. Riding Exercise and Readiness
Before starting the ATV ride in Bali, the guide will explain how to drive the ATV, including the throttle position, brakes, and transmission. You can practice riding a Quad Bike for approximately 5 minutes at check-in. This exercise will help you become more acquainted with the vehicle.
3. Safety First: ATV Safety, Vehicle Stability, and Protective Equipment in Bali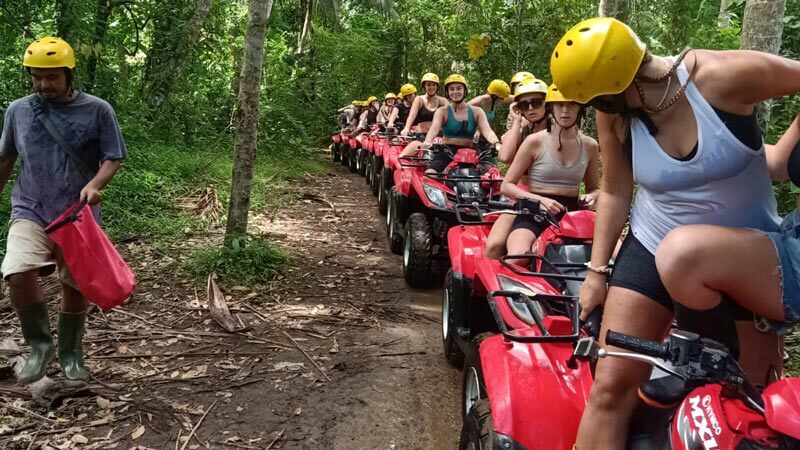 Embarking on an ATV adventure in Bali? Safety must be your top priority. Every element ensures a thrilling yet safe experience, from the vehicle's design to the gear you wear. Here's a quick guide:
Vehicle Safety: ATVs are favoured over motorcycles for their stability. Their four wheels and design promote lower speeds on challenging off-road routes.
Protective Equipment: Don't overlook your gear. Helmets and boots are mandatory to shield from water, mud, and gravel splashes.
Quality and Standards with Bali Top Adventure: Bali's top providers, like Bali Top Adventure, employ quality ATVs like the Kymco MXU 250 and follow international safety standards for a secure adventure.
Safety doesn't mean less excitement; it's about being well-protected while confidently exploring Bali's rugged terrains. Gear up, ride safely, and enjoy the adventure.
4. Quad Bike Guides
Professional Guides: Experienced guides will accompany your trip, navigating all obstacles that may arise during your ATV journey.
Guide Position: Guides are positioned in front and behind the participants, enabling them to supervise and assist all ATV riders quickly.
5. Understanding Rental Terms and Cancellation Policies
Get to know the ATV Rental Terms & Conditions in Bali and the Bali ATV Rescheduling and Cancellation Policies for a smooth experience.
Location of Bali ATV Ride Adventure
Popular Places to Ride ATVs in Bali
In Bali, many people ride Quad Bikes in Gianyar Regency, especially in Payangan and Singapadu Villages. These two locations, adjacent to Ubud, are often referred to as Bali ATV Ubud, making them popular spots for adventure ATV enthusiasts.
Payangan and Singapadu Villages ATV Tours: Authentic Bali Experience
If you want to experience genuine Bali, Payangan and Singapadu Villages are the perfect destinations for ATV riding. Ride through traditional villages, interact with local communities, and witness the authentic Balinese way of life. With Bali ATV Single/Tandem Ride options, you can share this remarkable experience with a loved one.
Recommended Best ATV Ride Provider in Bali: Bali Top Adventure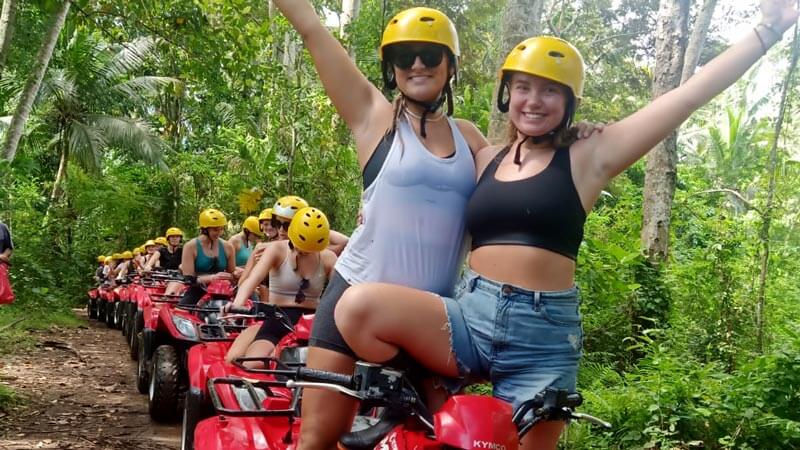 Looking for an affordable ATV ride in Bali? Try Bali Top Adventure in Ubud. Why choose them?
New ATVs with Automatic Transmission: For smooth rides.
Strategic Location in Singapadu Village: Near top attractions and easily accessible from central areas.
Participant Insurance: Safety first!
Complete Package with Meals: Affordable prices, including food and drinks.
1.5-Hour Ride Duration: Plenty of adventure time.
Friendly Staff and Guides: Ensuring a pleasant experience.
Bali Top Adventure is a top choice for ATV fun in Bali. Want to try? Contact us for details! Find them on Jalan Raya Kengetan, Singapadu Kaler Village, Sukawati District, Gianyar Regency, Bali, or use Google Maps.
Affordable Adventure Cheap ATV in Bali
If budget is a concern, worry not! Bali offers affordable ATV riding packages that won't break the bank. From various Bali ATVs, Voucher Exchange offers cost-effective ATV booking in Bali; you can enjoy a thrilling adventure without overspending. Explore Bali Adventure Sports and find the right package for you.
Prices for Bali ATV Ride – Play ATV in Ubud with the best and cheapest prices
| Category | Without Lunch | With Lunch |
| --- | --- | --- |
| Single ATV | IDR 380.000 | IDR 400.000 |
| Tandem ATV | IDR 580.000 | IDR 600.000 |
Bali Top Adventure Playing ATV in Ubud – Important Information
Duration: Quad Bike's main activity lasts about 1.5 hours. The duration may vary depending on your pace and the number of other participants.
Route: You will pass through rice fields, rivers, small waterfalls, roads and green forests.
Opening Hours: Bali Top Adventure opens from 08:30 to 16:30.
Vehicle Brand: The ATV vehicle used is Kymco MXU 250.
Single vs Tandem ATV: Single: 1 participant in 1 ATV. Tandem: 2 participants in 1 ATV (1 driver, 1 pillion). Orders must be multiples of 2 participants (e.g. 2, 4, etc.).
Booking: There is no difference in activities or amenities, whether you book on-site or online.
Quad Bike Prices in Ubud Bali – What's Included?
ATV Equipment: Price includes the ATV vehicle, boots, and helmet needed to play ATV.
Additional Amenities: You can access a locker, bath towels, shower facilities and a changing room.
Insurance: Participants will get insurance during the activity.
Drinks: Mineral water is provided during the activity.
Lunch: The price includes a menu of fried rice, fried noodles and mineral water.
Guide: A guide will accompany the participants.
Publish vs Online Prices: Publish prices are direct from the operator, while online prices are cheaper if you book with us.
Single vs Tandem ATV: Single price is for 1 person, while Tandem is for 2 people (1 driver, 1 pillion).
What Is Not Included in the Bali Top Adventure Quad Bike Rental Rates
The ATV rental cost excludes a shuttle. If you require a shuttle, there will be an additional fee according to the pick-up and drop-off location. Don't hesitate to contact our Bali ATV ride reservation if you want a shuttle.
Bali ATV rental rates do not include participant documentation during the Quad Bike Ride activity. The Bali ATV rental operators provide documentation services that you can buy directly at their location.
The price for renting a Quad Bike in Bali does not include participants' expenses. For example, participants buy a beer at the ATV ride location.
How to Book Bali ATV Ride Adventure
Want to try Bali quad bike adventures? Here's an easy way to order it at our place:
Bali ATV Ride Adventure Order Form
Bali Quad Bike Adventure Voucher Exchange
Order Confirmation: After confirming the booking, you will receive a voucher via WhatsApp or Email.
Vouchers: No need to print vouchers. Just save it on your cellphone.
Getting to the Location: On the activity day, come to the location according to the time you have booked. The location can be found by clicking this Google Maps link (Bali Top Adventure location on Google Maps).
Show Voucher: Upon arrival, show the voucher on your mobile to the receptionist at Bali Top Adventure.
Essential Items for Quad Bike Riding
Change of Clothes: Bring non-absorbent fabric and a plastic bag for used garments.
Sunblock: Shield your skin from the sun.
Camera: An action camera is preferred for capturing your ride.
Toiletries: Soap and shampoo.
Hand Sanitizers: Keep clean on the go.
Bali ATV Rental Terms & Conditions
Participants Must be over 10 years old and less than 65 years old to drive a Quad Bike.
Test Drive: There is an initial test drive to ensure participants can drive an ATV.
Guide: If the participant cannot drive, the guide will accompany him for safety.
Insurance: Ages 5 – 65 years covered by insurance provided by Bali Top Adventure.
Passenger Child: Children aged 5 – 10 travel with sanitisers free of charge. The minimum age for a pillion is 5 years.
Minors: Children under 5 years of age are not insured when travelling alone.
Health Restrictions: Not allowed for those with a history of heart disease, pregnant women, or participants with epilepsy.
Terms of Rescheduling Bali Quad Bike Rental
Do you want to re-plan the Quad Bike Bali rental activity date? Here is the guide:
Contact the Booking Department: To reschedule; please contact the Bali ATV ride Ubud rental booking service at our place.
Availability: Availability for rescheduling cannot be determined in advance, depending on the number of orders received by the operator on the date you requested.
Request Time: Rescheduling requests must be made at least 3 days before the date of the activity that you have previously booked.
Terms of Cancellation of Bali ATV Rental Orders
Want to cancel your order to play Bali Quad Bike Adventure? The following are the conditions:
Same Day as Activity Date: Cancellation fee 100% of the total payment.
1 Day Before, Before 17:00 (WITA): A cancellation fee of 50% of the total cost.
1 Day Before, After 17:00 (WITA): A cancellation fee of 100% of the total expense.
2 Days Before Activity Date: There is no cancellation fee, but refunds do not include service fees and bank transfer fees.
For cancellations, please contact our reservation service department.
Exciting Adventure Activities in Bali
Are you planning a vacation in Bali and want to try something different? Bali offers much more than beautiful beaches, from Bali River Rafting to paragliding. The following are some outdoor activities that you can try:
Bali offers more than just sights; it is a paradise for adventurers. Visit this link to learn more about Exciting Adventure Activities while on Vacation in Bali.
Plan a Vacation Schedule in Bali with ATV Ride in Ubud
Before vacationing in Bali, tourists usually make a vacation itinerary, including if they want to try an ATV ride in Ubud. Here are some tourist attractions and holiday activities close to the ATV playing location in Ubud:
This information can help you organize an efficient holiday schedule in Bali, especially if you plan an ATV ride in Ubud.
Frequently Asked Questions about Bali ATV Ride
Is Bali ATV Ride safe for children?
Yes, Bali ATV Ride provides safe routes for children and professional guides who will ensure safety during the trip.
What if I've never ridden an ATV before?
No need to worry! Before starting the adventure, the guide will provide brief instructions and drills to organise are comfortable and familiar with the vehicle.
Come on, Start Your ATV Adventure in Bali!
You already know all the details you need about an ATV adventure in Bali. Everything has been explained here, from the vehicle used for the duration of the adventure to how to order. Are you ready to take the next step and get your adrenaline pumping with a Quad Bike ride in Bali? Don't wait any longer; contact us now for orders or further inquiries!
Bali Top Adventure is waiting for you with pleasure to provide the best Quad Bike experience that will become unforgettable memories on your vacation. Trust us on your adventure; we'll ensure you have a fantastic time.
Call us now and turn your ATV adventure into the best memories in Bali!