Looking to add some splash to your Bali holiday? Discover Ayung River in Ubud for an exhilarating white-water rafting experience. Furthermore, this guide explores the top four Ayung River rafting providers, safety protocols, and exclusive features that make this river a rafting paradise in Bali.
Why Choose Ayung River Ubud for Your Bali White-Water Rafting Adventures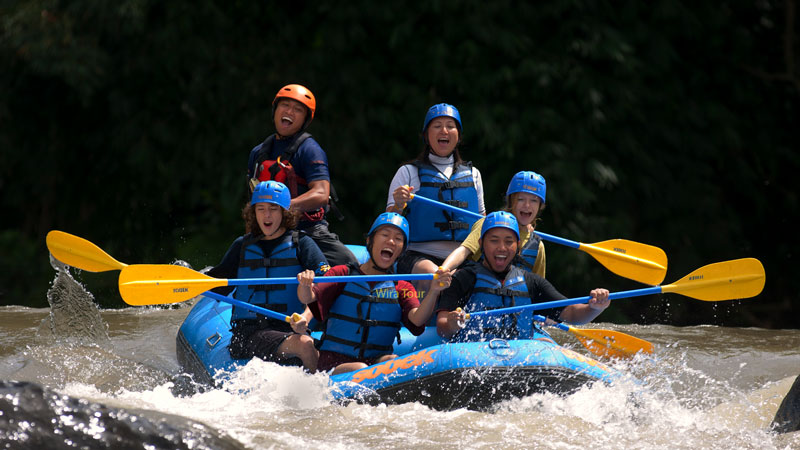 Meanwhile, the Ayung River in Bali combines challenging rapids with captivating natural vistas, making it a first-choice rafting destination for tourists. Also, if you're wondering why Ayung River is a popular choice, here are Six Great Reasons to Go Rafting on Bali's Ayung River in Ubud.
Dynamic Rapids and Natural Beauty: Navigate challenging rapids while absorbing the breathtaking beauty of Bali's rainforests and wildlife. If you're new to white-water rafting or want to understand what 'challenging rapids' means, you can check our detailed guide on Understanding the Different Rapids Classes for White Water Rafting in Bali.
All-Age Adventure: Whether you're coming with your family or friends, Ayung River offers white-water rafting packages for everyone.
Inclusive Adventure Packages: From photo ops to ATV rides, find rafting packages beyond just rafting.
Year-Round Rafting: Unlike other Bali rivers, such as Telaga Waja and Melangit River, Ayung River ensures a balanced water flow throughout the year.
Debating between Telaga Waja and Ayung River? Check our comprehensive comparison guide.
Essential FAQs for Ayung River Rafting in Ubud
Is the Ayung River family-friendly?
Yes, the Ayung River is generally safe for children above five years old as long as an adult accompanies them. Please note that age requirements can vary depending on the rafting company. Here, you can find 5 tips for Kid-friendly white water rafting in Bali.
–
Is safety insurance included?
Most operators include safety insurance in their rafting packages. It's always wise to review the terms before starting your adventure.
–
Cancellation Policy: What if I need to cancel?
Each rafting provider has its cancellation policy. Make sure to check your chosen company's terms and conditions before booking.
–
Do guides speak multiple languages?
Guides who speak English and various other languages are generally available. If language compatibility is essential, confirming this detail before booking is advisable.
–
Are halal food options available?
Some rafting companies do offer halal food options. To ensure this, you may want to inform our customer service of your dietary preferences when you book your adventure.
Ensuring a Safe and Skill-Matched Rafting Experience at Ayung River
Concerned about safety? Ayung River operators in Ubud focus on secure adventures with certified instructors and standardized gear. Before embarking, you'll receive a thorough safety briefing and rafting technique tutorial.
Eligibility Criteria and Limitations for Ayung River Rafting
Above all, age and health criteria exist for participating in rafting adventures, and some operators impose weight restrictions. Consult your chosen service provider with us to confirm eligibility before starting your journey. Interested in a family-friendly rafting trip? Find out more here.
Still unsure about the right rafting provider? We've researched for you.
Top 4 Best Ayung River Rafting Companies in Ubud
Ready for the Ayung River rafting adventure but don't know which provider to choose? Here are the top four options to make your selection easier, offering comprehensive packages and assured safety.
1. Graha Rafting Adventure
Highlights:
Facilities: Graha Rafting Adventure offers essential amenities like changing rooms, showers, and lunch for a hassle-free experience.
Expert Guides: Feel safer and more informed as experienced guides share crucial rafting techniques and tips.
Budget-Friendly: Despite their range of services, Graha's prices remain competitive, adding value to your adventure.
Pricing & Review:
2. Sobek Ayung Rafting Ubud
Highlights:
Track Record: Sobek Ayung Rafting has built a strong reputation as one of Bali's oldest and most reliable operators.
Skilled Guides: Expertise and informative guidance are the hallmarks of Sobek Ayung's experienced guides.
Pricing & Review:
3. Mason Adventure Rafting Ubud
Highlights:
Safety: Mason Adventure sets the bar high with stringent safety standards, offering top-notch equipment and experienced guides.
Luxury Amenities: Enjoy post-rafting luxury with hot showers and on-site dining.
Convenience: Mason Adventure's packages often include a shuttle service, making it easier for tourists.
Besides river rafting, Mason Adventure also provide Ayung River Kayaking. If you want to know more, you can find it here: Experience River Kayaking with Mason on Ubud's Ayung River in Bali.
Pricing & Review:
4. Payung Rafting Ubud
Highlights:
Comprehensive Facilities: Payung Rafting focuses on participant comfort, providing changing rooms, showers, and a meal post-adventure.
Affordable Options: Payung Rafting offers competitively priced packages, making it a cost-effective choice.
Pricing & Review:
After considering these options, all that remains is to book your ideal rafting adventure and enjoy the thrills that Bali has to offer! Looking for more adventures in Bali? Don't miss our guide on the Best Snorkeling Spots in Bali.
Genuine Reviews from Ayung River Rafters
Get a first-hand look from those who've had the Ayung River rafting experience.
John P – Hillsboro, OR: Fun and rewarding rafting in Ubud with Graha's professional guides. It is a trip highlight despite the hikes to and from the river. Must-try in Ubud.
Kathryn H, Swindon, UK: Mason's white water rafting and the elephant wash experience were incredible and well worth the cost. The rafting offered expert guides and stunning views, while the elephant encounter left us speechless. If you're contemplating this adventure, don't hesitate—book it; you won't regret it.
Alison S, Melbourne, Australia: Sobek Ayung Rafting offer a tremendous scenic river trip with fun rapids for beginners, led by a trustworthy guide who keeps the humour flowing.
For a comprehensive Google Maps of rafting operators, please refer to the end of this guide.
Top Tips for Picking a Rafting Operator in Ubud
Quality of Service: Check if the operator adheres to safety guidelines and if they have glowing reviews.
Comprehensive Packages: Look for all-in-one packages that offer more than just rafting, such as Ubud ATV rides and cycling tours, for added convenience.
Operational Hours: Choose a time that fits your Bali holiday schedule.
Getting Ready for Your Ayung River Adventure
Before navigating the waters of the Ayung River, prepare for an optimal experience by physically and mentally preparing. A brief warm-up can go a long way.
Essential Gear for Ayung River Rafting
Quick-Drying Apparel: Skip the cotton; it won't do you any favours on the water.
Sturdy Footwear: Water-resistant shoes or durable sandals are your best bet. For a comprehensive list of what to bring, don't miss our guide on What to Pack and Wear for a White Water Rafting Adventure in Bali.
Sun and Skin Defense: High-SPF sunscreen, a hat with ample coverage, and sunglasses with UV protection are non-negotiable.
Waterproof Bag: For safeguarding your phone, camera, and keys.
Hydration: Bring a water bottle to stay hydrated and sustain energy levels during your adventure.
Documenting Your Experience: Consider investing in a waterproof camera or outfitting your smartphone with a waterproof case. Many operators also offer professional photography services.
What to Bring: Essentials and Extras
Being well-prepared enhances your Ayung River rafting experience, allowing you to concentrate on the adventure. Check out more tips to make your Bali rafting experience fun for everyone.
Now That You're Informed, How Do You Make the Most of Your Experience?
You know the basics; let's explore tips and recommendations to enrich your rafting journey.
Practical Tips for Your Ayung River Adventure
Best Times for Rafting in Ubud
Ubud's rafting season is year-round, but for optimal conditions, aim for April to October when the weather is mostly dry. Below is a breakdown of conditions by month:
| Season | Months | Description |
| --- | --- | --- |
| Rainy Season | November-February | More challenging rapids. |
| Transitional Months | March-April | Moderate currents and scenic views. |
| Dry Season | May-October | Steady currents, safest conditions. |
Are you keen to learn more about safety measures during the rainy season? Read more on rafting safety measures during the rainy season.
How to Get to Ayung River from Ubud and Nearby Regions
Getting to the Ayung River is straightforward whether you're stationed in Ubud or elsewhere in Bali. Below are transport options to enhance your rafting adventure:
Getting There from Ubud and Surrounding Regions
Shuttle Services: Provided by some rafting companies. If you're planning your trip, here's How to Perfectly Plan a White Water Rafting Trip Near Ubud.
Taxi: Quick but might be pricier.
Motorbike: For the thrill-seekers among you.
Car Hire: Ideal for groups or those seeking extra privacy.
Choose the transport that aligns best with your needs and adds value to your experience.
Day Planning
Being near central Ubud allows you to complement your rafting day with other attractions, such as a trip to the Monkey Forest or the Ubud Royal Palace.
You can conveniently integrate rafting into your Bali holiday plans by identifying the nearest operators.
Ayung River Rafting Experience: What to Expect
Discover what awaits you as you take on the Ayung River's rapids, including this adventure's duration, distance, and unique features.
Time & Distance: Your Ayung River Rafting Journey
Approximate Duration: 2 hours
Distance: Roughly 12 km
If you're new to rafting, our Beginner's Guide to Planning a White Water Rafting Trip in Bali can help you get started.
Unique Aspects of Ayung River Rafting
Highlights: Revel in the intricate wall carvings along the riverbanks and soak up the natural beauty surrounding you.
Scenic Spots for Photography
Multiple pit stops offer picturesque views, perfect for capturing memories or snapping selfies.
Considering the above, you're all set for a thrilling yet secure experience rafting down the Ayung River in Ubud.
How to Book Your Ayung River Rafting Experience with Wira Tour Bali
Are you wondering how to secure your Ayung River rafting adventure with Wira Tour Bali? Here's a simplified, step-by-step guide to ease you through the process.
Online Booking
Select an Operator: Choose an operator that aligns with your budget and preferences.
Verify Pricing: Visit each operator's linked page for in-depth pricing details.
Complete the Form: Fill in details like the number of participants and your desired date.
Confirm and Complete Payment: Follow the payment steps displayed on-screen.
Receive E-Ticket: A voucher will be sent to your email once payment is confirmed.
Booking via Phone or WhatsApp
Contact us at +62 813 3956 3400 or +62 822 4714 8222.
Share Details: Provide the necessary information for your booking.
Confirm and Pay: Complete the payment via bank transfer, PayPal, Wise or alternative methods.
Receive Tickets: Your tickets/vouchers will be delivered through email or WhatsApp.
Group Discounts
For parties of 6 or more, special discounts apply. Contact Wira Tour's customer service for additional details.
Conclusion: Your Ayung River Rafting Adventure Awaits!
By now, you've got all the insights you need to decide about your Ayung River rafting experience in Ubud. From choosing the best operator to knowing what gear to bring, you're fully equipped for an adrenaline-pumping adventure amidst the natural beauty of Bali.
So, what are you waiting for? Turn this guide into action! A thrilling rafting experience on the Ayung River is a click away, promising you more than just a ride — it offers an unforgettable adventure.
Ready to Book Your Ayung River Rafting Experience?
Don't miss out on an adventure of a lifetime. Book your Ayung River rafting package with Wira Tour Bali today and prepare for a thrilling experience you'll cherish forever. Make your Bali trip memorable by adding this exhilarating activity to your itinerary.
GET IN TOUCH
Contact our customer service to Book Your Ayung River Rafting Experience Now!
Google Maps of Rafting Operators in Ubud
For ease of choice, we've provided Google Maps links to various rafting operators below:
Other Bali Adventures You Might Enjoy
Switch language to Indonesian: Click Here.