Ubud is known for its vibrant arts and culture. A visit to this charming town wouldn't be complete without experiencing the enchanting Tirta Sari Legong Dance in Ubud. This captivating Bali dance show showcases the beauty and intricacy of Balinese performing arts. In this article, we'll explore where to watch a mesmerizing Ubud dance performance, the performance schedules, and the allure of the Tirta Sari Legong Dance.
Bahasa Indonesia, Tonton Keindahan Tari Tirta Sari Legong Lasem Peliatan Ubud – Pengalaman Pertunjukan Seni Tari Bali yang Wajib Dilihat.
Witness the Tirta Sari Legong Dance in Ubud: A Must-See Cultural Show
First and foremost, when you're interested in witnessing captivating Balinese dance performances, Ubud is the perfect destination to explore. Also, Ubud night shows are famous for their cultural richness, and the Tirta Sari Legong Dance is no exception. They are held at Balerung Stage Peliatan, the talented Tirta Sari Legong Lasem group dances.
Find Your Complete Guide to Barong Dance Ubud Bali's Schedule, Location, and Prices.
The Many Faces of Balinese Dance Performances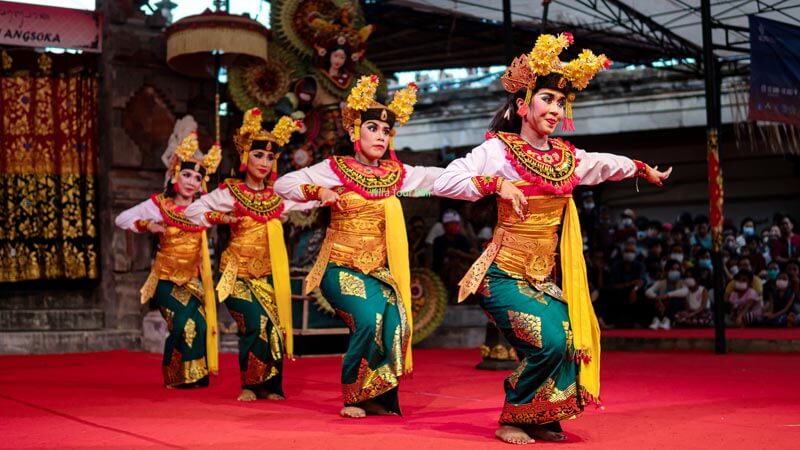 Furthermore, Balinese culture features various dance forms, each with its unique style and story. Some of Ubud's most famous cultural shows include the;
These popular Balinese dances, often featured in Bali cultural shows, have unique stories and distinct movements and are accompanied by the enchanting sounds of Gamelan music.
In addition, each of these captivating Ubud Gamelan performances showcases the island's rich artistic heritage. However, Kecak dance, instead of using traditional Balinese instruments, primarily relies on the rhythmic chanting of a group of performers who create a percussive, mesmerizing soundscape that drives the narrative of the dance.
Moreover, the most popular location for Barong Ket Dance in Bali is in Batubulan Gianyar village, while the most popular place to watch Kecak Dance is at Uluwatu temple.
Meanwhile, you can visit authoritative sources for additional context and understanding of the Balinese culture. Like Indonesia.Travel or The Ministry of Tourism and Creative Economy for more information on traditional Balinese dances and their significance.
Legong Dance in Ubud
Furthermore, Legong is a classical Balinese dance with intricate finger movements, expressive facial gestures, and dazzling costumes. The Tirta Sari Legong Lasem Peliatan Ubud group presents a spectacular Legong Dance show featuring skillful and unique moves that mesmerize audiences.
Read More, Legong Ramayana Ballet Dance At Ubud Palace.
The History and Beauty of the Tirta Sari Legong Dance
Delving into the history and beauty of the Tirta Sari Legong Dance, the Tirta Sari Legong group was founded in 1978 by Anak Agung Gde Mandera from Puri Kaleran Peliatan Ubud to preserve Balinese dance and classical music. Over the years, the dance group has grown and gained recognition, performing at official state events and social gatherings. Under Anak Agung Gde Oka Dalem (their artistic director), the group continues to captivate audiences with their mesmerizing performances.
See Saraswati Temple Ubud: Experience Balinese Culture at its Finest with Lotus Pond Stage!
Legong Lasem Tirta Sari performance
Furthermore, the Tirta Sari Legong Group is famous for bringing the full version of the Legong Dance or the famous Legong Lasem. Consisting of 37 musicians and 21 dancers, the group performed various Legong dances, such as Legong Semaradana, Legong Kuntir, Legong Jobog, Legong Pelayon, Legong Kuntul, and Legong Untung Surapati.
Read More, Ubud Royal Palace: Essential Things You Need to Know Before Visiting This Enchanting Attraction!
Plan Your Visit to the Tirta Sari Legong Dance in Ubud
| Dance Group | Schedule | Show time |
| --- | --- | --- |
| Tirta Sari (Classical Legong Peliatan & Barong Dance) | Friday | 19:30 |
| Genta Bhuana Sari (Legong and Mask Dance) | Tuesdays | 19:30 |
To catch a Tirta Sari Legong Dance show or Genta Bhuana Sari group, note the performance schedules at Balerung Stage, which usually run from 7:30 PM to 9:00 PM. For information, Genta Bhuana Sari is still closed and currently not yet open. If there are modifications, we will revise the article on this page.
Booking tickets in advance is highly recommended. Also, pay attention to the day of the show because there is no daily show.
Experience the Magic of Balinese Kecak Dance at Uluwatu with Affordable Ticket Prices: Your Ultimate Guide!
Book Tickets for Tirta Sari Classical Legong of Peliatan & Barong Dance Online
Wira Tour Bali offers convenience for those wanting to watch the Tirta Sari Legong performance by providing online tickets for IDR 100,000 per person.
By booking tickets through Wira Tour Bali, you won't have to bother about running out of tickets or queuing when you want to watch this stunning Legong Dance performance. To book your tickets, contact our Bali dance performance ticket reservation service at +62813 3956 3400 (WhatsApp Call & Chat) or +62822 4714 8222 (WhatsApp Chat Only).
Getting to Balerung Stage
Balerung Stage Peliatan, also known as Balerung Mandera Srinertya Waditra, is located in the Kompleks Puri Guruh Sindang Paridesa Br Teruna Peliatan, Ubud 90571, Bali, Indonesia. To make it more comfortable for you to find the location of Balerung Stage Peliatan, please use Google Maps by clicking the link!
Taking a Metered Taxi or Renting a Car in Bali
To reach Balerung Stage Peliatan, you can choose between a metered taxi or renting a car in Bali. By renting a car, you can enjoy more flexibility in exploring the island and visiting multiple tourist destinations.
Furthermore, for those staying in other areas, such as Kuta, consider renting a car in Bali with a driver to save on transportation costs. You can also explore other Ubud tourist attractions. Such as the Monkey Forest and Bebek Bengil Restaurant when using a rental car service with a driver.
For your information, Wira Rafting is a branch of Wira Tour Bali. Wira Tour Bali provides car rental services at competitive prices under Wira Rental Mobil (Indonesian Language Website).
Wira Rental Mobil: Bali Car Rental Services
If you rent a car to get to Balerung Stage and other attractions in Bali, Wira Rental Mobil offers various car rental options to suit your needs. You can choose between renting a car with a driver or self-drive in Bali (Indonesian language website). We provide well-maintained vehicles and a professional, English-speaking driver to ensure comfort and convenience.
Why Choose Wira Tour Bali for Car Rental Services
Trusted and experienced Bali car rental service.
Competitive prices for car rental in Bali.
Various rental options are available, including driver or self-drive.
Well-maintained vehicles and professional, English-speaking drivers.
Choosing Wira Rental Mobil Bali car rental services ensures a smooth and enjoyable trip around the island. Therefore, allowing you to explore Bali's many beautiful destinations. To book a car rental in Bali, please get in touch with our Bali car rental booking service at +62813 3956 3400 or +62 822 4714 8222 (both numbers are available for WhatsApp).
Don't Miss the Chance to Experience the Tirta Sari Legong Dance Performance in Ubud
Ubud is a hub for Balinese culture and art, and the Legong Dance is a must-see when you visit this beautiful town. The Tirta Sari Legong Dance Group's performances showcase the rich traditions and talent of Balinese artists. With their intricate movements, expressive facial gestures, and stunning costumes, the Legong Dance will leave a lasting impression on you.
Book your tickets online through Wira Tour Bali for a hassle-free experience and to guarantee your spot at this mesmerizing cultural show. By renting a car with Wira Rental Mobil, you can easily visit Balerung Stage Peliatan. Also, explore the other attractions that Ubud and Bali offer.
See Here, Your Complete Guide to Kecak Dance Ubud Bali's Performance Location and Schedule!
Discover Other Must-Visit Attractions in Ubud and Bali
Apart from the Legong Dance performance, Ubud and Bali offer numerous cultural, natural, and artistic attractions you shouldn't miss during your visit. Here are some recommendations for your consideration:
In Conclusion
Ubud and Bali offer many cultural, artistic, and natural experiences that captivate and enrich your visit. The Tirta Sari Legong Dance performance is an unmissable part of your Balinese adventure, showcasing the island's rich traditions and artistic talent.
Furthermore, By renting a car with Wira Rental Mobil and booking your tickets through Wira Tour Bali. You can ensure a smooth, pleasant, and hassle-free journey to the beautiful island of Bali.
So, don't wait any longer! Therefore, book your Legong Dance tickets and car rental with Wira Tour Bali today! Embark on an unforgettable journey to discover the unique beauty and charm of Bali's cultural heart, Ubud.
Find Here, Ubud Bali: Essential Things You Need to Know Before Visiting This Enchanting Destination!