Suppose you plan a vacation to Bali for the first time, whether with family, friends, or alone. Then there will be many inquiries that will arise in your mind. I experienced this even when I wanted to vacation to a place I had never visited. Many queries will arise when tourists have their first vacation to Bali. Here are some common concerns that most travelers often ask when they have a break from Bali for the first time. What are the tourist attractions in Bali? Where are the best accommodations? What are the holiday transportation options in Bali? However, several weeks ago, I got a question from one of our customers who booked whitewater rafting trips in Bali. The query is what to wear in Bali during vacation and Bali's whitewater rafting trips.
Bahasa Indonesia, "Pakaian Liburan Ke Bali Yang Wajib Anda Bawa" >>>
Never before in my mind thought about things to wear in Bali during the holidays. I am Balinese, and I got used to the clothes that most Balinese wear. The question made me engaged in writing about tips on what to wear in Bali. If you want to know what to wear on vacation in Bali and don't know where to start, please continue reading this page!
Read here, "Travel Tips to Kuta Bali For First-Timers" >>>
Considerations For Clothes & Other Items To Carry
You don't want to carry plenty of stuff while on vacation to Bali. Also, not all the things you bring will be used in Bali. Also, you get charged for the extra weight by the airline.
Determine which Bali attractions you want to visit. For example, will you have a vacation to the beach, shopping mall, or temple attractions in Bali? See here, "Attractiveness and Uniqueness of Each Tourist Area in Bali" >>>
Determine at the beginning the holiday activities in Bali that you want to join. Things to do in Bali include Bali water sports, rafting tours, elephant riding, Bali ATV riding, or other adventure tourism activities.
If you are on vacation to Bali with a toddler, always bring the medicine your child usually needs. If the medication is sold freely at a pharmacy or supermarket, you don't need to carry it. You will find the medicines in Bali. If getting treatment for you and your children requires a doctor's prescription, you should bring the medication/prescription from home. Be sure the medicine you carry from home is equipped with supporting documents like a doctor's prescription. See here, Holiday Tips to Bali with Toddlers, Babies & Children.
Bring small-size first aid kits. You don't have to look for Bali's nearest pharmacy when you need first aid equipment.
Knowing the priority of holiday activities and Bali attractions you will visit will let you know the items and clothes you have to carry.
Search Here, "Estimated Cost To Have A Vacation To Bali For 2 People" >>>
Tips on What To Wear During Holiday In Bali
I want to emphasize that I am not an expert in fashion or stylish clothing for holidays. Therefore, if you need tips on what to wear in Bali to look fashionable that you are seeking, you will not find the answer on this page.
So what type of guide on what to wear in Bali during vacation is this page all about? Directions on Bali's vacation clothes on this page are based on my experience as a local Balinese who doesn't have a lot of cheap vacation options except holidays in Bali. With my vacation experience to almost all tourist attractions on Bali's island, I pay attention to the clothes used by Indonesian and international tourists.
I often have a vacation to Bali attractions. I can distinguish the country of tourists from Japan, China, Hongkong, Singapore, and Taiwan, from how they dress without communicating.
The guide on holiday clothes in Bali emphasizes the dress code of tourist attractions and what to do in Bali. The goal is not to break the dress code while on vacation on each interest in Bali. Even though no one will ban you, you don't look weird in front of other travelers.
See here, "Things You Need to Know When Planning a Bali Tourism Itinerary" >>>
1. Sarongs & Scarves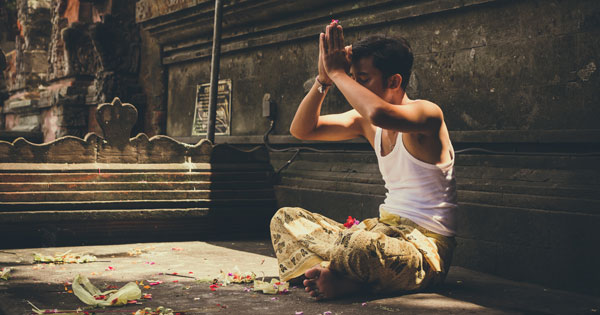 The main attractions of Bali as a holiday destination rest in Balinese Hindu temple attractions. You must have heard of Tanah Lot temple or Ulun Danu Temple on Beratan Lake Bedugul. Therefore, if you plan to vacation at one of Bali's temple attractions, you must wonder what to wear in Bali when visiting Balinese Hindu temples.
The dress code to enter a Balinese Hindu temple is simple; you need to wear a sarong and scarf tie on your waist. Also, cover your upper body by wearing a t-shirt.
Although in some Hindu temples in Bali, sarongs and scarves are prepared for visitors. However, it would be best to prepare sarongs and scarves before you arrive at the temple attraction.
Not all temple attractions in Bali provide sarongs and scarves. If you forgot to take a sarong and scarf, you could get them at the small shop around the temple area. Using a sarong and scarves tied around your waist when you enter the temple area in Bali, you have to respect the Balinese culture.
Search Here, What Are The Best Temples Attractions In Bali To Visit?
2. Beach Wear & Swimsuit
Holidays to Bali are synonymous with visiting beach attractions, such as Kuta beach, Sanur beach, Pandawa beach, or Jimbaran beach. Always bring beach clothes and more than one swimsuit for each person. Because drying a bathing suit takes time, you don't want to wear a suit that you haven't washed. You can still find it in Bali if you forget to bring beachwear.
Search Here, "10 Most Beautiful Beaches in Bali To Watch Sunset View" >>>
3. Sandals & Antiskid Water Shoes
Most of Bali's tourist attractions include beaches, lakes, mountains, terraced rice fields, rivers, and natural waterfall attractions.
Suppose you are preparing to have a holiday at the beach, visiting a Bali natural waterfall, or you want to try a rafting trip. In that case, it's a good idea to bring sandals and anti-slip water shoes.
Sandals are the most recommended footwear to use when visiting the beach. Due to the slippers being comfortable to wear and the slippers being easy to clean from the beach sand. If you must join a Bali rafting tour or trekking tour heading to the waterfall, you should use anti-slip water shoes. Because you will walk on slippery rocks, the anti-slip water shoes can protect your feet from sharp stones.
Read More, "What To Wear During Whitewater Rafting Trips In Bali" >>>
4. Trekking Shoes – What To Wear In Bali
Trekking activities in the fields or climbing mountains are preferred by international tourists while on vacation in Bali. Suppose you plan to do sunrise trekking activities to Mount Batur or climb Mount Agung. In that case, trekking shoes will facilitate your trekking activities.
5. Casual Clothes – What To Wear In Bali
Suppose you are wondering what you should wear while on vacation in Bali: a T-shirt and shorts. The Bali weather is similar to other parts of Indonesia. Still, the southern part of Bali is warmer compared to the central area of Bali. By wearing shorts, I can move more efficiently, and my calves don't feel warm. Also, to reduce sunburn, you can use sunblock.
6. Hats & Sunglasses
Bali's weather has a tropical climate; therefore, the temperatures are stable, ranging from 24 to 34 degrees Celsius. I don't particularly prefer using hats while on vacation in Bali. However, using a cap while on holiday in Bali will be very good if you are sensitive to sunlight. Also, always remember to wear sunglasses.
Read More, "Best Season To Visit Bali With Family & Children That You Need To Apprehend" >>>
7. Evening Dresses
The following questions are what to wear in Bali at night? If you like to hang out or visit nightclubs on the island of Bali. You must bring at least one evening dress, and for men, you must get your shirt and trousers.
Summary On What To Wear In Bali
I hope the guide on what to wear in Bali during vacation is helpful for you. I have also received questions from our customers who ordered family vacation packages in Bali, asking about what colors of clothes they should not wear in Bali.
As far as I know, there is no prohibition regarding the color of clothing that cannot be used in Bali. You can utilize whatever color you like, and no one forbids it.
Maybe This Is What You Are Looking For, "Bali Vacation Guide & Advice For Family, Honeymooner With First Timers Helpful Hints" >>>