Bali island is a tourist destination known for its many Hindu temple presences, cultural uniqueness, beautiful art, and stunning landscape views. Furthermore, as a popular traveling destination, especially in Southeast Asia, respecting and understanding local customs and traditions when visiting Balinese Hindu temples is very consequential. One of the most noteworthy aspects of etiquette for visiting a Balinese Hindu temple is wearing the proper attire. Furthermore, visitors' understanding of Balinese culture regarding the Bali temple dress code shows respect for Balinese culture. Therefore, the guide on this page will discuss your essential guide on what to wear appropriately for visiting Balinese Hindu Temples.
Bahasa Indonesia, Panduan Busana Liburan Ke Pura Hindu Di Bali.
Unveiling the Bali Temple Dress Code: Learn what to wear and avoid when visiting Hindu temples in Bali. Respect Balinese culture by complying with traditional dress codes and avoiding specific clothing. Find out where to get sarongs and shawls at temple tourist attractions.
Bali is famous for its many temples; visiting them is a must-do for travelers. It's a chance to see locals practicing their faith and admire the beautiful architecture. As a result, many tourists who visit Bali plan to visit several Balinese Hindu temples during their trip. However, it's essential to show respect and courtesy while visiting. To help, we've created a guide about the Bali temple visit dress code.
Find Here Things to Know Before Visiting Ubud Royal Palace.
What is the significance of dress codes while accessing Hindu temple areas in Bali?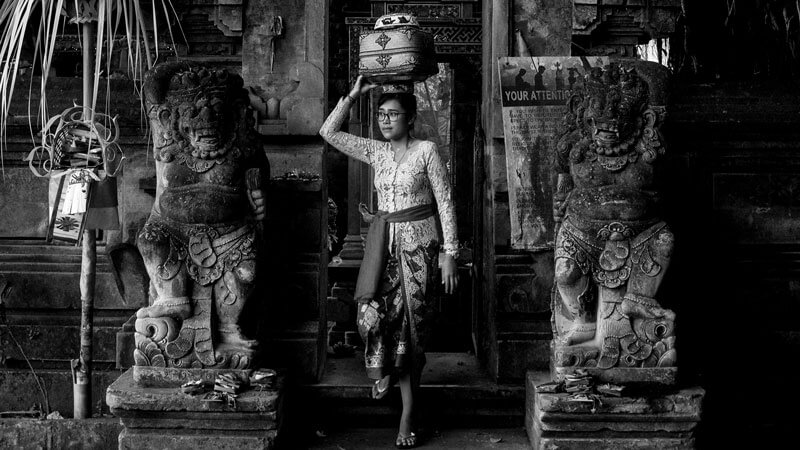 Following the dress code when visiting a Hindu temple in Bali is very important. Temples are holy places where the Balinese Hindu community comes to pray. In the culture of Balinese people who embrace Hinduism, wearing appropriate clothing when entering the temple's inner area symbolizes respect for culture and religion.
Therefore, following the proper dress code is a good idea. Also, to avoid being rejected for entry into the Balinese Hindu temple area during holidays. Visitors must wear suitable attire to enter the leading site of a temple in Bali. Failure to do so may result in being denied entry.
Furthermore, in Balinese Hinduism, a temple is not just an area of worship. But it also represents the universe, and the gods worshiped in each temple. Therefore, every temple visitor must respect the gods who reside in the temple by obeying the dress code.
Also, in Balinese culture, modesty is highly valued, and dressing according to cultural norms is seen as a way of showing respect for oneself and Balinese culture.
See, Must-Bring Clothes for a Vacation to Bali: A Guide to Proper Holiday Outfits.
Guidelines for Holiday Attire to Hindu Temples in Bali
What is appropriate clothing for visiting the Balinese Hindu temple?
The dress code for entering the temple area in Bali is relatively strict and requires visitors to dress modestly, covering their shoulders, knees, and stomach. Visitors who do not comply with these dress guidelines when visiting the Balinese Hindu temple will be requested to buy, rent or borrow a sarong or shawl before accessing the inner area of the temple.
However, if visitors need suitable attire, some Hindu temples in Bali offer sarongs or shawls for them to wear. Here are some guidelines to follow when dressing appropriately to enter the inner area of a Balinese Hindu temple.
1. Tops Clothing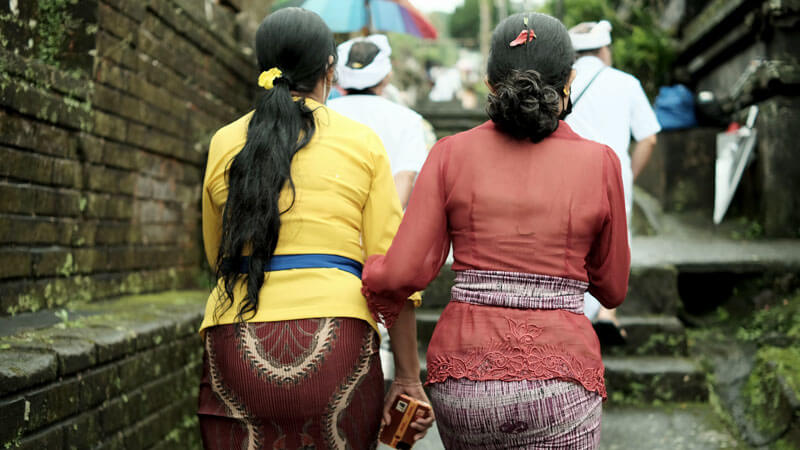 It is recommended to wear top clothing in the form of a T-shirt, shirt, or blouse with sleeves.
Furthermore, adherents of Hinduism in Bali highly value politeness. Therefore, attiring correctly when visiting a Hindu temple will show respect for the culture and religion in Bali.
When visiting a Hindu temple in Bali, visitors should avoid wearing tank tops, spaghetti-strap dresses, and other sleeveless tops. It is considered inappropriate and may result in being denied entry to the inner area. Balinese culture dictates that shoulders should be covered as a sign of modesty. So wearing a shirt or blouse with sleeves is recommended to show respect and adhere to the local customs.
Bali's tropical climate can be hot and humid, so wearing a shirt or blouse with sleeves shows respect for local customs and protects from the sun's heat.
See Holiday Guide to Tirta Empul Temple Bali: Exploring the Beauty of Sacred Places & Dress Code.
2. Undergarments – Bali Temple Dress Code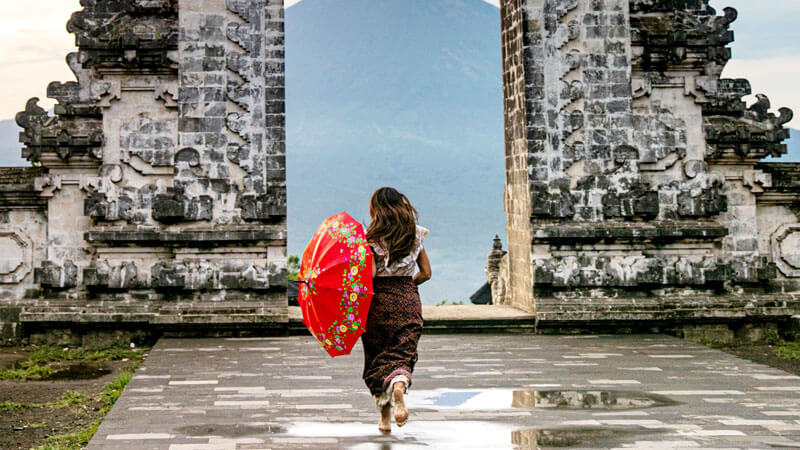 Is it permissible to wear shorts when visiting Hindu temples in Bali?
When visiting the Balinese Hindu temple, wearing trousers or skirts that cover the knees is recommended. Visitors who wear shorts, short dresses, and tight skirts may not be permitted to enter the inner temple area.
When wearing a short or tight skirt, covering your waist and legs with a sarong is advisable when visiting Hindu temples in Bali. Wearing a sarong is an integral part of the dress code norms at Balinese temples.
You may already be familiar with a sarong, but for those who are not, let me briefly explain what it is.
Sarongs are traditional clothes in the form of sheets worn by people of all genders in Bali when visiting temples. In Balinese Hinduism, wearing a sarong symbolizes purity and respect for sacred places of worship.
To adhere to the dress code when visiting Balinese temples, everyone should wear a sarong to cover their waist and legs. Men should pair the sarong with a short-sleeved shirt or traditional Balinese clothes, typically white. Women should wear a conventional Balinese blouse or kebaya with the sarong.
If you don't have a sarong, you can usually get one with your temple ticket or buy one at a local market; therefore, you can use it when visiting a more remote Balinese Hindu temple.
Search, Travel Guide & Dress Code To Ulun Danu Temple Beratan Bali.
3. Shawl – Bali Temple Dress Code
After wearing the sarong, visitors will tie it around the waist using a shawl (in Balinese, it is called Senteng). Shawl is a cloth, generally 1 to 2 meters long and about 10 centimeters wide.
When entering a Hindu temple in Bali, tying a shawl around the waist symbolizes a desire to limit negative thoughts in the mind. Additionally, the shawl keeps the sarong in place and prevents it from sagging.
Search, Detailed Holiday Guide to Visiting Ubud Monkey Forest.
4. Footwear – Bali Temple Dress Code
Sandals are recommended for use when visiting the Balinese Hindu temple because they are easy to take off. Hindus in Bali, the majority will wear sandals when praying to the temple because several temple areas need to be accessed barefoot.
Tourists visiting the temple area are not prohibited from wearing shoes as they do not enter the sacred space.
See Holiday Guide to Uluwatu Temple Bali: Discover the Beauty, Dress Code, and Latest Entrance Ticket Prices.
5. Only Men Are Expected To Wear Udeng On Their Heads
In Balinese temples, it is customary for men to wear Udeng as a part of their traditional attire during religious ceremonies and cultural events. Udeng is a standard headwear reserved exclusively for men.
Wearing Udeng during religious ceremonies at temples is a sign of respect for the temple and the gods it venerates, which is customary in Balinese culture. The head is regarded as the most sacred human body aspect in Balinese tradition.
Wearing Udeng symbolizes humbleness and respect for the temple as it covers the head. Balinese people also believe that Udeng helps in focusing the mind during ceremonies. Besides religious traditions, men in Bali also wear Udeng during traditional activities.
While male tourists visiting temples in Bali are not required to wear Udeng, those who wish to pray are encouraged to wear it.
Udeng is essential to the Balinese temple ceremonies and formal event dress code. It signifies respect, humility, and concentration during religious rituals.
Read More, Beauty of Bali's Tanah Lot Temple: Ticket Prices, Dress Code, and Best Time to Visit.
Then What Is Udeng/Destar?
You may have seen Udeng before, but let me explain briefly. Udeng is a rectangular cloth manually shaped and tied around the head with a knot at the top. Balinese people also call it Destar.
Udeng used to be just a piece of cloth that people shaped manually, but now it is commonly sold in finished form with sizes that fit the user's head.
There are different types of Udeng, distinguished by their shape and color. White Udeng is usually worn during temple ceremonies, while Batik or Songket Udeng is worn during traditional activities.
For example, a groom might wear Udeng Songket during his wedding ceremony, while a man would wear a white Udeng during a religious ceremony at a temple.
Songket is a traditional woven cloth from Southeast Asia, particularly Malaysia, and Indonesia, which uses gold or silver threads to create intricate and shimmering patterns.
Check out the entrance ticket prices for visiting Tanah Lot Temple Bali.
What to Avoid
It is crucial to wear appropriate clothing when visiting Hindu temples in Bali. It is also essential to avoid wearing an impolite dress in Balinese culture. Here are some examples of clothing that should be avoided:
Clothing that exposes the shoulders, knees, or stomach.
Tight-fitting clothing is considered impolite.
A transparent or see-through dress may be distracting and disrespectful.
Discover the unique features of Bali that can only be found on the Island of the Gods.
Can you wear regular clothes when visiting temples in Bali?
When visiting temples in Bali, wearing clothes that cover your body and are not too revealing or tight is essential.
Some temples, like Besakih Temple, Goa Gajah Temple, and Tirta Empul Temple, require visitors to wear sarongs and shawls provided by the temple.
However, dress codes can vary depending on the temple and the areas you want to visit. If you plan to enter the temple's prayer area, traditional clothing is required.
When you enter the area inside the temple where people pray, you must wear traditional clothing according to the temple's rules.
On the other hand, if visitors are walking around the area outside the temple, for example, outside the Tanah Lot temple area or watching the Kecak dance at the Uluwatu temple, wearing a scarf is sufficient. Therefore, checking the dress code before visiting a temple is best to ensure everything is clear.
Read More, Tips for Clothing and Essential Items for White Water Rafting in Bali.
Summary Bali Temple Dress Code
It's essential to respect Balinese culture and customs when visiting Hindu temples in Bali. This means following the traditional dress code guidelines by dressing modestly and avoiding specific clothing. By doing so, you show respect for the local culture.
At most temple tourist attractions in Bali, you can borrow sarongs and shawls to wear when you enter the temple area. These clothes are often provided at the same place where you buy tickets to the temple attractions. If you want to avoid wearing the sarongs and shawls provided at temple tourist attractions, you can purchase them from shops around the temple area.
The sarongs and shawls provided at many temple tourist attractions in Bali serve two purposes: to ensure visitors follow the dress code for entering the temple area and to offer a convenient possibility for visitors not wearing the appropriate clothing.
Related Bali Vacation Guide Articles