Welcome to our concise holiday guide about Lempuyang Temple, the Gate of Heaven, in Bali. As a top destination in Southeast Asia, Bali boasts beautiful beaches, unique culture, excellent tourism facilities, and warm hospitality. On this beautiful island, you'll find numerous attractions, including the Penataran Agung Lempuyang, one of the top Hindu temples in Bali.
Bahasa Indonesia, Panduan Wisata Pura Lempuyang Bali: Tips & Informasi untuk Kunjungan Mengesankan.
Penataran Agung Lempuyang is an important Hindu temple in Bali, known for its rich cultural experiences, excellent photo opportunities, and beautiful natural scenery. It's highly recommended for photography enthusiasts. Furthermore, this Bali trip guide provides vital details for planning your visit, including the temple's history, unique features, purpose, step count, admission fees, photo spots, and the best time to visit.
Overview: Lempuyang Luhur Temple, Bali
Lempuyang Temple, also known as Lempuyang Luhur, is a revered Balinese Hindu complex on top of Bisbis Hill in eastern Bali. This sacred site, dedicated to worshiping Ida Sanghyang Widhi Wasa (God) as Iswara, is one of six critical holy sites maintaining spiritual balance on the island known as 'Sad Kahyangan Jagat.'
Several architecturally unique shrines and seven temples can be found within the complex, with the highest, Lempuyang Luhur Karangasem, situated at 1,175 meters (3,855 feet). Visitors are drawn to the temple's serene atmosphere, traditional Balinese architecture, and views of Mount Agung, Bali's highest peak. The iconic 'Gate of Heaven' is a popular photo spot and symbol of Bali tourism.
Specifically, at Penataran Agung, the Gate of Heaven is a must-see for those seeking Bali's cultural heritage and natural beauty. Lempuyang Temple showcases a blend of spirituality, culture, and nature, offering visitors insights into authentic Balinese life, including:
Cultural Heritage: Traditional architecture and intricate stone carvings.
Scenic Beauty: Panoramic views of Mount Agung and the surrounding landscape.
Iconic Photography Locations: The famous 'Gateway of Heaven' gate.
Authentic Balinese Environment: Experience the original life of the Balinese people in eastern Bali, away from the tourist-heavy southern areas.
Related: Unveiling the Mysteries of Goa Gajah Temple: Exploring Ubud's Enigmatic Landmark.
See Holiday Guide to Ubud Royal Palace.
History of Lempuyang Luhur Temple, Karangasem
The Lempuyang Luhur Temple in Karangasem, Bali, holds a rich history that intertwines with Balinese mythology. Sources like the Lontar Kutara Kanda Dewapurana Bangsul, Babad Pasek, and the Sading Village Inscription provide insights into the temple's establishment during a time of chaos, under the directive of gods such as Gnijaya Deva and Pacupati Deva.
The Lempuyang Luhur temple is one of the 'Sad Kahyangan Jagat' – the six most important spiritual sites in Bali – and is dedicated to the god Hyang Iswara, symbolizing the East. This underscores the temple's role in maintaining spiritual balance and protecting Bali from evil spirits.
Through numerous restorations and the consistent upholding of traditional rituals, local communities and the Indonesian government have been instrumental in preserving this legacy of culture, tradition, and heritage. Today, Lempuyang Luhur Temple is a testament to Balinese spirituality and an important tourist attraction.
You can read the whole article regarding the History of Lempuyang Luhur Temple, Karangasem, on this link.
Find Out, Holiday Guide To Tanah Lot Bali: Attraction, Ticket Prices, and Best Time to Visit!
Exploring Lempuyang Temple Complex in Bali: A Guide for Visitors
Many visitors are curious about the number of holy sites within the Lempuyang Temple Complex. This sacred Hindu site on Bisbis Hill consists of seven temples. Here's a summary of each temple and its significance for tourists:
Penataran Agung (Gate of Heaven Lempuyang) The first and most famous temple, Penataran Agung, features the iconic Gateway of Heaven with Mount Agung in the background. Most travelers visit this temple for its stunning scenery and photo opportunities.
Telaga Emas The second temple, Telaga Emas, is known for its golden roof. You can reach it directly by scooter or from the Penataran Agung parking area.
Telaga Sawang, The third temple, located at a higher altitude, offers beautiful views and a serene atmosphere, surrounded by green trees.
Lempuyang Madya, The fourth temple, is frequented by Hindus for prayer. It serves as a resting place before continuing the ascent to the following holy site.
Puncak Bisbis, The fifth temple in a mountainous region, serves as a resting spot for Hindus on their way to Lempuyang Luhur Temple.
Pasar Agung, The sixth temple, located just before Lempuyang Luhur, marks the point where the climb becomes more challenging.
Lempuyang Luhur, The seventh and final temple, at 1,174 meters above sea level, offers beautiful views of Mount Agung and its surroundings. The serene atmosphere at the top is often covered in fog, and most visitors are Hindus coming to pray. To reach Lempuyang Luhur, visitors must climb 1,700 steps through a lush forest path.
Related: Guide to Uluwatu Temple Bali.
Visiting Penataran Agung Lempuyang Temple (Gates of Heaven) in Bali
Most tourists visiting Lempuyang Temple in Karangasem only make it to Penataran Agung, renowned for its Gate of Heaven or 'Gateway of Heaven.' If you wish to appreciate the 'Gateway of Heaven' view, your target destination is Penataran Agung Temple, not Lempuyang Luhur. Both are sacred Hindu sites located in different areas within the hill complex.
A. Beautiful View
The beautiful scenery is one of the main attractions of Penataran Agung. Visitors can enjoy views of Mount Agung from this temple, rice fields, and sea views. This stunning view makes Penataran Agung a top-rated destination among tourists.
See Tirta Empul Temple Tampak Siring: A Comprehensive Holiday Guide For Travelers.
B. The Iconic Gate of Heaven
Visitors can capture famous photographs at the Gate of Heaven, called Candi Bentar, which directly faces Mount Agung. A mirror effect is often used to create a water-like reflection, enhancing the visual appeal of the photos.
Many tourists create a mirror effect using their phone screens when taking pictures at the Gates of Heaven. The aim is to make the gate's floor appear reflective like water, enhancing the visual appeal and creating an iconic look in their photos.
So when you see a photo of the Gates of Heaven with a water-like reflection, it's achieved through a mirror effect. No actual water is present in the area around the "Gates of Heaven" gate.
Must Read, The Beauty of Ulun Danu Bratan Bedugul: Temple in the Middle of the Lake.
C. The Beauty of Traditional Balinese Architecture
Penataran Agung showcases unique and magnificent traditional Balinese architecture, adding to the temple's significance as a must-see attraction in Bali.
You Must Comprehend. Check the Latest Entrance Ticket Prices to Tanah Lot Bali here!
D. Location of Penataran Agung Lempuyang Temple Karangasem
Penataran Agung is located in eastern Bali at Jalan Pura Telaga Mas, Abang District, Karangasem Regency, atop Bisbis Hill (Mount Lempuyang).
To help you find Penataran Agung Temple more effortlessly, please click the link below!
See, Pura Penataran Agung Lempuyang Google Maps.
E. Penataran Agung Lempuyang Temple Entrance Fee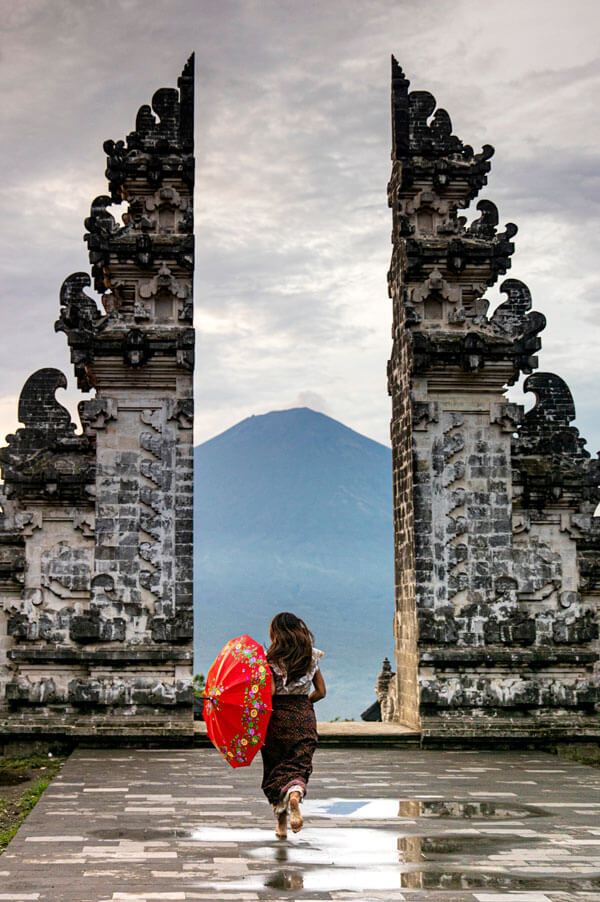 The Penataran Agung Temple / Gate of Heaven Lempuyang Bali entrance fees are as follows:
| Category | Price of admission |
| --- | --- |
| Domestic Travelers | IDR 50,000/person |
| International Travelers | IDR 55,000/person |
| Motorcycle Parking | IDR 3,000/scooter |
| Car Parking | IDR 5,000/car |
| Bus Parking | IDR 10,000/bus |
Update List of Entrance Ticket Prices for Various Holiday Destinations in Bali.
F. Breaking Down the Costs: Shuttle and Entrance Fees at Lempuyang Temple
Shuttle fee from the vehicle parking lot to the location of the Gate of Heaven Lempuyang Bali:
| Trip | Shuttle Fee |
| --- | --- |
| OneWay | IDR 25,000/person |
| Round-trip | IDR 45,000/person |
This is an explanation to make it easier for you to understand the price of the entrance ticket to Penataran Agung Lempuyang.
For Indonesian tourists, a round-trip shuttle costs IDR 45,000, and an entrance ticket to Temple's Gate of Heaven is priced at IDR 50,000 per person. Thus, the total expense for visiting Lempuyang Temple is IDR 95,000 per person.
On the other hand, international tourists will be charged IDR 45,000 for the round-trip shuttle and IDR 55,000 per person for entrance to Lempuyang Bali's Gate of Heaven, totaling IDR 100,000 per person.
G. Photo Service Fee at the Gate of Heaven Lempuyang
For photo service costs at the Gate of Heaven, there will be a donation fee to the photographer on location, and the amount of donation is up to visitors; there is no fixed price.
Photographers on-site are skilled at creating mirror-reflection effects in photos. Alternatively, you can also capture great pictures by requesting the help of family members or friends.
Find Out, The Latest Online Uluwatu Kecak Dance Ticket Prices.
H. Opening Hours of Penataran Agung Lempuyang Temple for Tourist Visits
Lempuyang Temple is open for tourist visits every day from 6:00 am to 7:00 pm, while the holy site is available 24 hours for prayer.
Discover the Magical Lotus Pond Stage at Saraswati Temple Ubud.
How to Reach Lempuyang Temple (Gate of Heaven) in Bali
Lempuyang Temple, located in Karangasem Regency, is accessible from various parts of Bali. Here's a guide to help you choose the best transportation option:
Private Car: Ideal for comfort and convenience, especially when traveling from southern or central Bali. Rent a car with a driver to explore nearby attractions like Tirta Gangga Water Palace, Taman Ujung Sukasada Palace, Candidasa, Tenganan Village, and Amed and Tulamben beaches. Prices vary based on the car model.
Scooter Rentals: Suitable for solo travelers or small groups seeking a budget-friendly option. Scooter rental rates in Bali range from IDR 100,000 to 300,000 per 24 hours.
Lempuyang Gate of Heaven Tour Package: Choose a day tour package that includes visits to Penataran Agung Temple and other attractions in Karangasem and Bangli Regency. Such as Tirta Gangga water palace, Taman Ujung Sukasada Water Palace, and Penglipuran Village; try the Bali Odyssey Submarine Tour Amuk Bay. Packages usually cover Transportation, entrance tickets, parking fees, and lunch.
Public Transportation: Limited and not recommended for travelers seeking convenience and efficiency, as it is time-consuming and less reliable.
See Holiday Guide to East Bali: Explore the Hidden Beauty of the Island of the Gods.
Best Time to Visit Lempuyang Temple (Gate of Heaven) in Bali
Weather: Visit during the dry season (April to October) for sunny, humid, and hot weather. This is the best time for sightseeing and taking photographs. See, Going To Bali in October? Check the Weather First and Exciting Holiday Tips in Bali.
Religious Ceremonies: Experience local culture by visiting during a religious ceremony when the temple is filled with praying Hindus. Piodalan is held every 210 days on Wraspati Umanis Dungulan (Thursday after Galungan).
Avoid Peak Tourist Seasons: For a less crowded experience, avoid mid-December to early January, mid-June to August, and school vacations. Find Out, Is Bali Worth Visiting in December? Exploring Pros and Cons.
Best Time of Day: Arrive at 06:00 to capture beautiful photographs during sunrise, with softer and more pleasant lighting. Use a full-frame camera with a 24-70mm lens or a 24- or 35mm fixed lens for the best results.
Considering these factors, you can plan an enjoyable and memorable visit to Lempuyang Temple's Gate of Heaven.
Check it out, The Best Time for a Vacation in Bali: A Complete Guide for Travelers.
Respecting Balinese Culture: Ethics and Clothing Guide for Visiting Lempuyang Temple
Dress Code: Wear humble clothes, including a shirt that conceals your shoulders, a sarong, and a scarf to tie around your waist. Sarongs and shawls are often available for rent or provided at temple entrances, but bringing your own is recommended. See Bali Temple Dress Code: A Guide to What to Wear.
Respect Balinese traditions and beliefs at temple sites.
Do not disturb or interrupt religious ceremonies.
Avoid climbing shrines or stepping on a Canang Sari (flower offering).
Do not spit or litter in the temple area.
Menstruating women should not enter prayer areas.
Refrain from using offensive language or swearing.
Following these guidelines, you can enjoy a respectful and culturally immersive experience at Lempuyang Temple.
Uncovering the Unique and Fascinating History of Tanah Lot Temple in Bali.
Questions Frequently Asked by Visitors Regarding the Gate of Heaven Lempuyang Bali
In providing Bali river rafting and holiday tour packages, we often get questions from customers regarding vacations to the Lempuyang temple in Karangasem Bali. The following are questions most frequently asked by our customers when planning a vacation to Lempuyang Temple, Bali.
How long does it take to drive to Penataran Agung Lempuyang Temple?
The time it takes to reach the location of the Penataran Agung Temple depends on your starting point. If you depart from Petitenget Beach Seminyak, it takes about 3 hours by car.

The time needed to climb from the vehicle parking area to Lempuyang Luhur may vary depending on each visitor's physical condition and speed. However, the hike generally takes around 2 to 3 hours.
Are there toilet facilities or food stalls around the Lempuyang Heaven Gate area?
There are visitor facilities at Penataran Agung Temple, such as toilets and food stalls offering snacks and drinks. We recommend bringing drinking water, snacks, and other necessities during your visit.
See Water Blow Nusa Dua Bali: Important Tips Before Visiting This Amazing Tourist Place!
Lempuyang Temple Guide Conclusion
To begin with, this guide aims to help you enjoy a spiritual and cultural experience at Lempuyang Temple during your Bali vacation. By following these tips, you'll be better prepared to visit this sacred Hindu site. Additionally, plan your trip considering the best time to see, transportation options, and the beautiful surroundings.
Moreover, should you find this helpful guide, kindly share it on social media to assist friends and family interested in visiting Bali. Your engagement, in turn, inspires us to create more valuable travel guides for Bali.
Lastly, we appreciate your comments and feedback about your experience at Lempuyang Temple. Enjoy your Bali vacation, and may your visit provide insight, stunning photos, and lasting memories.