To begin with, Bali, frequently called the 'Island of a Thousand Temples', is a cultural treasure filled with captivating Hindu temples. Therefore, this article offers a detailed guide to the Bali island's top 10 temples, inviting you to explore their spiritual and architectural wonders.
Ingin tahu lebih banyak tentang pesona dan cerita di balik pura-pura ikonik di Bali dalam bahasa Indonesia? Cari tahu di sini dan temukan semua yang perlu Anda ketahui dalam artikel 10 Pura Terbaik di Bali.
The Allure of Hindu Temple Tourism in Bali
Far more than mere places of worship, Bali's temples embody a unique fusion of traditional architecture and spirituality. Moreover, they exhibit the island's aesthetic splendour and its cultural mosaic, offering an immersive experience that draws visitors into the heart of Bali's spiritual heritage. Explore Bali's Cultural Wealth: From Iconic Temples to Quaint Traditional Villages.
Unveiling Bali Top Temples: Architectural Marvels and Spiritual Sites
Furthermore, as we delve into the Bali Top Temples guide, each temple's narrative unfolds, revealing its place in Bali's cultural and spiritual journey. From those perched majestically upon craggy cliffs to those nestled within lush bamboo groves, this article unveils their mystique, providing insights on accessibility, optimal visiting times, entry fees, and cultural activities available.
This guide uncovers the spiritual and aesthetic marvels of Bali's revered sanctuaries, sure to enrich your Balinese odyssey. Above all, compiled from tourist preferences, this list guarantees access to Bali's most extraordinary destinations where natural splendour meets rich tradition.
1. Tanah Lot Temple: Bali's Cultural and Natural Exemplar
Firstly, perched on a rocky outcrop in Beraban Village, Tabanan Regency, Tanah Lot Temple is a crowning jewel of Bali. Also, its magnificent stance, floating above the waves at high tide, epitomises the seamless blend of historical significance and Bali's distinctive natural allure.
Location and Access
Bali Top Temples Visitation Guide: Best Times for Tanah Lot
Recommended Time: Evening, particularly between 5:00 PM and 6:30 PM.
Why: To witness Tanah Lot's enchanting sunset, transforming the sky into a kaleidoscope of hues against the temple's dramatic silhouette.
Tourist Activities and Cultural Insights
Practicalities
Operating Times: Open from 6:00 AM to 7:00 PM.
Photographic and Scenic Highlights
Bali Top Temples and Beyond: Exploring Adjacent Attractions to Tanah Lot
In summary, Tanah Lot Temple transcends mere sightseeing, embodying Bali's cultural and natural splendour and offering a profoundly enriching experience in culture, history, and natural beauty.
2. Luhur Uluwatu Temple: Where Spirituality Meets Natural Majesty on a Cliff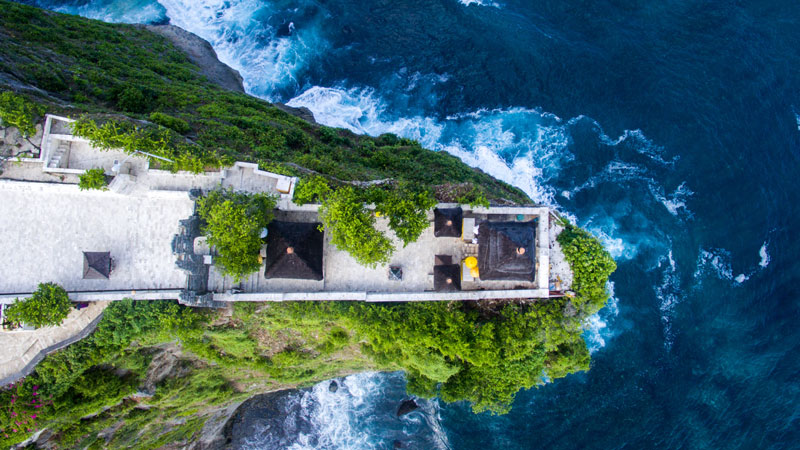 Secondly, soaring on a 70-meter-high cliff overlooking the Indian Ocean, Luhur Uluwatu Temple stands out among Bali's iconic sanctuaries. More than a holy site, it represents the perfect amalgamation of spirituality and Bali's breathtaking natural landscape.
Location and Accessibility
Prime Time for Visitation
Suggested Time: Afternoon, between 5:00 PM and 6:30 PM.
Purpose: To capture the awe-inspiring sunset panorama, with the temple providing a splendid backdrop.
Touristic Engagements and Cultural Immersion
Scenic Wonder: Relish breathtaking ocean views from atop the cliff.
Kecak Dance: Immerse in the daily Kecak dance performance from 6:00 PM to 7:00 PM, a quintessential expression of Balinese art and culture. Further guidance on the Kecak Dance Performance at Uluwatu.
Useful Information
Bali Top Temples Photographic Journey: Capturing Uluwatu Sunset
Memorable Photography: Ideal for capturing the spellbinding sunset views from the temple.
Additional Attractions
Luhur Uluwatu Temple is a scenic marvel and a spiritual depth portal. Ranking among Bali's foremost spiritual sites, it promises a tapestry rich in culture, history, and unforgettable natural splendour.
3. Ulun Danu Beratan Temple Bedugul: Where Architecture Meets Nature
Furthermore, Ulun Danu Beratan Temple, Bedugul, affectionately known as the 'Floating Temple', captivates with its seemingly aquatic location on Lake Beratan. Encircled by pristine gardens and verdant hills, it exemplifies the harmonious blend of traditional Balinese architecture with the splendour of nature, paying homage to Dewi Danu, the goddess of water.
Location and Accessibility
Ideal Visitation Time
Optimum Time: Mornings, around 7:30 AM.
Rationale: The fresh, serene atmosphere provides the perfect setting to experience the temple's tranquillity.
Cultural Activities and Recreational Pursuits
Useful Insights
Photographic and Landscape Focus
Emphasis: Capturing the temple's architectural and natural beauty beyond mere photography.
Synergising with Other Attractions
Ulun Danu Beratan Temple in Bedugul is pivotal among Bali's top 10 temples, promising a profound and impressive encounter. It is ideal for travellers seeking to experience Bali's unique allure and beauty.
4. Tirta Empul Temple Tampak Siring: A Spiritual Haven in Bali's Heartland
Tirta Empul Temple, Tampak Siring, recognised as the 'Holy Water Spring', is a remarkable spiritual landmark in Bali. Renowned for its purification ceremonies, the temple is not only a spiritual retreat but also a symbol of the rich history and traditions of Balinese Hinduism.
Location and Proximity
Optimal Time for a Visit
Ideal Period: Afternoons, around 3:30 PM.
Benefit: Quieter temple ambience and aesthetically pleasing lighting conditions.
Bali Top Temples' Cultural Immersion: Rituals and Revelations at Tirta Empul
Purification Ritual: Open for observation or participation.
Exploration: The temple complex is a trove of historical architecture.
Essential Information
Photographic Highlights and Scenery
Capturing Opportunities: The holy pools and Bali's natural setting offer superb photography prospects.
Expanding the Experience
Itinerary Options: Include visits to Gunung Kawi Temple and Tegalalang Rice Terrace, offering an extensive Ubud area exploration.
Tirta Empul Temple in Tampak Siring stands out amongst Bali's 10 Best Temples, offering a singular blend of spirituality and scenic beauty. Visiting here is visually striking and spiritually enriching, making it a pivotal destination for Bali tourists.
5. Taman Ayun Temple Mengwi: A Testament to Balinese Architectural Majesty
Taman Ayun Temple in Mengwi, Badung Regency, is a stunning representation of ancient Balinese architecture infused with Chinese influences. Enveloped by serene ponds and manicured gardens, it offers a tranquil environment reflecting Bali's historical splendour.
Accessing the Bali Top Temples: Navigating to Taman Ayun
Prime Visiting Time
Recommended Time: Mornings, around 8:00 AM.
Reason: Ideal natural lighting for appreciating and capturing the temple's grandeur.
Cultural Activities and Experiences
Architectural Appreciation: The temple's grand Balinese architecture is enhanced by Chinese elements.
Ritualistic Observations: Opportunities to witness religious ceremonies and explore the temple's expanse. Insights into Bali's ceremonial practices are available.
Key Information
Photographic and Aesthetic Highlights
Ideal for Photography: The temple's ponds and gardens offer a splendid backdrop.
Complementary Tourist Spots
Itinerary Ideas: Pair a visit to Taman Ayun Temple with North Bali's attractions, such as Lovina Beach, Gitgit Waterfall, Botanical Gardens, and Ulun Danu Beratan Temple.
Alternative Route: Serves as an excellent stop en route to Tanah Lot or Seminyak.
Taman Ayun Temple in Mengwi, integral to Bali's premier religious sites, delves into the island's cultural and aesthetic essence. The temple's striking architecture and soothing environment are essential for travellers exploring Bali's historical and cultural magnificence.
6. Besakih Temple: The Pinnacle of Spiritual Grandeur in Bali
Besakih Temple, revered as the 'Mother Temple', reigns as Bali's largest and most hallowed temple complex, perched on the verdant slopes of Mount Agung. It is a central pillar in the island's spiritual and historical tapestry, showcasing exquisite Hindu architecture amidst stunning natural vistas. Our comprehensive guide is available for a deeper understanding of Besakih's history and spirituality.
Location and Accessibility
Ideal Time for Visit
Bali Top Temples Sacred Encounters: Experiencing the Rituals of Besakih
Besakih Temple: A haven for witnessing religious rituals and exploring its vast array of temples and altars.
Insightful Journey: Delve into the depths of Balinese Hindu traditions and heritage.
Vital Information
Photographic Opportunities and Views
Scenic Backdrops: Ideal for sunrise or sunset photography, providing a majestic setting.
Expanding the Itinerary
Besakih Temple, a beacon of Bali's spiritual and cultural majesty, offers a tapestry of natural beauty, architectural elegance, and cultural depth, a quintessential Balinese pilgrimage.
7. Lempuyang Temple: Bali's Stairway to Heaven
Lempuyang Temple, revered as the 'Gateway to Heaven', is amongst the oldest in Bali. Nestled on Mount Lempuyang's slopes in Karangasem, it offers awe-inspiring views of Mount Agung, harmoniously blending spiritual significance with Bali's natural splendour.
Location and Accessibility
Optimal Time for Visitation
Mornings are preferable, offering a serene ambience and clear vistas.
Ideal for capturing the photogenic 'Gateway to Heaven'.
Experiences and Activities
Engage in spiritual ceremonies or trek through the temple complex.
A blend of sacred tradition and natural exploration. Further details in our East Bali attractions guide.
Practical Information
Operating hours are from 6:00 AM until 7:00 PM.
Amenities include trim dining options and souvenir stalls.
Photographic Appeal
Renowned for stunning shots, especially against the dramatic backdrop of Mount Agung.
Beyond Lempuyang
Lempuyang Temple, a fusion of Bali's ethereal beauty and spiritual essence, offers an unparalleled experience, ranking high on Bali's must-visit sacred sites.
8. Goa Lawah Temple: A Marvel of Nature and Spirituality in Bali
Goa Lawah Temple, renowned for its bat-filled cave, symbolises natural wonder and spirituality in Bali. Located on the coast of Klungkung Regency, this temple has been integral to Balinese religious tradition since the 11th century.
Location and Accessibility
Location: Situated on Jalan Raya Goa Lawah, about 10 km from Klungkung and 1 hour from Denpasar.
Easy access from various regions in Bali makes it an ideal destination.
Best Time to Visit
Morning is recommended for a quieter and more relaxed atmosphere.
Visiting during religious ceremonies adds to a rich cultural experience.
Tourist Activities and Cultural Experiences
Exploration of the temple architecture and bat cave and observation of religious ceremonies.
The nearby beach offers an opportunity to enjoy Bali's natural beauty.
Practical Information
Photography and Scenery
It is an ideal location for photography, especially with the backdrop of the bat cave and beach.
Stunning sunset views.
Integration with Other Tourist Attractions
Goa Lawah Temple, with its natural and spiritual appeal, forms an inseparable part of the 10 most popular sacred places in Bali, offering a travel experience that blends natural wonders and spiritual depth.
9. Ulun Danu Batur Temple Kintamani: A Harmonious Blend of Spirituality and Scenic Beauty
Ulun Danu Batur Temple in Kintamani, second in importance only to Besakih, is celebrated for its panoramic views of Lake Batur and Mount Batur. This temple, devoted to Dewi Danu, plays a pivotal role in Bali's irrigation system.
Location and Accessibility
Ideal Visiting Hours
Early mornings, often cloaked in mystical mist, provide a surreal setting.
Cooler temperatures make for comfortable exploration.
Cultural and Scenic Experiences
Observe Balinese religious ceremonies amidst breathtaking natural surroundings.
Exceptional opportunities for photography with Lake Batur and Mount Batur as backdrops.
Visitor Information
Entry fee details are available upon inquiry.
Nearby amenities include eateries, coffee shops, and accommodation options.
Visual Highlights
Captivating sunrise views over Lake Batur and Mount Batur.
Expanding Your Journey
Ulun Danu Batur Temple in Kintamani represents a perfect synergy of Bali's spiritual traditions and breathtaking landscapes, solidifying its status as a critical destination among Bali's spiritual highlights.
10. Gunung Kawi Sebatu Temple: A Haven of Peace and Serenity
Nestled in a verdant valley in North Bali, Gunung Kawi Sebatu Temple is a hidden gem, offering a sanctuary of peace. Known for its tranquil atmosphere and soothing natural scenery, it showcases ancient Balinese architecture dedicated to Lord Vishnu.
Location and Ease of Access
Optimal Time for Visitation
Mornings, when the environment is at its freshest and most serene.
It is ideal for experiencing the temple's tranquillity.
Bali Top Temples Serenity: Unveiling the Peaceful Gunung Kawi Sebatu
Explore sacred ponds and statues and partake in spiritual ceremonies.
Offers a meditative experience amidst natural beauty.
Useful Details
Operating hours are from 8:00 AM until 6:00 PM.
Small dining outlets and basic facilities are located nearby.
Photographic Spots
Perfect for capturing the essence of the temple with its holy ponds and lush vegetation.
Integrating with Other Sites
Gunung Kawi Sebatu Temple stands as a bastion of serenity, an essential stop in Bali's top 10 temple itinerary, offering a haven for those seeking spiritual solace and scenic splendour.
Navigating Bali Top Temples: A Comprehensive Transport Guide
Navigating these spiritual sanctuaries, particularly in southern Bali, necessitates thoughtful transport planning. Below is an essential guide to facilitate your journey to Bali's ten most esteemed temples:
Best Suited For Solo explorers or couples who value flexibility and are comfortable with motorbiking.
Benefits: Offers the liberty to travel at your own pace, simplifying navigation and parking in busy areas.
Key Considerations: Ensure legal compliance with a valid driving licence, helmet usage, and adherence to local traffic regulations.
Car Rentals: Comfort and Convenience for Groups
Organised Tour Packages: Hassle-Free Exploration
Recommended For: Travellers seeking a structured and worry-free experience.
Advantages: Encompasses transport, knowledgeable guides, entrance fees, and meals, offering an immersive local insight.
Selection Tips: Opt for packages that align with your interests, and always check reviews for quality assurance.
Online Transport Services (Gojek or Grab): For Shorter Journeys
Appropriate For: Convenient short-distance travel or as an alternative to self-driving.
Upsides: User-friendly, transparent pricing, and comfortable travel experience. Read here on How to Use Gojek/Grab in Bali.
Limitations: Availability may vary for longer distances to certain temples.
Proximity to Accommodations in South Bali
Temple Accessibility: Many temples, including the renowned ones, are easily accessible from South Bali's accommodation hubs.
Extended Travel: Some sites, like Besakih or Lempuyang, might require longer travel times.
Important Considerations:
Public Transport: Generally not recommended due to limited routes and schedules.
Route Planning: Essential when visiting multiple temples in a single day.
Safety First: Prioritise safety, particularly when navigating Bali's bustling and narrow roads.
Choosing Right: Selecting the appropriate mode of transport is vital to a smooth and enjoyable Bali temple experience.
Visiting Bali Top Temples: Etiquette and Tips
When exploring Bali's sacred sites, observing appropriate etiquette and being well-prepared enhances the experience:
Appropriate Attire: Dress modestly, covering shoulders and knees. Many temples mandate the use of sarongs and sashes as a sign of respect. Visit our dedicated section for a comprehensive guide on temple attire and etiquette.
Conduct and Courtesy: Maintain a respectful and serene demeanour within temple precincts. Avoid loud behaviour and respect the sanctity of these spiritual sites.
Photography Guidelines: While photography is generally permitted, always check for any restrictions, particularly during religious events, and be mindful of sacred areas.
Health and Safety Precautions:
Prepare for Bali's tropical climate with sunscreen, suitable clothing, and hydration. Comfortable footwear is advised for potential treks in hilly temple areas.
Some temples may involve climbing or walking through uneven terrains; ensure physical readiness for these activities.
Cultural Sensitivity and Responsible Tourism:
Gain insight into each temple's history and significance for a deeper appreciation of Balinese culture.
As responsible tourists, adhering to temple rules and customs is paramount.
Conclusion: Discovering Bali Spiritual Heart – The Top 10 Must-Visit Temples
Our comprehensive guide to Bali's ten most iconic temples is designed to simplify your travel planning to these revered sites. From the mesmerising sunsets at Tanah Lot to the serene ambience of Tirta Empul, this guide aims to be an indispensable companion for local and international travellers.
Engage with Our Community:
We encourage you to share your temple visit experiences using the hashtag #BestBaliTemples #WiraTourBali on social media. Your stories and photos enrich our content and inspire fellow travellers.
Your feedback and suggestions below this article are highly valued. They contribute significantly to the travel plans of others and help foster a community appreciative of Bali's rich cultural and spiritual tapestry.