Welcome to your ultimate guide to the Bali Bat Cave Temple, locally known as Pura Goa Lawah in Klungkung, Bali – a remarkable temple and home to thousands of bats. But it's more than just a wildlife sanctuary; it's a revered Hindu site among Bali's six most sacred places. Here, we delve into its rich history, cultural significance, and spiritual allure, providing an all-encompassing insight into Goa Lawah Temple. We've covered you, from practical information such as location, visitor rules, and entrance fees to uncovering the nearby attractions.
You can find an Indonesian version of this article here for our Indonesian readers.
Unveiling the Unique: The Bali Bat Cave Temple (Goa Lawah Temple) Experience
Above all, Bali, an island abundant in attractions and regional peculiarities, has much to offer. Our previous article, "The Attraction and Uniqueness of Each Tourism Area in Bali", delves into the specifics of every tourist hotspot on the island.
Curious about the name? "Pura Goa Lawah" is derived from 'goa' and 'lawah', which translates to 'The Sacred Bat Cave Temple' in English. It aptly paints a picture of this religious site – a holy place resplendent with caves housing thousands of bats!
The Uniqueness of Bali Sacred Bat Cave Temple: A Blend of Nature and Spirituality
So, what truly sets this religious destination apart? Firstly, its cave, situated in the sanctuary's central region, nestles under a hilly area shrouded in dense vegetation. This cave is home to thousands of bats, and various places of worship pepper its entrance area. Also, the local Balinese Hindu community believes the shrine near the cave mouth is dedicated to Worship Maheswara God.
Notably, this sacred site has a mythical bond with Sang Hyang Basuki, a dragon deemed the temple's protector. Sang Hyang Basuki is depicted as a crowned dragon adorned with jewels.
Practical Information for Visiting Goa Lawah Temple
Finding Your Way: Location Details of Sacred Bat Cave Temple In Bali
Furthermore, this sacred site is on Jalan Raya Goa Lawah, in Pesinggahan village, Dawan District, Klungkung Regency, Bali. To be more precise, it's approximately 10 km east of Semarapura City or about 35 km from Sanur Beach.
You can utilize Google Maps and search for "Pura Goa Lawah" for directions. Alternatively, use the following link: View Goa Lawah Temple on Google Maps.
Bali Sacred Bat Cave Temple Operating Hours
Meanwhile, the Bali Bat Cave Temple is open to visitors year-round and welcomes tourists from 08:00 to 18:00. Visiting in the morning or evening is recommended during more excellent hours. Note that the temple may be busier during these times, and religious activities and special celebrations can change opening hours.
Entrance Fees at Goa Lawah Temple
Most importantly, travellers must buy an admission ticket to enter the temple. The prices are as follows:
| Category | Entry Price |
| --- | --- |
| Adult | IDR 30,000 |
| Child (5-12 years) | IDR 15,000 |
| Motorcycle Parking | IDR 2,000 |
| Car Parking | IDR 5,000 |
Please note these prices were updated on July 19, 2023. There may be changes after this date. Balinese Hindu visitors will not pay an entrance fee if their visit is for praying purposes.
Timing Your Visit to Bat Cave Temple: Weather, Holidays, and Tourist Seasons in Bali
Still, to ensure the best experience, it's crucial to plan your visit keeping in mind the weather, local holidays, and tourist seasons.
Moreover, Bali Island holds equatorial monsoon surroundings with two distinguishable seasons: dry (April to September) and wet (October to March). While the dry season is typically the most suitable time to visit, it's also the prime tourist season, so anticipate the temple to be crowded. The temple is less busy during the wet season, but the frequent rain could affect your experience.
Regarding local holidays, consider timing your visit to coincide with the temple's ceremony, Piodalan. This occurs every 210 days on the Balinese saka calendar, offering an enriching cultural experience. However, the temple is busiest with local devotees during Piodalan and major Hindu holidays such as Galungan and Kuningan.
Transportation Tips: Navigating Your Way To Sacred Bat Cave Temple
Whether you're a first-time visitor or a seasoned traveller, getting to Goa Lawah Temple can be an adventure. There are various transportation options in Bali. If you're in the southern tourist areas like Kuta, Seminyak, or Nusa Dua, here's how you can reach Bali Bat Cave Temple:
Public transportation in Bali mainly includes Bemos (public minivans) and taxis. Bemos are the cheapest option but have no fixed schedule and can be challenging to navigate if you don't speak Indonesian. Therefore, we don't recommend you use the Bemo.
Taxi or Online Motorcycle Service: Grab and Gojek alternatives to Uber provide convenient transportation. However, particular areas in Bali have restrictions on online motorcycles or car taxis for pick-up passengers. Also, be aware that long-distance trips to eastern Bali can be costly.
Car or Motorcycle Rental: Consider renting a vehicle for a more flexible exploration. Several companies in Bali offer car rentals with a driver included. Also, many drivers can serve as informal guides, offering insights about the places you visit.
Tour Packages: Numerous travel agents offer tour packages that include round-trip transportation, meals, and entrance fees. Opting for a private tour package can ease your travel planning process.
En route from South Bali, you'll pass beautiful landscapes, including picturesque beaches and verdant rice fields. Don't forget to capture the scenery!
Exploring the Cultural Richness of Goa Lawah Temple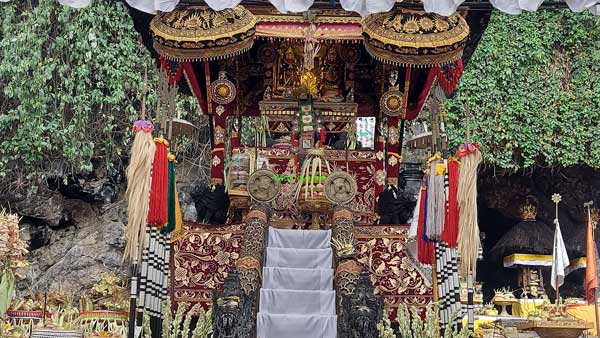 The Temple Ceremony (Piodalan): A Cultural Experience
Above all, the temple hosts a grand ceremony called Odalan or Piodalan. Held every 210 days, or every six months on the Balinese calendar, this event sees the temple adorned with colourful floral decorations and attire.
The History and Mystery of Goa Lawah Temple
The exact history of Goa Lawah Temple remains a mystery. Some suggest that it was established in the 11th century by Mpu Kuturan, a Hindu priest who played a significant role in disseminating Hindu teachings in Bali. The temple is also known as one of the Pura Khayangan Jagat or more popularly known as Sad Kahyangan.
Rules for Visiting Hindu Temples: Respecting the Sacred at Goa Lawah Temple
Respect for the sacred is paramount when visiting these holy sanctuaries:
Bali Temple Dress Code: Tourists must wear a sarong and a scarf tied around the waist. You don't need to carry your sarong and a scarf; it is available on-site for free use.
Women who are menstruating are asked not to enter the prayer areas.
Avoid climbing the steps of the shrines.
Do not walk in front of people who are sitting and praying.
Smoking is prohibited within the temple area.
Please do not litter.
For more essential tips, check out our article "10 Unique Things You Must See When Vacation in Bali".
Savouring the Surroundings of Goa Lawah Temple
Local Delights: Culinary Traditions in the Vicinity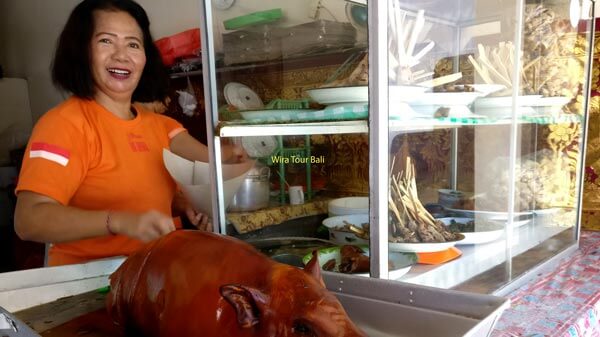 Beyond the spiritual and historical richness of Goa Lawah Temple, this region offers culinary delights that allow visitors to immerse themselves in authentic Balinese culture.
Meanwhile, after exploring the temple and its surroundings, you might find yourself hungry. Fear not – various restaurants and food stalls nearby are ready to satisfy your palate.
You're in for a treat, from traditional dishes like Babi Guling (Balinese roast pig) to fresh seafood platters. The most recommended Balinese roast pig in Klungkung near the temple area is Babi Guling Ibu Dewa Stall.
An ideal spot is the Merta Sari Restaurant Pesinggahan, renowned for its succulent fish dishes like satay lilit and pepes, perfectly paired with plecing kangkung and sambal matah. Their menu boasts the best Balinese culinary traditions and is the perfect place to rest after your temple exploration.
Expanding Your Horizon: Nearby Attractions to Explore
Furthermore, in front of the temple, across the main road, lies the beachside Segara Temple, a sacred site for locals. From this coastline, you can behold Nusa Penida Island.
Expanding Your Adventure: Beyond Goa Lawah Temple
The adventure doesn't stop at Goa Lawah. The temple's location in East Bali makes it a perfect base for exploring its many attractions.
East Bali Exploration: Goa Lawah Temple and Beyond
East Bali is a treasure trove of natural beauty and cultural heritage sites. If you're keen to delve deeper into the heart of Balinese history, consider exploring Candidasa and other attractions in East Bali.
For an authentic cultural experience, the traditional Bali Aga village, Tenganan Village, is a must-visit. Learn more about this unique site from our Visitor Guide to Tenganan Village. Our curated list of charming tourist destinations in Klungkung offers many options to enrich your itinerary.
Another must-visit spot is Gianyar Regency, known for attractions like the Goa Gajah Temple. We've compiled a comprehensive guide to Goa Gajah Ubud, Gianyar, that covers everything from location maps to main attractions and travel tips.
A Day in East Bali: Tirta Gangga, Taman Ujung, and The Sacred Bat Cave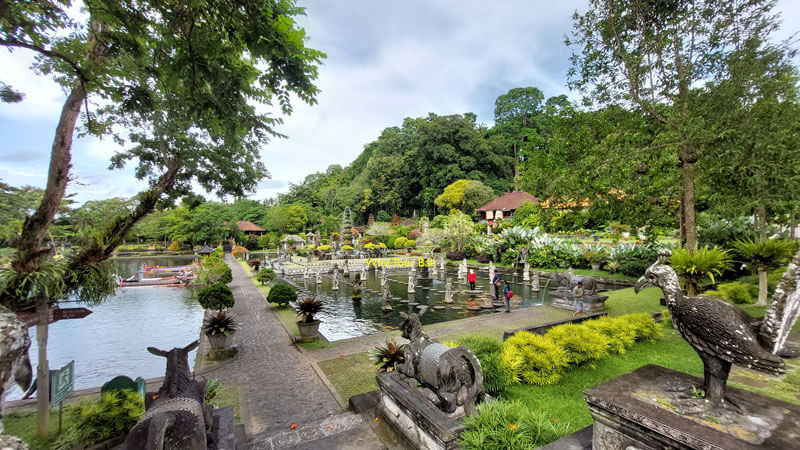 Planning a full-day adventure in East Bali? We recommend starting your morning at the picturesque Tirta Gangga Karangasem. A short 30-minute drive will take you to the royal water garden, Taman Ujung. Your day can continue with a visit to Goa Lawah, and you can wrap up by exploring the remnants of the Klungkung kingdom at Kertha Gosa Pavilion Park.
Also, you can remove a trip to Taman Ujung with a trip to Lempuyang Temple, known for its famous "Gate of Heaven". Learn more about this magnificent site in our Lempuyang Temple Gate of Heaven guide.
Remember the travel time between each destination and the time you'd like to spend at each location when planning this day trip.
In Conclusion: Unleash Your Adventure at Goa Lawah Temple
As we have taken you through discovering Bali Bat Cave Temple, we hope this comprehensive guide has empowered you with all the information you need for a rewarding visit. From its unique bat caves and historical richness to the local cuisine and nearby attractions, Goa Lawah Temple is more than a sacred Hindu site. It's a captivating cultural hub, a fusion of spirituality and nature, where Bali's past and present converge.
In experiencing Bat Cave Temple and the surrounding East Bali, you're not just observing a tourist hotspot but immersing yourself in Balinese traditions, local practices, and centuries-old history. You're becoming a part of the ongoing narrative that makes Bali a unique, vibrant, and profoundly spiritual destination.
If you saw the travel guide to east Bali on this page is helpful, we encourage you to share it and write your comment below. By doing so, you're not just helping us – you're helping countless other travellers keen on exploring Bali's marvels.
Remember to respect the local customs, appreciate the unique biodiversity, and treasure each moment at Goa Lawah Temple. Safe travels, and we hope to hear about your adventures soon!