Tabanan Regency boasts stunning Bali temple attractions such as the Tanah Lot Temple, the Ulun Danu Beratan Temple, and natural hot spring baths. One hot spring site that consistently lures tourists is Penatahan Hot Springs. In this article, I will discuss a travel guide to the Penatahan hot spring, explicitly focusing on the ESPA Yeh Panes Natural Hot Spring Resort. The inspiration behind this vacation guide to Penatahan hot springs comes from the numerous requests from our Bali river rafting and tour package customers. Most are looking for a Bali vacation itinerary that includes tourist destinations in Bali beyond the beach, and the Penatahan hot spring pool presents an appealing alternative.
Bahasa Indonesia Panduan Liburan Ke Pemandian Air Panas Penatahan Tabanan Bali.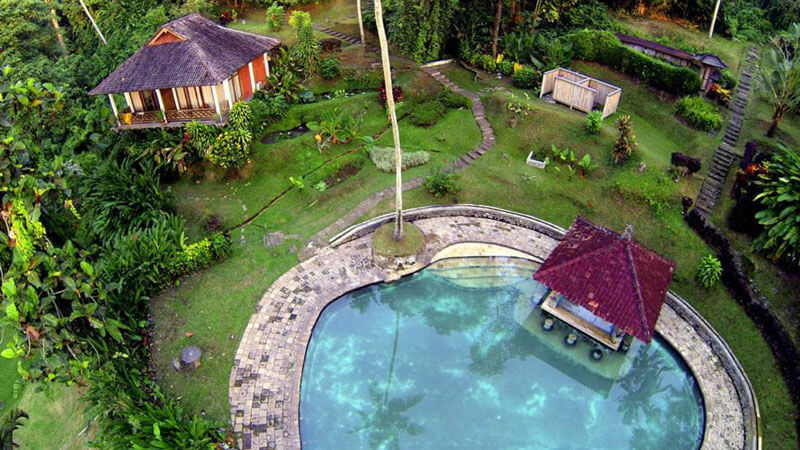 Furthermore, some refer to Penatahan Hot Springs as ESPA Yeh Panes Hot Spring Resort, Tabanan. Therefore, if someone mentions ESPA Yeh Panes Hot Spring Resort, it means Penatahan hot spring. Disclaimer, Penatahan Hot Spring is a human-made pool with a natural hot spring, not a natural pool with a hot spring.
Beyond Bali's Beaches: Exploring Alternative Attractions
People typically associate vacations in Bali with enjoying white sand beaches like Kuta Beach and Pandawa Beach. However, if you have continually vacationed in Bali, visiting the beach may no longer be your first choice, and you tend to search for alternative attractions. So, what are some interesting tourist spots in Bali besides the beach?
Diverse Bali: Lakes, Waterfalls, and Rice Terraces
The island of Bali houses many other intriguing sites besides beaches, including:
Bali's Unique Hot Springs
Does visiting a natural hot spring bath in Bali that contains sulfur intrigue you? Bali boasts numerous hot spring pools and water sources from volcanic regions.
Notably, the mineral content, such as sulfur, in natural hot water is highly beneficial for health and skin rejuvenation. Moreover, these minerals expedite the healing of bruises, aid in the recovery from rheumatism, and provide a relaxing effect. You can delve into scientific articles discussing the health benefits of hot sulfur baths by clicking on this link.
Several renowned natural hot springs are available in Bali, including Banjar Hot Springs in Buleleng Regency and Toya Devasya Kintamani Hot Springs. However, this article will provide a comprehensive vacation guide to Penatahan Hot Spring in Tabanan.
Penatahan Hot Springs: A Comprehensive Vacation Guide
Discover Penatahan Hot Springs, a beautiful oasis in Bali, offering relaxing baths, serene scenery, and unforgettable experiences in our comprehensive vacation guide.
Sights and Facilities at Tabanan Hot Springs
Distinct from Toya Bungkah Kintamani hot spring, which showcases views of Lake Batur's shores, Penatahan hot spring features sceneries of rivers, rice fields, and pristine forests akin to the Ayung River, a popular rafting site in Ubud.
A cool breeze envelops this bath because situated in a mountainous region. The hot water for this pool originates from Yeh Panes Temple, which is in the bathing area. Interestingly, this bath embodies a similar concept to a SPA, augmented with a private pool.
A. Amenities and Uniqueness of Yeh Panes Penatahan Private Bath
Penatahan hosts eight private hot spring pools, divided evenly at the top and the bottom. Each private bath is equipped with a table for your belongings.
Every private pool corner houses a hot shower. The 4 private hot spring baths at the bottom have partition walls and no roof. In comparison, the 4 private pools at the top use a partitioned fence made of bamboo.
During peak tourist visits, visitors may have to wait to use a private pool, as most Yeh Panes Penatahan guests prefer private pools.
B. Three Unique Public Pools at ESPA Yeh Panes: Features and Facilities
Visitors traverse a neatly arranged path lined with verdant gardens to reach the public bathing pool. At ESPA Yeh Panes Natural Hot Spring Resort, you'll find three public pools:
The first pool, the smallest of the three, is closest to the river bank. Encircled by large stones, it boasts a cooler water temperature. Visitors often prefer this pool for a serene soak while enjoying the river view.
The second pool is larger than the first, with noticeably hotter water. This pool is enhanced with a bamboo shower, and the water temperature fluctuates between 38 to 40 degrees Celsius.
The third pool, the largest of all, is located at the highest point and offers a comfortably warm water temperature. This pool, with a depth of about 1 meter, is often favored by children.
If you enjoy the lively swimming atmosphere with other visitors, the public pool would be your best choice, although the bath's temperature is moderately warm.
C. Dining Options at Penatahan Hot Springs
After approximately 30 minutes of soaking at the Yeh Panes bathing attraction, many tourists usually feel hungry. Outside food is not allowed to carry inside the property, and you could satisfy your appetite at a restaurant inside the Penatahan hot spring bathing location. They offer fried rice, fried noodle, and other Indonesian dishes.
Location and Directions to Penatahan Penebel Hot Springs
Before visiting such Bali tourist attractions as the Penatahan hot springs in Tabanan, you should consider the location first. If you've never been to Bali, reviewing a list of renowned tourist attractions to visit on your inaugural trip is advisable.
The Penatahan Hot Spring is situated in Penatahan village, within the Penebel sub-district, in the Tabanan district, right on the banks of the Yeh Ho River. Residents also commonly refer to this location as Yeh Panes.
The location of the ESPA Yeh Panes Natural Hot Spring Resort baths is straightforward to find, with directions and GPS assistance readily available on your device. To make locating the resort even more manageable, use this Google Maps link to Yeh Panes Penatahan Penebel Tabanan.
ESPA Yeh Panes Natural Hot Spring Resort: Opening Hours and Entrance Fees
If you're searching for a hot sulfur pool, the ESPA Yeh Panes Natural Hot Spring Resort is worth visiting during your vacation on the island of Bali. The hot spring bath resort is open daily from 07:00 – 19:00.
If you're interested in exploring other appealing holiday destinations in this area, particularly those featuring hot springs, the Tabanan Angseri Hot Springs could be an excellent choice.
Entrance Fee for Penatahan Hot Springs
Below is a list of entrance fees for the Penebel hot spring pool in Penatahan, Tabanan:
| Pool Category | Entrance Fee |
| --- | --- |
| Private Pool | IDR 100,000/person |
| Public Pool | IDR 50,000/person |
The private hot spring pool at Penatahan is limited to one hour.
The parking spot is spacious, and it is effortless to find a parking spot.
Please remember to bring a towel and wear a swimsuit.
Also, kindly refrain from using soap or shampoo in the pool area.
Don't forget to check the price list for entry tickets to various Bali holiday destinations to plan your trip better.
Exploring Tabanan's Tourist Attractions
Discover the diverse attractions of Tabanan, Bali's cultural heartland. Tabanan offers an enchanting retreat away from crowded beach destinations, from iconic temples to serene lakes, refreshing hot springs, and verdant rice terraces.
Location Proximity to Other Tabanan Attractions
Penatahan Hot Springs in Tabanan Regency is well-positioned within reach of other famed attractions. From the tranquil Ulun Danu temple at Lake Beratan Bedugul, it's about a 1- and 10-minute journey, while the iconic Tanah Lot Temple is roughly 50 minutes away. This central location makes Penatahan Hot Springs a great addition to any itinerary involving Bedugul's attractions or the Tanah Lot temple.
Getting to Penatahan Hot Springs
Reaching Penatahan Hot Springs can best be accomplished via private transport, with motorbike and car rental services readily available across Bali, particularly in southern tourist areas.
Although rates vary, choosing a vehicle with a professional driver in Bali is recommended for convenience and comfort. With this method, you can focus better on enjoying your journey than driving and parking. If you want to know more about the Bali transportation guide, please click the link.
Discover More Than Beaches in Bali
Bali is not all about beaches. Experience the unique tranquility of Penatahan Hot Springs and the ESPA Yeh Panes Natural Hot Spring Resort in Tabanan. Whether you enjoy private or public baths, Bali's hot springs offer a relaxing, health-boosting experience amidst stunning natural landscapes.
Our Bali travel guide doesn't stop here. Meanwhile, if you found this helpful guide, stay tuned for more articles on charming Bali destinations, from peaceful rice terraces to impressive mountains.
Also, share this Bali travel guide with your fellow travelers, and let us know your experiences and tips about Bali hot springs. Need help planning your Bali trip? Reach out to us. We're here to create your vacation unforgettable.
Finally, are you ready to dip into Bali's warm hot springs? Start planning today! Remember to check for the latest updates on pricing, hours, and amenities before you visit.