Most travelers who have vacationed in Bali after having a lot of sunbathing will do Bali outdoor adventures. Furthermore, Bali's island has plenty of outdoor adventures that suit every traveler's needs. One of the most favorite outdoor adventures is Bali water sports. One of the best Bali water sports you can do is Bali rafting tours, commonly called Bali river rafting. There are two rivers in Bali famous as rafting spots: the Ayung River in Ubud and the Telaga Waja river in Karangasem. The first-timer will get confused about which river to choose. Therefore, we will write to you about the difference between the Telaga Waja River VS Ayung River Ubud on this page. So you can decide on the Bali river that suits your need for Bali white water rafting.
Bali Rivers For Rafting Trips
While there are three main white water rivers in Bali used for white water rafting and there are:
Ayung River Ubud.
Telaga Waja River Karangasem.
Melangit River Klungkung.
However, only 2 of the rivers are most favored by the visitor to do white water rafting in Bali. The rivers are the Telaga Waja River in Karangasem and the Ayung River Ubud.
Your questions know! Bettwen Telaga Waja River VS Ayung River Ubud, which one of the two rivers is best for my white water rafting trip in Bali?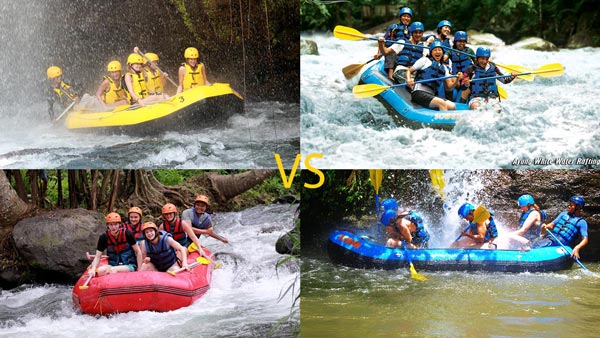 Between the Telaga Waja River VS Ayung River, which one is better? It is a bit difficult to answer.
When we asked our customers who wanted to book Bali river rafting about the river, some of our clients said the Telaga Waja river is the best. However, some of our customers stated that the Ayung river in Ubud is better than the Telaga Waja river. Therefore, each person has their own opinion about the two rivers.
On this page of Telaga Waja River VS Ayung River, we will not say one river is better than the other. However, we will write the pros and cons of each river. So you can decide which one is better for your Bali rafting adventure.
Find Here, "Alam Rafting Telaga Waja River Price" >>>
Telaga Waja River Pros & Cons
Furthermore, the Telaga Waja River for river rafting trips offers 16 kilometers in length. Therefore, you will need 2,5 hours to finish all the rafting routes at Telaga Waja River. The Telaga Waja River location is in Karangasem regency, on Bali Island's east side.
Find out more detail: "Telaga Waja River Karangasem Bali" >>>
Pros Telaga Waja River
16-kilometer white water rafting route, which is the longest Bali white water rafting track.
2,5 hours rafting trips are needed to finish the 16-kilometer course.
Easy access from the lobby to the river rafting starting point with a few stairs. Therefore, suitable rafting locations for those who don't want to step down plenty of stairs to get to the river edge from the lobby.
Some Telaga Waja rafting companies provide flying fox rides to the river edge from the lobby for an additional fee.
The Telaga Waja provides rapids class with level II-IV, which is more thrilling and adventurous. For more detail about the rafting rapids class, click here: white water rafting rapids class.
The river's location is far from the city, offering fresh air with less pollution.
Suitable for people who want a combination of sports and recreation.
Cons Telaga Waja River
Some area of the Telaga Waja river has shallow water.
It is a long drive to the locations from the southern part of Bali, where most Bali travelers stay. You will need 1 hour and 40 minutes to get to the sites of Telaga Waja rafting from Sanur Bali.
Some people are concerned about long trips to the Telaga Waja River because they don't have enough time.
Telaga Waja river classifications with rapids class with level II-IV, so participants who want a relaxing rafting trip will not appreciate the Telaga Waja river.
Ayung River Pros & Cons
Furthermore, the Ayung River location is at Ubud, one of Bali's best places to visit. The Ayung route for river rafting offers a 10 kilometers course, and you will need 1,5 – 2 hours rafting durations.
Find out more: "Ayung River Rafting Ubud Bali" >>>
Pros Ayung River
The Ayung River location is close to the central Ubud area. Therefore, participants can visit Monkey Forest Ubud, Tegalalang Rice Terrace, and other Ubud attractions after rafting.
Suppose you stay in Ubud during a holiday in Bali. In that case, you only need an average of 20 minutes to drive to get to Ayung River locations.
Very suitable for beginners, with international rapid class grade II-III.
The Ayung river offers fantastic scenery with stone carvings in some areas of the river walls.
Ayung Rafting is suitable for recreational river rafting.
Cons Ayung River
Rafting participants must step down a long stairway from the lobby area to the river starting point. Also, participants must climb long stairs from the rafting finish point to the restaurant area.
Not as thrilling as Telaga Waja River Rafting. Therefore, people who look for exciting river rafting in Bali will not like Ayung River Ubud.
The distance from the Bali white water rafting route makes some rafting participants feel the trip duration is too short.
Conclusion On Telaga Waja River VS Ayung River
Suppose you want a thrilling rafting adventure in Bali, a long-distance Bali white water rafting route, and don't want to climb the stair to get to the rafting starting points, then Telaga Waja Rafting is the river that you should choose.
If you want a Bali rafting tour more in terms of recreational adventures, don't spend time in the car if you stay in the southern part of Bali, like the Kuta or Seminyak area, and love to see the beautiful scenery. Than Ayung Rafting Ubud is your choice for white water rafting in Bali.
So Telaga Waja River VS Ayung River, which is better? It is dependent on your requirements. Both rivers have pros and cons, and now it is up to you to choose.
The Best Rafting Company On Each River
After deciding which river to choose for Bali rafting adventures, between Telaga Waja River and Ayung River Ubud, you should know the best rafting company on each river.
For your information, we have tried every rafting company we provide on our website. Below is the best company on each white water river base on our experience.
Consequently, the best rafting company at Telaga Waja River is Sobek Rafting Telaga Waja and BMW Telaga Waja Rafting. Due to Sobek Bali and BMW rafting, their Bali rafting price is considered value for your money.
The best rafting company at Ayung river Ubud is Bali Mason Adventure Rafting. The five-star rafting company in Ubud. Therefore, if the Bali rafting price does not matter, you should choose Bali Mason Adventure Rafting Ubud.