Looking for an adrenaline-pumping activity to add to your Bali itinerary? Well, look no further. Ayung River Rafting in Ubud offers the perfect blend of adventure and natural beauty. Therefore, let's dive into why this activity is a must-do, from safety to scenery, and uncover 6 benefits of rafting on the Ayung River and why this Ubud gem stands out as a must-do white-water adventure for families.
You can find this article's Indonesian version here for our readers who prefer Bahasa Indonesia.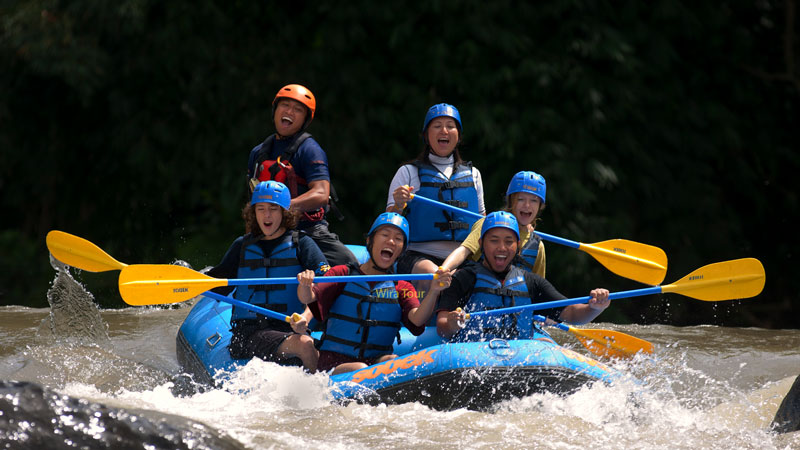 What Tourists Are Saying: The Ayung River's 6 Unmissable Benefits
Why does Ayung River rafting captivate thrill-seekers? Hear it straight from those who've been there and done that:
"The tropical gorge was stunning, with incredible waterfalls we could even stand under. A perfect blend of scenery and adventure." — Ellen L, Corte Madera, CA.
"Great scenic river journey with fun rapids for beginners. Felt secure with our guide, who also had a knack for dad jokes!" — Alison S, Melbourne, Australia.
Impressive, right? If those first-hand accounts have sparked your interest, let's dig deeper into what makes Ayung River in Ubud an ultimate rafting destination.
Unpacking the 6 Benefits of Rafting on the Ayung River Ubud
Above all, Ayung River Rafting offers an all-around experience that blends adventure, culture, and safety, just a 20-minute drive from central Ubud.
Digging into Specifics: 6 Benefits of Rafting on the Ayung River
Speaking of digging deeper, let's move on to the specifics. From custom packages to safety measures, Here's what you can expect and why Ayung River rafting could be your next unforgettable adventure.
Tailored Experiences with Top Operators: Ayung River's reputable operators, like Sobek, Mason and Graha Adventure, offer custom packages to fit your adventure style.
Safety First: The river prioritises safety through certified guides and comprehensive briefings. Also, come prepared with suitable helmets, life jackets, and water shoes for a secure rafting adventure. To know more about staying safe while rafting, read our safety guide.
Family-Friendly Adventure: With Class II-III rapids, Ayung River is perfect for thrill-seekers and families. Also, tips for family-friendly river rafting experiences are readily available.
Scenic Beauty: The journey immerses you in natural settings like lush tropical forests and artistically carved riverbanks, offering visual delights.
Balance of Thrills and Relaxation: Unlike more intense options like the Telaga Waja River, Ayung River aims for a balanced experience accommodating adrenaline junkies and those seeking relaxation.
Perfect Time Frame: The two-hour rafting journey leaves you with enough time to explore other activities in Ubud, making it a comprehensive adventure package.
So, whether you're an adrenaline enthusiast or seeking a family-friendly day out, Ayung River Rafting in Ubud promises a rewarding experience on multiple fronts.
Convinced yet? If you imagine yourself navigating those rapids, keep reading because preparing adequately for this adventure is crucial.
Your Essential Pre-Rafting Checklist: Maximise the 6 Benefits of Rafting on the Ayung River
Now, how should you prepare? It's not just about showing up; there's a checklist to follow to ensure you get the most out of your Ayung River rafting adventure.
Here's your ultimate bullet-point guide for what to bring, expect, and look out for to maximise your rafting experience in Ubud.
What to Bring: Change of clothes, sturdy water shoes or sandals, waterproof camera for memories
Physical Condition: Be in good shape for an elevated experience.
Weather Forecast: Check ahead to avoid rain dampening your day.
Dress Code: Opt for quick-dry, non-restrictive attire.
Food & Drinks: Light meal 1-2 hours before and carry electrolyte drinks.
Safety Brief: Listen closely to the guidelines from the guide.
Got Doubts? Ask your guide; they're there to help.
Insurance: Make sure your package covers injuries.
Gear Inspection: Double-check safety equipment. For more preparation tips, read our complete guide on what to pack for a day of rafting.
Stay Hydrated: Regular sips of water during the adventure.
You're setting yourself up for a safe and memorable rafting experience by ticking off these points. Ready to take on Ayung River? Let's make this experience even more memorable by avoiding common rafting blunders.
The Unmissable Experience of Afternoon Rafting on the Ayung River
Whether you're a seasoned rafter or a newbie on the water, avoiding common mishaps is critical to a memorable rafting experience. So, here's what to keep in mind:
Steer Clear of Common Blunders
Safety First: Always double-check your gear.
Listen to the Pros: Your guide is the fountain of wisdom for a safe and exciting outing.
Know Your Limits: Speak up if you're physically strained; your guide needs to know.
Essential Packing: Don't leave behind your sunscreen and water shoes.
Eco-Conscious: Always bring a trash bag; leave no trace behind.
Avoid Overcrowding: Stick to your guide's raft capacity for balance and safety.
Briefings are Crucial: Don't underestimate the importance of safety instructions.
Swimming Skills Aren't Enough: Your life jacket is non-negotiable. Always stay on the raft.
Feeling more confident? Excellent! But what if I told you there's a way to improve this experience? How about considering an afternoon rafting session?
Why Choose Afternoon Rafting on the Ayung River
Sunset Drama: Enjoy the breathtaking Bali sunset as you navigate the rapids.
More excellent Comfort: The afternoon offers a more relaxed rafting experience as temperatures cool.
Less is More: Fewer rafters equal a more intimate, serene journey on the river.
Considerations for Afternoon Rafting
While afternoon rafting comes with distinct perks, it also demands special considerations:
Adequate Lighting: Consult your operator for enough lighting, especially for twilight rafting.
Additional Gear: Prepare for the elements with a waterproof jacket and mosquito repellent.
Post-Activity Transport: Pre-arrange your return trip, as public transport options may be limited post-sunset.
You'll set yourself up for an epic Ayung River rafting escapade by dodging common mistakes and considering an afternoon session. Check out our other articles for more insights on rafting in Bali.
Quick Guide to Ayung Rafting Packages in Ubud
Looking for the best deal for your Ayung rafting adventure? Here's what you need to know in a nutshell:
Price Range: Expect to shell out between IDR 250,000 and IDR 480,000 per person. But remember, you get what you pay for.
What's Included: Different packages offer various perks. Make sure the one you choose includes essentials like insurance, a meal, and quality safety gear.
Custom Packages: If you have specific needs, look for a tailored package that covers all your bases—transportation or special safety requirements.
Compare and Save: Before settling, compare offerings from multiple operators. This way, you'll land a deal with the most bang for your buck.
Still intrigued? Great! Above all, if you're wondering how Ayung River compares to other rafting options in Bali, keep reading.
Bali Rafting Showdown: Ayung vs. Telaga Waja vs. Melangit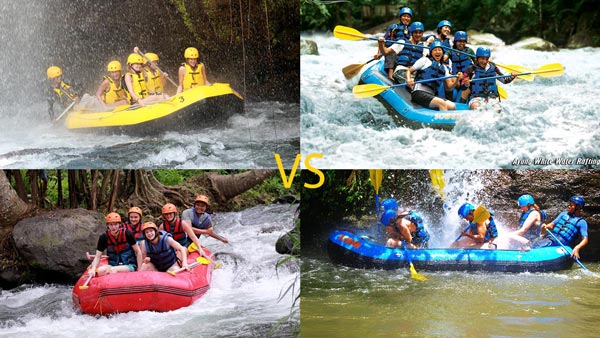 You're in the right place if you're scratching your head over which river to pick for your rafting escapade in Bali. Therefore, let's see what separates the Ayung, Telaga Waja, and Melangit rivers.
The Unique Draws of These Three Rivers
Ayung River: This is the go-to for families and newbies. Think of it as rafting with training wheels, all set against the lush vistas of Ubud's jungle.
Telaga Waja: Not for the faint-hearted. With faster currents and more challenging rapids, it's an adrenaline junkie's paradise.
Melangit River: A hidden gem for nature lovers. Here, the rafting experience comes with a side of awe-inspiring rock formations.
Ayung River Rafting FAQs: Everything You Should Know
Before you book, we're sure you've got questions. And we've got answers.
How do I get to Ayung River from Ubud?
The Ayung River is roughly 20 minutes from central Ubud landmarks like the Ubud Royal Palace. Most rafting packages offer shuttles, but local taxis or ride-sharing apps like Grab are also options.
Is Ayung River Rafting beginner-friendly and safe for children?
Ayung River Rafting is suitable for beginners due to its class II-III rapids and guided tours. It's also generally family-friendly, but it's advisable to check age restrictions with individual operators beforehand.
What should I wear for Ayung River Rafting?
Opt for quick-drying clothes and sturdy water shoes for the best experience. It's best to avoid cotton-based and restrictive garments.
What if I have dietary restrictions for the included meal?
Many operators offer customisable meal options. Just be sure to communicate any dietary restrictions you may have when making your reservation.
Are there any additional costs I should be aware of?
While the essential rafting experience and lunch are often included, remember that extras like photos, videos, and souvenirs are generally not included.
What's the best time to go rafting on the Ayung River?
Rafting is available throughout the year, but the dry season from April to October offers the most pleasant conditions.
What happens if the weather turns bad?
Rafting activities might be postponed or even cancelled if weather conditions become extreme. It's always best to check the weather forecast and confirm your booking on the day of the activity.
So, have we answered all your burning questions? If so, here's how you can take the next step.
Concluding Thoughts: 6 Benefits of Rafting on the Ayung River in Ubud—Your Ultimate Bali Adventure Awaits
Finally, the Ayung River doesn't merely offer a rafting experience. It promises six benefits: safety, scenic beauty, and a family-friendly vibe. Furthermore, conveniently located near Ubud, you can effortlessly transition from rafting to exploring Bali's cultural and scenic treasures.
You can read Discover Bali Nature Tourism: Activities and Attractions for more Bali adventure ideas.
Ready for the Adventure of a Lifetime?
In conclusion, why wait if Ayung River Rafting has caught your interest? So, click the button below to book the rafting package that suits you best and set yourself up for an unforgettable Bali adventure.
Book Your Ayung River Rafting Adventure Now!
Got questions or need more info? Don't hesitate to leave a comment below or contact us directly. We're here to guide you every step of the way.