Dive into our comprehensive River Rafting in Bali FAQ guide and prepare for an exhilarating adventure through Bali's rip-roaring rapids. Whether you're an adrenaline junkie or an eco-tourist, this guide is your go-to source for everything you need to know—from premier rafting spots to essential safety measures—before you even buckle that life jacket.
Bahasa Indonesia: Panduan Mengenai Pertanyaan-Pertanyaan Umum Tentang Rafting di Bali.
User Testimonial:

"Mason white water rafting and the Elephant Bathe & Wash Experience were simply mind-blowing—worth every cent and then some! The rafting journey was led by top-notch guides and set against a backdrop of awe-inspiring landscapes. As for the elephant experience, words fall short of conveying its sheer awesomeness. If you're contemplating this as a day adventure, don't hesitate—book it now. You won't regret it!"

Kathryn H, Swindon, UK
Your Essential Primer on Whitewater Rafting in Bali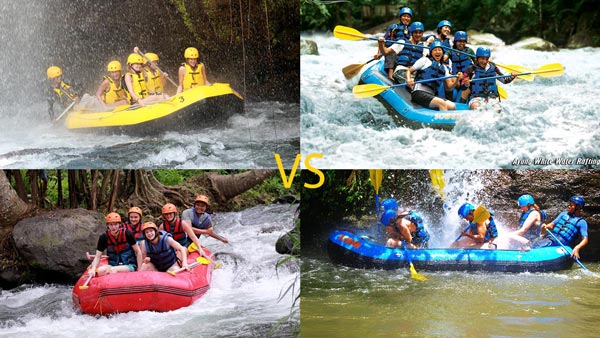 Brace yourself for an invigorating odyssey on an inflatable raft along Bali's versatile riverscapes. Explore why Bali is an unparalleled rafting destination with its breathtaking Ayung, Melangit and Telaga Waja rivers.
Quick Highlight: Experience a pulse-pounding adventure on Bali's awe-inspiring rapids.
Which Are Bali's Premier Rivers for a Memorable Rafting Adventure?
Bali's multifaceted river terrains offer a range of experiences for every rafting aficionado, from leisurely rides to heart-racing thrills. Let this be your definitive guide to Bali's prime rafting rivers.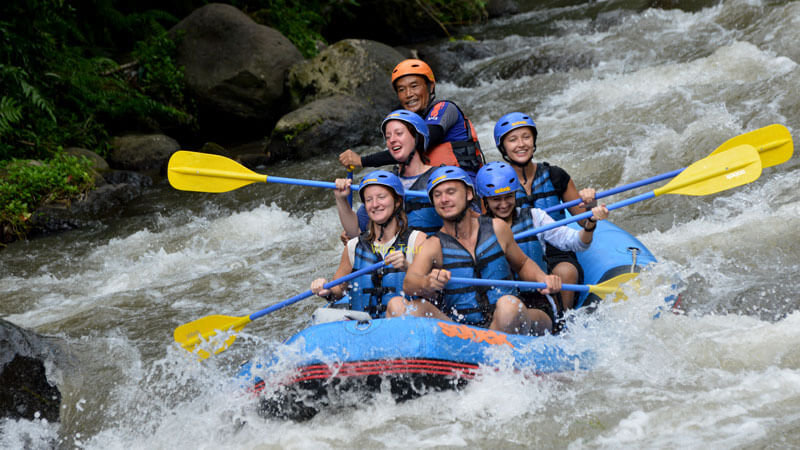 Rapids: Strenuous.
Skill Level: Intermediate to Expert.
Landscape: Suited for thrill-seekers eager for heart-stopping rapids and panoramic vistas.
Local Landmark: A stone's throw away from the majestic Mount Agung.
Explore the Less-Travelled Melangit River in Klungkung
Rapids: Moderate to Intense
Skill Level: Intermediate
Landscape: A haven for adventurers yearning for a secluded, off-grid experience.
Local Landmark: A short distance from the historical Klungkung Kerta Gosa Palace.
Quick Highlight: Rafting adventures for everyone, from calm floats to tempestuous rides.
What Sets Rafting in Bali Apart?
Dive into what sets Bali's rafting experiences apart from the rest. Our River Rafting in Bali FAQ guide reveals how to get an adrenaline kick while soaking in local culture.
You can raft in many parts of the globe, but Bali's rivers offer an inimitable blend of high-octane rapids and striking natural galleries.
Navigate through awe-inspiring terraced rice fields, Balinese temples, and tropical flora—an adrenaline kick and a deep Balinese cultural dive.
Quick Highlight: Merge spine-tingling action with an enriching cultural experience.
How Can I Ensure a Safe River Rafting Experience in Bali? FAQ Guide
Are you wondering if white water rafting in Bali is Safe? Rest easy; our River Rafting in Bali FAQ guide provides essential preparation and gear selection tips.
Be Prepared, Not Scared
Rest easy; Bali's rafting ventures abide by rigorous safety regulations. If health issues concern you, consult a healthcare professional beforehand.
Essential Gear
Apparel: Choose lightweight, quick-drying fabrics.
Smart Packing List
Sun Protection: Utilize high-SPF, water-resistant sunscreen.
Change of Clothes: Keep a spare set handy.
Camera: Opt for a waterproof variant, if possible.
Health and Wellness
Endurance: A fraction of light cardio is advised.
Swimming Skills: Beneficial, but not obligatory.
Medical Clearance: Consult your general practitioner for advice if you have health-related uncertainties.
Key Takeaway: Adhering to safety guidelines and packing the right gear can make your rafting experience smooth and enjoyable.
What is the Best Time for River Rafting in Bali?
Timing is everything. This River Rafting in Bali FAQ section will help you pick the perfect time to embark on your adventure.
Schedule your rafting adventure during Bali's dry season, spanning April to October, to enjoy the best weather conditions.
Key Takeaway: The dry season offers peak conditions for rafting.
Is Previous Experience Required for River Rafting?
Fear not, beginners; Ayung River's gentle rapids are your go-to, while seasoned rafters might find Telaga Waja River more up to their speed.
Key Takeaway: While seasoned rafters might find Telaga Waja River more up to their speed, Ayung River's gentle rapids are perfect for beginners.
Ready to tackle Bali's rapids with confidence? Book your adventure now.
How Long Should You Plan for River Rafting in Bali?
Brief Adventure: Roughly 4-5 hours, including 2-3 hours of rafting.
Full-Day Venture: An estimated 7-8 hours with an ATV ride included.
These times are not set in stone and are subject to weather and river conditions.
Key Takeaway: Choose between a brief excursion and a full-day journey based on your preference.
What Should I Expect During the Rafting Trip?
The Bali adventure begins with a safety briefing, followed by your voyage down the river, punctuated by pit stops at waterfalls and cultural landmarks. Amenities like showers and meals await at the end of your trip.
Key Takeaway: Expect a well-structured itinerary with multiple points of interest.
Can I Take Photos During the Rafting Trip?
Yes, you can take photos, but keep these points in mind:
Waterproof Gear: A waterproof camera or case is essential.
Hands-Free: Consider a GoPro with a helmet or chest mount.
Safety First: Listen to your guide about when to shoot.
Highlight: Waterproof gear is essential for capturing those perfect moments.
Is Travel Insurance Required for River Rafting in Bali?
Travel insurance isn't mandatory but is strongly recommended. Ensure your policy covers "adventure sports" or "water activities" for comprehensive coverage.
Highlight: Insurance is strongly advised for comprehensive coverage.
Are Meals and Refreshments Provided?
Most rafting tours in Bali include a welcome drink and a post-rafting meal, usually a buffet featuring local and international dishes. Drinking water is typically provided. For special dietary needs, inquire when booking.
What's the Cancellation Policy for Rafting Tours?
Most rafting companies in Bali offer complete reimbursements for cancellations made 24-48 hours before the journey. However, cancel within 24 hours, and you'll unlikely get a refund. Always read the fine print when booking and consider travel insurance covering adventure activities.
What Practical Information Do I Need for River Rafting Adventure in Bali?
Booking your rafting trip in Bali is straightforward, thanks to easy-to-use online platforms. Do your due persistence by reading online reviews and comparing prices so you know you're getting a solid deal.
Highlight: Use online platforms for easy booking and price comparison.
What Are the Age and Supervision Guidelines for Family Rafting Adventures?
Planning a family rafting trip? Check out our '5 Tips For Bali White Water River Rafting With Kids That You Should Know', as most operators in Bali require participants to be at least 7 years old for safety reasons.
If you're bringing kids, it's a hard-and-fast rule that a responsible adult must accompany them to ensure everyone's well-being during the adventure.
Highlight: Family-friendly, but age and supervision guidelines apply.
In Conclusion: River Rafting in Bali FAQ
Armed with this information, you're ready for an awe-inspiring whitewater rafting journey through Bali's rivers. With options like Ayung for beginners and Telaga Waja for the experienced, there's something for every adventurer here. So prepare accordingly, stay safe, and create memories of a lifetime!
Over to You!
Has this guide quenched your thirst for rafting knowledge? Whether you're gearing up for your first Bali rafting experience or reminiscing about a past adventure, we'd love to hear from you. Feel free to get in touch for tailored advice, or check out our additional guides for even more exhilarating activities in Bali.