Are you planning a family vacation to Bali with your children and considering participating in a river rafting activity? If so, you've reached the right website! Moreover, this guide will share essential information on family-friendly river rafting in Bali, highlighting the best spots for kids. We'll focus on three popular locations for rafting: Telaga Waja Karangasem, Ayung River Ubud, and Melangit River. Therefore, a guide about family-friendly white water river rafting in Bali will assist you in choosing the most appropriate river for your family's rafting adventure in Bali.
Bahasa Indonesia, Panduan Aktivitas Rafting Lokasi Sungai Yang Ramah Anak di Bali.
Essential Considerations in Selecting Family-Friendly River Rafting in Bali
If you're arranging a family travels to Bali with your children and considering joining on a river rafting adventure, look no further! Our "Guide to Family-Friendly River Rafting in Bali" provides essential information, pinpointing the most suitable locations for kids.
Furthermore, we concentrate on three popular rafting spots: Telaga Waja Karangasem, Ayung River Ubud, and Melangit River. Also, this comprehensive guide on family-friendly whitewater river rafting in Bali will help you select the perfect river to ensure a memorable rafting experience for your entire family.
River Difficulty Level: Every river in Bali for rafting sites has a different difficulty level. Therefore, choose a river that suits your family's experience and skill level, especially if children participate in the Bali river rafting activity.
Safety: Make sure the rafting operator you prefer has a good reputation and always places the safety of the players as their company's top priority. The trick is to examine for reviews from travelers who have tried it before or order with a trusted travel agency in Bali. In addition, make sure the rafting operator has proper protection equipment, such as a helmet and life jacket.
Location and Access: Consider the location of the river and its distance from your accommodation in Bali when traveling with your children. Access to the rafting location is essential, primarily if you're on vacation with kids.
Sights and Experience: Decide if you prefer beautiful natural scenery, exciting adventure activities, or both during your Bali white water river rafting. Each river in Bali offers unique experiences, with some offering stunning landscapes and others providing adrenaline-pumping rapids.
Rafting Duration: The length of the rafting trip varies depending on the river's route. Some rivers have shorter routes suitable for children, while others have longer routes, resulting in a more extended rafting experience.
Consequently, with you and your family considering the above, you will get a clear picture of the correct river for you as a rafting location.
Thrilling Family Adventure Awaits: Discover the Top 5 Tips for Bali's White Water River Rafting with Kids!
Guide to 3 Choices of Rivers for Family-Friendly River Rafting in Bali
Bali has three main rivers as zones or places for white water rafting. Furthermore, below are the rivers in Bali that are suitable for rafting, among others.
Then the Telaga Waja River, Karangasem.
Then which river is the best for your Bali white water rafting activity? The three rivers mentioned above for Bali white water rafting each have unique features, and the best location depends on your family's preferences. To choose the ideal spot for your child, consider their age and skill level.
Find Out Stay Safe and Enjoy the Rush: Top 10 Essential Safety Tips for Bali Rafting Adventure!
Adjusting River Choices For Rafting Locations With Children's Age
Meanwhile, many of our clients are eager to engage in outdoor activities in Bali with their kids and express concerns about participating in rafting adventures with their little ones. However, after trying out white water rafting with their children, most realize there's nothing to worry about when joining such activities in Bali with kids.
How about you? Are you interested in experiencing white water rafting with your kids in Bali? Knowing which river to choose based on your child's needs and age is essential.
The Telaga Waja Karangasem River, Melangit Klungkung River, and Ayung River in Ubud are all excellent options for family-friendly rafting. Selecting the appropriate River according to your child's age is crucial to ensure a memorable and exciting Bali rafting adventure for your entire family.
Create Unforgettable Memories with Your Family: Discover the Top 20 Kid-Friendly Things to Do in Bali for Your Next Holiday!
1. Telaga Waja Karangasem: Challenging River Rapid For Rafting with Beautiful Views for Families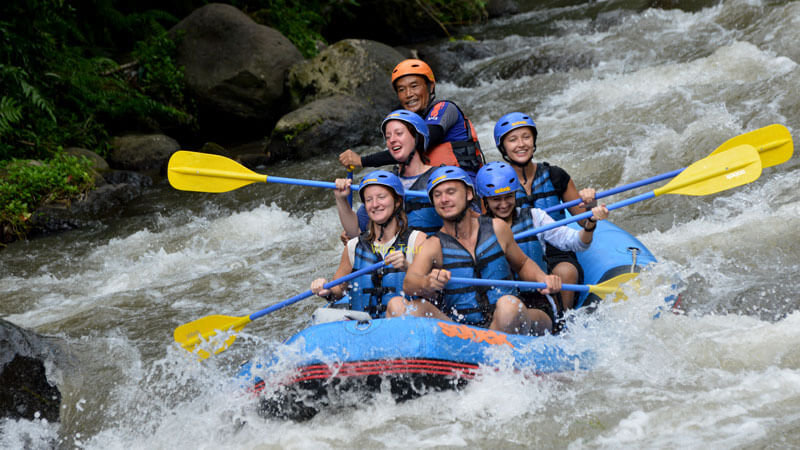 The location of the Telaga Waja River is in Rendang Village, Karangasem Regency. If you depart from the tourist area of Seminyak Bali, heading to the site will take about 1 hour and 50 minutes.
The Telaga Waja Karangasem River presents a more challenging rafting experience, with rapid difficulty levels classification ranging from grades II to IV, demanding extra stamina. Participants will spend approximately 2.5 hours on the river, encountering level IV rapids in some sections. Consequently, several operators mandate a minimum age of nine for child participants.
Renowned for its exhilarating rapids, the Telaga Waja River also boasts stunning landscapes, including rice fields, waterfalls, and dense foliage, enhancing your family's rafting adventure. This river's convenient access is a significant advantage, with only a few stairs between the lobby, riverside, and finish point. If this appeals to you, the Telaga Waja Karangasem River is an excellent choice for your family's rafting journey in Bali.
See BMW Telaga Waja Start Point Google Maps.
Best Rafting Operator Recommendations on the Telaga Waja River
This article will discuss some of the top rafting operators providing packages for the Telaga Waja River. Numerous companies offer rafting experiences on this river, so we will focus on three operators known for their excellent service and competitive pricing. The following are our recommended Telaga Waja Rafting operators:
If your children are between 7 and 9 years old and wish to participate in rafting on the Telaga Waja River, your best option would be Sobek Rafting Telaga Waja, which caters to this specific age group.
Find Your Perfect Adventure: Compare the Best Telaga Waja Rafting Operators in Bali!
2. Ayung Ubud: Child-Friendly Rafting with Cultural Charm and Natural Beauty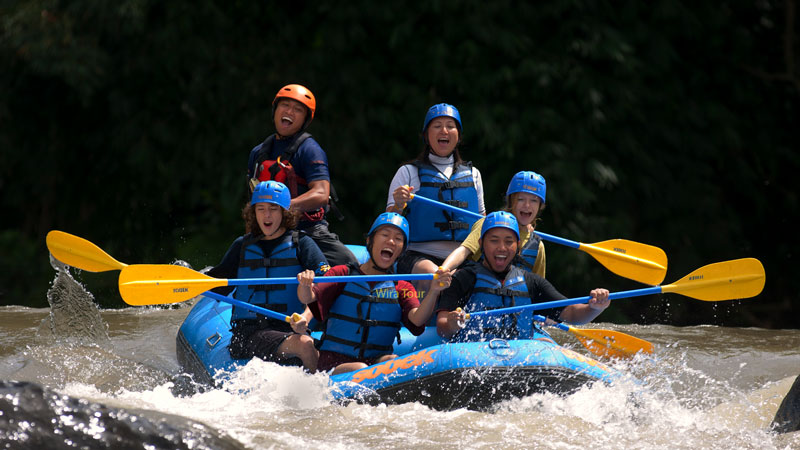 Additionally, the Ayung River is situated in the Ubud attraction area. If you stay in Ubud, access to the Ayung River will be conveniently close. Conversely, if your family chooses to stay in the Kuta Beach area, reaching the Ayung River in Ubud will take about 1 hour and 30 minutes.
For families with children aged 5-8 years, the Ayung River in Ubud is an excellent choice for rafting. With grade II-III rapids and some obstacles, rafting on the Ayung River offers a moderate challenge, lasting approximately 1.5 hours.
The Ayung River is ideal for rafting with young children, as you'll pass through traditional villages and see waterfalls, ancient temples, and scenic rice fields. You'll also encounter unique relief carvings on the river walls, making this rafting adventure a memorable experience for the entire family.
See Start Point Sobek Ayung River Google Maps.
Recommended Rafting Operators on Ayung River in Ubud for Young Children
It's important to note that not all rafting operators on the Ayung River in Ubud accommodate participants between 5-8 years old. Below are some operators that accept young children for rafting adventures:
Mason Adventure Rafting Ubud: This operator welcomes children as young as 5 for rafting activities.
Sobek Rafting Ubud: Sobek Ubud allows children aged seven years and above to participate in rafting excursions.
Payung Rafting Ubud: This operator accepts participants between 7 and 65 for their rafting adventures.
Read More, Bali Family Vacation Guide.
3. Melangit River Klungkung: Fun Rafting Experience in Remote Nature for Families
The Melangit River is also located in the Klungkung regency, specifically in Bakas village. From Sanur Beach, reaching the Bakas Levi rafting spot on the Melangit River takes about 45 minutes.
Embarking on a Melangit River rafting adventure with your family offers an exciting experience as you explore the natural beauty of Bakas village in Klungkung, Bali. Throughout your journey, you'll discover secluded areas, spot wildlife, and admire the tall, lush trees lining the riverbanks.
Unlike the options available at Ayung River in Ubud or Telaga Waja River in Karangasem, the Melangit River has only one rafting provider: Bakas Levi Rafting Adventure. With approximately 1.5 hours, this experience caters to families with children who prefer shorter outdoor activities. After completing your rafting adventure, you and your family can visit nearby attractions like the Bali Safari & Marine Park.
See Start Point Bakas Rafting Google Maps.
Pros and Cons of Each Spot: Family-Friendly River Rafting in Bali
The followings are the edges and drawbacks of each river which are recommended for rafting spots with families with children in Bali:
Pros of Telaga Waja River
Ideal for children aged nine and older.
Provides a thrilling rafting experience with class II-IV rapids.
Beautiful surrounding landscapes, including rice fields and forests.
Several reputable rafting companies, such as Sobek and BWM Rafting Telaga Waja, operate here.
Cons of Telaga Waja River
The river current may be too challenging for some children under nine years old.
The location of the Telaga Waja River is relatively distant from tourist attractions in southern Bali.
Experience the Thrill of a Lifetime: 6 Reasons Why Telaga Waja Rafting in Bali is a Must-Do Adventure!
Advantages of Ayung River Ubud
Ideal for children aged 5-8 and older.
With class II-III rapids, rafting is more enjoyable and comfortable.
The river features stunning natural landscapes, such as waterfalls, carved reliefs on the riverbanks, and rice fields.
Its proximity to the Ubud tourism center makes it a convenient rafting location.
Cons of Ayung River Ubud
It might be less challenging for those seeking a more extreme rafting adventure.
The shorter rafting duration compared to Telaga Waja may leave some participants unsatisfied.
Discover the Ultimate Adventure in Ubud: 6 Reasons Why Ayung River Rafting Tour Should Be on Your Bucket List.
Pros of Melangit River Klungkung
Appropriate for children and participants of all skill levels.
It provides a more authentic Bali river rafting experience and is less crowded.
Offers stunning countryside views.
The river is close to southern Bali and the Bali Safari Marine Park.
Cons of Melangit River Klungkung
Less well-known than the Ayung River in Ubud, with only one rafting operator currently available on the Melangit River, Klungkung.
A shorter rafting duration might leave some tourists feeling unsatisfied.
Read Here: "Ayung River vs. Telaga Waja River" >>>
Conclusion: Family-Friendly River Rafting in Bali
Furthermore, Bali offers a variety of family-friendly rafting spots suitable for children of all ages and diverse tourist preferences. Before embarking on a rafting adventure, it's crucial to consider your child's age and skill level.
Meanwhile, Telaga Waja, Ayung River Ubud, and Melangit River Klungkung each provide unique rafting experiences tailored to different ages and family preferences. Moreover, by comparing the benefits and drawbacks of each area, you can choose the perfect spot for your family's rafting experience in Bali.
Also, always select a reputable rafting operator that prioritizes participants' safety. With the help of this guide to kid-friendly rafting in Bali, you'll gain a better understanding of the best rivers for your family's needs.
Therefore, don't hesitate to experience Bali's rafting adventures with your loved ones and assemble unforgettable memories on this beautiful island. We hope this article on the top rafting activities for children in Bali proves helpful as you plan your trip.
Finally, if you find this guide helpful, please share it with friends or family interested in exploring Bali's rafting adventures. Additionally, we encourage you to leave questions, suggestions, or personal experiences related to rafting with children in Bali in the comments section.
Ready to Tackle Bali's Rapids? Here's Your Essential Guide to What to Wear When Rafting!
Related Article With Family-Friendly River Rafting in Bali