Making travel plans is always essential, whatever the theme of your vacation and your holiday destination. However, there are significant barriers when travelers make an itinerary tour—namely, the understanding of tourist attractions, holiday activities, and transportation. You found this page about an example of a Bali honeymoon itinerary of seven days. Then most likely, you are planning a honeymoon in Bali for one week.
Bahasa Indonesia, "Itinerary Honeymoon Bali 7 Hari Favorit Wisatawan" >>>
Before we inform you about the Bali honeymoon itinerary for seven days, we should tell you. Wira Rafting Bali is a Bali river rafting agency. Our leading company is Wira Tour Bali, which mainly provides car hire and tour packages in Bali.
Based on our experience in providing car rental services in Bali and Bali tour packages. We have many examples of Bali itinerary tours that we create custom according to the desires of our customers.
Specifically, on this page is one example of a 7-day vacation itinerary to Bali that is much in demand by most tourists during their honeymoon. Suppose you look for examples of Bali itineraries for family or holidays with friends. Then this Bali itinerary of seven days will most likely not suit you.
Read More, "Best Time Of Year To Visit Bali For Vacation" >>>
Examples of 7 Day Bali Honeymoon Itinerary
An example of a seven-day honeymoon vacation itinerary to Bali will take you on vacation to the tourist attractions of Kuta, ​​Ubud, and the island of Gili Trawangan. Also, you will vacation at several famous tourist attractions on the island of Bali. Like, Tanah Lot Temple, Uluwatu Temple, Tegalalang rice terrace, Kintamani, and Monkey Forest Ubud.
Besides visiting tourist attractions in Bali, the Bali honeymoon itinerary also schedules one of the best things to do in Bali, which is participating in the activities of Bali water sports on Tanjung Benoa beach.
To make an example of a 7-day honeymoon vacation itinerary to Bali that runs efficiently, you must pay attention to the location of the hotel where you are staying.
On the first and second day, your hotel location is preferably in ​​Kuta, Seminyak, Jimbaran, Canggu, Nusa Dua, Ungasan, or Legian.
Hotel location on days 3 & 4, on the Gili Trawangan island.
Days 5 & 6, the best hotel location in the ​​Ubud area.
Read More, "Three Days Vacation Itinerary In Nusa Dua Bali With Travel Guide" >>>
The following is a detailed schedule of seven-day honeymoon trip plans on Bali island.
Day 1 – Bali Honeymoon Itinerary 7 Days
It will be perfect if you can choose the flight arrival time in Bali in the morning or afternoon. If you must arrive in Bali at night, you can disregard travel plans on this first day and proceed immediately to your hotel.
You will need transportation to your hotel when you arrive at Ngurah Rai airport. We recommend booking your hotel with a hotel located in the tourist areas of southern Bali. Such as Kuta, Legian, Seminyak, Canggu, Sanur, and Jimbaran. There are several transport choices from the Ngurah Rai airport to your hotel.
Suppose you reserve a honeymoon tour package in Bali. In that case, it is most likely that the pickup transferring from the Ngurah Rai airport to your hotel is included in the price of the honeymoon vacation package that you reserved.
You can use a taxi at the Ngurah Rai airport to get to your hotel.
You can also order a car rental service in Bali with a driver for 10 hours.
Find Here, "Best Beach In Bali For Honeymoon" >>>
Benefits of Getting Bali Rent A Car With Driver
Getting a car hire with a driver is very useful in the transportation budget if you arrive in Bali in the morning. Due you can store your luggage at your hotel without check-in. Then you can immediately head to many places you like to visit in Bali by using the car hire with a driver you have obtained.
For example, you can hang out at the Finn Beach Club Canggu. Around 17:00, you go to the Tanah Lot Temple to be able to see the sunset view. In the evening, you can arrange a candlelight dinner. You can do it in the hotel restaurant where you stay or in restaurants outside the hotel.
Find Here, "Bali Tanah Lot Temple Itinerary" >>>
Day 2 – Tanjung Benoa Water Sports & Uluwatu Temple
Most hotel room prices in Bali include breakfast. From 08:00 – 09:00, you can enjoy breakfast first. Then you will join the Bali water sports activities at Tanjung Benoa beach.
The Best Location For Marine Tourism in Bali
Most likely, you will ask, is there another place in Bali for water sports activities besides Tanjung Benoa beach? There are water sports activities available at Sanur beach. Most tourists will choose Tanjung Benoa beach for water sports activities in Bali because there are many choices of games at affordable prices.
Selections for Tanjung Benoa Water Sports Honeymoon Couples Preferred
Although there are many water sports games at Tanjung Benoa beach, most honeymooners prefer the following activities.
The Best Way to Organize Tanjung Benoa Water Sports
If you are planning a vacation to Bali without reserving a Bali tour package, then the best way to get low Tanjung Benoa Water Sports prices, including hotel transfers, is to book a water sports package in Bali.
You can choose Tanjung Benoa's water sports package with three games for you and your partner. By ordering a Tanjung Benoa water sports package, you will get a free shuttle from your hotel to Tanjung Benoa. After you finish the activity, you get escorted back to your hotel free of charge.
All you need to consider to get a free shuttle is your hotel location located in southern Bali. For example, your hotel is in Kuta, Legian, Seminyak, Kerobokan, Sanur, Jimbaran, and Ungasan. In addition to getting a free shuttle, the unit price of the Tanjung Benoa Watersport game becomes cheaper by ordering a water sport package.
A vacation to Uluwatu Temple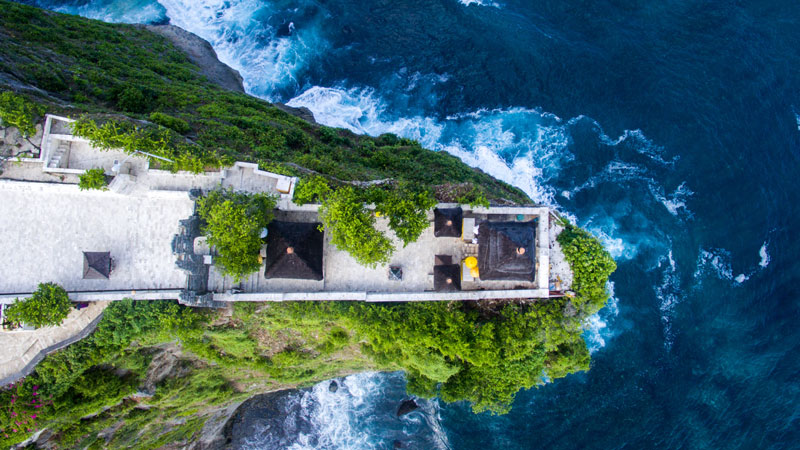 After the water sports activities, you return to the hotel, have lunch, and rest. At 16:00, depart for the tourist destination of Uluwatu Temple Bali.
Finding an online taxi from your hotel to the Uluwatu temple in Bali is very easy. However, getting transportation returning from Uluwatu Temple to your hotel will be challenging to find an online taxi.
For the best transportation, I suggest you use private transport, whether in the form of a motorcycle or a private car. You can search for motorcycle and Bali car rental services closest to hotel locations. If you want comfort, you can also use car rental services in Bali with a driver.
Look here, "Holiday Guide to Bali Uluwatu Temple" >>>
Day Three & Fourth – Holiday on Gili Trawangan Island
Gili Trawangan Island is a popular destination for honeymooners, both international and Indonesian tourists. Before you go on vacation to the island of Gili Trawangan, you will find information about how to get to the Gili Trawangan island from Bali. Please click the link if you want to know the best way to get to Gili Trawangan from Bali!
Most fast boat operators heading to Gili Trawangan from Bali will provide hotel shuttle services. Because the fast boat departure time from Bali is mostly at 09:00 am, the hotel picks up around 07:00 am.
Besides reserving a fast boat to Gili Trawangan from Bali, you must book a hotel in Gili Trawangan. Because on the third and fourth days of a 7-day Bali honeymoon itinerary, you will spend your night at the Gili Trawangan island.
Are you wondering about things to do on Gili Trawangan island? If yes, all you need to do is to browse the internet, and you will find plenty of things to do on Gili Trawangan island.
Look Here, "Choice Hotels in Gili Trawangan Island" >>>
Day 5 – Vacation & Stay In Ubud Bali
On the morning of the fifth day, you are still on the Gili Trawangan island. After breakfast, you can check out of the hotel. Then wait for pick up and take a fast boat from Gili Trawangan to Ubud Bali.
What You Must Prepare
For the itinerary on day five to run smoothly, there are several things that you must prepare in advance.
When reserving a fast boat ticket to Gili Trawangan from Bali on the third day, you should also inquire about a fast boat ticket from Gili Trawangan to Bali on the fifth day.
When ordering a fast boat ticket back to Bali, it's a good idea to have a fast boat ticket, including a transfer to your hotel in Ubud. So when you arrive at the port on the island of Bali, the transportation that will take you to the hotel in Ubud is ready.
When arranging fast boat tickets to Bali, you should book the earliest departure tickets to have enough time for a vacation in Ubud. The average, fast boat from Gili Trawangan to Bali departs at 11:15 – 11:45 and takes a 2.5-hour trip.
Besides paying attention to the fast boat, you should also have booked a hotel in Ubud for the night of the fifth and six-day.
Around 17:00, you arrived at your hotel in Ubud. You can directly check-in at the hotel.
The trip on a fast boat is quite tiring, so many honeymoon couples will book a SPA when they arrive in Ubud. There are many SPA providers in Ubud, and you can book SPA activities in Ubud before you arrive in Ubud.
Search Here, "Example Schedule for a 6-Day Honeymoon Vacation Plan in Bali" >>>
Day 6 – Holiday to Kintamani & Ubud Surrounding Area
On the sixth day, you will visit the Kintamani and several tourist attractions in Ubud. To gain it easier for you to see the itinerary schedule, we will make you a table plan.
For transportation to Kintamani and Ubud, finding a rental car service in Bali with a driver is a good idea. For example, the rental price of a Toyota Avanza in Bali with a driver, including fuel, IDR 500,000 / 12 hours. IDR 500,000 is around USD 36. The trip plan on day 6 is one full-day tour. Therefore, a car rental service with a driver will save transportation costs and make you more comfortable.
| Schedule | Acctivities & Attraction |
| --- | --- |
| 07:00 | Breakfast at the hotel. |
| 08:00 | Depart to Kintamani. |
| 09:30 | You will arrive at the Batur Hot Spring Kintamani pool. In this place, you can soak in warm water while looking at the view of Lake Batur Kintamani. |
| 12:00 | Lunch at the Grand Puncak Sari Kintamani Restaurant. This restaurant provides a buffet lunch with Indonesian dishes. Also, you can eat as much as you want. |
| 13:30 | Depart to Tegalalang Rice Terrace Fields in Ubud. |
| 14:15 | Take a walk on Tegalalang Rice Terrace Ubud. Besides taking photos with rice fields as background, honeymoon couple also loved to try the Bali Swing activity in the Tegalalang rice terrace. |
| 15:30 | Depart to the Ubud Monkey Forest. |
| 16:00 | Take a walk in the Ubud Monkey Forest sanctuary. |
| 18:00 | Return to the hotel where you are staying in Ubud. |
You arrive early at the hotel because you will need time to pack goods for your departure to the airport tomorrow.
Read More, How do I spend a day in Ubud?
Day 7 – Departure from the Airport
After you enjoy breakfast at the hotel, you can check out and head to Ngurah Rai airport. For information, you will not find an online taxi in Ubud for transfer from your hotel in Ubud to Ngurah Rai Airport. Online taxis are not allowed to take passengers in the tourist area of ​​Ubud.
For transportation from Ubud to the airport, you should order airport transfer services that are widely available on the internet. Or ask the hotel to help arrange your transportation to Ngurah Rai airport.
Search Here, "Example of a 10 Day Tour Itinerary in Bali" >>>
Summary Bali 7-Day Honeymoon Itinerary
That's all for an example of a Bali 7-day honeymoon itinerary. Knowing the Bali honeymoon itinerary example allows you to understand and create your honeymoon itinerary in Bali. To make the best Bali itinerary for seven days for your honeymoon, you can adjust the hotel and transportation according to your desires and tastes. The choice of hotel, transport in Bali, and where to eat will affect your vacation budget.
If you have questions about the Bali itinerary, seven days for a honeymoon, or you want to book a tour package in Bali like the travel plan example above. You can contact the reservation department of Wira Tour Bali. At the telephone number, +62 822 4714 8222 | +62 812 3615 8243 (WhatsApp Ready).
Find Here, "Example Of Bali Itinerary 5 Days For Couples" >>>
Honeymoon in Bali On A Budget
In providing vacation package services to Bali, we often get questions from our customers. The inquiry is, how to have a Bali honeymoon on a budget?
You can do several things to have a great honeymoon experience in Bali with a low budget.
The transportation choice is by motorcycle, but you must use a backpack to carry your stuff.
Get cheap accommodation. You can find it easily in Bali for affordable lodging.
Choose a romantic place to eat at affordable prices. An idyllic place to eat at reasonable prices widely available in Bali. All you need to do is to search on Google.
For holiday activity tickets, you can also search on Google. You will find many Bali things to do ticket providers in Bali at affordable prices.
Of the Bali attraction entrance fee, most are fixed costs. For example, the Tanah Lot temple entrance fee or the entrance ticket to Ubud Monkey Forest.
See Here, "Things You Must Know When Making Vacation Travel Plans in Bali" >>>
Read More, What can you see in Bali during four days honeymoon?