Planning a trip to Bali? Uluwatu should be high on your to-visit list. The mesmerising Uluwatu Temple Bali, a revered place of worship, emanates an exceptional charm. This guide will navigate you through the captivating features of Uluwatu Temple, its historical background, how to get there, and tips for maximising your experience. Brace yourself for an unforgettable journey to one of Bali's most precious gems.
For our native Indonesian readers, we've got you covered with a version of this article in your language. So don't worry; you won't miss out on any vital information.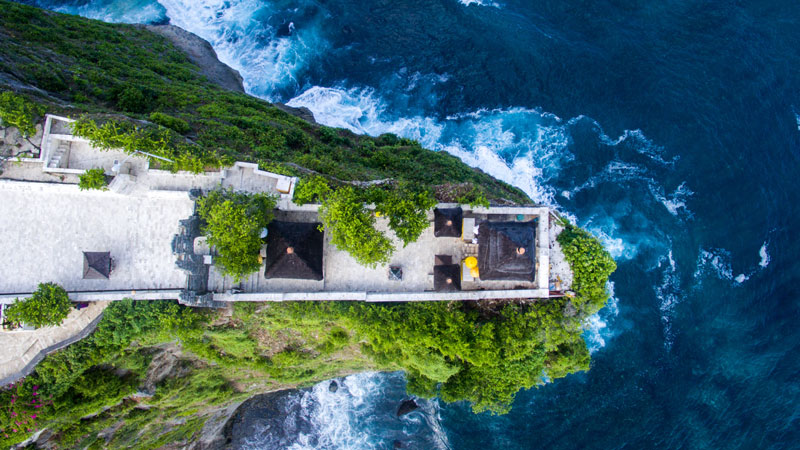 This in-depth guide will uncover the following:
Unravelling the History and Charm of Uluwatu Temple, Bali
The Significance of Uluwatu Temple among Bali's Sacred Sites
Not only does Bali boast picturesque white sandy beaches, but it also showcases fascinating temples like Uluwatu, a stunning example of Balinese architecture. Each temple radiates an exclusive architectural allure, nestled amongst magnificent landscapes. Thus, Bali has earned the appellation – the Island of a thousand temples or Bali's spiritual sanctuaries. Discover more revered sites with our Top 10 Popular Balinese Hindu Temples to Visit in Bali.
Among the countless sacred sites scattered across the Island, only six, including Uluwatu Temple, bear the esteemed title of Sad Kahyangan Temples, or the primary directional temples.
The Unique Location and Architectural Beauty of Uluwatu Temple
The spectacular architectural wonder, Uluwatu Temple, perches on cliffs overlooking the Indian Ocean, embodying the spirit of a cliff-top temple. The name 'Uluwatu' encapsulates the spirit of this holy site; 'Ulu' means 'the tip', and 'Watu' translates to 'rock'. Thus, Uluwatu Temple, teetering on a cliff top, echoes 'a sacred sanctuary carved from the rock's tip'.
Following its name, the Uluwatu Temple perches on a cliff edge, approximately 100 meters above the vibrant Indian Ocean, rendering its location incomparable.
Imagine standing here, spellbound by the majestic sunset views, as you marvel at the intricate Balinese Hindu architecture, impressive statues, and the captivating Kecak and fire dance performance. Sounds like a memory to cherish, doesn't it? That's precisely what Uluwatu Temple in Bali promises to deliver.
Cultural Significance: The Piodalan or Pujawali Ceremony
Uluwatu Temple is more than a stunningly beautiful site; it's Bali's spiritual sanctuary to the Balinese. The Piodalan or Pujawali Ceremony venue is a vital religious event commemorating the temple's anniversary. This sacred celebration occurs every 210 days on the Saka calendar on Anggara Kasih (Tuesday), Medangsia. You might be lucky to witness this vibrant ceremony during your visit, a core element of Balinese culture.
Highlights of Uluwatu Temple: Why It's a Must-Visit
"Is Uluwatu Temple worth visiting?" or "What are the must-see characteristics at Uluwatu Temple, Bali?" Let us walk you through what this reputable site presents its visitors.
Magnificent and Spectacular Views of the Indian Ocean at Uluwatu Temple
One of the main attractions of Uluwatu Temple, Bali, is its extraordinary location. The temple perches atop a grand cliff on a vast plateau about 100 meters above the ocean waves.
On clear days, visitors enjoy the splendid sight of a bright blue sky seamlessly merging with the darker hues of the Indian Ocean. This unique vantage point provides a remarkable visual experience and a deep appreciation for the temple's strategic positioning.
Another temple that offers a mesmerising view is the Lempuyang Temple, Gate of Heaven, renowned for its 'door to the sky' photo spot.
Uluwatu Temple's Historical Significance
Uluwatu Temple's history dates back to the 10th century, as noted in the ancient script, Kusuma Dewa. The respected sage, Mpu Kuturan, guided the temple's construction, contributing significantly to the development of several central temples, especially in the Bali south area. Afterwards, in 1489 AD, another sage, Dang Hyang Nirartha, selected this temple to pinnacle his spiritual journey, thereby turning this site into a significant spiritual hub in Bali.
Reaching Uluwatu: Location & Map
Uluwatu Temple Bali is located on Jalan Raya Uluwatu, in Pecatu Village, part of the South Kuta subdistrict. The Uluwatu Temple's area is effortlessly found on Google Maps.
Travel Time Estimates from Popular Bali Locations
Uluwatu Temple may appear close to many of Bali's famous spots, but travel times can vary significantly due to traffic and road conditions. Below are the estimated distances and travel times:
Ngurah Rai Airport to Uluwatu Temple: The temple is about 29 kilometres from the airport. With a private vehicle or taxi, you can expect the journey to take roughly one hour and 20 minutes under normal traffic conditions.
Central Ubud to Uluwatu Temple: Ubud is somewhat further away, at approximately 54 kilometres. A typical drive from Ubud, such as the Royal Palace, could take around 2 hours and 20 minutes.
Kuta Beach to Uluwatu Temple: Kuta covers a broad area, so the distance to the temple can vary. As a reference, it's roughly 31 kilometres from Kuta Beach to Uluwatu Temple, a journey that usually takes about one hour and 15 minutes.
Keep in mind these times are just rough estimates. Traffic, weather, and your specific starting location can significantly influence travel durations. Also, Bali's road infrastructure, with its two-lane roads and countless bends, often results in longer travel times despite shorter distances. Consider this part of the unique experience of exploring Bali's captivating and unparalleled landscape.
Understanding Your Transportation Options in Bali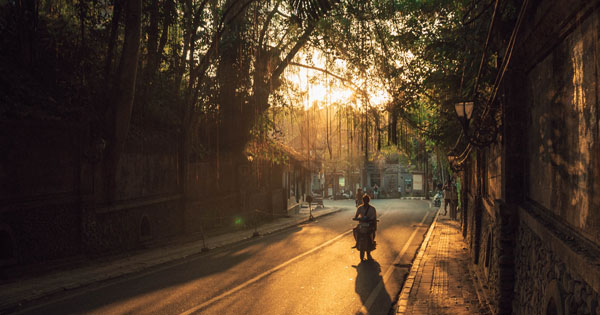 While we can't provide custom directions from your hotel (that's where Google Maps or other navigation apps come in handy), we can certainly offer advice on your transportation options in Bali.
Reaching Uluwatu Temple from tourist hotspots like Kuta, Seminyak, or Ubud is generally straightforward but can be slightly pricey. The only public transport available is a metered taxi or online taxis like Grab. However, these taxis can only drop passengers off at the Uluwatu temple area. Local regulations prohibit them from picking up passengers.
So, the most practical way to visit Uluwatu Temple is by using private transportation such as a car or scooter.
Hiring a private driver for the day is an excellent alternative for roaming Bali. You can combine a trip to Uluwatu Temple with visits to other nearby attractions and relish a leisurely day of sightseeing.
Essentials for Uluwatu Temple Visit: Entrance Fee & Timings
Entrance Fee Information
Visiting Uluwatu Temple involves a nominal entrance fee:
| Category | Entry Price |
| --- | --- |
| Adults | IDR 50,000/person. |
| Children | IDR 30,000/person. |
The admission tickets can be purchased immediately at the entrance. No need for booking, but getting there early during peak seasons helps dodge those long queues. We've compiled a comprehensive list of Bali attraction entrance fees.
Kindly be informed that the Uluwatu Temple entry fee is subject to variation and may not be precise, as shown on this page. The fee cited here is valid as of the time of publication on August 05, 2023.
Uluwatu Temple Opening Hours
The temple is accessible from 07:00 – 19:00, but those wishing to pray can visit 24/7.
On-site facilities include ample parking space, restrooms, and food options. Please note that toilets are outside the inner temple area. The temple can get busy during local events or holidays, so plan your visit to avoid peak times.
Encountering the Local Inhabitants: Monkeys of Uluwatu
An integral part of the Uluwatu experience is interacting with the long-tailed grey monkeys that inhabit the temple's surroundings. They lend an exclusive allure to this sacred place.
Once you arrive, you'll find two main entrances to the temple, one from the north and another from the south. The pathway to the main entrance cuts through a dry forest teeming with these monkeys, much like the renowned Ubud Monkey Forest.
Remember, while these monkeys are accustomed to humans, they're still wild animals. They can be aggressive at times, so exercise caution. Don't feed them, avoid direct eye contact (which they may interpret as a threat), and safeguard your belongings. These mischievous creatures can snatch shiny items like glasses, cameras, phones, or jewellery.
If a monkey does manage to snatch something, try offering a peanut or banana as a trade – it sometimes works!
The monkeys of Uluwatu add a vibrant and playful dimension to your temple visit, providing an unforgettable encounter with Bali's wildlife.
Dress Code & Ideal Visiting Time for Uluwatu Temple
Appropriate Dress Code for Temple Visit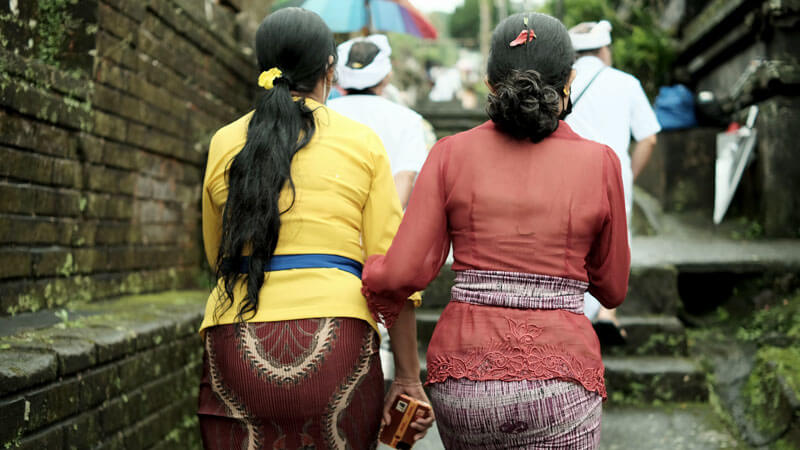 Before stepping into the cliff-top temple, make sure you're dressed appropriately. To learn more about temple dress codes in Bali, check our guide on Dressing Appropriately for Bali Temples Dress Code. Visitors are expected to wear a sarong and a scarf tied around the waist.
People of all genders must cover their legs below the knee, where a sarong is handy. Don't worry if you don't have one; sarongs and scarf are available at the temple entrance.
Timing Your Visit for Spectacular Sunset Views
To appreciate the temple's breathtaking sunset view, aim to visit around 5 pm. By then, the sun's intensity reduces, and you're just in time for the day's twilight spectacular. If you're intrigued by sunset views, don't miss out on our list of the 10 Best Spots to Watch the Sunset in Bali.
Cultural Immersion: The Kecak Dance Experience at Uluwatu Temple
The Unforgettable Kecak Dance Performance
The Bali Kecak Dance show is a notable cultural highlight of a visit to the Uluwatu Temple. This traditional Balinese dance, narrating the tale of the Ramayana, an ancient Hindu epic, makes an enchanting spectacle as the sun sets over the ocean.
Additionally, experiencing the Barong Dance at other places is another must-do for a comprehensive cultural immersion in Bali.
Kecak Dance Schedule & Entry Price at Uluwatu Temple
This unique Balinese dance is performed daily from 18:00 – 19:00, and tickets cost IDR 150,000 per person. The performance unfolds on a cliff-top stage that overlooks the setting sun, offering a mesmerising backdrop.
Securing Tickets for the Uluwatu Kecak Dance Performance
Tickets for the Uluwatu Kecak Dance Performance are sold separately and can be bought on arrival at the temple or booked online at a lower price. Seating for the performance is limited and on a first-come, first-served regulation, so arrive early to secure a good spot.
Respecting and Honoring Local Traditions at Uluwatu Temple
Uluwatu Temple is not just an attraction; it's a place of deep spiritual significance. Visitors are encouraged to honour this by respecting the serene atmosphere. While personal photography is permitted within the temple grounds, we ask you to avoid using flash inside the temple and to refrain from snapping pictures directly in front of worshippers or sacred objects. Always obtain permission before capturing images of locals or ceremonies.
As is customary with all temples in Bali, menstruating women are kindly asked to refrain from entering. When interacting with locals, show consideration and respect. The Balinese are renowned for their kindness, so reciprocating with a polite and friendly approach will be appreciated.
Explore More: Nearby Attractions Around Uluwatu Temple
There's more to the area than Uluwatu Temple alone. Venture out to Padang Padang Beach, renowned for its spectacular surfing conditions and picturesque shoreline. Traditional market enthusiasts will love visiting the Jimbaran Fish Market, where you can observe local vendors plying their trade.
And don't miss the chance to explore GWK Cultural Park, a fascinating cultural hub featuring a colossal statue of Vishnu, a revered Hindu deity. If you're on a temple trail, consider visiting the iconic Tanah Lot Temple.
Planning Your Visit: Best Time & Season to Visit Uluwatu Temple
If you're hoping to capture the breathtaking sunset and the ethereal performance of a Balinese Kecak dance, aim to arrive by 17:00. This allows you enough time to explore before settling down to enjoy the performance at 18:00. If you wish to avoid peak visiting hours, consider visiting around 08:00 am.
The dry season, from April to October, is the perfect moment to visit Bali. With less humidity and rain, sightseeing is much more pleasant. However, if you'd like to experience the temple at its most vibrant, try to visit during the temple's anniversary celebrations, held every 210 days.
Accessibility Considerations for Visitors to Uluwatu Temple
Perched on the border of a cliff, Uluwatu Temple offers jaw-dropping views, but accessibility may be a challenge. The terrain features steep steps and uneven surfaces, posing difficulties for those with mobility issues or families with small children. If you're travelling with elders, look at our guide on What To Do In Bali For Old People to ensure an enjoyable trip.
Please assess your situation upon arrival and plan your visit accordingly. Regrettably, the site doesn't provide specific facilities for wheelchair users, meaning those with mobility impairments might require assistance to explore the site fully.
Conclusion: Embarking on Your Unforgettable Uluwatu Journey
As our comprehensive guide draws to a close, we trust that you feel well-prepared and excited to embark on your journey to Uluwatu Temple. This magnificent temple on the cliff edge offers a unique fusion of natural beauty. Also, rich cultural experiences, and spiritual significance, make it a must-visit on your Bali itinerary.
Start by soaking in the temple's captivating history and spiritual resonance among the Balinese. Revel in the breathtaking ocean views and marvel at the captivating Kecak Dance performed against the mesmerising backdrop of a setting sun. Interact with the playful monkeys and respect the serenity and customs of this sacred place.
Enjoy the journey and make lasting memories as you navigate this historical and culturally significant site. Whether you're an architecture enthusiast, a culture seeker, a spiritual voyager, or a nature lover, Uluwatu Temple offers many unforgettable experiences.
So, pack your sarong, keep your camera ready, and embrace the awe-inspiring allure of Uluwatu Temple. The enchantment of this cliff-top sanctuary awaits you, promising to deliver an experience beyond the usual tourist trail, immersing you deeply into the magic of Bali.