You are wondering about what is there to do in Uluwatu Bali? Also, wondering about what is Uluwatu famous for that worth to visit? How about visiting Uluwatu Temple Bali. Please note, Uluwatu and Uluwatu temple is a different thing. Uluwatu is an area located in southwest Bali, and the Uluwatu temple Bali is a Balinese temple located in the Uluwatu area.
So if you are interested in attending the Pura Luhur Uluwatu temple Bali, please continue reading this page. Due to you will find information such as;
Balinese Temple Attraction.
Best Things To See At Uluwatu Temple, Bali.
The Uluwatu Temple History.
Location & Map.
Uluwatu Temple Entrance Fee & Opening Hours.
Monkeys At Uluwatu.
Uluwatu Temple Dress Code & Sunset Scenery.
Kecak Dance Uluwatu Temple Bali Schedule.
Find Here, "Top 10 Places To Visit & Things To Do In Bali" >>>
Balinese Temple Attraction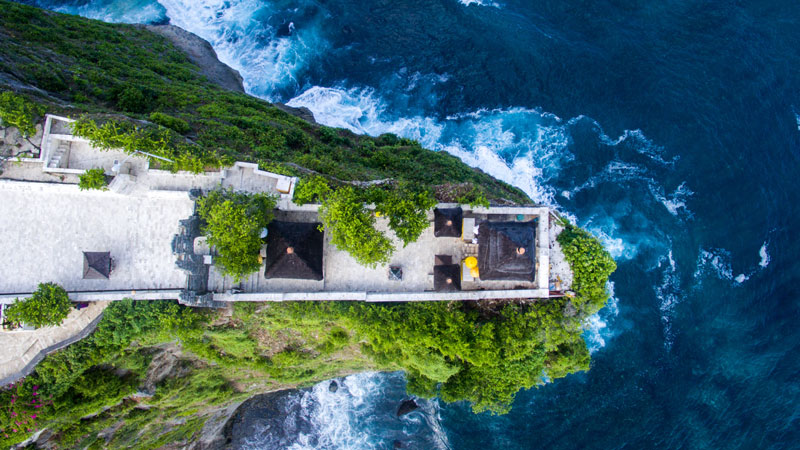 Besides Bali white sand beaches like Kuta beach Bali, Balinese temple also the crucial primary interest of Bali tourism. Furthermore, the Balinese temple offers a unique style of architecture in an amazingly beautiful location. Due to many Balinese Hindu temples on the island, therefore Bali island, also known as the island of thousand temples.
As you may know, there are many Balinese temples — however, only six directional temples as the main temples of the Balinese Hindu. Furthermore, the six directional temples called Sad Kahyangan Temple. One of the six directional temples is Uluwatu Temple Bali.
Furthermore, the Uluwatu Temple Bali very well-known among travelers due to the temple location. Uluwatu Temple, located close by Bali International airport and the temple located in a magnificent and unique position. The Uluwatu temple Bali area set on the top of the cliff bank. Measure around 100 meters above the sea level facing the Vast Indian Ocean.
Uluwatu Temple, Bali also very well known as a great place to see the sunset view in Bali. Like the sunset view at Tanah Lot temple, so if you want to see a beautiful sunset, overlooking the Indian ocean, fantastic Balinese Hindu architecture, the statue with an ancient style sculpture, and Balinese Kecak and fire dance performance. Then you should add the Uluwatu Temple Bali on your things to do in Bali.
Find Here, What Are The Best Temples To See In Bali?
Best Things To See At Uluwatu Temple Bali
When you consider visiting Uluwatu Temple Bali as one of the things to do in Bali during your holiday, for those who have never been visiting the temple of Uluwatu must be wondering!
Is the Uluwatu temple worth visiting?
What are the best things to see at Uluwatu Temple, Bali?
So if you are wondering, is the Uluwatu temple worth visiting? Below is the beautiful thing that you can see at the Uluwatu temple.
Amazing View Of Indian Ocean
The main point of interest of Uluwatu Temple Bali lies in the beautiful scenery of plateau, which 100 meters high above the ocean wave and the temple located at the top of a majestic cliff. If you are lucky when visiting Uluwatu Temple in clear weather. You gone see a tremendous blue clear sky with a dark blue ocean view lies on the Indian Ocean horizon. Therefore, If you love to see the above unique things, then the Uluwatu temple is worth visiting.
See Here, "All Things You Need To Know Suluban Beach Uluwatu" >>>
Uluwatu Temple Dance
The best part of visiting Uluwatu Temple as one of attraction in Bali is to watch Balinese Kecak and fire dance. For your information, the only Balinese dance performed at The Pura Uluwatu is Kecak and fire dance. The Kecak & fire dance in Uluwatu offers an amazing background stage, set with a fantastic vintage view of the sunset.
Read More, Where Is The Best Location For Sunset In Bali?
The Uluwatu Temple History
Uluwatu temple history is base on old script Kusuma Dewa wrote in 1005 AD. The temple builds based on the advice of Mpu Kuturan (a Java sage on the 11 century). Mpu Kuturan also influences the construction of other temples in Bali and mostly located in the southern part of Bali island.
How Old Is Uluwatu Temple?
When was the Uluwatu temple built? The temple considers built around the 10th century. Due to several archaeological from the megalithic remains were found at Uluwatu Temple, Bali.
On 1489 AD, Dang Hyang Dwijendra (another Sage from Java who was born in Kediri, East Java) before getting married to a prince from Daha kingdom, and his name was Danghyang Nirartha. After getting married, his father in law gives him the duty to Dang Hyang Dwijendra, to rearrange the religious life in Bali.
After finishing his obligation to rearrange the religious life in Bali, Dang Hyang Dwijendra decide that the Uluwatu temple is the final location of his spiritual journey.
Location & Map
The address of Uluwatu Temple Bali is on Jalan Raya Uluwatu, Pecatu Village, and part of the subdistrict of South Kuta.
How Far Is Uluwatu Temple from Ubud?
If you are coming from Ngurah Rai Airport and heading straight to Uluwatu temple, you will take around 1-hour driving with 22 kilometers distance. If you are coming from the central Ubud area, let's say monkey forest Ubud. Getting the location of the temple, you are gone take 2 hours driving with 54 kilometers distance.
How Far is Uluwatu temple from Kuta?
Kuta Bali is a large area to make it specific in finding how far the Uluwatu temple from Kuta is? Let's start with Kuta Beach Bali. From Kuta Beach heading to Uluwatu temple will take distance around 27 kilometers, and with travel time around 1 hour.
For those who have never been to Bali, must be wondering. Why the distance of the location is so short but takes much time? These happen, due to the road to the temple is a two-way lane and many corners along the streets, which is most commonly road in Bali.
To make it easier for you to get the location of Uluwatu Temple, Bali, please use GPS on your gadget. You can click this link to get the site of the Uluwatu temple on a Google map.
How Do You Get To Uluwatu Temple?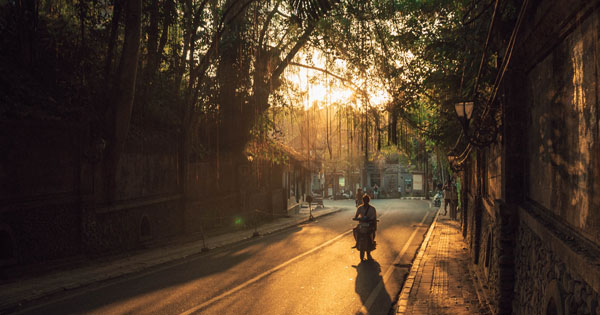 We also often ask by our rafting trips customers regarding, how do you get to Uluwatu Temple? I will not inform you on how to get the Uluwatu temple location from your hotel. Due you can use Google Maps or other GPS navigation app. Things that I would like to inform you are in terms of transportation in Bali.
The main transportation in Bali is private, either motorcycle/scooter or car. You can quickly get private transport in Bali if you use Google. Besides private carriers, you also can find a taxi in Bali heading to the Uluwatu temple.
Read here, "Guide On How Do You Get Around In Bali" >>>
Uluwatu Temple Entrance Fee & Opening Hours
How much does it cost to visit the Uluwatu Temple Bali? To enter the Uluwatu temple, you need to pay an entrance fee. Below is the entry price for Uluwatu Temple Bali.
| Category | Entry Price |
| --- | --- |
| Adult | IDR 50,000/person. |
| Child | IDR 30,000/person. |
Opening hours from 09:00 – 18:00. However, for those who want to pray at the temple, is open for 24 hours. Public facilities are available, but public facilities like toilets are not it the temple area.
Find Here, "List Of Bali Attraction Entrance Fee" >>>
Monkeys At Uluwatu
There are two main entrances to get inside the temple, access from the north, and the hall from the south. When you enter the temple, you will see a dry forest with many monkeys around the area. To get to the main entrance of the temple, you need to walk several meters through the pathway.
Are there monkeys in Uluwatu Temple? Yes, there are, is a longtail gray monkey similar to monkey at the Ubud Monkey Forest. On the pathway, you gone see many monkeys around.
To avoid your belongings taken by the monkeys. Please don't bring valuable items or wear things that can attract animals to steal it like expensive earrings, necklaces, cameras, smartphones, or expensive sunglasses. In case your valuable items were taken by the monkeys. Also, give a try to exchange it with peanut or banana, which is sometimes its work.
Uluwatu Temple Dress Code & Sunset Scenery
What should I wear to access the Uluwatu Temple? Also, to enter the temple, you need to wear a specific dress code. To clarify the dress code, which wearing a sarong with scarf wear on the waist. Also, you do not need to buy a sarong or scarf if you have forgotten to bring it. Due you can rent a sarong or scarf at the entrance ticket counter.
Do you Sarong cover-up for Uluwatu Temple? That is to say, all you need to wear is Sarong, a scarf, and a t-shirt. Sarong will cover your legs, a sash will tie the Sarong on your waist, and the t-shirt will cover your upper body.
Most travelers, when visiting Uluwatu temple, choose 5 pm to visit it. Due to the sun lights, heat not excessive, and the sunset view will begin in an hour.
Kecak Dance Uluwatu Temple Bali Schedule
To clarify one of the best things to see at Uluwatu temple is the Kecak and a fire dance performance. Also, the Balinese dance performance starts from 18:00 – 19:00. Furthermore, the Kecak dance Uluwatu schedule presents daily at the stage that takes place on a nearby cliff-top. Also, to watch Kecak and fire dance at Uluwatu, you need to pay the Kecak ticket show IDR 150.000 / person.
Also, there are many places in Bali to watch Kecak and fire dance, like Balinese Kecak dance Ubud Bali. However, Uluwatu temple Kecak dance is unique and extraordinary due to the stage background with the sunset view.
Book Here, "Kecak Dance Uluwatu Ticket Online Booking" >>>
Finally, if you love to see a Balinese Hindu temple with fantastic scenery, besides the temple of Uluwatu. So it would help if you visited below temples in Bali:
Find Here, "Ulun Danu Temple – Balinese Hindu Temple By The Lake Beratan Bedugul" >>>
Frequently Ask Question
We have informed you in detail about things you need to know before visiting the Pura Luhur Uluwatu temple Bali. Hopefully, all the information on this page is useful for you.
You may also be wondering about what is the most frequent question asked by travelers when they plan to visit the Pura Luhur Uluwatu temple Bali. Also, some of the questions below, the answer are available in the above paragraph. However, it will be better if you can see the frequently asked the question before visiting the Uluwatu temple in a list.
Things Visitor Ask About Uluwatu Temple
What is the best time to visit Uluwatu Temple?
Regarding the best time for visiting the Pura, Luhur Uluwatu temple depends on your criteria. If you want to watch sunset scenery and want to see Balinese Kecak dance performance, then you should be at the temple by 17:00. When you arrive at 17:00, you will have enough time to get around the temple area. At 18:00, you get to the Balinese dance stage, even though the dance does not yet start, you can view the sunset from the audience staging.

However, if your primary concern that you don't want to visit the temple during peak hours, then you should visit the Uluwatu temple Bali in the morning around 09:00 am.
What does Uluwatu mean?
The name of Uluwatu came from the word "Ulu" mean the tip and "Watu" mean stone. Therefore, Uluwatu temple means, a holy site built on the tip of the rock.
What should I wear to Uluwatu Temple?
The appropriate way to enter the Balinese temple is to wear Sarong and scarf tie on your waist. For the top part of your body, you can use a t-shirt, or polo shirt. By wearing an appropriate temple dress code, you will show respect to Balinese culture.

Let's say you forgot to bring Sarong and scarf, what should you do? At the entrance ticket counter, there is Sarong and scarf available to use by the visitor.
What is Bali Kecak Dance?
Kecak dance is one of the most popular dances of Balinese Hindu dance besides Barong dance. The Kecak dance performed mainly by men, and the dance is not using an instrumental device. However, the music generated by the performer's voice, so it's like an acapella. Frequently the Kecak dance story is taken from the Ramayana story.

See here, "Uluwatu Kecak Dance Youtube" >>>