Embark on an enchanting journey to Tegallalang Rice Terraces Ubud, Bali's crowning jewel, where the poetry of nature meets the rhythm of local life. Above all, this travel guide is your key to unlocking the secrets of Tegallalang, from top tips to savour the layered landscape to immersive experiences that bring you closer to the heartbeat of the community. Here, you'll find curated advice on the prime times to visit, a selection of soul-stirring activities, and savvy traveller insights to transform your Balinese getaway into a tapestry of unforgettable moments.
Untuk pembaca yang ingin membaca artikel ini dalam Bahasa Indonesia, silakan klik tautan berikut untuk versi terjemahannya: Tegallalang Rice Terraces Ubud: Panduan Eksplorasi untuk Pelancong.
Known also as Ceking Rice Terrace, this breathtaking landscape is more popularly referred to as Tegallalang Rice Terraces among tourists. This name resonates with its renowned beauty and cultural significance.
Nature's Tapestry and Cultural Riches at Tegallalang's Terraced Fields
A sojourn to Tegallalang is not just a feast for the eyes with its stunning tiered landscapes but a deep dive into the rich tapestry of Bali's cultural and traditional heritage.
Uncover more adventures with our guide: "Top Must-Try Activities in Ubud for an Unforgettable Holiday".
Practical Information for Visiting Tegallalang Rice Terraces Ubud
When planning your visit to Ubud's Tegallalang Rice Terrace, understanding the nuances of entrance fees and tipping customs is crucial for a well-budgeted trip that respects the local community.
Entrance Fees and Parking at Tegallalang Rice Terraces Ubud
Expect to pay an entrance fee of IDR 25,000 per person, a small contribution toward preserving this scenic landscape.
Parking in the Tegallalang area typically incurs a fee of IDR 5,000.
Note that ticket prices and parking fees may vary over time.
For up-to-date pricing and comprehensive information on Bali's numerous attractions, including Tegallalang, visit our link for the latest entrance fee listings and travel budget planning.
Tipping Guide at Tegallalang's Farm Terraces
While tipping isn't mandatory, a small gratuity is a heartfelt way to appreciate the locals' efforts to maintain natural beauty and terraces. A guideline of around IDR 20,000 for two people is generally acceptable.
It's advisable to carry small denominations for ease of transactions.
A modest tip is a thoughtful gesture if you're utilizing local properties like baskets or hats for photographs.
Also, plan your visit around Ubud's local events and festivals, and don't miss the chance to admire the classical Balinese architecture of Pura Taman Saraswati in central Ubud.
Maximizing Your Visit with Inexpensive Attractions
In addition to the many wonders Tegallalang offers, Ubud is ripe with opportunities that don't cost a dime. Embrace Bali's culture, nature, and spirituality with our curated selection of affordable activities in Ubud that promise a memorable vacation without straining your wallet. From art galleries to spiritual encounters, there's plenty to experience at less cost.
Photography Guide for Tegallalang's Panoramic Terraced Fields
The terraced rice fields of Tegallalang provide an idyllic setting for photographers, especially for those seeking to capture the ethereal beauty of sunrise or the lush green panoramas. Here are some tips to help you capture the best shots:
1. Optimal Time for Capturing Tegallalang's Tiered Landscape
The golden hours of sunrise, between 6:00 and 7:00 AM, offer the best lighting, particularly on clear days.
To clarify, from personal experience, departing from my home in the Klungkung area at 5:00 AM allowed me to arrive in Tegallalang by around 5:50 AM. Even at this early hour, I found fellow photographers, including couples preparing for prewedding photoshoots, already soaking in the scenery.
To explore Bali's terraced fields more broadly, consider visiting Jatiluwih – another stunning destination for terraced rice field views.
2. Best Season for Visiting Tegallalang Rice Terraces Ubud
The months from April to September are highly recommended, as the fields are in their prime. Avoid the midday sun, which can be harsh and challenging for photography due to high light contrast and temperatures.
3. Equipment and Photography Techniques
Both can capture stunning images using a pocket camera or a smartphone. For photography enthusiasts, DSLR or mirrorless cameras are recommended for better control.
Meanwhile, if you're bringing a drone, Tegallalang's landscape is a perfect canvas for breathtaking aerial shots, offering a unique perspective on Bali's essence.
Focus on natural composition and use the surrounding environment to frame exciting shots. Pay attention to the 'rule of thirds' and don't hesitate to experiment with different angles.
4. Photography Experience
While capturing these moments is important, remember to immerse yourself in the area's natural beauty and unique culture without the lens. Following this guide, you can eternalize the magic of Tegallalang while respecting Bali's natural and cultural beauty.
Explore detailed guides for more insights on landscape photography and capturing sunrises.
After witnessing the sunrise at Tegallalang, don't miss the chance to trek the scenic Campuhan Ridge Walk, where trails offer verdant views of Ubud. Extend your adventure by visiting the Ubud Monkey Forest, a sacred sanctuary home to friendly monkeys.
Adventure on the Swings of Tegallalang's Terraced Fields
Experience the thrill and capture Instagram-worthy photos at Tegallalang's terraced rice fields with their array of swings set against the spectacular backdrop of verdant landscapes.
Best Swing Options
Safety Tips and Enjoying Bali Swings
Safety: Ensure that the swing provider adheres to safety standards. Check for the availability of safety harnesses.
Best Time to Visit: Mornings are ideal to avoid crowds and enjoy the best lighting.
Pricing: Compare prices of Bali Swing and don't hesitate to negotiate. Around Rp 100,000 is generally a reasonable price.
Photography: Take this opportunity to capture stunning photographs.
Considerations: While thrilling, consider your comfort level with heights and the swing's safety.
Remember, safety is paramount. Consider having travel insurance as a precaution. Visiting the Bali swings in Tegallalang is a way to enjoy Bali's natural beauty from a unique perspective. Explore more exciting adventures in Bali.
Understanding the Climate and Optimal Visit Times to Tegallalang Rice Terrace
Ubud's Tropical Climate
Ubud, located in Bali, experiences a tropical climate distinguished by two major seasons: the rainy and the dry seasons.
Rainy Season: Typically from November to March. During this period, rain is common, especially in the evenings or at night. High humidity and lush green fields are prevalent, but the paths can be slippery and muddy.
Dry Season: Occurs between April and October. The climate tends to be drier and brighter, making it ideal for outdoor activities.
Seasonal Visit Recommendations
Best Time: The dry season, particularly from May to September, offers stable conditions with clear skies and low rain chances.
Benefits of the Dry Season: Excellent sunlight provides optimal conditions for photography, especially in the mornings and evenings when the light is softer.
Recommended Activities: Enjoy hiking, photography, and famous swings in Tegallalang. The paths around the fields are more accessible during this season.
For a comprehensive guide on planning your Bali vacation according to the climate and seasons, visit our guide on 'Optimizing Your Bali Vacation: A Guide to the Best Times to Visit'. This page provides vital information on the best times to visit and details about each season, helping you plan the perfect trip.
Independent Exploration and Hiking Activities
Discover authentic hiking experiences in Tegallalang by exploring less-trodden paths that provide insights into the area's daily life.
Seek out lesser-known trails for a more authentic hiking experience.
Some paths may lead you through small villages and agricultural areas, offering a glimpse into everyday life in Tegallalang.
Explore Tegallalang's hidden hiking routes for a more profound experience.
Beyond the Rice Terraces: Ubud's Thrilling Adventures
While immersing in the tranquillity of Tegallalang is a must, adventure seekers might also consider the exhilarating experience of Ayung River Rafting. Though not free, this activity offers a rush of adrenaline amidst Ubud's stunning natural scenery.
Visitor Guidelines and Respecting the Local Community
Mindful Environmental Awareness
Respect the natural and cultural environment when exploring the fields. Avoid damaging crops and always dispose of trash properly.
Show respect to local farmers and residents by not disturbing their activities. This includes speaking politely and asking for permission before taking photos.
Acknowledge that some parts of the fields are private property. Respect local property and privacy. Seek permission first if you wish to enter or photograph specific areas.
For unique souvenirs post-hiking, consider visiting Ubud Art Market to find a variety of unique art pieces that make perfect souvenirs for your journey.
Preparing for Your Visit to Tegallalang's Terraced Fields
Recommended Clothing and Equipment
Weather-Appropriate Attire: Wear light and comfortable clothing suitable for Bali's tropical climate. Breathable fabrics offer more comfort during sunny walks.
Sun Protection: Carry hats, sunglasses, and sunscreen to shield yourself from direct sunlight.
Proper Footwear: Choose comfortable shoes or sandals with good grip, especially if visiting during the rainy season when the paths may be slippery.
Hydration: Remember to bring a water bottle, especially in hot weather.
Additional Preparations from Visitor Experience
Camera Readiness: Ensure your camera battery is fully charged before setting out. Tegallalang's terraced fields offer highly photogenic views you won't want to miss.
Cultural Appreciation: Your visit is not just about taking photos but also about feeling and appreciating the local Balinese culture. Take time to absorb the atmosphere and interact with the locals.
Facilities and Services at Tegallalang's Terraced Fields
Public Facilities for Visitors
Restrooms: Numerous public toilet facilities are available near the restaurant areas around the terraced fields. These strategically located facilities ensure your comfort during the visit.
Rest Areas: Various rest spots are available for relaxation, photo-taking, or simply enjoying the beauty of the terraced fields.
Emergency Services and Safety
First Aid Services: Several restaurants and cafes near the terraced fields offer first aid services, helpful in dealing with situations like fatigue or minor injuries.
Visitor Safety: Although the area is relatively safe, remain cautious, especially when walking on slippery or uneven paths.
Local Etiquette and Customs
Appropriate Dress Code
Dress modestly and respectfully when visiting the terraced fields. Clothing that covers shoulders and knees is recommended to show respect for local culture.
Additional Tips for Visiting Religious Sites or Cultural Landmarks
If planning to visit sacred places like temples or cultural sites, ensure your clothing covers more of your body as a sign of respect. Read our guide on appropriate attire for visiting temples in Bali for more information.
Opening Hours Information for Tegallalang Rice Terrace
General Access Times
The fields are generally accessible from early morning, with many online sources citing official opening hours about 7:00 AM to 8:00 AM. However, based on experience, most tourists visit earlier, around 6:00 AM, to enjoy the stunning sunrise views and a quieter atmosphere.
Tips for Tourists
Early Morning Visits Around 5:50 AM: Ideal for those hoping to capture the beauty of sunrise or avoid crowds. Arriving early offers the best opportunity to enjoy the fields in a more tranquil setting and with beautiful natural light.
Flexibility in Timing: Although official opening times start around 7:00 AM, some areas might be accessible earlier. If you arrive early, explore the surroundings or check existing entrances.
Separate Operational Hours: Each swing activity and restaurant in the Tegallalang Rice Terrace area has its operational hours. While the fields are generally open to visitors from early morning, it's recommended to check the specific opening times of each place before planning your visit to ensure you can enjoy each experience without disappointment.
Remember, Tegallalang Rice Terrace is an actively used area by the local community, so respecting their operational hours and activities is essential.
Accessibility and Transportation to Tegallalang's Terraced Fields
Routes from Ubud and South Bali Areas
From Ubud to Tegallalang:
Distance: Discover the grandeur of Puri Saren Agung, a royal palace and an icon of Ubud, located about 9 kilometres north of Puri Saren Ubud.
Travel Time: Approximately 20 minutes drive in the morning.
Route: Follow northward towards Jalan Tirta Tawar and Jalan Raya Tegallalang. This route leads directly to the beautiful destination.
From Seminyak, Kuta, and Canggu to Tegallalang:
Distance: Ranges between 30-40 kilometres, depending on the starting point.
Travel Time: About 1 to 1.5 hours drive, depending on traffic conditions.
Route from Seminyak/Kuta: Take the route via Jalan Sunset Road, continue to Jalan Raya Kerobokan, and follow Jalan Raya Ubud towards Tegallalang.
Route from Canggu: Depart via Jalan Raya Canggu, join Jalan Raya Kerobokan, and follow directions to Tegallalang.
Tips:
Scenic Journey to Tegallalang's Terraced Fields
Enjoy the typical Balinese landscape during your journey. You will pass through green rice fields and traditional villages and may find unique spots to stop and enjoy the view. If you are interested in Bali's history and spirituality, consider visiting Goa Gajah, an enchanting archaeological site, to complete your vacation experience in Ubud.
Transportation Options Available
1. Private Transportation: Car Rental with Driver or Tour Packages
Comfort: Renting a car with a driver or choosing a Tegallalang route tour package offers maximum convenience. Toyota Avanza car rental costs, including driver and fuel, are around IDR 600,000 for 12 hours, suitable for groups of up to 5 people. Contact us for your car rental with driver services in Bali.
Flexibility: Freely explore Bali's exciting places and stop whenever you wish.
Recommendation: Ideal for families or groups seeking comfort and efficiency in travel.
Practical: Easily accessible via the app, a smart choice for quick and practical trips.
Efficiency: Ideal for short-distance trips or if you prefer not to deal with parking and navigation.
3. Motorbike Rental: For Independent Exploration
Adventure: Renting a motorbike offers more independent exploration freedom.
Convenience: Scooters can be delivered directly to your hotel or accommodation.
Comprehensive Facilities: Includes helmets (up to 2 people), full fuel tank, 24/7 support, mobile phone holder, first aid kit, and raincoat.
Recommendation: Advised for those accustomed to riding in Bali, particularly in busy traffic areas like Ubud.
For a comprehensive guide on transportation in Bali, click the provided link.
Dining Recommendations Around Tegallalang Rice Terraces Ubud
When visiting Tegallalang Rice Terrace in Ubud, there are many dining options. I usually just order drinks at the restaurants around the terraced fields, but there are some Balinese culinary recommendations nearby that you might want to try.
Instead of suggesting particular restaurants, we encourage you to explore the rich flavours of authentic Balinese and Indonesian cuisine, a genuine culinary adventure that captures the essence of our vibrant culture and tantalizing traditional tastes.
Non-Muslim Dining Option: Babi Guling Pak Caek
Warung Babi Guling Putra Celagi (YouTube) is an excellent choice to taste a Balinese speciality. The food is delicious and reasonably priced.
The slightly spicy menu might be a challenge, but the authentic taste of fresh, aromatic pork makes it an unforgettable culinary experience.
The crispy pork pieces are worth trying. The outdoor dining space is excellent for enjoying the genuine atmosphere of Bali.
Halal Dining Option: Warung Jowo
For those looking for halal food, Warung Jowo is the right choice. Located not far from Tegallalang, it offers simple yet delicious dishes at affordable prices. This place is ideal for tourists who want to enjoy halal food while appreciating the natural beauty of Tegallalang.
Warung Babi Guling Putra Celagi (location and reviews) and Warung Jowo provide a unique and enjoyable culinary experience for visitors to Tegallalang. Be sure to try one of them when you visit the area!
Concluding Your Guide to Tegallalang Rice Terraces Ubud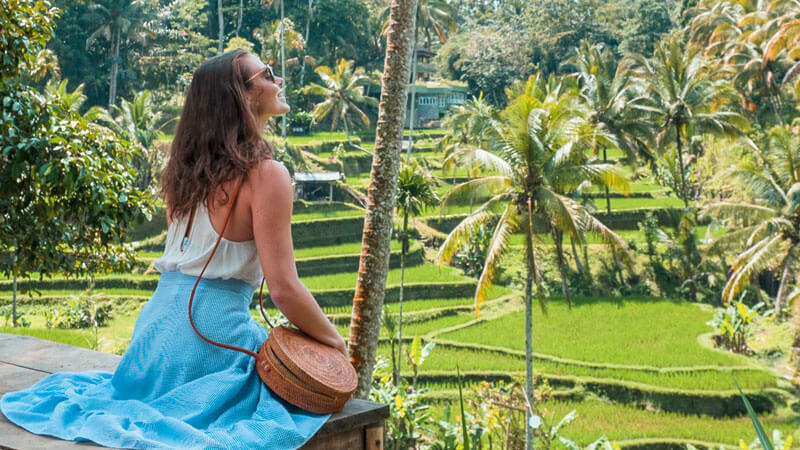 Your visit to Tegallalang's Terraced Fields in Ubud, Bali, is not just about marvelling at the stunning rice field scenery but also an opportunity to delve into and appreciate Bali's rich culture and traditions. From spectacular sunrise moments and unforgettable photography experiences to valuable interactions with the local community, Tegallalang offers more than just natural beauty.
This Bali travel guide to holidaying in Ubud, which includes practical tips, the best times to visit, and transportation options, aims to assist you in planning a smooth and fulfilling trip. With thorough preparation and respect for local customs and traditions, your visit to Tegallalang will undoubtedly be a cherished experience that enriches your understanding of Bali's true beauty.