Planning a Bali getaway this October? Let this comprehensive guide be your go-to resource for understanding Bali's October weather. From explaining the peculiarities of the tropical climate to suggesting the best activities for any weather, we've got you covered. This detailed insight lets you anticipate Bali weather in October, ensuring a memorable vacation. For broader context, check our article on the Best Times to Visit Bali.
No English? No problem! We also provide an Indonesian version of this article.
Picture yourself basking on Kuta Beach, listening to the soothing whispers of the Tirta Empul Temple's water, or catching awe-inspiring sunsets from the cliffs of Uluwatu Temple. These unforgettable experiences await you in Bali this October; we're here to ensure you're prepared!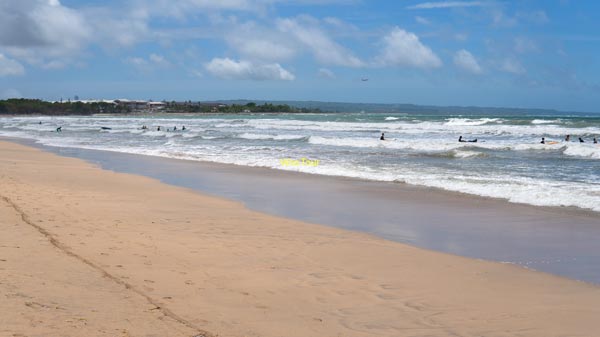 Understanding October's Weather in Bali: What to Expect
Embracing the Tropical Climate
Situated near the equator, Bali's tropical climate ensures warmth year-round. As per the Meteorology, Climatology, and Geophysics Agency (BMKG), the average temperature in October is about 28.9°C, with a humidity level of roughly 78.3%.
Bali's Distinct Seasons
Bali's weather cycles between the rainy season (November to April) and the dry season (May to October). However, don't be surprised by a light shower during the dry season. BMKG data points to a shift towards the rainy season in October, with rainfall notably increasing to 615.9 mm.
October's Average Temperatures and Rainfall in Bali: A Closer Look
Highlands Weather Report
If you plan to explore highland areas like Kintamani or Bedugul, prepare for increased rainfall and daytime temperatures of 24-26°C, dropping to a cooler of 16-18°C at night. Remember your umbrella or raincoat for those unexpected weather changes!
Lowland Areas
When visiting popular lowland areas like Seminyak, Pandawa Beach, and Uluwatu temple, anticipate hotter weather, with daytime temperatures reaching an average of 31-34°C. Light clothing and hydration are essential. Despite October being among the driest months in Bali, rainfall can still reach approximately 600 mm, so it's advisable to carry a raincoat or umbrella.
Bali Weather Statistics for October: Rainfall and More
Transitioning Weather: Rainfall and Rainy Days
In Bali, October signifies the shift from dry to rainy weather. Typically, October sees around 7 to 10 days of rainfall. However, fear not! Rain showers are often short-lived and won't disrupt your outdoor adventures for long.
Embracing Bali in October: Recommended Activities
As the dry season comes to a close, there's still a plethora of outdoor activities. Visit beaches like Kuta, Dreamland, and the picturesque Melasti Beach. For a heart-thumping experience, consider trekking Tegalalang Rice Terrace in Ubud or exploring the natural beauty of Nusa Penida Island.
Mount Batur offers a unique opportunity for hiking enthusiasts. Despite the early start, the sunrise from the summit will leave you speechless.
Don't miss out on sacred sites like Tanah Lot Temple, Tirta Empul Temple, and Uluwatu Temple. If you're considering a December visit, check out our guide on Going To Bali In December. Is It Worthy? Find Out The Answers.
Best Rainy Day Activities in Bali
October in Bali can bring occasional light showers. But don't worry! Bali offers numerous indoor activities that will keep you entertained:
Explore art at the PASIFIKA Museum.
Indulge in retail therapy at Beachwalk Shopping Center.
Discover the local culture at Penglipuran Village.
October Tourist Activity in Bali: A Smooth Experience
Although not as bustling as peak months like July or August, October attracts many tourists, primarily Australians, during school holidays. Secure your accommodation and transport in advance for a hassle-free vacation. If budget travel is your goal, consider our article: The Cheapest Time to Vacation in Bali – Your Budget Travel Guide.
Preparing for Potential Natural Phenomena in October
With October marking the end of the dry season, you might encounter tropical storms or other extreme weather. Always check the latest Bali weather forecasts from BMKG before planning outdoor activities.
Conclusion: Embrace the Charm of Bali in October
Despite the chance of light showers, October in Bali is a time of enchanting beauty. Adequate sun protection, comfortable clothing, and flexible planning can make your Bali vacation unforgettable. Don't miss the opportunity to immerse yourself in Bali's wonders this October!
Curious about Bali's weather in September? Check out our dedicated article!