When you look at the photo below, you will notice an organized and clean traditional Balinese village. If you plan to vacation in Bali, you will wonder, what is the village's name? The name of the community is Penglipuran Village Bali. From the past until now, tourists visiting the Penglipuran traditional village are still dominated by international tourists. But lately, Indonesian tourists have started visiting Penglipuran Village. Then how about you? Are you interested in taking a vacation by visiting Penglipuran Village Bali? If so, on this page, you will find a holiday guide, things to see and do, opening hours, how to get to the location, and the uniqueness of Penglipuran village.
Bahasa Indonesia, "Panduan Liburan Ke Desa Penglipuran Bali" >>>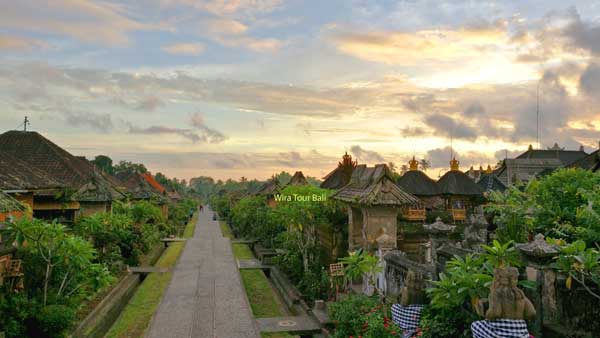 Discover everything you need to know before going on holiday to the tourist village of Penglipuran Bali. Get information about the main attractions, admission prices, locations, and recommendations for the best way to get to your holiday destination.
I wrote a guide on visiting the Penglipuran Village Bali on this page. Information you will find on this page such as;
Read More, When Is The Best Time To Visit Bali?
A Brief Description of Penglipuran Traditional Village
Furthermore, Penglipuran is a beautiful village, clean, rich in tradition, and maintains Balinese culture. This traditional village is famous for its architecture and traditional customs, which are still well preserved today. The traditional villages offer holiday experiences for visitors who want to see the authentic Balinese way of life. Thus, travelers can have a more authentic experience during their vacation.
Several things make tourists interested in visiting Penglipuran villages, such as the traditional houses of the villagers, the beauty of the temple architecture, and the hospitality of the residents.
See Here, List Of Article About Bali Culture and Traditions
A. Separation of Traditional and Official Villages
Furthermore, there are traditional and official villages in Bali, which have many differences. Local communities manage traditional villages. The primary function of the Traditional Village is to organize or coordinate Balinese Hindu routine activities in the village area. So the conventional town is not related to the official village because village administration falls under the authority of the official city.
In Bali, there are many traditional villages, one of which is Penglipuran village in the district of Bangli. Penglipuran Traditional Village has become one of the tourist attractions in Bali that attract both international and Indonesian tourists. The thing that makes Penglipuran Traditional Village a tourist destination is that the villagers still maintain village traditions, such as the identical house shape and permanently preserving the village clean.
B. The Importance of Balinese Traditional Culture
Penglipuran residents genuinely value the importance of traditional Balinese culture. Here, house architecture and religious rituals maintain and preserve cultural heritage. Also, the village plays an essential role in safeguarding Balinese culture.
The people of Penglipuran feel proud and inspired by this traditional lifestyle, and they strive to preserve this cultural heritage from generation to generation.
At this moment, residents and administrators of Penglipuran village are currently focused on preserving culture and developing sustainable, community-based tourism and the natural environment. As tourism grows, people hope it will make life better for the local community.
History of Penglipuran Village
A. Origins and historical background
Residents believe that Penglipuran Village has existed since the 16th century, but there needs to be documented information to support this claim. Furthermore, the name Penglipuran comes from the Balinese language "Pengeling" and "Pura." Pengiling means memorizing or remembering, while pura means a holy or ancestral place. Therefore, if translated into Indonesian, Penglipuran can be interpreted as "a place to remember ancestors."
See "Bali Holiday Itinerary Guide" >>>
B. The Beginning of Popularity of Penglipuran Village Bali as a Tourist Destination
After being featured as a filming location for a television movie on Indonesian TV stations, there has been a surge in interest from Indonesian visitors to visit Penglipuran Village. Then, coupled with social media such as Instagram and Youtube, Penglipuran's popularity grew.
As a Bali tour package operator, we have noticed that Penglipuran Village is becoming more popular. This is evident from the growing number of bookings for Bali tour packages, including visits to the village. Although the number of requests for tour packages to Penglipuran Village is still lower than the demand for Tanah Lot tours, we have noticed a steady increase in bookings for Penglipuran tours each year.
Furthermore, tourists typically visit Penglipuran Village after exploring the Kintamani attraction and Ubud's tourist destinations because they are all in the same direction.
C. Why is Penglipuran Village in Bali Famous?
Penglipuran Bali Tourism Village is well-known and favored by Indonesian and foreign tourists as a vacation spot for several reasons:
Cultural preservation: This village is famous for its unique culture and architecture. The people of Penglipuran have always strived to preserve the customs and traditional Balinese way of life, including the unique architecture and layout of the houses.
Clean environment: Penglipuran village is famous for its clean and well-maintained environment. So that Penglipuran Village received the title "Third Cleanest Village in the World" from the Green Destinations Foundation.
International attention: Penglipuran is not yet a UNESCO World Heritage Site, as is the Jatiluwih Terraced Rice Fields in Tabanan. But this village has received significant international attention. Especially awareness of the efforts of the residents for cultural preservation and sustainable tourism.
Authentic tourism experience: Tourists visiting Penglipuran will glimpse the traditional Balinese way of life, with its well-preserved customs, rituals, and architecture. In addition, the village's rich history and dedication to preserving Balinese culture make it an ideal destination for those who like to experience an authentic Bali holiday.
Strategic location: The village is located in the Bangli district, and its location is close to other popular tourist destinations in Bali, such as the Kintamani and the Ubud. This strategic location makes it easy for travelers to visit several popular tourist attractions in Bali in one trip.
Hospitality: The people of Penglipuran Bali are famous for their hospitality towards visitors. Residents value welcoming guests and always want to share their culture and traditions with visitors.
The combination of cultural preservation, cleanliness, international attention, authentic tourism experience, and strategic location makes Penglipuran Bali famous and attracts many tourists.
Exploring Penglipuran Village
Visitors exploring Penglipuran Village can witness the pure, traditional Balinese culture and appreciate the picturesque, well-preserved environment.
A. Location of Penglipuran Traditional Village in Bali
Penglipuran traditional village is located in the Kubu subdistrict, Bangli Regency, Bali, around 29 kilometers northeast of the Ubud Monkey Forest. For those unfamiliar with Bangli Regency, it's the same area as the Kintamani or Mount Batur tourist attractions.
Penglipuran Bangli village is situated on a highland with an elevation of approximately 600 – 700 meters above sea level. Due to this height, you can expect refreshing, cool air. If you want to check the map location of Penglipuran village Bangli, click the Google Maps link below!
Look at Penglipuran Village Google Maps.
B. Heading to Penglipuran Bali Village from Various Popular Tourist Spots
When people vacation in Bali, they typically prefer to stay in the tourist spots in the southern part of the island, such as Kuta, Seminyak, Legian, Jimbaran, Nusa Dua, Tanjung Benoa, Canggu, Uluwatu, Ungasan and Sanur.
To make it easier for you to make a vacation itinerary to Penglipuran Bangli, knowing the estimated distance and travel time to this village from where you are staying is a good idea. The following is an estimate of the distance and travel time to Penglipuran Bangli Village from several popular locations in Bali:
Suppose you depart from Kuta Bali tourist attractions, such as Kuta Beach. So the distance from Kuta Beach to Penglipuran Bangli village is approximately 55 kilometers with an estimated travel time of 1 hour 30 minutes with smooth traffic.
Suppose you depart from the tourist area of ​​Seminyak, for example, from the Petitenget Beach Seminyak. Then heading to Penglipuran village will cover 59 kilometers, with a travel time of 1 hour 40 minutes.
If you depart from Sanur Beach in Bali to Penglipuran village, the travel time and distance will be shorter. The estimated distance is 43 kilometers with a travel time of 1 hour and 15 minutes.
If you depart from the GWK Bali cultural park, going to the Penglipuran village location will take 1 hour and 50 minutes, with a distance of approximately 63 kilometers.
Meanwhile, from Ubud to Penglipuran village will require 1 hour with a 30-kilometer travel distance.
C. The Best Way to Get to the Penglipuran Bali
For the best travel transportation options on Bali's island, it is best to use a private vehicle. Either a motorcycle or a car. Also, there is no public transportation option to Penglipuran Village Bangli.
1. Rent a Scooter
Riding a scooter for traveling on Bali's island is usually preferred by a single traveler who wants to save on transportation expenses. Please note that you will need an international driving license to ride a scooter in Bali. Also, you are used to Bali road traffic and know how to ride a scooter. If you doubt riding a scooter in Bali, please use other ways to get around Bali.
Finding motorbike rental services on the island of Bali is very easy if you stay in the southern Bali area. You only need to use Google to find motorbike rental service providers close to your hotel location in Bali.
The price of a scooter rental on Bali's island depends on the type of motorbike you want to use. Bali's standard motorbike rental cost is approximately IDR 100,000 – 300.000 / 24 hours without fuel.
Read More, "Guide On Where To Go In Bali" >>>
2. Bali Car Rental
While on vacation to Bali's island with their families, most tourists will use a car to travel to Bali. There are two options for car rental in Bali. Self-drive Bali car rental; there are also Bali car rental services with drivers.
Looking for Bali car rental services without a driver will be easier to find if you stay in southern Bali's tourist area. However, suppose you are not familiar with Bali Road. In that case, you should use car rental services and drivers in Bali to avoid getting lost on the road and having an accident. Also, by utilizing a car rental service with a driver, you don't need to wash the car or find a parking space and can rest while traveling.
Finding car rental services in Bali is easy; you only need to use Google. The rental car rate in Bali depends on the type of car you want to use.
For example, the Toyota Avanza with a driver is IDR 600.000/12 hours with fuel.
If you require added convenience, you can rent the Toyota Innova Reborn. The Toyota Innova Reborn's rental price in Bali is around IDR 800.000/12 hours with driver and fuel.
Suppose you don't want to be complicated with transportation and entrance tickets while on vacation in Bali and visit Penglipuran Bangli village's tourist attractions. We recommend looking for a Bali day trip package provider in Bali with the Penglipuran village on the itinerary.
Find Here, "Best Things To Do In Bali" >>>
D. When is the best time to visit Penglipuran Village?
The best time to vacation at Penglipuran Village is during the dry season, usually from April to October. If you visit during the dry season, the weather in Bali is generally sunny and hot. So it is ideal for traveling to Penglipuran Village and the surrounding Bali tourist attractions.
Apart from noticing the season, you can also visit the village of Penglipuran during the Galungan and Kuningan (Balinese Hindu holidays), which occur once every 210 days. During Galungan and Kuningan holidays, residents wear traditional clothes and rows of Penjors in each resident's house.
Furthermore, Penglipuran Bali Tourism Village will be bustling with tourist visits during the high season. The hectic number of tourist visits to Penglipuran Village usually occurs in July and August.
If you want to avoid experiencing crowds, it's best to avoid visiting Penglipuran Village during the holiday season when the number of tourists visiting Bali increases. Visiting this village during the low season, such as February, March, and May, or September and October, is best to avoid crowds. During the low season, an average of 200 people visit Penglipuran Village in Bangli Regency daily.
Read More, Things to Consider Before Planning Your Bali Trip: Optimal Time to Visit.
E. Opening Hours of Penglipuran Tourism Village
The opening hours for the Penglipuran village are from 08:15 to 18:30, and they are open every day. In addition, I witnessed that the average vacation time for visitors at Penglipuran Village is approximately 1.5 hours.
F. Penglipuran Village Bali Entrance Fee
To be able to enter Penglipuran village, every visitors need to pay an entrance fee. The entrance ticket stand opens from 08:15 – 18:30. What is the latest Penglipuran village entrance ticket price? Please take a glance at the table beneath!
| Category | International |
| --- | --- |
| Adult | IDR 50,000 |
| Child | IDR 30,000 |
For now, there has been no adjustment in the cost of admission to Penglipuran village. If there is, we will update it on this page. Do you want to know the entrance fees for other tourist attractions in Bali? Please click the link below!
See Here, "List of Bali Attractions Entrance Fee" >>>
G. Supporting Facilities and Infrastructure in Penglipuran Tourism Village, Bali
A tourist spot must have proper facilities and infrastructure to be popular among visitors. The Penglipuran Tourism Village provides the following amenities and infrastructure:
Traditional Houses: Penglipuran Village has traditional Balinese houses that display the region's distinctive architecture and design. The houses belonging to the villagers are constructed with bamboo, wood, and straw.
Public Area Space: Penglipuran Village has several public spaces, including a village hall, temple, and meeting hall. These public spaces are used for various ceremonies and events for residents of Penglipuran Village.
Souvenir Shops Inside Residents' Houses: There is a souvenir shop inside the houses of residents of Penglipuran Tourism Village, Bali. The gift shop sells traditional Balinese crafts, including woven baskets, wood carvings, and traditional clothing. In addition, in the area of ​​residents' houses, they sell food and drinks.
Vehicle Parking Area: There is a vast vehicle parking area for visitors who come by car or motorbike, and the parking location is close to tourist attractions. In addition, the vehicle parking area can accommodate oversized vehicles such as a 45-seat bus. For now, there is no vehicle parking fee. I'll update this page promptly if there are any changes to the parking fee.
Toilets: There are several public toilets which are located within the village area and can be used by visitors, and the toilet area is spotless
Tour Guide Services: Visitors can hire a local tour guide who can provide more information about the village's history, culture, and the way of life of Penglipuran residents.
Many officers are around the tourist area, so if visitors need assistance, these officers will always be ready to help sightseers.
Overall, Penglipuran Bali tourist village offers a variety of facilities and infrastructure that allow visitors to experience the traditional Balinese way of life while enjoying the area's natural beauty.
Read More, Top Bali Attractions.
The Uniqueness of Bali's Penglipuran Village: Authentic Architecture, Tradition, and Experience
Before you visit a tourist spot in Bali, you want to know what it offers and if it interests you. So, what does Penglipuran Village in Bali offer, and what makes it unique? Penglipuran Bali Village provides tourists with an authentic and distinctive experience showcasing Bali's rich culture and traditional architecture.
Read More, "Best Place To Stay In Bali" >>>
1. House Buildings Look the Same
Penglipuran Village, Bali, is famous for its unique and well-preserved traditional architecture and way of life. In addition, Penglipuran Village is built in a linear pattern, with all the houses aligned on one axis and facing each other. The structure of the population building follows the Balinese Tri Hita Karana principle, which emphasizes harmony between humans, nature, and God.
In Penglipuran village, the people's houses look identical because they have a similar architectural design. The following are some of the characteristics of the people's homes in Penglipuran including:
Uniform layout: The layout of the houses in this village follows the concept of "Tri Mandala," or three zones. Each home is divided into three main sections: Nista Mandala (outermost zone), Madya Mandala (middle zone), and Utama Mandala (inner zone). The Nista Mandala is usually an area for daily work, the Madya Mandala is a place for family activities, and the Utama Mandala is a family shrine used for prayer.
Traditional buildings: The houses in Penglipuran village have a distinctive Balinese architectural style. The materials utilized in the house's structure are bamboo, wood, stone, and reeds for the roof.
Gapura Candi Bentar: As the entrance to the house, "Gapura Candi Bentar" is an essential part of Balinese architecture. In Balinese society, the entrance to this house is known as angkul-angkul. The entrance to each house is decorated with intricate carvings and decorations.
2. Penglipuran Village: Maintaining Traditions and Sustainability in Bali
The commitment of Penglipuran Village residents to preserve traditional practices and culture sets Penglipuran apart from other villages in Bali. Furthermore, when visiting, sightseers can witness the daily activities of residents, such as weaving baskets and folding palm leaves.
In addition, Penglipuran village implements strict rules regarding cleanliness and environmental preservation, thus making it a model of a sustainable tourist spot on the island of Bali.
Furthermore, another unique thing about Penglipuran is that there are no motorized vehicles in the village. Everyone who wants to enter Penglipuran village is prohibited from bringing motorized vehicles to the village area. This helps maintain a peaceful and serene atmosphere in the village. Visitors can explore the village on foot while enjoying the fresh air and beautiful views of Penglipuran Village.
3. Respect for Women: Culture and Traditions in Penglipuran Village, Bali
One of the exciting aspects of Penglipuran culture is the respect given to women. Penglipuran villagers highly value the role of women in society and have several traditions and regulations that protect women's rights.
Prohibition of Polygamy: Penglipuran villagers respect women very much, and one way they show this respect is by banning polygamy. In Penglipuran, polygamy is prohibited by customary village rules. If a man were encountered rehearsing polygamy, he would be penalized by being banned from the village. This sentence shows how serious the people of Penglipuan are in respecting and protecting women's rights.
Women participation: In Penglipuran village, women are essential in people's lives. Ladies are involved in various parts of village life, such as schooling, agriculture, and caring for the surroundings. Women in Penglipuran village also play an essential role in maintaining traditions and culture to remain sustainable, such as making webbing and offerings for religious ceremonies (in Balinese, it is called Banten).
4. The Culture of Theft Punishment in Penglipuran Village, Bali: Preventing Crime with the Effect of Shame
In Penglipuran village, the community has a unique way of dealing with the stealing concern. The culture of punishment for theft in this village is based on the concept of the humiliation effect. The perpetrators of theft will receive sentences that make them feel ashamed in front of the village community.
If someone is caught stealing, the punishment involves offering five chickens of different colors at the four ancestral temples. By carrying out this punishment, the perpetrators of theft had to admit what they had done and bear the shame of being known by the entire village community.
This punishment aims to promote the effect of shame to prevent thievery. Villagers believe that the humiliation experienced by perpetrators of theft will make them aware of their actions and reduce their chances of repeating them.
5. Loloh Cemceman: Traditional Drinks
Penglipuran Bali villagers enjoy a unique drink called loloh Cemceman, which has a distinct flavor profile of sweet, sour, salty, spicy, and a hint of sourness. The beverage is green due to its main ingredient – juice from Cemcem leaves.
Read More, "Guide On Visiting Ubud Royal Palace" >>>
Penglipuran Village, Bali: Nature Conservation and Sustainable Tourism
Penglipuran villagers are committed to preserving the natural surroundings by maintaining cleanliness and a neat spatial layout. Applying nature conservation benefits local communities and provides an example of eco-friendly tourism.
Penglipuran Bali Village is located in an area surrounded by green hills and lush bamboo forests, offering shady views. The village area is around 112 hectares, and not all land is used as a resident's house.
Bamboo Forest
An extensive bamboo forest to the north of the village shields about 40% of the village's land. The Bamboo Forest in Penglipuran is essential in maintaining ecological balance and preserving green spaces. In addition, this lush bamboo forest provides fresh air to the village environment because bamboo trees absorb CO2.
Furthermore, cutting down bamboo trees in this village is prohibited without permission from local community leaders.
See, Location of the Penglipuran Bamboo Forest on Google Maps.
Layout of Penglipuran Bangli Village
The layout of the village of Penglipuran Bangli is very well structured, reflecting the traditional Balinese concept. The following are some crucial elements of the Penglipuran village layout:
Orderly village: Penglipuran has a clean and linear layout. The village's main road runs from north to south and the houses along that road face east or west.
Tri Mandala concept: The village is designed based on the Tri Mandala concept, which separates the area into three main zones. Each zone has a specific role and function based on the concept's zoning and function principles.

Utama Mandala: This area is a sacred zone for religious activities.
Madya Mandala: This zone is an area of housing and social activities.
Nista Mandala: This area functions for economic activities and daily work.
Read More, "Must-See Hindu Temples in Bali" >>>
1. Utama Mandala (Main Area): Penataran Temple
The main temple area, Penataran temple, is in the northeastern village area. This area is also designated for the location of religious ceremonies. In addition, its position is higher than the houses of residents.
2. Madya Mandala (Central Zone)
The residential area is located in the center where the villagers reside. The houses in Penglipuran village are arranged in a traditional Balinese style, which comprises four buildings surrounding a central courtyard. Presently, 226 household heads live in the village who work as farmers, artisans who make plaited bamboo products, and rear livestock to earn their livelihood.
3 Nista Mandala
The third and last zone of Penglipuran village is where the graves and agricultural lands are situated. The villagers of Penglipuran have kept a memorial dedicated to a hero's burial on the southern side of the village. Moreover, on the west side, the villagers cultivate rice and other crops on their farms.
See Penglipuran Hero Park on Google Maps.
Summary: A Tour of Penglipuran Bali Village
Penglipuran Bali Village is an outstanding example of cultural and environmental preservation. The unique village layout that follows the Tri Mandala concept, traditional building architecture, community cohesiveness, and the cleanliness of the environment creates a comfortable atmosphere. When tourists enter the area in Penglipuran, visitors will see a unique rural area, neatly arranged and immaculate. In addition, the air around the countryside is very cool.
I visit Penglipuran Village almost every month using a bicycle. The route to Penglipuran village is in the same direction as the Kintamani tourist attractions with uphill roads. So it is perfect for cycling routes in Bali. Residents are also amiable. I even took much rest time after cycling while chatting with villagers.
At the moment, I see a very high number of Indonesian tourists visiting Penglipuran Village, even though visitors will pay an entrance ticket and the location area is quite far from the tourist area of Seminyak.
Furthermore, to witness the authentic Balinese atmosphere that has yet to be modernized, you must visit the Bangli district and the tourist spots in East Bali. The Bangli district and tourist attractions in east Bali, such as the Tenganan village, have preserved the traditional Balinese vibe and have yet to be much influenced by modernization.
Read More, "Bali Weather In December" >>>
Travelers also search for;