Undoubtedly, when you look at the photo below, you will notice an organized and clean traditional Balinese village. If you plan to vacation in Bali, you will wonder, what is the village's name? The name of the community is Penglipuran Village Bali. From the past until now, tourists visiting the Penglipuran traditional village are still dominated by international tourists. But lately, Indonesian tourists have started visiting Penglipuran Village. Then how about you? Are you interested in taking a vacation by visiting Penglipuran Village Bali? If so, on this page, you will find a holiday guide, things to see and do, opening hours, how to get to the location, and the uniqueness of Penglipuran village.
Bahasa Indonesia, "Panduan Liburan Ke Desa Penglipuran Bali" >>>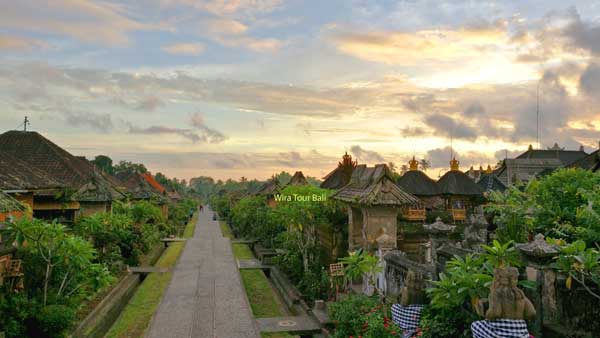 I wrote a guide on visiting the Penglipuran Village Bali on this page. Information you will find on this page such as;
Read More, When Is The Best Time To Visit Bali?
What is Penglipuran's traditional village?
Furthermore, there are traditional and official villages in Bali, which have many differences. Local communities manage traditional villages. The primary function of the Traditional Village is to organize or coordinate Balinese Hindu routine activities in the village area. So the conventional town is not related to the official village because village administration falls under the authority of the official city.
In Bali, there are many traditional villages, one of which is Penglipuran village in the district of Bangli.
Penglipuran Traditional Village has become one of the tourist attractions in Bali that attracts both international and Indonesian tourists. The thing that makes Penglipuran Traditional Village a tourist destination is that the villagers still maintain village traditions, such as the identical house shape and permanently preserving the village clean.
The Beginning of Penglipuran Village's Fame
Since then, Penglipuran village has been shown on Indonesian TV for television films. The interest of domestic tourists in visiting Penglipuran village in Bali is getting higher. In addition, many Instagram posts by travelers make Penglipuran Village famous among Indonesian sightseers.
We know this from the number of bookings for tour packages to Bali by Indonesian tourists. The tour package schedule has been altered according to the customer's wants, including the route to Penglipuran traditional village.
Even though the numbers are less significant than tour packages to Tanah Lot temple, the demand for tour packages with the Penglipuran Village itinerary is increasing yearly.
See "Bali Holiday Itinerary Guide" >>>
Penglipuran Village Bali Location
Holiday itineraries to Penglipuran village usually travelers choose when visiting Kintamani attractions and Ubud attractions because their location is on the same route. Then where is the Penglipuran village of Bali located?
The Penglipuran traditional village is in the Kubu subdistrict, Bangli regency, Bali. Maybe many of you don't know which part of Bali is the Bangli regency. If you have visited Kintamani or Mount Batur tourist attractions, this is the Bangli regency.
Penglipuran Bangli village is on a plateau at about 600 – 700 meters above sea level. As a result of being at this altitude, you will imagine cool air.
Want to see Penglipuran village Bangli map location? Please utilize the Google Map by clicking the link beneath!
Look, "Penglipuran Village Google Map" >>>
Distance & Travel Time
While on vacation to Bali island, most of you will choose to stay in the southern part of Bali's tourist area. Such as, Kuta, Seminyak, Canggu, Legian, Jimbaran, Nusa Dua, Denpasar and Sanur.
To make it easier for you to make a Penglipuran Village itinerary. Knowing the approximate distance and travel time to Penglipuran village from where you are staying is a good idea.
Suppose you depart from Kuta Bali tourist attractions, such as Kuta beach. So the distance from Kuta beach to Penglipuran Bangli village is approximately 55 kilometers. With an estimated travel time of 1 hour 30 minutes with smooth traffic.
Suppose you depart from the tourist area of ​​Seminyak, for example, from the Petitenget Beach Seminyak. Then heading to Penglipuran village will cover 59 kilometers, with a travel time of 1 hour 40 minutes.
If you depart from Sanur beach in Bali to Penglipuran village, the travel time and distance will be shorter. The estimated distance is 43 kilometers with a travel time of 1 hour and 15 minutes.
If you depart from the GWK Bali cultural park, going to the Penglipuran village location will take 1 hour and 50 minutes, with a distance of approximately 63 kilometers.
Meanwhile, from Ubud to Penglipuran village will require 1 hour with a 30-kilometer travel distance.
The Best Way To Get To Penglipuran Bali
For the best travel transportation options on Bali's island, it is best to use a private vehicle. Either a motorcycle or a car. Also, there is no public transportation option to Penglipuran Village Bangli.
1. Rent a Scooter
Riding a scooter for traveling on Bali's island is usually preferred by a single traveler who wants to save on transportation expenses.
Please note that you will need an international driving license to ride a scooter in Bali. Also, you are used to Bali road traffic and know how to ride a scooter. If you doubt riding a scooter in Bali, please use other ways to get around Bali.
Finding motorbike rental services on the island of Bali is very easy if you stay in the southern Bali area. You only need to use Google to find motorbike rental service providers close to your hotel location in Bali.
The price of a scooter rental on Bali's island depends on the type of motorbike you want to use. Bali's standard motorbike rental cost is approximately IDR 100,000 / 24 hours without fuel.
Read More, "Guide On Where To Go In Bali" >>>
2. Bali Car Rental
While on vacation to Bali's island with their families, most tourists will use a car to travel to Bali. There are two options for car rental in Bali. Self-drive Bali car rental; there are also Bali car rental services with drivers.
Looking for Bali car rental services without a driver will be easier for you to find if you stay in southern Bali's tourist area. However, suppose you are not familiar with Bali road. In that case, you should use car rental services and drivers in Bali to avoid getting lost on the road and having an accident.
Also, by utilizing a car rental service with a driver, you don't need to wash the car or find a parking space and can rest while traveling.
Finding car rental services in Bali is easy; you only need to use Google. The rental car rate in Bali depends on the type of car you want to use.
For example, the Toyota Avanza with a driver is IDR 600.000 / 12 hours with fuel. If you require added convenience, you can rent the Toyota Innova Reborn. The Toyota Innova Reborn's rental price in Bali is around IDR 800.000/12 hours with driver and fuel.
Suppose you don't want to be complicated with transportation and entrance tickets while on vacation in Bali and visit Penglipuran Bangli village's tourist attractions. We recommend looking for a Bali day trip package provider in Bali with the Penglipuran village on the itinerary.
Find Here, "Best Things To Do In Bali" >>>
Penglipuran Village Facilities & Infrastructure
A tourist spot must have supporting facilities and infrastructure to become a tourist destination. You can find the following tourist facilities in the Penglipuran Village area.
Wheelchair access is available for visitors.
The toilet facilities and toilet area are immaculate.
There are many officers around the area, so if visitors need help, these officers will always be ready to help travelers.
In the area of ​​​​residents' houses, they sell food and drinks. Apart from food and beverages, residents also sell local handicrafts.
The vehicle parking area is vast.
Parking Lot
At the Penglipuran village Bangli, there is a relatively large parking area and a parking location adjacent to the entrance gate. There is no parking fee. If there is a change in the parking fee, I will immediately update it on this page. In Penglipuran village, it is forbidden to bring motorized vehicles into the inner side of the village.
Tourism Village Opening Hours
The opening hours for the Penglipuran village are from 08:15 to 18:30, and they are open every day. In addition, I witnessed that the average vacation time for visitors at Penglipuran Village is approximately 1.5 hours.
Penglipuran Village Bali Entrance Fee
To be able to enter Penglipuran village, every visitors need to pay an entrance fee. The entrance ticket stand opens from 08:15 – 18:30. What is the latest Penglipuran village entrance ticket price? Please take a glance at the table beneath!
| Category | International |
| --- | --- |
| Adult | IDR 50,000 |
| Child | IDR 30,000 |
For now, there has been no adjustment in the cost of admission to Penglipuran village. If there is, we will update it on this page. Do you want to know the entrance fees for other tourist attractions in Bali? Please click the link below!
See Here, "List of Bali Attractions Entrance Fee" >>>
The Uniqueness of Bali's Penglipuran Village
Of course, before visiting a tourist attraction in Bali, you surely want to know what things are interesting to see at a particular appeal. Suppose you are interested in seeing the Bali traditional village uniqueness that still shows an authentic Balinese atmosphere. Then Bangli district and tourist attractions in east Bali that you must visit.
Penglipuran village in Bangli district and Tenganan village in east Bali are still intimate with authentic Balinese nuances and have not received much modern influence.
Then what is in Penglipuran village? Of course, before visiting a tourist attraction in Bali, you want to know what things are interesting to see in particular Bali attractions.
Read More, "Best Place To Stay In Bali" >>>
Why is Penglipuran Village famous?
The local government used the Penglipuran traditional village Bangli as the first example of a tourist village in Indonesia in 1995. Then what are the characteristics of Penglipuran Village?
If you are on vacation for the first time in Penglipuran village will surely be surprised to see that each resident's house's shape is almost identical. You can see the home's similarity in the house gate, roof, and house walls using bamboo. Also, the main entrance gate's width only fits one adult. In the Balinese community, this house entrance gate is called angkul-angkul.
The house shapes the same. Also, the division of each house layout is the same, such as the bedroom and kitchen. The gate wall paint used is not the wall paint we usually know but uses clay-based color.
I do not know that the purpose of each resident's house is similar. In my opinion, they want to build togetherness and maintain the concept of blending with nature.
In October 2014, I took a vacation to Penglipuran village Bangli. I saw that some of the bedroom walls had changed using bricks. Whereas in the past, while on holiday here in 1998, all the room walls used bamboo.
Despite the change from bamboo walls to bricks, the concept of blending into nature is still rooted in the Penglipuran traditional village.
Apart from the characteristics of traditional buildings, there are several other exciting things you can see at Penglipuran Bangli village, such as;
The village's cleanliness and neat layout.
The villagers are very friendly.
On the north side of the village, there is a vast bamboo forest area.
Then to the south of the village area is a national cemetery.
The village offers fresh and cool air.
Read More, "Guide On Visiting Ubud Royal Palace" >>>
The Culture of Penglipuran Village
The grouping culture of the village layout is evident.
Main Areas
In the northern part area and located higher than the residents' houses, there is a village temple called the Penataran temple.
Read More, "Must-See Hindu Temples in Bali" >>>
Central Area
Near the village, beneath the temple area, is a zone for residents. Currently, the community is inhabited by 226 families. For daily living, the villagers work as farmers, artisans of bamboo weaving, and raise livestock.
Final Zone
The last zone, or the third one, is called "Setra" or, in English, means grave. Although the Penglipuran Bali villagers embrace Hinduism, the Penglipuran village people hold cremation ceremonies, so the corpse is immediately buried.
Bamboo Forest
The village area is around 112 hectares, and not all of the village land is utilized as houses for residents. About 40% of the village area is the bamboo forest. You cannot cut bamboo trees in this village carelessly without permission from local community leaders.
See, Location of the Penglipuran Bamboo Forest on Google Maps.
Traditions To Respect Women
Besides respecting nature, the Penglipuran village people also have a culture and traditions to respect women. There are village rules that prohibit men from practicing polygamy. Any men doing polygamy get punishment by being excommunicated from the village.
Customary law
The village also has a culture of punishment for theft. Those caught stealing get sentenced to give five chickens offerings with different colors of chicken feathers in their four ancestral temples. In this way, all the villagers will discover who stole, undoubtedly creating an embarrassing consequence.
Special Drinks
The people of Penglipuran Bali village have a special drink called Loloh Cemceman. Loloh, Cemceman's drink tastes like sticky tape. It has a green color because the primary ingredient is the juice of cypress leaves.
Find Here "Things Need To Know Before Visiting Uluwatu Temple" >>>
Travel Summary to Penglipuran Village
I visit Penglipuran Village almost every month utilizing a road bike. The route to Penglipuran village is in the same direction as the Kintamani tourist attractions with ascent gradient roads. So it is perfect for cycling routes in Bali.
At the moment, I see a very high number of Domestic and international tourist visits to Penglipuran Village, even though visitors will pay an entrance ticket and the location area is quite far from the tourist area of ​​Seminyak.
When tourists enter the area within Penglipuran Village, visitors will see a unique, neatly arranged, and spotless rural area. In addition, the air around the countryside is very cool. Residents in the Penglipuran Village area are also amiable.
Read More, "Bali Weather In December" >>>
Travelers also search for;