Are you seeking an exhilarating holiday experience in Bali? If your answer is a resounding yes, embarking on a thrilling rafting adventure along one of Bali's rivers can be a splendid choice. Welcome to our comprehensive Bali River Rafting Guide, your reliable source of all the necessary information concerning adventure rafting on the Island of the Gods. From selecting the perfect river location for rafting to picking the right operator, this guide offers tips and tricks to enhance your whitewater rafting experiences in Bali.
Bahasa Indonesia, Arung Jeram di Bali: Panduan Lengkap, Harga, dan Tempat Rafting Terbaik.
Discover Why Bali is a Favourite Destination for Whitewater Rafting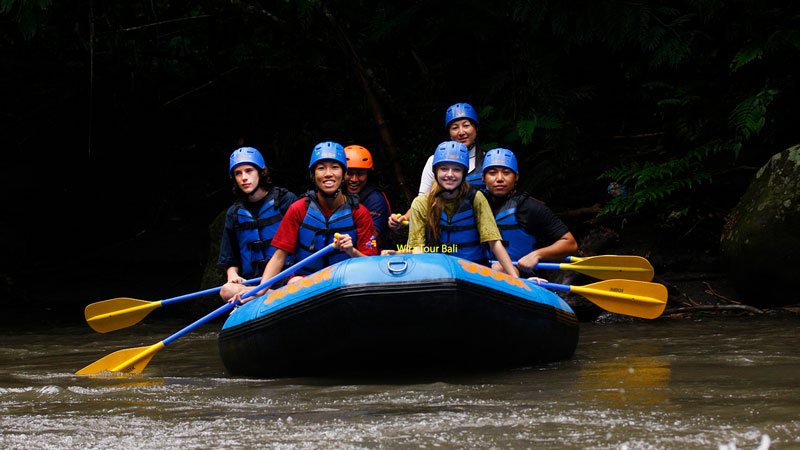 Besides the thrill and challenges, you can enjoy views of unspoilt villages and affordable whitewater rafting prices in Bali. Furthermore, river rafting has become a popular family holiday activity that tourists from around the globe favour.
The Best Rivers for Rafting in Bali and Their Unique Experiences
Bali boasts three primary rivers that serve as popular locations for rafting activities. Each river possesses unique characteristics, benefits, and challenges, offering diverse experiences to adventurers.
1. Bali River Rafting Guide: The Telaga Waja in Karangasem Regency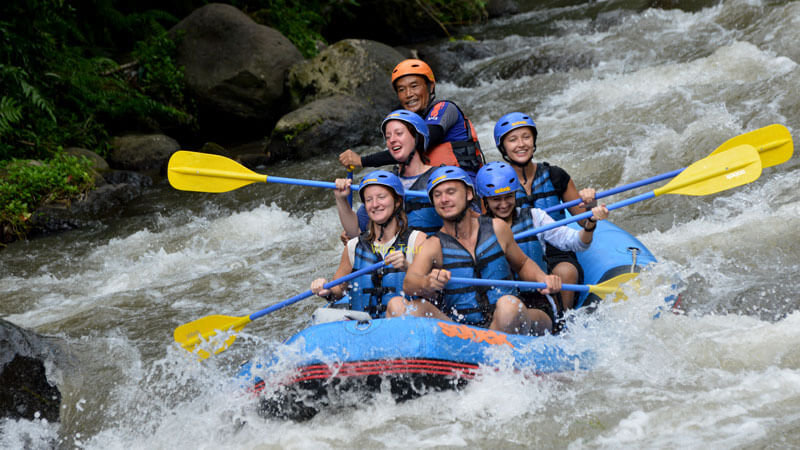 The Telaga Waja River is an excellent choice for those seeking more excitement. Furthermore, the Telaga Waja River features rapids with a higher difficulty level, making it a preferred location for those seeking a more challenging experience.
Besides, you can still relish the stunning natural scenery of Bali, from the expanse of rice fields and rock cliffs to waterfalls on the Telaga Waja River. One of the highlights for tourists rafting on the Telaga Waja River is descending a waterfall from a height of 4 metres, guaranteed to get your adrenaline pumping.
2. Bali River Rafting Guide: The Ayung in Ubud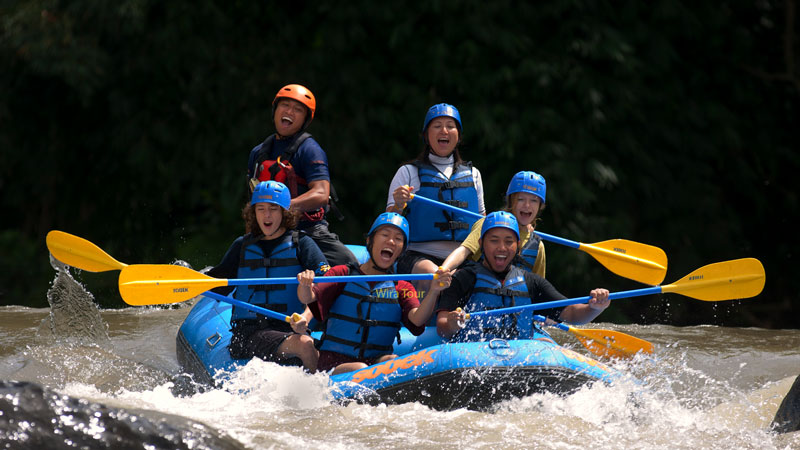 The Ayung River in Ubud provides an adventure that blends challenges with natural beauty. People renowned Ubud as Bali's centre for art and culture.
As you traverse a route spanning 12 km, lush and picturesque natural scenery, such as rice fields, rock cliffs, and waterfalls, will delight you. Beginners and families favour the Ayung River due to its relatively calm current and 2-3 rapids.
3. Bali River Rafting Guide: the Melangit in Klungkung Regency
The Melangit River offers a unique rafting experience with challenging rapids in pristine natural surroundings. This river, abundant with rapids, will test your courage and skill in river crossing. Moreover, the Melangit River, surrounded by dense, unspoilt forests and away from the crowds, lets you experience an authentic and exhilarating adventure.
You may refer to our dedicated article for a more detailed comparison of the Telaga Waja River and the Ayung River in Ubud, the most popular whitewater rafting locations among tourists.
With such a diverse range of rivers, you can select a rafting experience that aligns best with your desires and skill level. Please click on the provided links for additional information, including maps of the river locations.
Factors to Consider When Choosing the Right Whitewater Rafting Operator
Selecting the right rafting operator in Bali is critical for a safe and satisfying experience. When choosing a rafting tour operator in Bali, key factors include their reputation and reviews from previous customers.
Opt for an operator with experienced and qualified rafting guides. The guide will be in the same boat as you, playing a pivotal role in ensuring safety and enhancing your rafting experience on Bali's rivers.
Also, weigh the number of participants in a group and the availability of private tour options. Typically, operators offer rafting capacities that accommodate between 4 and 6 passengers.
Recommendations for Rafting Operators in Bali Based on River Locations
The operator of the Ayung River in Ubud
Sobek Rafting, a pioneer among rafting operators in Bali, comes highly recommended. Operating since 1989, Sobek Rafting Ubud has earned a reputation for its adherence to international safety standards and dedication to customer service. They offer rafting activities on the Ayung River in Ubud and the Telaga Waja River.
Other well-known and qualified rafting operators on the Ayung River in Ubud include Mason Adventure Tours and Payung Rafting Ubud.
Operators on the Telaga Waja River
For rafting on the Telaga Waja River, apart from Sobek Rafting Telaga Waja, we suggest BMW Rafting Telaga Waja and Avatar Rafting.
Operator on Melangit River Klungkung
Bakas Levi Rafting is the only company providing rafting activities on the Melangit River.
All the rafting tour operators in Bali mentioned above uphold high safety and service standards, ensuring your rafting experience is secure and enjoyable.
Bali River Rafting Guide: Preparation
If you are gearing up for a whitewater rafting adventure in Bali, advanced preparation is essential to guarantee a safe and enjoyable experience. Read the article entitled Initial Plan for Rafting in Bali for Beginners for more details.
Essential Items to Bring
For your river rafting adventure, remember to pack:
A change of clothes.
Sunblock lotion.
Extra cash for incidentals such as drinks at a restaurant or photos of your rafting activities.
Running shoes or outdoor sandals with a heel strap will help you traverse rocks in the river bed.
Physical and Health Conditions
River rafting in Bali is thrilling but requires decent physical conditions. While you don't need to be an athlete, possessing stamina and basic skills will be beneficial.
Rafting requires participants to row continuously and maintain good reflexes and stamina. If you suffer from specific health conditions such as heart disease, asthma, or epilepsy or are pregnant, we advise against participating in a rafting activity.
Bali River Rafting Guide: Tour Operator Policies
When planning your rafting adventure in Bali, understanding the policies of your chosen tour operator is vital. Here are some critical points to keep in mind:
Insurance Coverage
Most river rafting operators in Bali provide insurance coverage, typically included in their package prices. However, this insurance usually does not cover damage or loss of personal items such as your camera or cellphone. It's advisable to store all valuables securely before embarking on your rafting adventure.
Cancellation and Refund Policy
Bali's tropical climate can sometimes lead to unpredictable weather conditions, which may result in last-minute cancellations of rafting tours. Policies regarding cancellations and refunds differ among tour operators – while some may offer full refunds, others might reschedule your trip. Therefore, clarifying these details before booking is essential to avoid potential disappointment.
Bali River Rafting Safety Guide
Safety Precautions
We recommend that you consistently follow your guide's instructions, wear the protective gear provided, such as a life jacket and helmet, and ensure your fitness for participation. We recommend not consuming alcohol the day before your rafting tour on a Bali river. Don't forget to check and read 10 Safety Tips When Bali Rafting Tour.
Recognising the International Scale of River Difficulty
This internationally recognised river difficulty classification system categorises river rapids into six classes, ranging from Level 1 (most accessible) to Level 6 (very dangerous). By understanding this scale, you can select the route and location of the river based on your skill level. For more details, please refer to our guide on the Difficulty Classification of River Rafts.
Additional Information & Tips on Bali River Rafting Guide
What to Expect During a Whitewater Rafting Tour
During rafting, you'll face both physical and mental challenges. Expect fast-moving river water, sudden descents, high cliffs by the river, large boulders, and narrow passages. To successfully navigate this route, quick manoeuvring and teamwork are required.
Best Time for Whitewater Rafting in Bali
The rainy season in Bali typically occurs from November to March, with peak rain in December. If you're seeking more challenges, the rainy season is the best time to visit Bali and participate in rafting activities, as the river rapids will be faster than during the dry season.
However, rafting activities are available daily, even if you're visiting outside during the rainy season. The question is, is it safe to go rafting in Bali when it rains?
Tips for Bringing Children to Whitewater Rafting Activities
If you plan to include your children in a rafting activity, choose a river with a milder current, such as the Ayung River. Ensure your children are equipped with life jackets and helmets designed for their size.
It's also highly recommended to remain close to the guide to ensure their safety. Bring essential supplies, like drinking water, snacks, and sunscreen, for your child's comfort. The following is a guide for child-friendly river rafting in Bali.
Bali River Rafting Guide: Frequently Asked Questions about Rafting in Bali
How to Reach the Rafting Location?
Rafting operators in Bali typically provide two price options regarding transportation to the location: some packages include shuttle transportation, while others don't.
However, you can utilise motorbikes or Bali vehicle rental services if you prefer to arrange your transportation. Remember that the whitewater rafting locations in Bali are in rural areas, so ensure you utilise navigation tools to reach the rafting location if you're using your transportation.
What Can Be Done After Whitewater Rafting?
After completing your river rafting activity, you'll be given time to rest, shower, change clothes, and enjoy lunch. All rafting operators in Bali provide facilities such as changing rooms, toilets, and restaurants. Additionally, you can purchase photos or videos of your rafting experience, typically taken by professional photographers.
Which River is Best for Rafting in Bali?
The Ayung River, Telaga Waja River, and Melangit River are the three most popular rivers for rafting in Bali. Each river offers a unique experience. The Ayung River is ideal for beginners and families with children, while the Telaga Waja River and Melangit River are more suited to adventure seekers seeking more challenges during rafting.
What is the Price of Whitewater Rafting in Bali?
Rafting tours in Bali can cost between IDR 400,000 and IDR 800,000 per person, depending on the river location, the operator, and the package you select. This price typically includes safety equipment, a rafting guide, lunch, and insurance. It would be wise to compare offers and choose the rafting operator in Bali that best balances price, safety, and reputation.
Is Rafting in Bali Safe for Children?
Most rafting companies in Bali set age limits for those who can participate in rafting activities. Usually, children above 7 years old can join in the rafting activity with a maximum of 65 years old. However, consulting a river rafting tour agency is always a good idea as they can provide recommendations based on the river's conditions and the tour's intensity.
Do I Have to Be Able to Swim for Whitewater Rafting Trip?
Although being able to swim can enhance your safety level when rafting in Bali, it is not a prerequisite. Each participant is always equipped with a life vest and a trained guide in every raft. Safety is a top priority for rafting operators in Bali. Read more, an article on the importance of safety in rafting from the American Whitewater Association.
What Should I Wear for Whitewater Rafting in Bali?
When selecting attire for rafting, it's recommended that you opt for fabrics that dry quickly for comfort, even when wet. Avoid cotton-based clothing as it absorbs water rapidly and can leave you feeling chilled.
Is There an Age Limit for Whitewater Rafting Bali?
Rafting is a physically demanding activity necessitating both stamina and strength. As a result, most rafting operators stipulate a minimum and maximum age limit for participants, typically aged 7 to 65 years. However, these limits may vary depending on the operator.
What is the Typical Duration of a Bali Whitewater Rafting Activity?
Typically, a rafting activity lasts approximately 2-3 hours. This duration can be influenced by the river current's speed and the participants' rowing ability. However, considering travel time, registration, preparation, and lunch, you can expect to spend roughly 10 hours on this activity.
Please contact us if you have further questions or need more detailed information about Bali rafting.
Summary Of The Bali River Rafting Guide
Thus concludes our comprehensive guide to rafting in Bali. On this island, fondly known as the Island of the Gods, you can find some of the best rivers for rafting, along with reliable operators, all at relatively affordable prices. This adventure activity, while challenging, offers adrenaline-pumping excitement and stunning natural views, making it an excellent choice for outdoor activities during your Bali holiday.
Considering the abovementioned aspects, you can choose the rafting package that best suits your preferences and holiday budget. Whether you are in search of a thrilling rafting adventure on the Telaga Waja River, seeking a more tranquil and visually pleasing rafting experience on the Ayung River, or hunting for affordable rafting deals in Bali without compromising on safety and service standards, Bali has something for everyone.