Suppose you love painting artwork and want it as your thing to see in Ubud during a holiday in Bali. Then you should visit the Blanco Museum Ubud! So on this page, you will find the opening hours, entrance fee & facilities at Blanco Renaissance Museum In Ubud Bali.
Bahasa Indonesia, Museum Blanco Di Ubud Bali.
Ubud Attractions
Many travelers say that a trip to Bali will not be complete without a vacation to Ubud Bali. Ubud tourist attractions are one of the favorite holiday destinations for tourists, especially international travelers.
Ubud Bali, a place to visit, offers a variety of tourist attractions and is entirely different from other famous tourist destinations in Bali, such as Kuta, Seminyak, and Legian Bali.
Best tourism activities that you can get in Ubud such as:
Find out the List Of Things To Do In Ubud.
Ubud Bali is more appropriate for a calm and quiet place with a beautiful natural environment.
For those traveling to Bali with kids, you must choose Kuta Bali or Sanur Bali as your primary destination instead of Ubud. Because in Kuta and Sanur Bali, there are many things to do for families and kids. If you and your kids love water sports in Bali, then Tanjung Benoa beach is the place you have to visit.
Most people who love art, especially painting, visit Ubud during their holiday in Bali. Due to as most people are aware, Ubud is central to the art painting museum in Bali and the picture collection from local painters and foreign artists. One of the most famous museums in Ubud is the Blanco Museum Ubud.
Find Out "8 Free Things To Do In Ubud Bali" >>>
History Of Blanco Museum Ubud
The founder and owner of the Blanco Museum in Ubud are Mr. Mario Antonio Blanco, a Hispanic and American painter who loves to create artwork depicting women. Furthermore, Mr. Mario Antonio Blanco was born in Manila, Philippines, on September 15, 1912.
Mr. Mario Antonio Blanco died in Bali on December 10, 1999, at the age of 87 years. The cause of death due to kidney and heart disease. Antonio Blanco follows his wife's religion as a Balinese Hindu, so the cremation ceremony was held on December 28, 1999.
See Here, "Top 5 Attractions In Ubud Getting Hype On Instagram" >>>
Mr. Mario Antonio Blanco's Wife
In 1953, Mr. Mario Antonio Blanco married with Balinese dancer named Ni Ranji. Most of the time, Mr. Mario Antonio Blanco uses his wife as a model for his painting. Ni Ronji (his wife) inspire Antonio Blanco to develop his genius desire for art.
Since then, Antonio Blanco began to realize his work and his dream. He began to build his house, and the land of Antonio's house was granted by the King of Puri Saren Ubud Ubud, Tjokorda Gde Agung Sukawati.
Antonio Blanco dreamed of having an art museum for his painting, and he managed to build his dream museum on December 28, 1998; the museum's name is The Blanco Renaissance Museum, located at his beautiful residence. The Blanco Renaissance Museum is now a place for more than 300 Mr. Mario Antonio Blanco painting collections.
See Here, "Things Need To Know Before Visiting Ubud Bali" >>>
The Blanco Renaissance Museum Locations
Furthermore, The Blanco Renaissance Museum is located in the Hill area of Campuhan river Ubud. The address is Jalan Raya Campuhan, Sayan, Ubud, Gianyar Regency, Bali.
The best way to find the location of The Blanco Renaissance Museum is by using Google Maps. Please click the below link to see the site of Blanco Renaissance Museum on Google Maps.
See Here, "The Blanco Renaissance Museum Google Map" >>>
Antonio Blanco Award
Antonio Blanco focuses on the beauty of women in most of his artwork. It said Antonio Blanco is a painter with eternal feminine and a maestro of romantic-expressive arts.
While daily visitors, on average, are around 100 visitors, up to 150 local and foreign tourists. Most of the Blanco Museum visitor is interested in seeing the maestro's work on romantic-expressive paintings, which have high artistic value to the life of Balinese people.
The work of art of Antonio Blanco received many awards, the awards such as:
Tiffany Fellowship Award (a special prize from the Association of Artists in Honolulu, Hawaii).
Award Chevalier du Sahametrai in Cambodia.
Awards and gifts Art Criticism in Spain from the Indonesian first president Soekarno.
At the time, a grant from the King of Spain, King Juan Carlos I, with the title of "Don" in front of Antonio Blanco's name.
Read More, "10 Romantic Things To Do In Ubud" >>>
Museum Entrance Fee & Facilities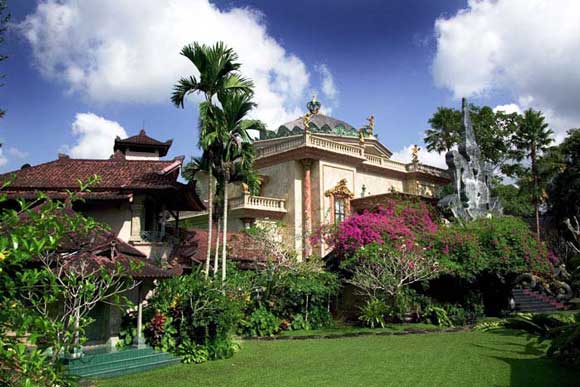 The Blanco Renaissance Museum facilities for visitors include restaurants, art shops, toilets, and lounges. Then how much is the entrance ticket to the Blanco Museum Ubud?
Also, to enter the Blanco Renaissance Museum, a visitor needs to pay an entrance fee ticket IDR 150,000 / person.
Please note that the Blanco Ubud Museum entrance fee is subject to change at any time. For confirmation regarding the entrance fee, don't hesitate to contact the telephone number, 0361 975502.
See Here, "Ten Things Make Ubud Prominent Family Destination In Bali" >>>
Opening Hours & Best Time to Visit
The museum's opening hours are daily, including holidays and Sundays, from 10:00 – 17:00. On average, tourists spend about 1.5 hours visiting.
The museum is usually busy with tourist visits from 12:00 – 15:00. So, if you don't like visiting museums that are too crowded, then the best time to visit the Blanco Museum is around 10:30.
Read More, "Museum Denpasar History & Entrance Fee" >>>
Best Way To The Blanco Renaissance Museum
The next question is, what is the best way to visit the Blanco Ubud Museum?
Transportation in Bali is dominated by private vehicles, either scooters or cars. However, in some areas of renowned tourist attractions, such as Kuta, Ubud, and Seminyak tourist attractions, finding public transportation is relatively easy. Public transportation is in the form of meter taxis, online taxis, and online motorcycle taxis.
Taxi
Furthermore, finding public transportation, such as meters, online, and motorcycle taxis, is effortless for those who stay in Ubud. Utilizing a cab is the best way to visit Blanco Ubud Museum. If you stay in the Ubud area, then from the museum, you return to the hotel.
See "Ubud 1 Day Travel Guide" >>>
Scooter Hire
If you want to save on vacation costs in Bali, you are a single traveler or traveling with your partner. Then utilize a motorbike for getting around Bali, one of the transportation options you can consider.
The best way to locate scooter hire services in Ubud is to use a search engine like Google or Bing. On the search engine page, you will find many motorbike rental service providers with varying rental prices.
Bali's average motorbike rental price is around IDR 100,000/24 ​​hours without fuel. In addition, the cost of scooter rental is influenced by the type of scooter and the year of assembly. Therefore, the newer the motorcycle, the higher the rental price.
See "Ubud Monkey Forest" >>>
Car Rental In Ubud
Assume you are on holiday with more than 2 participants and want comfort when traveling in Ubud Bali. So it's a lovely idea to employ a car for transportation in Ubud Bali.
Furthermore, Ubud has two car rental options: a car with a driver and a self-drive car rental. Finding a car rental service in Ubud without a driver is more tricky because most of the rental car providers in Ubud provide car rental services with a driver.
The best way to find car rental services in Ubud is to use a search engine like Google. You will easily find Ubud car rental providers on the Google page.
The price for renting a car in Ubud Bali depends on the type of car you want to use. For example, Ubud's average Toyota Avanza rental price is around IDR 300,000/24 ​​hours without a driver and fuel.
Find Out About "Ubud Art Market" >>>.
Ubud Car Rental With Driver
Furthermore, when you travel to Ubud, you don't just want to visit the Blanco Museum Ubud. But you also want to see other attractions in Ubud or other unique places in Bali. Therefore, it's a good idea to consider looking for a rental car in Ubud Bali with a driver.
Utilizing a car hire in Bali with a driver, you can travel around Ubud without considering long-term taxi fees and parking spaces.
Using a car rental + driver in Ubud Bali, you don't need to think about finding a parking space, which is very difficult to see in the Ubud tourist area.
In addition, Ubud's main road is narrow and winding; the possibility of getting lost is enormous for those who are vacationing in Ubud for the first time.
See "Ubud Royal Palace" >>>.
Ubud Tour Packages
Besides selecting to utilize a car, there are other ways to make traveling to Ubud Bali easier. They are, namely, booking an Ubud tour package.
In addition to car rental services with drivers in Ubud Bali, there is also a tour package provider in Bali, including the Ubud Tour package.
The benefit of employing a tour package service in Ubud Bali, better known as the Ubud Bali tour package, is that you don't need to think about your meal budget, transportation, parking, and entrance fees for Bali tourist attractions. Because in the Bali tour package, everything is included.
If you have recommendations or would love to comment on this article, please write them in the comment column below. We appreciate your suggestions and comments so that we can provide helpful information for other readers.
Read More, "Arma Museum Ubud Bali" >>>
Frequently Asked Questions About Ubud Blanco Museum
In providing holiday guide articles to the Blanco Museum Ubud, we often get inquiries from our article readers. The following are some of readers' most frequently asked questions about a vacation to the Blanco Museum Ubud.
When was the Blanco Ubud Museum established?
The Blanco Museum was established on December 28, 1998.
What are some tourist attractions close to Blanco Ubud Museum?
Tourist attractions are close to the Blanco Ubud Museum, such as Campuhan Hill Ridge Walk, Taman Saraswati Temple, Ubud Royal Palace, Ubud Monkey Forest, and Ubud Art Market.
Other Well-Known Museum In Ubud
Due to as the center of an art museum in Bali, Ubud village has many famous art galleries beside Blanco Museum Ubud. Therefore, the other art galleries that are worth visiting are: