This page is about a vacation guide to the Arma Museum Ubud Bali, one of the famous art museums in Ubud for international travelers. When you visit the ARMA Ubud museum, you will immediately be able to glimpse a neat garden with a Balinese layout and a comprehensive collection of paintings.
Bahasa Indonesia, "Panduan Liburan Ke Agung Rai Museum Ubud" >>>
Therefore, if you are interested in a vacation to Arma Museum Ubud, please continue reading! You will discover knowledge about the Arma Ubud museum, such as:
Exciting things you can see at the Agung Rai Art Museum (ARMA).
Entrance fee to Arma Ubud Museum & opening hours.
Arma Museum Ubud's painting collection.
Note, We are Wira Rafting Bali/Wira Tour Bali, not affiliated with Arma Museum Ubud. We created this article intending to provide a vacation guide to Bali for tourists interested in visiting museum attractions on the island of Bali.
Ubud Bali Things To Do
Holidays in Ubud Bali are lovely things to do, especially for International tourists. Because Ubud Bali offers many tourist attractions and offers many options for exciting holiday activities. There are so numerous things you can do in Ubud Bali, such as:
However, for this page, I will write information about art tourism in Bali, one of which is by visiting the Arma museum Ubud.
Art Museum Tour in Bali – Arma Museum Ubud
When you visit Bali for a holiday and decide to vacation in Ubud, you don't want to waste your leisure time seeing sites or joining things you don't want. Let's say you like or want to understand Balinese art, especially painting; the Arma Museum Ubud is one of the Ubud sites you must visit.
Furthermore, Arma Museum Ubud, also known as Agung Rai Ubud art museum. Mr. Agung Rai founded the Agung Rai Museum of Art (ARMA). So, if you know one of the famous German artists, Walter Spies, the Arma Museum is the only place in Bali you can find his work.
The question that will arise now is, what will you get if you visit an art museum in Ubud? There are so many art museums in Ubud, why do we recommend you visit Arma Museum Ubud?
Several things make us recommend you visit the Arma Museum. This museum is located in the center of Ubud, and it will not be difficult for you to find the location of the Agung Rai Museum of Art.
See "Ubud 1 Day Travel Guide" >>>
Location of Arma Museum Ubud
Furthermore, Arma Museum officially opened on June 9, 1996, by Indonesia's Education and Culture Minister.
The address is at Jalan Pengosekan, Ubud, Gianyar, 80571, with telephone number 0361 – 976 659. To make getting directions to the Arma Museum in Ubud easier, please use Google Maps by clicking the link below.
See "Arma Museum & Resort Location Map" >>>
How do you get around Ubud Bali?
Whichever area you vacation in Bali, you will need transportation. There are two-holiday transportation options on the island of Bali: public and private.
Public transportation includes online motorcycle taxis (GOJEK), online taxis (GRAB), and taxi meters. Furthermore, public transportation will be a perfect choice for sightseeing in Ubud if you stay around the central Ubud area.
However, suppose you stay outside Ubud, such as Seminyak, Kuta, Legian, Nusa Dua, and Tanjung Benoa. In that case, private transportation is the best option for a vacation on the island of Bali. The reason is that public transportation has not yet covered all Bali areas, and private transport saves on vacation costs in Bali.
Furthermore, private transportation in Bali is available by motorbike or car.
Find Here, "Mason Rafting Ayung River Ubud Price" >>>
Scooter Rental in Bali
Finding a motorbike/scooter rental provider in Bali is very easy, especially if you stay in the southern part of the Bali tourist area. The best way to find motorbike rental services in Bali is to use a search engine like Google.
The price of motorbike rental in Bali depends on the scooter you want to ride. Bali's average scooter rental rate is around IDR 100,000/24 ​​hours without fuel. On page 1 of Google, you will find many choices of motorbike rental service providers in Bali.
Bali Car Rental
If you want comfort, then a car is the best transportation option for traveling on the island of Bali. Like finding a scooter, the best way to get car hire services in Bali is to use Google. Then on page 1 of Google, you will find many car rental service providers.
On the island of Bali, there are two types of car rental: a self-drive and a Bali car hire with a driver.
The price for a car rental on the island of Bali depends on the type of vehicle you want to use. For example, a self-drive Toyota Avanza six-seater car rental in Ubud Bali costs around IDR 275,000/24 ​​hours without fuel.
See Here, "Payung River Rafting Ubud Cost" >>>
Bali Car Rental with Driver
If you don't stay in the area of ​​Ubud, the best way to visit the Arma Museum is to get a car rental service with a driver in Bali.
By utilizing a Bali rental car with a driver, besides visiting the Arma Museum, you also can visit other tourist attractions in Ubud Bali, including Ubud Monkey Forest, Ubud Art Market, and Ubud Palace.
If you decide to get around in Ubud with a car, I advise looking for car rental services in Bali with a driver. The reason is that finding a car park in the tourist area of ​​Ubud is very difficult.
By using a driver when renting a car, your driver will be looking for a car park. You can get out of the vehicle directly at the destination without thinking about finding a car park.
Car rental rates in Bali with a driver depending on the type of car you want to hire. For instance, Toyota Innova Reborn's driver rental price in Ubud Bali is IDR 600,000 / 12 hours without fuel.
If you are on vacation with more than 6 participants, using a microbus-type car such as the Toyota Hiace or Isuzu ELF is good. The average car rental rate per person will be cheaper by employing a microbus.
Read More, "Guide On How To Get Around In Bali" >>>
Interesting Things To See At The Agung Rai Museum Art Museum
The Agung Rai art museum was built in a location where the contours of the land rise and fall and have a charming natural feel of Ubud. The best attraction of the Arma museum is the garden layout with Balinese cultural nuances.
Furthermore, there are many statues in this museum area; besides that, you can see Lily Pound and orchid plants neatly arranged. Also, a water fountain with a rice terrace as the background.
We know that not everyone likes to see paintings or art exhibitions. For those who want the feel of a garden with a typical Balinese design with a different nuance, there is no harm in visiting the Agung Rai Museum in Ubud.
Finally, you will find two-story buildings at the museum, designed with Balinese architecture. Also, all the materials to build the building use local materials. At the same time, there are two main buildings at this museum: Bale Daja (north building) and Bale Dauh (west building).
If you visit the Arma Museum, don't forget to bring a camera. So many things that you can capture with photos in this tourist spot.
Find Here "Guide On Free Things To Do In Ubud" >>>
Arma Museum Ubud Entrance Fee & Opening Hours
Furthermore, there will be an admission fee of IDR 100.000 / per person. While the entry fee includes coffee and tea; also, you can have it at one of the museum cafes. Also, Arma Museum Ubud Bali is open from 09:00 – 18:00 daily, and the best time to visit is from 12:00 – 15:00.
Read More, "Ubud Travel Guide – Things Need To Know Before Visiting Ubud Bali" >>>
Arma Museum Ubud Painting Collections
Kamasan Painting by Arie Smit (Melamun, 1989).
Also, Pre-War Painting by Walter Spies (Calonarang, 1930).
European Living In Bali by I Nyoman Gunarsa (Three Dancers, 1990).
Also, Modern Traditional A. J. Le Mayeur de Merpres (Balinese Girls, 1940).
For more details on the collection of paintings at the Arma Museum, you can see them below.
See "Arma Museum Painting Collection" >>>.
Photo Gallery Arma Museum Ubud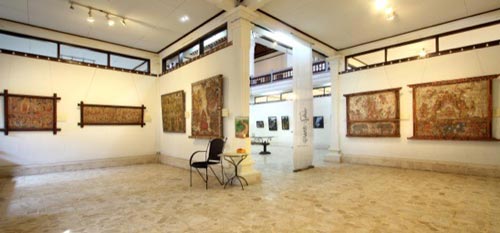 This Might You Look For!