Ubud Royal Palace (Puri Saren Agung Ubud) is one of the attractions in Ubud that you should visit. From the name, you can already imagine that this site is the palace of the Ubud king. Besides being the king's residence, Puri Saren Agung Ubud also operates as one of the tourist attractions in Bali, which is of great interest to international and domestic tourists. Apart from that, Puri Saren Agung is also one of the popular itinerary tour routes in Bali by most tour package providers to Bali. On this page, you will find a holiday guide to Puri Saren Agung and all the things you need to know before visiting. For example, the best way to get to the location, entrance tickets, dress code, opening hours, history, and schedule for dance performances at Puri Saren Ubud.
Bahasa Indonesia, "Puri Saren Agung Ubud" >>>
Then how about you? Are you interested in having a vacation to Puri Saren Agung?
So if you have interested in visiting Ubud Royal Palace with families or friends on your vacation in Bali, please continue reading this page. We informed you regarding the travel guide to Puri Saren Palace Ubud, such as:
Ubud Bali Tourist Attractions
Before I write a holiday guide to Ubud Royal Palace, it's a good idea to write down some information about tourist attractions and holiday activities in Ubud Bali.
Ubud is famous as a tourist destination because of the attractiveness of Balinese art and culture, the availability of comprehensive tourism infrastructure, and natural scenery such as rice fields, forests, and rivers. Although, in other areas of Bali besides Ubud, you can see authentic Balinese art and culture. However, in Ubud, travelers can find holiday activities and tourism infrastructure in one location.
When you are on vacation in Bali, both with family and children and friends, there are many things you can do in Ubud Gianyar. As;
Please click the link below for comprehensive information about Ubud's list of things to do.
Must Read: "10 Things To Do And Places To See In Ubud – Your Bali Travel Guide">
Ubud Short History
The history of Ubud is seen from the beginning of the 8th century because a historical record was written on the palm leaves, which tells the saint of Hindu originators from India. He is named Rsi Markandeya.
Before visiting the island of Bali, Rsi Markandeya first visited the island of Java. While Rsi Markandeya was in Java, he got a revelation which at the foot of Mount Agung Besakih Bali, there are five kinds of metal with extraordinary magical power. The location of five types of metal with remarkable magical power is the site of the largest temple in Bali, the Besakih temple.
Read More, The 10 Best Hindu Temples To Visit In Bali.
Rsi Markandeya Influence
When Rsi Markandeya was visiting Bali, he felt great energy in Campuhan Ubud, which is currently the location of Gunung Lebah Temple. While he was in Bali, Rsi Markandeya also built several temples in other parts of Bali. Rsi Markandeya also introduced irrigation systems for agriculture in Bali with terracing systems.
Agricultural System
The agricultural system is still in use for rice farming in Bali. Therefore, when you tour Bali, you will see plenty of rice terraces. For your information, if you want to see a large area of rice field in Bali with a platforms system, you should visit:
Banjar System
In addition to the irrigation system teaching, Rsi Markandeya also teaches about the Banjar system (the Balinese local community organization system), which is responsible for religion and local customs activities. Now the Banjar system is still in use in all areas of Bali.
Since the 8th century, when Rsi Markandeya declared the existence of the divine and high energy in the area of Campuhan Ubud until now, the Campuhan Ubud area has been highly respected by Balinese people for its spiritual power.
Find Out On, "Pura Dalem Agung Padangtegal Ubud – Great Temple Of Death" >>>
What Does Ubud Mean?
The name Ubud comes from the word "Ubad" (Balinese language), which means medicine. During that time, around the area of Campuhan Ubud were found many medicinal plants for traditional medical treatment.
Find here Ubud Travel Guide – Things Need To Know Before Visiting.
Ubud Royal Palace History
When the Majapahit Kingdom collapsed in the 15th century, Javanese nobles migrated from Java to Bali island. Then the Javanese noble created the Gelgel Kingdom in Klungkung district, a small community located in the southeastern part of Bali island.
In the 17th century, the Gelgel kingdom spread its power and regional expansion to other places in Bali and created a small, Sukawati royal palace.
The Gelgel Kingdom sent their prince to the village area of Sukawati. To build a royal palace with incredible architectural beauty intended for power in the Gianyar region. During the Sukawati royal palace construction, many Balinese artists were sent to the Sukawati area to assist in the castle construction.
After the castle building in Sukawati was completed, many artists chose to stay in Sukawati. Therefore, until now, the Sukawati area has become the center of beautiful art in Bali. Such as dance, painting, sculpture, and Balinese art music.
Read More, Sukawati Art Market.
Sukawati Kingdom
After succeeding in building a Sukawati palace at the end of the 17th century, Sukawati King sent his warriors, led by his two brothers, to secure Ubud's area from constant conflict. The conflict in Ubud at the end of the 17th century is between two cousins. One is in the area of Padang Tegal Ubud, which is the Monkey Forest Ubud. The other one is in the Ubud Park area north of Padang Tegal Ubud.
Sukawati King's brother his name is Tjokorde Ngurah Tabanan, who sent to the Peliatan area of Ubud. Another brother who is Tjokorde Tangkeban sent to Sambahan Ubud.
The two brothers of King Sukawati then built the palace in their respective destinations to secure the area of Ubud. After Tjokorde Ngurah Tabanan established the kingdom in Peliatan Ubud, Tjokorde Ngurah Tabanan, with the help of King Mengwi, filled the space of Ubud with residents. With the growing number of residents in Ubud, the Ubud economy began to grow.
Find Here, What Can You Do In Ubud For Free?
Dutch Colonial
In the 19th century, the Dutch colonial began entering Bali island. Some kingdoms, for example, the kingdom of Mengwi, feel unhappy about the Dutch presence in their area. Dutch ingenuity was capable of provoking old enemies of the realm of Mengwi to make alliances to attack the kingdom of Mengwi. Because many enemies attacked the kingdom of Mengwi, the Mengwi Empire suffered lethargic fatigue, which caused their territory to be divided by the royal alliance kingdom.
Finally, the Dutch government began interfering in Bali's political affairs in the early 19th century. By attacking the kingdoms of Badung, the kingdom of Buleleng, and the domain of Klungkung. The great battle ensued, and this war in Bali, better known by the name Puputan.
In the early 21st century, under Tjokorde Gede Raka Sukawati. The area of Ubud became the branch area of Sukawati. In 1981, Ubud became a sub-district of the Gianyar regency. By enclosing the Tegallalang regions, Peliatan, Mas, and Kedewatan villages.
Read Here, "Top 5 Attractions In Ubud Getting Hype On Instagram & YouTube Vlog" >>>
Ubud Tourism History
In the early 1930s, many foreign tourists came to Bali, mainly visiting the area of Ubud. Why only in Ubud? Due to the language ability of Tjokorde Gede Agung Sukawati, who ruled Ubud (Raja Sukawati's brother – Tjokorde Gede Raka Sukawati) in English and Dutch. Also, the capacity and knowledge of Ubud King to run a business by building guest houses for tourists to stay in Ubud.
King Sukawati (brother of Ubud King) has a significant role in Ubud's tourism development. King Sukawati invited Walter Spiers (painter) to live in Ubud.
Walter Spiers created a trend through his painting and influenced other foreign artists to stay in Ubud. During arts exhibition abroad, the images reimagined depicts life in Ubud. Therefore, Ubud becomes famous worldwide.
Tjokorde Gede Agung (king of Ubud), Walter Spies, and Rudolf Bonnet create a painting Association. As well as with the help of several local artists named Pita Maha. This painting Association aims to unite Balinese artists and to teach arts painting to young people in the Ubud area. Therefore, until now, Ubud Bali has become the center of the art museum in Bali. Art museums in Ubud such as:
Read More: "Ubud Traditional Art Market" >>>
Ubud Royal Palace Location & Opening Hours
The residence of the Ubud King (Tjokorde Gede Agung Sukawati) and the Ubud royal family named Puri Saren Agung Ubud. The location of Puri Saren Agung is in the center of Ubud. Therefore, if you need to see the map location of Puri Saren Agung Ubud Palace on Google Maps, please click the link!
What time does Ubud Palace close for tourists' visits? The Puri Saren Agung is open for tourist visits every day from 07:00 – 17:00.
Get The Info On "How To Spend A Day In Ubud With 1-Day Ubud Itinerary" >>>
Ubud Palace Entrance Ticket
So how much is the entrance fee to Ubud Royal Palace? All visitors are welcome to enter the Ubud Royal Palace without an entrance fee, so it is free entry.
Several areas in Puri Saren Agung cannot be entered by visitors, especially where the king lives and the area of ​​the royal family temple. Apart from that, you will also see a sign visitors cannot enter.
I have only once entered the area within the king's residence, with the permission of the Ubud king.
See the List of Entrance Ticket Prices for Bali Tourist Attractions.
Dress Code for Visiting Puri Saren Agung
How about the dress code? No dress codes apply to visitors entering the Puri Saren Agung. Most visitors wear shorts and sandals when entering the palace ground. Therefore there is no specific dress code. However, because you are entering a royal site with Balinese customs, it's a good idea to wear a sarong and shawl when entering the Puri Saren Agung Ubud area.
In addition, there are no shawls and sarongs for rent at the entrance gate of Puri Saren Agung, so it's a good idea to bring them before visiting.
See, What To Wear In Bali – Clothes By Things To Do.
Ubud Royal Palace Dance Schedule
Almost every night at Puri Saren Agung, there are Balinese dance performances, such as the Barong dance and the Ubud Legong dance. Furthermore, the dance performance at Puri Saren Agung will start from 19:30 – 21:00, so the performance duration will be around 1.5 hours.
| Day | Type of Performance |
| --- | --- |
| Sunday | Legong Dance |
| Monday | Legong Dance |
| Tuesday | Legong Dance |
| Wednesday | Barong Dance |
| Thursday | Legong Dance |
| Friday | Barong Dance Ubud |
| Saturday | Legong Dance |
Note:
The dance performance ticket price is IDR 100.000 / person.
Time of the dance performance starts at 19:30.
Read More, Kecak Dance Ubud.
The Best Time to Visit Ubud Palace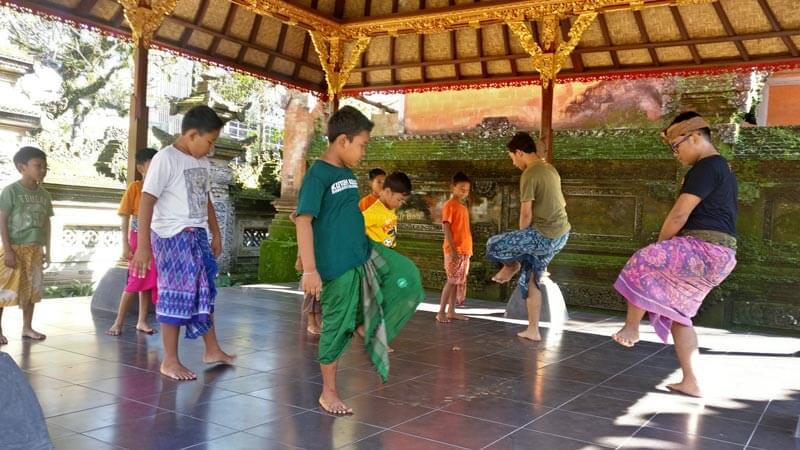 Puri Saren Agung has become one of the popular attractions in Ubud Bali. In addition, visitors will be busy visiting Ubud Palace from 14:00 – 16:30.
If you prefer to avoid Bali's attractions which are too crowded, then the best time to visit Ubud Royal Palace is in the morning, around 07:30.
On the other hand, if you want to watch a dance performance at Puri Saren Agung, then the best time to visit is in the afternoon, around 19:00. Even though the dance performance at Ubud Royal Place starts at 19:30, it's better if you come earlier, so you can choose the best seat.
Find Out, The Best Time To Vacation To Bali.
The Best Way Towards Ubud Royal Palace Location
Furthermore, the best way to get to the Ubud Royal Palace location depends on where you are staying in Bali and your holiday itinerary in Ubud Bali.
Suppose you stay in the Central Ubud area and are interested in visiting the Puri Saren Agung. The best way to get to the Ubud Royal Palace location is by taxi. In addition, it is effortless for you to find a cab in the area of ​​Ubud.
For those who don't stay in Ubud, utilizing a taxi will increase your vacation costs in Bali.
There are two best transportation choices for tours to central Ubud if you don't stay in the area of ​​central Ubud, which is using private vehicles, either scooters or cars.
Find Out, Guide to Traveling in Bali.
Motorcycle Rentals
In Bali, you will easily find motorbike rental providers. Scooter rental rates in Bali are determined by the scooter classification you want to use, but the average motorbike rental price in Bali is IDR 100,000/24 ​​hours. Furthermore, finding a scooter parking space in the central Ubud area is much easier than finding a car parking space.
Car Rental
Apart from employing a scooter, you can also utilize a car for holiday transportation in Ubud. However, finding a parking space in the central Ubud area takes a lot of work. Most visitors will park their vehicles in the Monkey Forest parking lot and then walk to the attractions in central Ubud.
So, it's better if you want to vacation to Puri Saren Agung by car, preferably using a car rental in Bali with a driver.
Utilizing a Bali car rental with a driver offers advantages in the comfort you will get. Especially the convenience of finding a parking space and the cleanliness of the vehicle.
Tourist Attractions Adjacent to Puri Saren Agung
Furthermore, in planning an effective vacation itinerary to Ubud Bali, it's a good idea to know about Ubud's tourist attractions close to Puri Saren Agung. Here are some exciting tourist attractions with locations close to Puri Saren Agung.
Across the road from Ubud Palace, there is a small food stall serving typical Balinese cuisine, which is a suckling pig. The name of the food stall is Babi Guling Ibu Oka Ubud.
Read More, 10 Romantic Things To Do In Ubud – A Guide For Honeymoon In Bali.