Are you seeking an authentic Balinese escapade? Therefore, let this North Bali Visitor Guide act as your compass, rich with local insights and dependable suggestions, to navigate the serene and enchanting terrains of North Bali.
Untuk petualangan asli di Bali, rujuk 'Panduan Wisata Bali Utara' dalam bahasa Indonesia sebagai pemandu Anda mengeksplorasi keajaiban Bali Utara.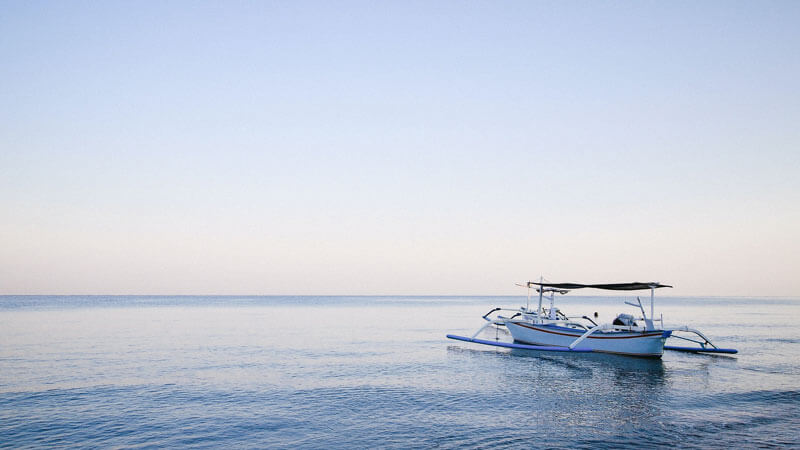 Seaside Sojourns in North Bali: A Beachcomber's Narrative
Above all, the tranquil beaches and deep cultural roots of North Bali present a myriad of aquatic delights and historical escapades for the intrepid traveller.
Optimal Season to Soak in the Sun: Best Months for a North Bali Expedition:
Time your voyage from July to October when the azure skies, a retreat of the tourist bustle, and the vibrant Lovina Beach Festival in July add a splash of cultural colour to your visit. Also, consult the Meteorological, Climatological, and Geophysical Agency for accurate climate updates.
An Ode to Nature and Marine Life Enthusiasts:
1. Dawn with the Dolphins at Lovina Beach: A Ballet on Water
The playful dance of dolphins in the early morning light is a heavenly performance at Lovina Beach. Above all, keep a considerate distance to safeguard their natural environment.
2. Pemuteran Bay: A Testament to Marine Conservation
To clarify, Pemuteran stands at the heart of the world's largest bio-rock coral restoration initiative, honoured by the Equator Initiative. Conversing with local conservationists can deepen your appreciation of marine conservation.
Discover More: Dive into the success stories of the Pemuteran Coral Reef Restoration Project.
Location: Locate with Google Maps.
Prime Diving Period: For unrivalled underwater visibility, schedule a morning dive at Pemuteran's Biorock Coral Garden. Additionally, explore the unique marine biodiversity on a muck dive near the fishing village.
3. Menjangan Island: The Diving Connoisseur's Choice
The immaculate waters and vibrant coral ecosystems make Menjangan Island a diver's dream. Most importantly, prioritise your safety by inspecting all equipment and observing marine boundaries. Location: Navigate via Google Maps.
Ideal Diving Calendar:
Enjoy diving at Menjangan Island year-round, with peak conditions from April to November and crystal-clear visibility from July to September. While the gentle currents assure a smooth dive, the sanctuary's regulations mean sightings of larger species are rare due to conservation efforts.
Heart-Pumping Thrills for Adrenaline Seekers:
1. Krisna Funtastic Land Bali: A Chronicle of Amusement
Spanning from serene boat rides to the rush of roller coasters, this park entertains all ages. A local tip: the Ferris wheel at sunset offers an unmatched view!
2. Krisna Watersports Temukus: North Bali's Apex of Watersport Excitement
Recognised as the zenith of watersport experiences in North Bali, this hotspot is guaranteed to amplify your excitement levels.
Navigating the Vivid Landscapes of North Bali: A Comprehensive Visitor Guide
Your journey through North Bali becomes a rich tapestry of experience, painted with the myriad hues of cascading waterfalls, serene highland lakes, and spectacular terraced fields.
To behold Bali's waterfalls in their full glory, plan your trip during the rainy season, from October to April. Also, tread carefully on the wet trails and mossy stones.
Echoes of Waterfall Whispers:
1. Sekumpul Waterfalls: Nature's Hidden Masterpiece
For an unparalleled experience, arrive in the morning to avoid the influx of visitors.
2. Gitgit Waterfall: An Amalgam of Culture and Nature
Imbued with cultural depth, Gitgit is as revered by natives as it is by wanderers, standing as a testament to Bali's seamless blend of history, nature, and legacy.
3. Munduk Waterfall: The Solitary Sanctuary
Tucked away from well-trodden paths, Munduk Waterfall is a silent ode to Bali's undisturbed beauty.
Beholding Bali's Natural Mirrors:
1. Buyan and Tamblingan: The Twin Lakes' Chronicle
Created by natural phenomena in the 1800s, these still waters reflect Bali's untouched allure. Dedicate time to embrace the tranquillity truly.
2. Banjar Hot Springs: A Divine Geothermal Experience
Following your day's explorations, sink into the curative embrace of these sulphur-rich waters favoured by locals and adventurers.
The Living Tapestries of Bali
1. Busungbiu Rice Terraces: The Pulse of Bali's Farming Heritage
Wander these verdant steps to touch the soul of Bali's agricultural spirit.
2. Munduk Rice Terraces: Symmetry of the Sown
These terraces celebrate the artistry of rural Bali, etched into the land with precision and care.
West Bali National Park: A Living Mosaic of Bali's Biodiversity
Step into this ecological treasury, a testament to the island's varied wildlife and a patchwork of diverse ecosystems.
In summary, traversing North Bali transforms you from an observer to an integral part of the island's living narrative, interlacing your recollections with Bali's enduring saga.
Exploring the Cultural & Historical Jewels: North Bali Explorer's Handbook
Embark on an enchanting journey through North Bali's cultural heartland, where every corner is steeped in heritage, and every monument tells a timeless tale. Indeed, this curated North Bali visitor guide offers you a glimpse into the storied past of Bali, blending myth with tradition and local zest.
Temples of Serenity – The Spiritual Gems of North Bali:
Discover the silent whispers of history resonating within the spiritual heart of North Bali, where ancient tales and rituals come alive.
1. Brahma Vihara Arama – North Bali's Spiritual Lighthouse
Visit Window: As dawn blankets the monastery in hues of gold, seize the serenity of sunrise.
Insight: Known as the 'Little Borobudur', this Buddhist sanctuary offers panoramic views over the coast, complemented by intricately carved stonework.
Quick Fact: Its design is a nod to Java's iconic Borobudur Temple.
Best Time: The dry season from April to October provides an exquisite setting. Aim to be there during the Vesak Festival, a vibrant celebration of Buddha's life milestones.
Location: Google Maps.
2. Beji Temple in Sangsit – An Ode to Dewi Sri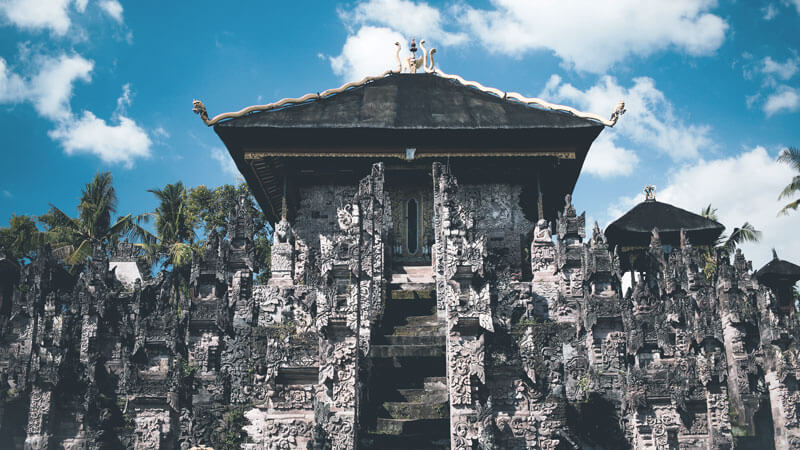 Furthermore, immerse yourself in the enduring bond between Bali's people, the earth, and the heavens, epitomised by Sangsit's Beji Temple, dedicated to the rice goddess Dewi Sri.
3. Ling Gwan Kiong Chinese Temple – A Tapestry of Cultural Harmony
Step back to 1873 at Ling Gwan Kiong temple, a monument to the trade heritage between the Balinese and Chinese settlers, in honour of the deity Tan Hu Cin Jin.
4. Ulun Danu Beratan Lake Temple – A Sacred Nature Retreat
Scriptures celebrate this site's dedication to Dewi Danu, embodying the island's reverence for nature.
These spiritual havens are not just places of worship but pillars of tranquillity, enriched with Balinese cultural ceremonies, especially during full moons, that invite you into their tradition-steeped embrace.
Historical Pathways of North Bali – A Legacy Unveiled:
Navigate through the time-honoured trails of North Bali, where the echoes of royalty and colonial history blend seamlessly.
Singaraja – The Royal Echoes of Buleleng
North Bali Visitor Guide: A Taste of Tradition and Culture
Savouring North Bali's Culinary Landscape: A Visitor Guide to Local Gastronomy
Dive into a delectable exploration with this North Bali Visitor Guide as your compass, leading you through the rich tapestry of authentic flavours and culinary heritage that North Bali has to offer. Also, this journey is not just about satisfying your appetite—it's about connecting with the region's soul through food.
1. Sate Plecing: North Bali's Torchbearer of Festive Flavours
Grilled to perfection, Sate Plecing is a fiery celebration of North Bali's communal spirit. Warung Cik Gin's iteration of this dish is a must-try, each skewer a testament to the island's vibrant culinary narrative.
2. Nasi Campur: A Melodious Blend of North Bali's Essence
A dish as diverse as the island's cultural mosaic, Nasi Campur from Warung Bik Juk is a harmonious medley that praises Bali's rich gastronomic symphony, a key highlight in any North Bali culinary tour.
3. Sate Kakul: A Tribute to North Bali's Natural Bounty
Savour the essence of North Bali's freshwater springs with Sate Kakul at Warung Sate Mek Ngah, where the dish's delicate flavours narrate the purity of the region's resources, a staple mention in guides to North Bali's cuisine.
4. Nasi Lawar Sapi: A Painterly Dish of North Bali's Traditions
The vibrant Nasi Lawar Sapi from Warung P.I. in Singaraja is a canvas of traditional flavours, blending the island's festive nature with a burst of local spices, a recommended speciality in North Bali.
5. Nasi Jinggo: The Compact Quintessence of Bali
Nasi Jinggo encapsulates the essence of Balinese life, a convenient yet traditional bite-sized feast. For travellers, these flavour packets are a highlight in the street food section of North Bali. Discover these miniature delights with street hawkers in the bustling heart of Singaraja City Centre.
6. Laklak: The Sweet Murmur of Bali
Reminiscent of the verdant terrains with its pandan essence, Laklak offers a gentle, sweet reprieve in your culinary journey. Enjoy them at Laklak Banyuning, freshly prepared and lavished with a sweet cascade of coconut and palm syrup.
Sipping on North Bali's Heritage: A Beverage Guide
Let each traditional beverage of North Bali take you on a serene journey through the island's peaceful landscape, with each libation a story of the area's rich cultural fabric.
Kopi Luwak: Sip the Legend of North Bali
Kopi Luwak transcends its global acclaim as a beverage steeped in the Balinese ethos of harmony with nature. The Wanagiri Coffee Plantation Bali and Luwak Coffee stand as a testament to an ethical journey from bean to cup, offering an opulent indulgence and consideration of the earth's well-being.
This culinary guide aims to do more than just list the flavours of North Bali; it's about weaving a narrative that connects you to the heart of the region with every bite and sip, just as a genuine North Bali sightseer guide should.
The Quintessential Guide to Transit and Traditions in North Bali
Navigating North Bali by Scooter: A Comprehensive Visitor Guide
In North Bali, scooters are not just transport; they're your ticket to the freedom of the open road. To ensure a journey that's both exhilarating and on the right side of the law, heed these pointers:
An International Driving Permit (IDP) is your golden ticket—procure it from your homeland before you jet off. The specifics can be found on the pertinent website.
Helmets are not a mere suggestion but a statutory requirement. It's the zenith of common sense and, quite frankly, the law.
Bali's roads are a cavalcade of life; keep your wits about you and your eyes peeled.
When parking, seek out the official nooks and spare a few rupiahs for the fees— they're a trifle.
The Local's Passage: Hiring Drivers in North Bali
To delve into the heart of North Bali, consider the local drivers and your esteemed guides. They're the key to unlocking the region's hidden gems. To travel smart:
Settle on fares before departure to eschew any bumps in the road.
Heed their sage advice on local customs—there's wisdom in their words.
A Cultural Compass: Dress and Decorum in Holy Spaces
Temple Etiquette in North Bali:
Temples in Bali are bastions of tranquillity and tradition. To pay homage with due decorum:
Adorning a sarong signals respect for time-honoured practices. Rentals are usually at hand at the temple's gate.
Covering shoulders and knees isn't just considerate; it's a tribute to sacred customs.
Shoes should be left at the entrance of hallowed grounds, honouring local tradition.
Should you witness a ceremony, maintain the sanctity of the moment; these are the pulsating beats of Bali's cultural heart.
Beyond Temples: Dress Codes Across North Bali
Respecting local norms through your choice of attire extends past temple grounds. On this island, even a laid-back ethos has its limits:
Choose attire that errs on the side of modesty, particularly in rural and non-touristic settings—dresses or skirts at knee length for women and shirts for men beyond the beach.
Reserve beachwear strictly for the sands; a modest cover-up will transition you tastefully to town and dining venues.
A Linguistic Bridge: Essential Balinese for Courteous Communication
A few phrases in Balinese can enrich your interaction immeasurably:
"Om Swastiastu" (A hello that carries blessings)
"Suksma" (Thank you)
"Sing ken ken" (All is well) – this phrase carries a casual warmth and is apt amongst newfound friends.
By sprinkling your dialogue with these local terms, you're not just speaking; you're connecting and fostering a community of respect and shared experiences.
North Bali Visitor Guide For Local Markets & Artisanal Treasures
North Bali, an epitome of rich traditions and craftsmanship, offers travellers an immersive experience through local markets and artisans. Here, we'll explore essential stops for genuine finds while uncovering the cultural fabric of the region.
1. Pasar Anyar Singaraja Market: The Heartbeat of Local Culture
A bustling hub of activity, Singaraja Market is where daily life unfolds, offering a snapshot of North Bali's vibrant culture.
Location: Google Maps.
Best For: Discerning Shoppers, Gastronomy Aficionados, and Cultural Connoisseurs.
Highlights:
Revel in a selection of tropical fruits and savour the season's flavours.
Try traditional Balinese confections, often accompanied by a narrative from the older people vendors, the custodians of family culinary legacies.
Discover a plethora of textiles and ceremonial items, each with stories steeped in tradition and ritual significance.
Did You Know? The market's atmosphere is particularly electric in the week leading to the Galungan Festival, offering a perfect moment to immerse oneself in the festive fervour.
2. Seririt Market: A Portrait of North Bali's Daily Life
The Seririt Market encapsulates the essence of Balinese daily life, where local rhythms and spirited trade paint a vivid picture of Northern Bali.
Location: Google Maps.
Best For Ethnophiles and Home Chefs with a Flair for Peculiar Produce.
Highlights:
Wander amid stalls bursting with fresh produce and spices that pay homage to the region's agricultural bounty.
Delve into the vibrant selection of traditional textiles and garb, each pattern narrating a slice of Bali's rich cultural heritage.
Mingle with the amiable vendors and uncover the secrets behind the island's renowned cuisine—perhaps even bring a slice back to your kitchen.
Shopping Tip: Haggling is more than a transaction; it's an art form. Engage with a smile, and you might just secure a bargain while earning a local's friendship.
North Bali Accommodation Guide: Where Comfort Visitor Meets Cultural Charm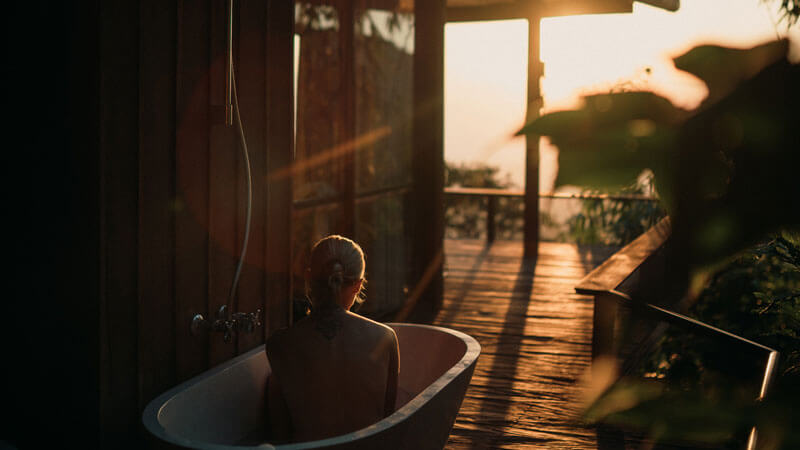 Seek out the perfect vacation in North Bali, where opulence intertwines with cultural genuineness and the quintessential Balinese amiability.
A. Homestays: The Heartbeat of North Bali's Culture
Opt for a local homestay to immerse yourself in the Balinese way of life.
Wake to the rich aroma of Kopi Bali and tales from your hospitable hosts.
Acquire culinary skills in a traditional cooking workshop.
Tip: Sift through reviews on TripAdvisor or Booking.com to find homestays renowned for their warm hospitality.
B. Boutique Resorts: A Symphony of Luxury and Tradition
The boutique resorts of North Bali proffer a blend of sumptuousness with cultural intricacies.
Unwind amidst the serene backdrop of terraced rice fields or the tranquil Java Sea.
Participate in activities that pay homage to Balinese heritage.
Note: Ensure your reservation well in advance during the high season to guarantee your serene escape.
Planning Your North Bali Stay: A Concise Visitor Guide
Choose: Decide between the cultural embrace of a homestay or the indulgent seclusion of a resort.
Search & Compare: Utilise platforms like Agoda or Airbnb to survey your options and evaluate amenities against pricing.
Review: Investigate recent visitor testimonials for accurate insights.
Book & Confirm: Secure your booking through trustworthy channels and watch for enticing deals, then confirm directly with your chosen accommodation to perfect your plans.
Careful selection is critical to ensuring your visit captures the very essence of North Bali.
Parting Memories: The Unforgettable Exit from North Bali
As the twilight heralds the end of your journey in North Bali, it's time to contemplate the moments that will linger long in the memory.
From the tranquil shores of Lovina Beach to the harmonious existence amidst the paddy fields, the ethereal allure of North Bali continues to beckon travellers from far and wide.
Essential Travel Knowledge for the North Bali Adventurer
Embark on your North Balinese exploration with essential travel knowledge to guarantee a smooth adventure.
Visa Know-How: Many voyagers enjoy the convenience of a 30-day visa upon arrival. Those with extended itineraries would do well to arrange their visas before travel for greater freedom.
Optimal Visitation Periods: The dry season, spanning May to September, is most favourable. However, for those unphased by the odd downpour, the wet season presents North Bali in its verdant prime.
Insider's Secret: Coincide your visit with the Kuningan Festival — a cultural marvel celebrated every 210 days.
Healthwise: Ensuring your well-being with pertinent health measures is crucial for an unblemished retreat.
In summary, this curated North Bali Visitor Guide is your passkey to the magical allure of the region—safe travels and tales to be told!