Embark on an unforgettable journey to the stunning Gitgit Waterfall, a hidden gem in the Buleleng northern region of Bali. This guide walks you through every important detail you'll need for this adventure, from its location, how to get there, entrance fees, and enjoyable activities you can partake in. Our goal? To help you have a well-prepared and fantastic trip to Gitgit Waterfall.
Bahasa Indonesia, "Panduan Liburan Ke Air Terjun Gitgit Buleleng Bali" >>>
Location and Access to Gitgit Waterfall
Hidden away in Gunung Luwih Village, Gitgit, Buleleng Regency, Gitgit Waterfall is a sensory treat. Above all, its unique location, sandwiched between the highway linking Denpasar and Bedugul with Singaraja City, the heart of Buleleng Regency, makes it an easily accessible oasis.
It's simpler to reach than nearby waterfalls like the Sekumpul, Munduk, and Aling-Aling Waterfalls. Just pop the name into Google Maps, and you're coming!
Estimated Travel Time
Depending on where you're coming from, you might be in for a short or slightly longer journey:
From the centre of Lovina Beach, Buleleng: about 35 minutes (20 km).
From popular tourist areas like Kuta, Seminyak, Canggu, Legian, Jimbaran, Tanjung Benoa, or Nusa Dua: around 2 hours 30 minutes (80 km).
From Bali Safari Marine Park or downtown Ubud: approximately 2 hours and 15 minutes.
Remember, these are just estimates—distances and traffic conditions might require flexibility in your schedule.
Transportation Options for Gitgit Waterfall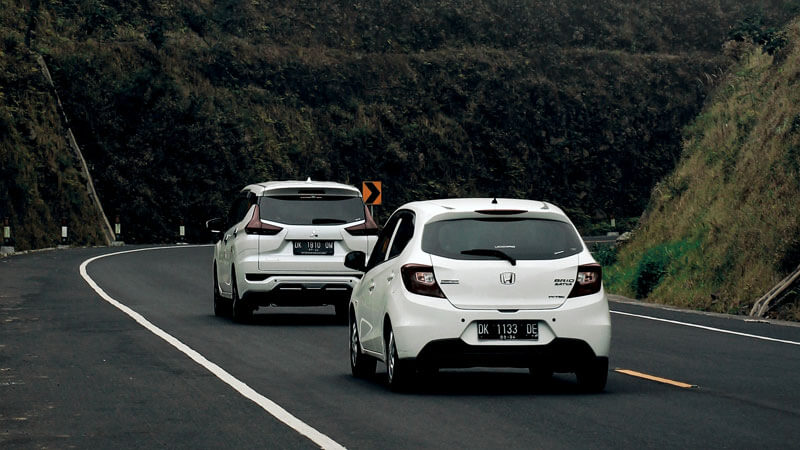 Meanwhile, your journey to Gitgit Waterfall can be as flexible and comfortable as possible. Whether you're keen on a motorbike ride, prefer a cosy car, or would rather book a complete vacation package to North Bali, all got you covered. While online taxi services and Gojek are popular in South Bali and Denpasar City, they might be scarce in North Bali. Therefore, consider these options:
Attractions En Route from South Bali
Your journey to Gitgit Waterfall from southern Bali will take you through the picturesque Bedugul area, home to a few stops you just can't miss:
Road Conditions to Gitgit Waterfall
While the entire roadway to Gitgit Waterfall is asphalt-paved, be prepared for winding ups and downs, given its mountainous location. Additionally, fog might occasionally reduce visibility, so stay alert.
Pathway to Gitgit Waterfall & Opening hours
Once you've arrived and parked your vehicle in the designated spot, your adventure to Gitgit Waterfall begins. From the vehicle parking area, turn left and cross the road. Look for a sign that reads "Welcome to Gitgit Waterfall", with an indicator pointing toward the waterfall. Follow the guidance of the indicator. After about 250 meters, you will come across the entrance ticket counter. From there, continue walking for another 300 meters, and you will arrive at the stunning Gitgit Waterfall.
Opening hours for visitors are 07:00- 18:30, giving you ample time to explore this natural wonder.
Latest Entrance Ticket Prices to Gitgit Waterfall, Buleleng
Please note that these fees may alter over time. As of 04 July 2023, here's what you can expect to pay at the entrance:
| Category | Entrance Ticket Rates |
| --- | --- |
| Adult | IDR 20,000/person |
| Children (5-10 years) | IDR 17,000/person |
| Motorcycle parking | IDR 2,000/motorbike |
| Car parking | IDR 5,000/car |
Best Time to Visit Gitgit Waterfall
Looking for the ideal time to visit Gitgit Waterfall? Plan your visit during Bali's dry season from April to September. The rain is less likely to crash your party, and the roads aren't as slippery. For an even quieter experience, avoid weekends and public holidays. You can check the Singaraja current weather before their visit.
Equipment to Bring
Pack light but smart! Consider trekking shoes or any footwear with a good grip due to the rocky and occasionally slippery trails. A towel and a change of clothes will be useful if you plan to dip or for unexpected rain or cold weather. And, of course, don't forget your camera or smartphone to capture your stunning moments.
Main Attraction of Gitgit Waterfall, Buleleng
Dive into the 'hidden paradise' of northern Bali—Gitgit Waterfalls. Comprehended for its jaw-dropping attractiveness, the waterfall stands 48 meters high, with clear, refreshing streams of water cascading into a serene pool, all encircled by a lush tropical forest.
Furthermore, you'll need to walk about 550 meters from the parking area to the waterfall, taking in views of rice fields, rural landscapes, and clove and coffee gardens along the way. But don't be too quick—take your time to savour the fresh air at the ticket counter and the sound of the swift water flow. The best is yet to come.
Facilities and Accommodations Near the Attraction
Furthermore, you'll find several amenities around this tourist destination, including a large parking area, eateries near the parking zone, toilets and changing rooms near the waterfall, and a seating area. However, no lockers are available, so be aware of your belongings if you swim. For overnight stays, check out the accommodations in Singaraja or Lovina accommodations.
More Than Just Waterfalls: Fun Activities at Gitgit
Gitgit offers more than just its stunning waterfall. Embark on a thrilling trek through forests and parks, dip in the natural pool under the waterfall, or simply sit back and soak in the splendid landscape accompanied by the soothing waterfall sounds.
Waterfalls in Gitgit, Buleleng, Bali
But wait, there's more! Gitgit, Buleleng, hosts a few more waterfalls not too far from Gitgit Waterfall. Here's what to look for:
1. Twin/Mixed Waterfalls:
Also known as the "Campuhan", meaning "mixed water", the Twin Waterfalls are where two waterfalls converge. Nestled between two cliffs and enveloped by lush trees, you'll find a clear, cool pool of water underneath. Check out the Gitgit Twin Waterfall Google Maps location.
2. Multilevel Waterfall
True to its name, this waterfall features three significant falls and a pool of water at each level. View the Google Maps Cascade Waterfall location.
3. Colek Pamor Waterfall
Hidden in the forest's heart, this waterfall is favoured among trekkers. However, reaching it requires navigating a dirt road that sometimes turns muddy, with no clear directions to find the location of the Colek Pamor Waterfall.
Tourist Attractions in North Bali Besides the Gitgit Buleleng Waterfall
While you're vacationing in northern Bali, why not explore the neighbourhood? Many visitors use this opportunity to visit nearby attractions, like the Yeh Sanih Spring Pool Singaraja, Lovina Beach with its famous dolphins, the scenic Lake Buyan and Lake Tamblingan, and the unique relief of Maduwe Karang Temple. Also, you can explore Munduk Village to experience local life or relax in the different atmospheres of Banjar Singaraja Hot Springs.
Planning a longer vacation in Bali? Check out our 10-Day Bali Itinerary with Sample Itineraries featuring various tourist spots, including some of the Best Waterfalls in Bali. And if you have more time in north Bali, don't miss our favourite 1-Day Ubud Tour for Travelers.
Frequently Asked Questions
How long does reaching Gitgit Waterfall from the entrance ticket location take?
It takes about 20 minutes from the entrance ticket location to the bottom of the waterfall. With around 100 steps, it's not too strenuous.
Is Gitgit Waterfall suitable for a visit with children?
Absolutely! The trekking path isn't too steep and has plenty of rest areas, making it child-friendly. Always keep an eye on children, though. Read more, Traveling Guide with Kids in Bali.
When is the best time to visit Gitgit Waterfall?
The dry season, from April to September, is the perfect time to visit, as the rainfall is lesser, even though the waterfall's discharge may be less than during the rainy season.
Summary
Finally, if you're looking for a breathtaking tourist spot in Buleleng, Bali, Gitgit Waterfall should top your list. With our detailed guides on locations, itineraries, entrance tickets, and various activities, your visit will surely be smooth and memorable. Plus, there are other waterfalls and attractions nearby to explore.
Also, please share this comprehensive travel guide to Gitgit Waterfall on your social media. Your shares will help spread this valuable information to more people interested in exploring this beautiful spot. Thank you for your time reading the travel guide, and have an amazing adventure!