Bali is a cultural treasure in Indonesia known worldwide as the Island of the Gods. It is a treasure trove of religious rituals, art conservation, and traditional villages. This page provides a comprehensive guide to exploring Bali cultural tourism, from iconic Balinese Hindu temples to traditional villages and other cultural highlights that make Bali a popular destination among international travelers.
Bahasa Indonesia, Panduan Wisata Budaya Bali.
An Introduction to Bali's Art and Cultural Attractions
Arts and culture are deeply incorporated into the daily life of Balinese people. From distinctive motifs on traditional Balinese woven fabrics and religious ceremonies to the splendid architecture of Hindu temples, Balinese culture offers a deep understanding of a lifestyle rich in spiritual and artistic values. Therefore, when you visit Bali, seizing the opportunity to immerse yourself in Balinese art and culture is necessary.
1. Temples: An Inside Look into Balinese Spiritual Culture
Bali is renowned for its myriad of temples scattered across the island, each providing a unique glimpse into the profound spirituality of the Balinese people.
A. Besakih Temple: The Largest Sacred Site in Bali
Furthermore, Besakih Temple is the leading and most significant Hindu temple in Bali, located on the slopes of Mount Agung. Besakih is an area of the temple complex consisting of 23 temple shrines, with the Penataran Agung Temple at the center.
B. Tanah Lot Temple: Iconic Seaside Attraction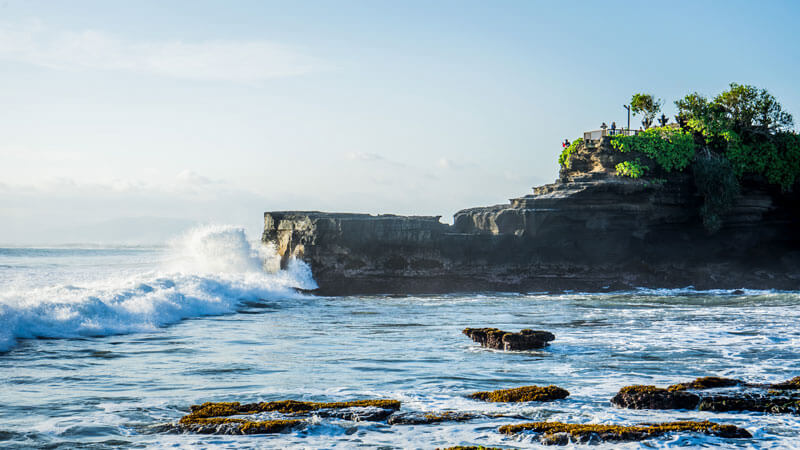 Tanah Lot is one of the temples you must visit while vacationing in Bali. This temple is on a large rock in the middle of the sea. Tanah Lot Temple is famous as a tourist destination because it offers a unique temple location and sunset views.
On another page on this site, I have written about the beauty of the Tanah Lot sunset view, which you can read by clicking the link. In addition, every tourist who visits will pay for an entry
ance ticket to the Tanah Lot tourist attractions.
C. Uluwatu Temple: Captivating Cliff Views and Kecak Fire Dance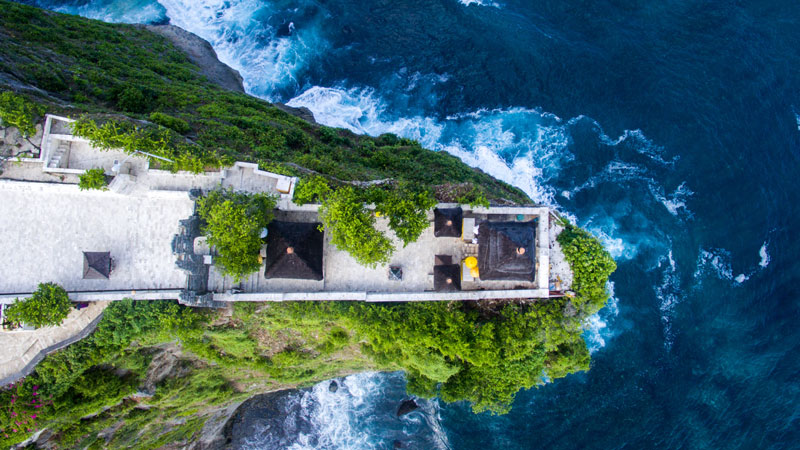 Uluwatu Temple is located at the top of a high cliff, and visitors can see beautiful views of the Indian Ocean from the temple location.
Furthermore, what you should not miss when visiting Uluwatu Temple is watching the Kecak Fire dance held every day at sunset. The Uluwatu Kecak dance tells the story of the Ramayana epic against a gorgeous sunset as a backdrop. Ordering online is the best way to get affordable ticket prices for the Uluwatu Kecak dance.
Many tourists who have visited the Uluwatu temple say that this sacred place on a cliff is one of the finest sites to see the sunset in Bali. In addition, every visitor who enters the tourist area will pay an entrance ticket to Uluwatu Temple.
D. Lempuyang Temple: The Gateway of Heaven
Penataran Agung Lempuyang Temple, located in the highlands of the East Bali tourist area, is one of the oldest Hindu temples and has an essential role in Bali.
Tourists know Penataran Agung Lempuyang Temple as the 'Gate to Heaven' because a gate within the temple frames a view of Mount Agung.
Please note that Penataran Agung Lempuyang Temple and Luhur Lempuyang Temple are different holy places in the same complex.
If you only want to visit the "Gate of Heaven," you will visit the Penataran Agung Lempuyang Temple. On the other hand, if you see the Lempuyang Luhur temple, you must climb 1,700 steps and pass through a lush forest.
If you are interested in visiting the Gate of Heaven, it's a good idea to find out about holiday guides & entrance tickets to Pura Lempuyang Karangasem Bali.
E. Ulun Danu Beratan Temple: Peaceful Lake Beratan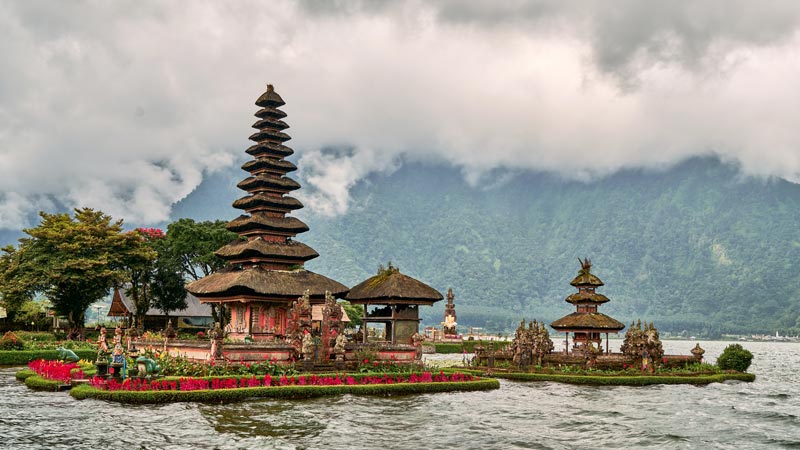 Ulun Danu Beratan Temple, located on the edge of Lake Beratan Bedugul, Tabanan Bali. Visitors who have a vacation to Lake Beratan will get a relaxed atmosphere and beautiful natural scenery. Also, Ulun Danu Beratan Temple, from a distance, looks like it is floating on the surface of the lake water, so it looks unique and enchanting.
Adjacent to Lake Beratan, there is a popular family tourist spot; the site's name is Bedugul Bali Botanical Garden.
2. Traditional Village Tourism: Experience the Authentic Balinese Lifestyle & Culture
A visit to Bali offers more than picturesque beaches and temple sights. Exploring traditional villages to experience the indigenous culture is highly recommended.
A. Penglipuran Village: Uniform Houses and Pristine Environment
Furthermore, Penglipuran Village is one of the traditional villages in Bali which has managed to maintain its traditional customs and architecture. As you enter the inner area of the village, you will see traditional houses that look very similar.
Residents construct their homes from natural materials and immaculately maintain the village environment. So that when you visit, you will get a brief overview of the life of Penglipuran villagers. Furthermore, if you want to see this traditional village, finding information on Penglipuran village entrance fees is a good idea.
B. Trunyan Village: Unique Burial Traditions of the Bali Aga Community
Trunyan Village, located on the shores of Lake Batur Kintamani, is famous for its unique burial traditions and is very different from other areas in Bali.
The Bali Aga in Trunyan Village places the bodies on the lake's edge in a particular area. The community places bodies on the ground, unburied. Surprisingly, the bodies do not smell, and local beliefs attribute this lack of scent to the Taru Menyan tree.
All of the above will make you see a different culture from most of the Balinese in general.
C. Tenganan Village: Home of the Gringsing Woven Cloth
The location of Tenganan Village is in the hilly area of Karangasem district, a tourist area in the eastern part of Bali. The residents of Tenganan Village are the Bali Aga people, who had settled in Bali before the arrival of the people from the Majapahit kingdom.
Apart from that, Tenganan Village Karangasem is famous for its unique woven cloth called 'Geringsing.' When you visit Tenganan village, you can witness local artisans weaving Gringsing cloth.
Furthermore, Tenganan Village is also famous for the architecture of the villagers' buildings which look unique. Cobblestone dirt roads line the houses, with walls of clay encircling them.
Additional Highlights of Bali Cultural Tourism
Besides natural beauty and temple architecture, Bali cultural tourism offers a unique cultural experience, from art markets selling handicrafts to traditional dance performances.
A. Ubud Art Market: Hub for Souvenir Shopping
Ubud Art Market is one of the spots where you can go to purchase Balinese souvenirs. Available from silver jewelry to wood carvings and paintings by local artisans. So, you can effortlessly find souvenirs from your holiday trip to Bali.
The location of the Ubud art market is very strategic because it is close to Ubud Royal Palace, Monkey Forest Ubud, and Taman Saraswati Temple.
B. Fire Kecak Dance Performance
Watching the Kecak dance performance is essential if you are interested in Balinese art and culture. There are many locations to watch Kecak dance performances in Bali, such as Tanah Lot Temple, Batubulan village, Garuda Wisnu Kencana Cultural Park, and Uluwatu Temple.
C. Sukawati Art Market: Oldest Market Selling Balinese Souvenirs
This market is a selling zone for local art and the oldest market selling Balinese souvenirs. Most tourists looking for affordable souvenirs will visit the Sukawati art market.
When visiting this market, you will find various handicrafts, such as traditional fabrics, silver jewelry, and Balinese knick-knacks. In addition, the Sukawati Art market is close to the location of family and children's tourist attractions, the Bali Zoo, and the Bali Bird Park.
D. Barong and Legong Dance
Besides the Kecak dance, Balinese dance performances such as the Barong and Legong attract visitors. The Barong Dance takes a narrative about the fight between good (Barong) and evil (Rangda). Meanwhile, the Legong Peliatan Ubud dance performed by youthful girls tells the story of an ancient Javanese kingdom.
Meanwhile, there are many locations in Bali to watch Barong and Legong dance performances, most of which are in the tourist area of Ubud Bali.
E. Mekare-Kare: Pandan War Showcasing Balinese Courage
Mekare-Kare, or the Pandan War, is a unique tradition of the residents of Tenganan Village Karangasem. A ceremonial dueling ritual takes place every year. In the dueling ceremony, village men will fight each other using weapons made from thorny pandan leaves.
F. Bali Arts Festival: A Grand Celebration of Art and Culture
The Bali Arts Festival is a yearly event showcasing Balinese culture and artistic talent. It includes art shows, cultural performances, craft markets, and food experiences.
Local artists use this festival to present their work to visitors. The festival's opening ceremony typically features a parade or carnival, which the President of Indonesia usually opens. Also, if you're visiting in June, you definitely should not miss the opening parade of this festival.
Travel Guide to Experience Bali Cultural Tourism
When you explore Bali's unique art and culture, knowing a few essential things is a good idea. The following are some of my recommendations and suggestions to ensure that your visit provides a positive experience for you and the local community:
A. Dress Code
When visiting temples in Bali, it's a good idea to dress modestly. I suggest you use a top and sarong tied with a scarf in the waist area. In addition, most of Bali's tourist attractions provide visitors with sarongs and shawls.
If you want more details about the holiday dress code guide to temples in Bali, I have written it on this site.
B. Local Customs and Habits
In Bali, certain traditions are essential to understand. Here are a few:
Always use your right hand when giving or taking something. The left hand is viewed as less holy.
Also, don't touch someone's head without asking first. It's seen as disrespectful.
As local customs deem it inappropriate, women should avoid entering temples during menstruation.
C. Respecting Religious Processions and Ceremonies
Furthermore, if you vacation in Bali and encounter a procession or religious ceremony, respect the event by avoiding disturbances or interruptions.
Conclusion: The Ultimate Bali Cultural Tourism Guide
Engaging in Bali cultural tourism is more than just sightseeing. It's about enjoying and appreciating the diverse culture that makes Bali unique. If this comprehensive guide to Bali arts and culture tourism has been helpful, please share it on your social media. For suggestions or questions, feel free to comment below.