Immerse yourself in the tranquil and breathtaking beauty of East Bali, where hidden beaches with crystal clear waters and picturesque traditional villages await you. If you're seeking a peaceful and rejuvenating escape surrounded by natural wonders, East Bali is the perfect destination. This comprehensive holiday guide offers everything you need to plan a memorable and enjoyable vacation. From exploring Mount Agung, indulging in delectable local cuisine, and soaking up the sun on stunning beaches. Let us guide you to the most exceptional experiences East Bali offers during your holiday.
Bahasa Indonesia, Panduan Liburan ke Bali Timur.
Escape to paradise with our comprehensive holiday guide to East Bali. Plan your perfect getaway and explore the wonders of this stunning region.
Is East Bali Worth Visiting For Holiday Destinations?
Are you examining for a vacation destination that caters to all travelers? Look no further than East Bali! This hidden gem boasts a range of activities and vacation spots that suit any interest.
One of the most thrilling aspects of East Bali is its breathtaking natural scenery. From the pristine Blue Lagoon Beach, located near the bustling port of Padang Bai, to the idyllic Virgin Beach, there's no shortage of stunning coastlines to explore. And for those who love a challenge, Mount Agung offers breathtaking views and a challenging climbing experience.
The region boasts a stunning natural landscape perfect for water sports enthusiasts and offers a vibrant cultural heritage just waiting to be explored. For example, in traditional villages like Tenganan, you'll discover unique weaving techniques and architecture passed down through generations.
And if you're an underwater enthusiast, East Bali's crystal-clear waters are perfect for snorkeling and diving, with various reputable operators ready to help you explore the depths.
But what sets East Bali apart is its relaxed and tranquil atmosphere, making it the ideal escape from the hustle and bustle of more touristy areas on the island. So if you're looking for a peaceful and rejuvenating vacation, East Bali is the perfect destination.
So, whether you're a beach lover, an adventurer, or simply looking for a place to unwind, East Bali has got you covered. With so much to offer, East Bali is an absolute must-visit for anyone looking to experience Bali's natural beauty, cultural heritage, and peaceful vibe. Take your chance to explore this incredible destination!
Find Out, Discover Bali's Sacred Side: 10 Best Temples to Visit on Your Journey.
Accommodation to Stay – Holiday Guide to East Bali
Are you glancing for the perfect place to stay on your trip to East Bali? Look no further! You will find the ideal home away from home with various accommodation options to suit any budget or preference.
Whether you're looking for budget-friendly guesthouses, mid-range hotels, or luxurious resorts, there's something for everyone. And with popular areas like Amed, Tulamben, Candidasa, and Padangbai offering easy access to beaches and other attractions, you'll always have things to see and do.
To assist you in discovering your perfect match, we've compiled a list of suggestions based on different traveler preferences. And don't worry – we have no affiliation with any of the accommodations listed in our holiday guide to East Bali. So you can trust that our recommendations are based solely on quality and value.
Family Holidays – Holiday Guide to East Bali
Are you planning a family vacation in East Bali? Look no further than Bali Palms Resort and Alila Manggis for the ultimate family-friendly experience.
Bali Palms Resort is the perfect home base for your family getaway in the Candi Dasa tourism area. With amenities like a children's pool, playground, and babysitting services, parents can relax and enjoy their vacation while the kids have a blast.
For a beachside adventure, consider Alila Manggis. This stunning resort offers family rooms and many activities that will please all ages, from cooking classes to cycling and snorkeling.
Whether you're glancing for a cozy beach holiday or an adventure-filled getaway, Bali Palms Resort and Alila Manggis have everything you need for an unforgettable family vacation in East Bali.
Honeymoon – Holiday Guide to East Bali
Ready to plan the ultimate romantic getaway to East Bali for your honeymoon? Look no further than Amankila and Candi Beach Resort & Spa for an unforgettable experience.
Immerse yourself in luxury at Amankila, a stunning resort in Manggis that boasts private villas with breathtaking ocean views. Indulge in romantic candlelight dinners, couples' spa treatments, and private picnics on the beach.
For a more traditional honeymoon experience, head to Candi Beach Resort & Spa in Candidasa. Their honeymoon packages include a romantic dinner, relaxing spa treatments, and unique decorations in your room to set the mood for love.
Whether you're looking for ultimate luxury or a more intimate setting, Amankila and Candi Beach Resort & Spa are the perfect choices for a romantic honeymoon in East Bali.
Vacation With Friends – Holiday Guide to East Bali
Gather your squad and prepare for an epic vacation with friends in East Bali!
Check out Villa Campuhan Jasri in the Jasri area for a luxurious and private stay. With multiple bedrooms and an infinity pool overlooking the ocean, it's the perfect choice for a group getaway.
Are you looking for a more eco-friendly and peaceful retreat? Head to Wapa di Ume Sidemen, where you can relax in spacious rooms and villas with breathtaking views of the surrounding rice fields. It's the perfect place to unwind and spend quality time with friends.
No matter what holiday style you're examining with your friends, East Bali has something to offer.
Find Here, Guide On The Best Place To Stay In Bali.
Vacation with Children
Are you seeking the perfect vacation spot in east Bali to bring your children?
Rama Candidasa Resort & Spa in Candidasa is a family-friendly resort with everything your little ones need, including a kids' club, a children's pool, and babysitting services, so you can relax and enjoy your vacation.
For an eco-friendly option that's fun for the whole family, check out Bloo Lagoon Eco Village in Padang Bai. Their family villas have a kitchen and a range of kid-friendly activities, such as snorkeling, cycling, and cooking classes.
No matter which accommodation you choose, you will have a fantastic family vacation in East Bali.
Read More, Visitor Guide On Best Area to Stay in Bali with Kids.
Exciting Things To See and Do In East Bali
Are you planning a trip to East Bali and wondering what activities and attractions to add to your itinerary? Look no further! This holiday guide is packed with exciting things to see and do in East Bali.
East Bali area has beautiful beaches, cultural attractions, and breathtaking waterfalls that will leave you astonished. With so many exciting tourist spots to explore, East Bali is a must-visit destination for all types of travelers.
Find Out, Discover the Enchanting Klungkung: 15 Must-Visit Tourist Attractions.
Check out our top picks for the best tourist attractions and holiday activities to try in this enchanting region:
1. Tirta Gangga Water Palace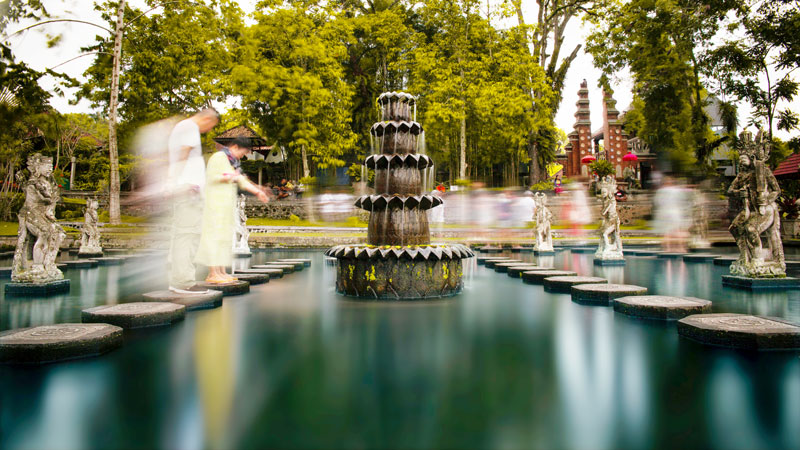 Furthermore, Tirta Gangga Water Palace is a beautiful palace in east Bali. Furthermore, Tirta Gangga water palace is also well-known for its excellent garden layout, and there are fountains and unique architectural composition.
In addition, the Tirta Gangga Water Palace characterizes Balinese culture and history, evident in the intricate carvings and decorations visitors can see throughout the area.
Therefore, travelers who vacation in East Bali should also visit the Tirta Gangga Water Palace to feel the natural beauty and serenity of the garden, which is filled with exotic plants and flowers, statues, and impressive fountains.
You will also see a beautiful tiered pool, providing a peaceful and serene relaxing atmosphere.
Furthermore, the Tirta Gangga water palace will also provide insight to visitors into Balinese history and culture because the King of Karangasem built it in the early 20th century. Visitors will also see several temples still used for religious ceremonies and offerings. It will give tourists a unique experience of Balinese life.
Read More, Your Ultimate Vacation Guide To Tirta Gangga Water Palace.
2. Taman Ujung Sukasada
Furthermore, Taman Ujung Sukasada Water Palace is a gorgeous and unique East Bali tourist attraction. Taman Ujung Sukasada was built in the early 20th century by the late Karangasem King and is recognized for its beautiful gardens, elaborate water ponds, and unique architectural layouts.
Visitors should visit Taman Ujung Sukasada to experience the natural beauty and serenity of the garden decorated with exotic plants and flowers, statues, and fountains. Taman Ujung Sukasada's pond features a large pond and canal system.
The architectural design of Taman Ujung Sukasada, combining Balinese, Chinese, and European styles, is another reason for you to visit. In addition, Taman Ujung Sukasada features several pavilions, bridges, ornate gates, and high-rise buildings that offer visitors views of the surrounding area.
Apart from that, Taman Ujung Sukasada offers a glimpse of Balinese history and culture, which the King used for important ceremonies and events. Then visitors can explore the various rooms and halls of the palace decorated with traditional Balinese decorations and artifacts, as well as learn about the history of the Karangasem kingdom.
Ujung Sukasada Park is a must-visit destination in east Bali for anyone who loves natural beauty, history, and culture.
Read More, Vacation Guide To Taman Ujung Sukasada.
3. Lempuyang Temple
Lempuyang Temple is a holy site on Mount Lempuyang in Karangasem Regency, east Bali. Furthermore, the Lempuyang Temple is also regarded as one of the most ancient and considerably influential temples for Balinese Hindus. In addition, Lempuyang Temple is well-known for its unique architecture and beautiful sceneries that travelers can witness from the temple area.
Visitors visiting Lempuyang Temple usually want to experience its natural beauty and take pictures in the temple gate area. In addition, the Lempuyang Temple Complex has a reasonably elevated background of Mount Lempuyang.
The Gate of Heaven is one thing that makes Lempuyang Temple famous and attracts tourists. Then what is it, the Gate of Heaven?
The Gate of Heaven is an ornate gate leading to the main temple complex. From the area inside the Gate, you can catch views of Mount Agung, the highest mountain in Bali. In addition, you can see stunning views of the surrounding rice fields. Therefore, it makes the Gate of Heaven a popular spot for photo sites.
Overall, Lempuyang Temple is a must-visit tourist destination in east Bali for those of you who are interested in seeing Balinese cultural heritage, as well as those of you who are looking for stunning views for unique photo backgrounds.
Read More, Visitors Guide To Penataran Agung Lempuyang Temple Gate of Heaven.
4. Besakih Temple
Located on the slopes of Mount Agung in Karangasem Regency, East Bali, Besakih Temple is famously comprehended as the "Bali Mother Temple." Furthermore, Besakih Temple is the most extensive and influential temple in Bali, and there are more than 23 temples separate from one another but correlated in one area.
When you vacation in Bali, it's an excellent thought to have a holiday at Besakih Temple to witness the most splendid temple in Bali. Besides its large size, visitors will also glimpse beautiful architectural works with unique characteristics and intricate carvings at Besakih temple.
The Besakih Temple complex is divided into three main areas: Penataran Agung Temple, Kidulin Kreteg Temple, and Batu Madeg Temple. Moreover, each site in the Besakih temple has value and unique features, making it an exciting place to explore.
One of the highlights of Besakih Temple is Mount Agung in the background, which provides a fantastic view.
Overall, Besakih Temple is a must-visit destination in east Bali for anyone interested in seeing the biggest temple with its beautiful scenery.
5. Tenganan Village
Tenganan Village is a traditional and unique village in Karangasem Regency, East Bali. Furthermore, Tenganan Village is well-known for the way of life of its people, who maintain traditions that have changed little over the centuries. So Tenganan village is almost similar to Penglipuran village.
If you are on holiday in east Bali, visiting Tenganan Village to encounter ancient Balinese culture, traditions, and lifestyle is a good idea.
Furthermore, Tenganan Village is famous for its double-tie weaving. Tenganan village weaving utilizes an intricate process, employing warp and weft threads dyed in natural colors before being woven into the final product. This unique technique produces beautiful, colorful textiles highly prized by collectors and weaving enthusiasts.
Apart from traditional weaving, visitors can also witness other traditional crafts such as bamboo carving, silver and gold jewelry making, and basket weaving.
Therefore, Tenganan Village is a must-visit holiday destination in East Bali for those interested in learning about the village's ancient and unique culture.
Read More, Vacation Guide to Tenganan Village in East Bali.
6. Virgin Beach Karangasem
Furthermore, Virgin Beach, also known in the Indonesian language as Pantai Pasir Putih, is one of the hidden beaches in East Bali. Virgin Beach is recognized for its white sand, clear turquoise waters, and serene atmosphere. If you like the natural beauty of east Bali and want a quiet beach atmosphere, then it's a good idea to visit Virgin Beach Karangasem.
One of the highlights of Virgin Beach is the opportunity to swim and do snorkeling activities. When snorkeling, you can see coral reefs and various marine life. In addition, visitors to Virgin Beach can also rent chairs, umbrellas, and snorkeling equipment from the local community.
Find Here, A Vacation Guide to Virgin Beach Karangasem.
7. Sidemen Valley
The Sidemen Valley is a beautiful rural area in East Bali. When you visit the Sidemen Valley zone, you can catch views of rice fields like the Tegalalang Rice Fields in Ubud. Then sightseers will also be able to see forest sceneries and towering mountains. In addition, visitors should visit the Sidemen Valley to feel the authentic Balinese village atmosphere.
The Sidemen Valley area offers a serene atmosphere, making it an ideal destination for travelers fleeing the rush and bustle of southern Bali's tourist attractions. In addition, sightseers can take a walk or cycle through the countryside of Sidemen while enjoying views of the architecture of traditional Balinese houses and temples.
8. Telaga Waja Rafting Activity
Rafting at Telaga Waja river is a popular vacation activity in East Bali that you should take advantage of. Furthermore, the Telaga Waja River offers a thrilling and adventurous Bali river rafting experience. When travelers try Telaga Waja river rafting, they will pass through stunning natural scenery and challenging rapids.
Visitors participating in the Telaga Waja River Rafting activity will get an adventure vacation that will drive adrenaline. In addition, visitors can see views of the river, the surrounding mountains, and lush green forests.
The Telaga Waja River for rafting in Bali has several challenging rapids, including level III-IV rapids. Despite the fact with level III-IV rapids that Telaga Waja rafting activity is considered suitable for beginners, every rubber boat is accompanied by a professional rafting guide to ensure safety and enjoyment.
Read More, Telaga Waja Rafting Price in Bali.
9. Odyssey Submarine Bali Tour Activities
Odyssey Submarine Bali is an underwater adventure operating a submarine on Amuk Bay Karangasem, east Bali. When vacationing in East Bali, consider participating in the Odyssey Submarine Bali. The explanation is that Odyssey Submarine Bali will deliver a rare opportunity and experience to explore the sea depths and witness the beautiful marine life up close.
The Odyssey submarine tour will take visitors diving at a depth of 30 meters from sea level. At a depth of 30 meters (98 feet), Odyssey submarine tour participants can witness coral reefs and colorful fish.
On every Odyssey submarine tour, all participants will accompany by a captain and guide who will supply impressive knowledge and insights about the underwater ecosystem.
The Odyssey submarine is a modern ship with air-conditioned cabins, comfortable seats, and large glass windows allowing panoramic underwater views. Also, the Odyssey submarine tour lasts about 45 minutes and is suitable for all ages.
Overall, Odyssey Submarine Bali offers a unique and unforgettable experience for tourists, providing a rare opportunity to explore the hidden depths of the sea and notice the attractiveness of the aquatic world. Furthermore, the Odyssey submarine tour is a must-try adventure activity for those who love natural scenery and want to see marine life.
More Details, Bali Odyssey Submarine Tour Prices.
10. Bias Tugel Beach
Bias Tugel Beach is a beautiful secluded beach in the Karangasem regency of East Bali. In addition, Bias Tugel Beach is famous for having turquoise waters, white sandy beaches, and unspoiled natural surroundings.
Visitors are drawn to Bias Tugel Beach for its unspoiled scenery and secluded atmosphere, with towering cliffs enclosing the area and creating a sense of a private beach experience. Visitors to Bias Tugel Beach can enjoy various activities, such as swimming, snorkeling, and simply relaxing on the beach.
To discover more tourist attractions and comprehensive information about East Bali, click the link below!
Find Out Beautiful Hidden Beaches In Bali.
Culinary Tourism – Holiday Guide to East Bali
If you are a foodie and desire to explore the local culinary delights during your East Bali vacation, you will find a variety of unique food experiences to try.
For an authentic culinary experience in East Bali, visitors can try traditional Balinese dishes such as Nasi Campur, Lawar, and Babi Guling (Suckling Pig) at local warungs. East Bali is also known for its famous arak, a locally distilled alcoholic beverage made from palm trees that are often mixed with fruit juices and popular with locals and travelers.
You can also try locally brewed coffee, which is popular in the region. To experience street culinary delights, you can enjoy a variety of traditional snacks to full meals from busy street vendors in East Bali.
Read More, Exploring the Unique Attractions of Bali's Tourism Areas.
The Best Option For Getting Around to East Bali
There are several choices for the best travel transport to east Bali. All possibilities depend on your vacation budget in Bali, preferences, and travel destination to east Bali.
1. Rent a Motorcycle/Scooter
Motorcycle rental is a popular way of transportation for visitors to east Bali, especially if you want to explore the east Bali area at your own pace and want to save on transportation costs.
Scooters are an efficient way of transportation for navigating Bali's narrow streets. However, it is essential to exercise caution while driving and wear a helmet, as Bali's road traffic can be unpredictable. Additionally, if you ride a scooter prepared for inclement weather, exposure to the hot sun is crucial.
Travelers will quickly discover motorbike rental services in several areas of Bali, mainly in south Bali. In addition, motorbike rental prices in Bali are still affordable, ranging from IDR 100,000 – IDR 300,000 depending on the type of motorbike.
Find Here, Frequently Asked Questions About Bali Holidays – What First-Timers Need to Know.
2. Rent a car in Bali with a driver
Getting a car with a driver is a prevalent mode of transportation in East Bali. Although more expensive than renting a scooter, it offers convenience and comfort during your holiday trip.
Moreover, opting for a car rental with a driver offers greater comfort and convenience, particularly when traveling in a group or visiting tourist spots outside the main areas of Bali, like East Bali.
Furthermore, renting a car with a driver allows for flexible itinerary customization. You can arrange a day or multi-day rental, and the driver will take you to your desired tourist destinations. The driver will also wait for you and bring you back to your accommodation in Bali.
The price of hiring a car with a driver in Bali for a holiday can vary depending on the car type, the rental duration, and the travel time. To give you an estimate, here are some prices for car rentals with drivers in Bali:
A family car, such as Avanza, Xenia, Ertiga, etc., can be rented for 12 hours with a starting price of IDR 525,000 to IDR 550,000, which includes fuel.
Renting luxury cars such as Toyota Alphard and Toyota Innova Reborn in Bali with a driver can cost between IDR 800,000 and IDR 2,000,000 for 12 hours, including fuel.
The starting price for renting microbus cars (such as Isuzu ELF and Toyota Hiace) is around IDR 800,000 to IDR 1,100,000 for 12 hours, including fuel.
Prices of car rentals in Bali mentioned above are subject to change based on the policies of the Bali car rental provider, tourist season, and availability of cars.
3. Join A Bali Tour Packages
If you plan to see the top tourist attractions in East Bali, a tour package may be an ideal choice. Numerous tour operators in Bali offer packages incorporating transportation, guides, entrance fees, meals, and parking fees, allowing you to choose a route that fits your vacation preferences and budget.
Read More, Guide to Transportation Options for Your Vacation.
Summary of a Holiday Guide to East Bali
Furthermore, the East Bali tourist area offers a unique and authentic experience for travelers who want to explore the island beyond the famous visitor attractions in southern Bali. With its natural beauty, cultural uniqueness, and various authentic Balinese culinary tours, East Bali has everything to suit the preferences of different travelers.
From views of Mount Agung and rice fields to pristine Amed and Candidasa beaches to unique local markets and traditional villages, East Bali provides an unforgettable holiday experience for you and your family.
If you have questions or suggestions regarding holiday guides to east Bali, please write them in the comments column below. In addition, if this travel guide article to East Bali is helpful, please share it with your friends or relatives.