With the rise of social media platforms like Instagram and TikTok, many travelers have come to comprehend the beautiful attractions of East Bali. However, most domestic sightseers have yet to explore this hidden beauty and often prefer visiting the famous southern region of the Island of the Gods. Furthermore, in this article, you will find East Bali Hidden Beauty, home to some of the most scenic landscapes, fascinating temples, and virgin beaches on the Island of the Gods—also, extraordinary adventures and why you should consider visiting these less-explored destinations.
Bahasa Indonesia, Keindahan Tersembunyi di Bali Timur: Objek Wisata Memukau yang Wajib Anda Kunjungi.
Why You Should Visit East Bali: Nature, Culture, and Serenity
East Bali, the home of some of the island's most lovely attractions, offers tranquil landscapes, rich cultural experiences, and unforgettable adventures. This region provides an array of appeals, from black and white sand beaches, scenic rice fields, and traditional villages, to historical and cultural sites like Besakih Temple, Goa Lawah Temple, and Tirta Gangga Water Palace.
East Bali also delivers plenty of outdoor adventures, such as Telaga Waja rafting, hiking, snorkeling, submarine tours, and scuba diving. For additional knowledge on Bali appeals, visit Bali Indonesia.Travel.
Check out our Telaga Waja and Ayung River guide: Which Bali River Adventure Suits You Best?
Top Reasons to Explore East Bali Attractions:
Natural Beauty: East Bali has astonishing landscapes and pristine beaches like Amed Beach and Virgin Beach. These less crowded, slightly commercialized zones provide the perfect environment for snorkeling, diving, or simply relaxing by the sea. To learn more about other beautiful beaches across the island, check out our Complete Guide to Bali Beaches.
Culture and History: East Bali is rich in cultural and historical sites, such as Lempuyang Luhur Temple, Goa Lawah, and Besakih Temple. Visiting these sacred Hindu temples will provide insight into the island's traditions and culture. For more information on other must-visit sacred sites in Bali, explore our article Exploring Bali's Temples: Must-Visit Sacred Sites.
Discovering Bali's Wonders: Unforgettable Charm and Uniqueness of Each Tourism Area.
Must-Visit East Bali Attractions
As a native of East Bali, it is my pleasure to share the following must-visit attractions in the region:
1. Taman Ujung Water Palace: A Royal Retreat in East Bali Karangasem
Meanwhile, Taman Ujung Water Palace, also known as Ujung Water Palace, is a fascinating historical destination in the eastern parts of Bali. Built by Karangasem King, I Gusti Bagus Jelantik, with the title Agung Anglurah Ketut Karangasem, the construction of this magnificent palace began around 1901. Showcasing a combination of Balinese and European architecture, the castle offers scenic fountains, ponds, bridges, and pavilions surrounded by lush gardens.
Key Highlights of Taman Ujung Water Palace:
Historical and Cultural Significance: Taman Ujung Karangasem is steeped in rich historical and artistic values, noticeable as you walk through the pavilions and gardens.
Stunning Architectural Features: With its unique combination of Balinese and European architecture, the palace offers a beautiful backdrop for photographs and a calm, relaxed atmosphere.
Proximity to Other Attractions: Taman Ujung Water Palace is conveniently located near other popular sightseer destinations in East Bali, such as Tirta Gangga water palace, Candidasa, Lempuyang Temple, Tulamben, and Amed Beach. You can easily incorporate your holiday to Taman Ujung Karangasem with other Karangasem attractions.
Guide On Planning Your Visit to Taman Ujung Water Palace:
Discover the royal charm of Taman Ujung Water Palace during your next visit to East Bali. Engage yourself in its rich history, respect the magnificent architecture, and appreciate the peaceful ambiance of this beautiful destination.
2. Tirta Gangga Water Palace: Royal Garden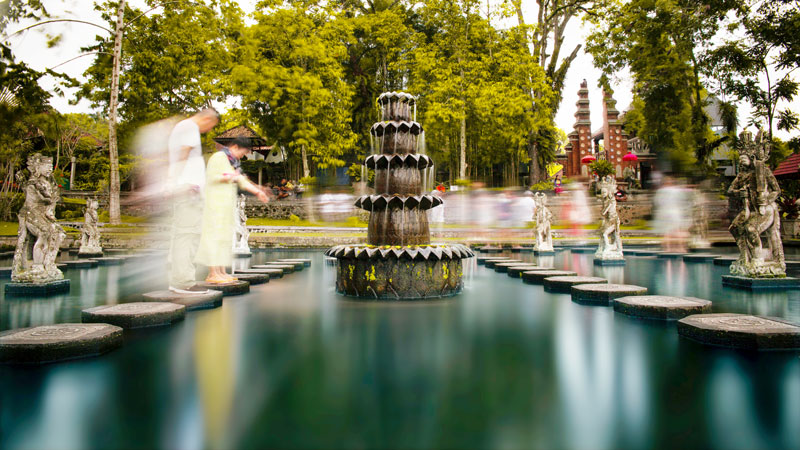 Furthermore, Tirta Gangga Water Palace is a captivating destination in East Bali, recognized for its beautiful gardens and water elements. Often referred to as the "Water Palace" by International sightseers, Tirta Gangga translates to "Water of the Ganges."
It is located in Ababi village, Abang sub-district, Karangasem. The palace has become a famous visitor attraction due to its meticulously organized garden, fountains, and ponds.
Built in 1946 by the last king of Karangasem, Anak Agung Anglurah Ketut Karangasem, the Water Palace was initially planned as a retreat for the king and his family and a venue for entertaining royal guests.
Today, Tirta Gangga Water Palace features pools and fountains fed by natural springs, assuring crystal-clear water in every corner of the palace pond. For a more profound knowledge of the cultural landscape of Bali Province, explore the UNESCO World Heritage Sites in Bali, Indonesia.
Visitors to Tirta Gangga Water Palace can enjoy the following experiences:
Stroll through lush gardens and admire the beautiful statues that decorate the palace environments.
Observe the fish pond, and walk across the stepping stones in the middle of the pond.
Take a refreshing dip in the palace's swimming area or relax by the water's edge.
Planning Your Visit to Tirta Gangga Water Palace:
For more information on this beautiful destination, see our Holiday Guide & Entrance Ticket to Taman Tirta Gangga Karangasem. Engage yourself in the calm atmosphere of Tirta Gangga Water Palace and experience the royal magnificence of East Bali Hidden Beauty.
3. Candidasa: A Coastal Hideaway in East Bali Karangasem Regency
Candidasa, nestled along the Karangasem Regency coastline, is a favored destination for sightseers pursuing a quiet escape from Bali's bustling southern and central areas. This peaceful eastern area provides a genuine knowledge of traditional village life, with spectacular sea views and rich underwater sceneries.
Getting to Candidasa is effortless by a two-lane winding road, which brings you through the unique topography of East Bali's hidden beauty. Candidasa is usually used as a stopover for tourists heading to Amed and Tulamben, making it appropriate for exploring other parts of the area.
Here are some of the greatest appeals and activities in Candidasa:
Beaches: Candidasa offers a range of scenic beaches, ideal for swimming.
Snorkeling and Diving: Candidasa is a top choice for snorkeling and diving fans with its crystal-clear waters and abundant marine life.
Dining: Indulge in diverse regional and international cuisines at Candidasa's restaurants and food stalls.
Plan Your Candidasa Getaway East Bali Hidden Beauty
4. Tenganan Pegringsingan Village: A Journey into East Bali's Ancient Culture
Furthermore, Tenganan Pegringsingan Village is located in Karangasem Regency. Furthermore, it is one of Bali's few remaining traditional villages where guests can engage in the age-old culture and traditions of the Bali Aga people. The Bali Aga are indigenous residents whose traditions and heritage differ slightly from most Balinese residents.
Tenganan Village offers a peaceful, scenic escape in lush hills and rice fields. One of its main appeals is its unique architecture, represented by houses built with traditional materials and approaches, such as bamboo, clay, and thatched roofs.
The village's layout and format have stayed unchanged for centuries, delivering a glance into the age-old lifestyle of the Bali Aga residents.
Another interesting point of Tenganan Village is its traditional craftworks. Recognized for Ikat weaving, the village creates beautiful fabrics with elaborate designs. Guests can watch the weaving technique and purchase authentic, one-of-a-kind souvenirs, including baskets, bags, and textiles, directly from local crafters.
Plan Your Visit to Tenganan Village:
5. Kerta Gosa: A Historical Attraction in East Bali
Kerta Gosa, a historical building complex in the Klungkung Regency, looks into Bali's rich history and culture. Built-in the early 18th century as part of the Klungkung Kingdom, Kerta Gosa was once a venue for hearing and resolving legal matters.
History of Kerta Gosa
The complex has two main buildings: Bale Kerta Gosa and Bale Kambang. Bale Kerta Gosa features a ceiling decorated with traditional paintings representing mythical and symbolic stories about human life and righteousness. Meanwhile, Bale Kambang is an open pavilion set near a scenic pond.
Exploring Bale Kerta Gosa and Bale Kambang
Besides serving as a court, Kerta Gosa hosted influential gatherings and traditional ceremonies during the royal era. It has become a popular cultural attraction in eastern Bali, where visitors can respect traditional Balinese architecture and artwork on display at Bale Kerta Gosa.
Visiting Kerta Gosa Secret Treasures of Eastern Bali: What to Expect
In addition to Kerta Gosa, visitors can check out nearby attractions such as Goa Lawah Temple, Besakih Temple, Penglipuran Village, Tenganan Village, and Kusamba Beach.
6. Besakih Temple: Exploring the Largest Hindu Temple in East Bali
The Significance of Besakih Temple
Besakih Temple, Bali's largest and most important Hindu temple, the location is in Karangasem Regency. Dedicated to worshipping the Hindu Trimurti (trinity) – Brahma, Vishnu, and Shiva – this sacred temple complex holds tremendous significance for Balinese Hindus.
Exploring the Besakih Temple Complex
The Besakih Temple complex contains numerous temples, each featuring a separate area arranged in a stepped layout. Tourists can explore the temple grounds, discover various places of worship, observe Hindu religious ceremonies, and take in the stunning natural scenery, including the majestic view of Mount Agung. The experience offers a unique chance to delve into the history and traditions of the Balinese Hindu community.
What to Expect During Your Visit – Besakih Temple East Bali Hidden Beauty
The Significance of Goa Lawah Temple
Goa Lawah, or "Bat Cave," is a cave temple in Klungkung Regency and one of Hinduism's important sacred sites. The Goa Lawah Temple is renowned for its unique blend of natural spectacle and beautiful temple architecture.
Visitors can explore the temple area and its surroundings by exploring the bat cave and temple grounds, and the visitor will see thousands of bats inhabiting the cave. In addition to observing the bats, guests may have a chance to witness religious rituals and ceremonies during their visit.
What to Expect During Your Visit
8. Amed and Tulamben: East Bali Scenic Underwater Destinations
Diving and Snorkeling Paradise
Amed and Tulamben are coastal villages in East Bali, renowned for their spectacular aquatic views. These two villages are famous destinations for divers and snorkeling fans pursuing rich coral reefs and diverse marine life.
Explore the USS Liberty Wreck in Tulamben
One of Tulamben's top attractions is the USS Liberty Wreck, an American warship that sank during World War II. Now a popular dive site, the wreckage attracts divers worldwide to explore its prosperous marine life.
Relax at the Beautiful Beaches of Amed and Tulamben
In addition to snorkeling and diving, Amed and Tulamben has several beautiful beaches ideal for leisure and enjoying the sea views. Some of the best beaches in Amed and Tulamben include Jemeluk Beach and Lipah Beach. Discover more of Bali's Best Snorkeling Spots in our comprehensive guide.
Plan Your Vacation to Amed and Tulamben:
9. The Serenity of Virgin Beach in Karangasem
Located in Karangasem, Virgin Beach, also known as Bias Putih or White Sand Beach, is one of the most scenic seasides on the island of the gods. This beach offers soft white sand, crystal-clear seawater, and a quiet atmosphere perfect for a relaxing getaway.
Unwind with a Variety of Activities at Virgin Beach
Furthermore, Virgin Beach Karangasem is the perfect location to relax, sunbathe, swim, snorkel, or take breathtaking oceanic views on the beach shore.
Plan Your Visit to Virgin Beach Karangasem
10. The Gateway to Bali's Neighboring Islands: Padang Bai Beach
Padang Bai Beach, located in East Bali, is famous as the gateway to other islands around Bali, such as Nusa Penida, Nusa Lembongan, and Gili Trawangan Island. Also, Padang Bai offers stunning beaches and excellent diving spots for adventure seekers and water sports enthusiasts. Furthermore, if you love joining marine recreation suitable for beginners, you should visit Tanjung Benoa Beach. Check out the price list for Tanjung Benoa beach water sports.
Discover the Beauty of Padang Bai Beach
Apart from being a port, Padang Bai is an ideal destination for those seeking beautiful beach experiences and memorable underwater adventures.
Plan Your Visit to Padang Bai Beach
11. Lempuyang Temple: The Ancient "Heaven's Gate" in East Bali
Lempuyang Temple is a complex temple area located on Bisbis Hill. The most famous temple within the complex is Penataran Agung Lempuyang Temple, featuring the iconic photo spot called "Gate of Heaven."
For your information, Lempuyang Luhur Temple and Penataran Agung Lempuyang are two different sites; however, the location is on the same complex.
Explore the Sacred "Thousand Ladder Temple", East Bali Hidden Beauty
One of Bali's oldest and most sacred temples, Lempuyang Luhur Temple, is on Mount Lempuyang. Known as the "Thousand Ladder Temple," visitors must climb approximately 1,700 steps to reach the top of this holy site. Lempuyang Luhur is also recognized as one of the "Sad Kahyangan," or the six main temples on the island, considered to be the guardians of Bali.
Plan Your Visit to Lempuyang Temple Secret Treasures of Eastern Bali
With various attractive sightseeing destinations in East Bali, you can enjoy multiple activities, from cultural exploration and aquatic adventures to relaxing on the beach. Plan your trip well to visit all these places and experience a fantastic holiday on the island of the gods.
Check out Lonely Planet's East Bali Guide for more travel suggestions. With appropriate planning and a spirit of experience, you can enjoy a fantastic journey through the secret and hidden beauty of East Bali.
Finding the best transportation alternatives to explore tourist attractions in East Bali for tourists:
Car Rental: Comfort & Freedom to Explore. Renting a car with a driver or self-driving is an excellent way to explore East Bali at your own pace. Many car rentals in Bali offer affordable prices and a wide selection of vehicles. Check out our Ultimate Guide to Car Rental with Driver in Bali
Scooter Rentals: Affordable and Flexible. Renting a motorbike/scooter is an economical and flexible way to explore the island. Motorbike rental service providers are widely available in tourist areas in the southern part of Bali.
Tour Package: Hassle-free Experience. Bali tour packages offer a worry-free experience, including transportation, entrance tickets to attractions, and an experienced tour guide. Choose a group or private tour based on your preferences.
Taxi: Comfort and Convenience. For added convenience, order a cab or use online taxi services like Grab or Gojek. This service may be more costly than other alternatives but it provides additional comfort.
Bicycle: Scenic Fitness Adventure. Cycle through the beautiful scenery of East Bali and enjoy the attractive road in areas like Tulamben and Sibetan, perfect for maintaining your fitness during your vacation.
Pick the most appropriate transport mode based on your requirements, budget, and priorities. Proper planning lets you enjoy a pleasant and memorable leave in East Bali.
Take advantage of the possibility to sense the attractiveness and uniqueness of East Bali during your vacation. With its spectacular natural scenery, cultural sites, and peaceful atmosphere, East Bali offers a unique and memorable holiday experience.
For more information on East Bali attractions and other popular destinations on the Island of the Gods, explore our comprehensive guides and articles on holiday experiences in Bali.
We hope this Bali travel guide can help you organize a memorable holiday experience in East Bali. Also, please comment below if you find the articles on this page useful or if you have suggestions to share with others. Your insight and knowledge will help other travelers make the most of their visit to East Bali.
Also, if you see this trip guide helpful for others, don't hesitate to share it with someone you know on Facebook or Instagram. Your support will boost our eagerness to make Bali travel guides and information. Thank you, and happy holidays!
Read More, A comprehensive guide for visitors planning to visit East Bali.