Bali as a popular tourist destination in Indonesia has many natural attractions that make tourists always want to have a vacation to Bali. Bali attractions such as volcano, lakes and white sand beaches. Besides the beauty of natural scenery, Bali also offers plenty of exciting holiday activities such as Bali rafting tours, cycling tours and marine water sports tours in Tanjung Benoa. Did you know, the pioneer thing that made Bali famous as a tourist destination not because of the beauty of nature or the availability of many holiday activities. However, because Bali offers unique art and culture. Therefore on this page, we will summarize ten unique and unusual things to see in Bali that you don't find in other regions.
Bahasa Indonesia, "10 Hal Unik Yang Hanya Ada Di Bali Wajib Anda Ketahui Sebelum Liburan" >>>
The Uniqueness of Bali Island
Bali is a relatively small island, but when you are vacationing in Bali, you will never feel that you have enough time to explore all Bali attractions and exciting holiday activities in Bali.
By the time you arrive in Bali the first impression that you will be able to see is something you don't typically find elsewhere. You will see many unique things in the form of Balinese art or culture. You will see many Balinese who perform religious rituals by arranging "Canang" (offerings made from coconut leaf and flower), which take place every day. Also, there are many small temples in each house.
List Of Ten Unique and Unusual Things To See In Bali
The uniqueness of Bali will be familiar to you who often have a vacation to Bali. However, no matter how often you visit Bali there are some unique things about Bali that you will not find every day. The following is a list of ten unique and unusual things to see in Bali that you must know. Also, if you are thinking of a vacation to Bali, knowing the list of ten unique and unusual things to see in Bali will help you in planning your vacation because the particular event in Bali is not occurring on a daily basis.
1. Omed-Omedan – Mass Kissing in Sesetan
There is a unique ceremonial tradition, believed by Banjar Kaja Sesetan residents, Denpasar, Bali to get good luck. The annual tradition called Omed-Omedan, which is also known as the mass kissing ritual.
Omed-Omedan is a Balinese word that means tug. The Omed-Omedan tradition held every year, which is one day after Nyepi Day. Because the Omed-Omedan tradition only found in Bali, therefore I list it in number 1 in the list of ten unique and unusual things to see in Bali.
All Omed-Omedan ritual participants are youthful members of Banjar Kaja Sesetan, Denpasar. The Omed-Omedan participant's age from 17-30 years old and unmarried. Before the implementation of the Omed-Omedan tradition, young people from Banjar Kaja Sesetan would perform a praying ceremony at the local temple for the event safety. After praying, young men and women were separated. Between groups of men and women face each other on Jalan Raya Sesetan Denpasar.
Between the two groups of men and women, one person will be chosen, then the selected participants will face both sides and be met. Both participants will lock their lips and kiss while people pour water into the participants.
2. Mekepung (Buffalo Race)
Number two in the list of ten unique and unusual things to see in Bali is the Mekepung tradition. Mekepung is a buffalo race in Jembrana district, West Bali. Hundreds of buffalo in pairs will compete to attain the fastest to reach the finish line controlled by a jockey. Every couple of buffalo associated with wood plows. The buffalo racing competition held around the Melaya district of Jembrana Bali.
Mekepung starts in the morning around 07:30 and the race event takes about five hours. Mekepung buffalo racing events usually held in July, August, September, October, and November, and twice a month. To be able to see Mekepung's schedule, please click the link!
3. Pandan Leaf Fight in Tenganan Village
The tradition of pandanus leaf fight in Bali takes place in Tenganan village, Pegringsingan, Karangasem regency, Bali. Also, the pandanus leaf fight in Bali very well known to foreign travelers. Pandan war in Tenganan village, by the Balinese known as "Geret Pandan". However, the indigenous people of Tenganan village called the tradition of Geret Pandan as Mekare-Kare. The tradition of pandan war in the village of Tenganan Pegringsingan is not just a traditional performance, but a part of Balinese indigenous culture and rituals of the Tenganan village community. By retaining a pandan war ritual, Tenganan villagers believe they will avoid from evil influence.
During the Pandan War ritual in Tenganan Pegringsingan village, two village youths will fight in an arena. Each young man will carry a bundle of pandan leaves with a length of approximately 30 cm which used as a weapon. Participants also take a shield on the left hand. The moment the battle starts, the two young men will attack each other by rubbing the thorny pandan leaves on the back of their opponents. Of course, it will cause a scratch wound on the participant back.
Location & Schedule
If you want to watch the Pandan War ritual, you need to visit Tenganan village Karangasem in mid-June. Pandan war rituals in Tenganan Pegringsingan village usually held for two consecutive days. Every visitor who attends is allowed to watch Pandan War rituals. Also, there is no ticket fee.
Because the Pandan War ritual is a religious event and is considered sacred for local people, it is better when you come to Tenganan village to watch the Pandan war wearing traditional Balinese clothes. Like wearing a sarong and a scarf tied around the waist, even though it's not mandatory. Because of the enthusiastic tourists who vacation in Bali to watch the Pandan War tradition, there will be plenty of audiences. So, you should come early to get a comfortable place to see and find a spot that rather high. Also, there are no seats, so get ready to stand for a while.
4. Nyepi Day
Nyepi Day is a Caka New Year celebration in Bali celebrated by Hindus in Indonesia. However, the Caka New Year celebration unlike the New Year celebration that we are commonly known, it's the opposite. Because during Nyepi Day, all routine activities stop and the atmosphere is quiet which you will never find in other realms. Anyone who is on the island of Bali, Nusa Lembongan, Nusa Ceningan and Nusa Penida island must remain at home or in the hotel for 24 hours. Shops are close; highways are quiet, offices closed including Gusti Ngurah Rai International Airport closed for all flights for 24 hours. Calm conditions start from 6 am to 6 am the next day. However, some exceptions may come out only for security forces and ambulances that are allowed to go out. Also, the hospital and police office remains open.
5. Ogoh-Ogoh Parade
One day before Nyepi Day there is a procession of Balinese Hindus calls Ngerupuk/Pengerupukan. Sorting rituals carried out in every village on the entire island of Bali. In the afternoon the locals will hold the Ogoh-Ogoh parade on the highway.
Then what is Ogoh-Ogoh? Ogoh-Ogoh is a kind of giant figure but made of lightweight material. So it is easy to get in the wine. For the Ogoh-Ogoh framework, it uses wood. Then styrofoam uses to create shape, then coated with paper and cloth, making it easy to parade. At present, there are many forms of Ogoh-Ogoh which mostly sizeable evil creatures.
6. Balinese Temple By The Lake
Bali as a tourist destination synonymous with art uniqueness and culture, one of which is the Balinese Hindu temple. When you have a vacation in Bali, you will see many temples, from small sizes to large temples. However, there is one temple in Bali with an unusual location, which is the Ulun Danu temple Beratan Bedugul Bali. From all ten unique and unusual things to see in Bali on this page, Ulun Danu temple at Lake Beratan Bedugul is the most popular.
Not only on the uniqueness of the Ulun Danu temple location, but the Ulun Danu temple location is also in the highlands. It makes cool air felt even during the daytime. Because of the uniqueness of the position of Ulun Danu temple on Lake Beratan Bedugul, a photograph of Ulun Danu Beratan temple always seen in the Bali tourism promotion media. Therefore Ulun Danu Beratan Temple is one of the most important places to see in Bali during a holiday.
Read More, "List Of Top 10 Famous Hindu Temples To Visit In Bali" >>>
7. Ngaben/Plebon (Cremation)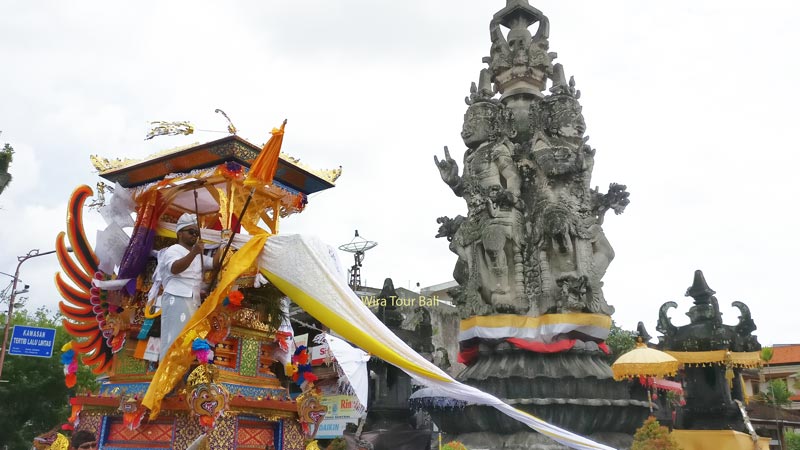 One of the uniqueness of Bali in the eyes of the world is the Ngaben ceremony. Ngaben or Pelebon (for higher castes) is a Bali cremation ceremony. Ngaben or Pelebon is one of the most important celebrations in the Balinese Hindu cultural tradition. Things that make the Ngaben ceremony in Bali unique because of the way Balinese escort a corps from home to the cremation location. Balinese using "Wadah" means containers.
In general, there are two forms of Wadah. One shaped like a small temple with carvings and ornaments that look very beautiful. The other one shaped like an animal usually in the figure of an ox. For a temple-shaped container, it uses to lift corpses from the house to the cremation site. After arriving at the cremation site, the body lowered from the Wadah and then transferred to a container in the form of an ox. The Wadah (container) has enormous size, and to lift it will require many human resources.
After the ritual procession is complete, a massive fire begins to light up. For Balinese Hindus, the cremation process is fundamental. It is believed to facilitate the spirits reaching the destination according to the results of the deeds carried out during life.
8. Penjor
If you vacation to Bali during Galungan day, you will see a unique decoration in the form of bamboo poles along the highway. Bamboo poles decoration in Bali calls Penjor. In the eyes of tourists, Penjor is a unique cultural tradition in Bali. The ornament made of whole bamboo and the bamboo decorated using coconut leaves and other decorations. At the end of the Penjor, there is a flower decoration called Sampian. Flower ornaments hung using a coconut leaf tied to long strands. After the Penjor decoration finished, the Balinese will install bamboo poles in front of their homes.
9. Giant-Size Kite Festival
Kite Festival in Bali is an annual event that occurs in July and August. July and August have chosen because in that month wind gusts began strong. Besides wind factors, in July and August is the peak tourist season in Bali. So the kite festival in Bali attracts thousands of visitors, especially foreign tourists.
The uniqueness of the kite festival in Bali is the kite size which is enormous. During the flight, the kite accompanied by a Balinese music instrument called Baleganjur. The location of the kite festival is usually on the Padang Galak Beach and Sanur Beach Bali.
10. Similar First Name
The last in the list of ten unique and unusual things to see in Bali is the similarity of the Balinese first name. For those whom first time have a vacation to Bali, you will meet many Bali residents. However, there will be one thing that will make you wonder, why many Balinese share the same first names. The Balinese first name means the order of birth in one family. Wayan/Putu means the first child. Made, Kadek or Nengah means Second child. For the third child, his first name is Komang or Nyoman, and the fourth child is named Ketut. After the first name, there is a last name that differs from one another.
That's all about the ten unique and unusual things to see in Bali. If you have questions about ten unique and unusual things to see in Bali on this page, please write in the comments column below.
Read More, "Unique Hotels In Bali For a Diverse Accommodation Experience" >>>