First of all, the rice terrace is one of the nature views most people love to see. Are you having the same tough as me? Probably your answer is yes! Furthermore, the island of Bali offers the best view of rice terrace field. Therefore, if you decide to see the rice terrace during your holiday in Bali, you should visit the Tegalalang rice terrace Ubud Bali.
Bahasa Indonesia, "Sawah Terasering Tegalalang Ubud Bali" >>>
The questions now, how much does it cost to visit Tegalalang rice terrace Ubud? Where is the location? Also, what is the best way to get the spot?
To answer all the questions, on where is the location, the best way you can get the sites, and the entrance fee. Therefore, keep reading this page! We will give you further detail information about the rice terrace in Tegalalang as your attractions in Ubud.
Read More: "Top 10 Bali Attractions – Places To Visit & Things To Do In Bali" >>>
Ubud Rice Terrace
Before the tourism industry in Ubud grows like nowadays, most local Balinese in Ubud makes a living as a farmer, specializes in rice farming.
Even though the local people in Ubud changed their way of making a living in the tourism industry, some of them remain as rice farmers. These what make the rice terrace keep maintained in Ubud Bali. Also, you will see a lot of rice terrace in Ubud Bali and one of the most beautiful ones located in Tegalalang Village Ubud.
For your information, Ubud has three locations to see beautiful rice terraced landscape view, and there are:
Tegalalang Rice Terrace Ubud.
Rice Terrace In Pejeng Villages.
Rice Terrace In Campuhan Village Ubud.
Read More, "10 Points Earn Ubud Prominent Family Holiday Destination In Bali" >>>
Tegalalang Rice Terrace Ubud Bali
While the most famous from all the above three locations to see rice terrace in Ubud Bali is Tegalalang Rice Terrace Ubud.
Tegalalang rice terrace field became well-known by tourists and recommended as a place to visit in Bali. Due to the locations of Ubud Tegalalang terraces, between 2 famous tourism sites in Bali, which is Kintamani and Ubud.
As a result, visiting the Tegalalang rice terrace has become one of the best things to do in Ubud by the traveler. That is why if you visit the Tegalalang rice terrace, you will find many tourists on-site enjoy their outdoor activity.
Find Here, "Top 10 Things To Do And Places To See In Ubud" >>>
Location Of Tegalalang Rice Terrace Ubud Bali
The address of the Tegalalang rice terrace is at Tegalalang Village, which is in the north part of Ubud, Gianyar regency. Also, the Tegalalang rice terrace located 600 meters above sea level. Therefore, the average air temperature in the daytime around 24 degrees Celsius. To see the rice terrace view is quite easy. Due you can see a rice terrace view from the main road of Ubud – Kintamani.
Also, if you choose a hotel at the central of Ubud nearby Ubud Monkey Forest, therefore, you will need about 25 minutes driving from central Ubud to get the Tegalalang Village location.
However, if your hotel located around the Kuta beach Bali area, heading to the Tegalalang rice terrace will take around 1 hour 55 minutes drive, with travel distance around 45 kilometers.
It is easier to see the area of Tegalalang rice field on the Google map. Therefore, please click the link!
---
Cafes & Restaurants
Around the area of Tegalalang rice field, there are many cafes and restaurants selling food and drink. The visitor seat is facing the green rice field. The restaurants also offer local and western food at affordable prices. You can enter into one if this cafe, and enjoy the view of Tegalalang rice terrace Ubud Bali while enjoying your drink.
Most of the tourists who visited the Tegalalang green rice field will sit or stand on the restaurant to view the rice field scenery. However, if you want to get close to the rice field, it is recommended you need to get down and walk through the rice field.
Read More, What Can You Do In Ubud For Free?
Tegalalang Swing – Instagramable Spot in Ubud
Currently, in Bali, there are holiday activities that are getting the hype, called the Bali swing activity. Bali swing activities are becoming very popular because of many photos of Bali swing activities posted on Instagram. There are many places to try Bali swing activities, one of which is available in the Tegalalang terraced rice fields.
One of the providers of Bali swing activities in Tegalalang terraced rice fields is the Terrace River Pool Swing. For the price of Terrace River Pool Swing, there are three types, and the cheapest one is IDR 150,000 / person.
If you have a vacation to Tegalalang rice terrace, try Bali swing activities. Even if you are afraid of heights, after you try the Bali swing activity, it feels enjoyable and not as scary as you imagined.
The Best Way To Get The Locations
Also, there are several ways to visit Tegalalang rice terrace Ubud Bali. Which one is the best dependent on your requirements and your travel budget.
1. Book Tegalalang Rice Terrace Tour
Due to Tegalalang rice terrace become a favorite tourist destination in Bali. Therefore, many tour agents in Bali offer the Tegalalang rice terrace tour package. Most of the Tegalalang rice field tour package, have included transportation, meal and entrance fee ticket.
Also, on the Tegalalang rice field tour package, you visit more than one exciting place on a day trip. Such as Kintamani with mount and lake Batur scenery, Tegalalang rice field, Tirta Empul Temple, and monkey forest Ubud. The route of the tour package is flexible, and you can customize the path as you want. Perhaps, you want to visit Saraswati Temple Ubud.
2. Get Bali Car Rental With Driver
If you need transportation and want to arrange your tour by yourself, then you should book a car rental with a driver in Bali. The average cost for car rental in Bali with driver and fuel is IDR 500.000 / one six-seater car. The six-seater vehicle used, such as Toyota Avanza and Suzuki APV. However, if you want to upgrade the vehicle, the car rental price will be different.
If you want to drive the car on your own, it is also excellent. You can get a self-drive car rental in Bali very easy; the best way to get it is through the internet.
3. Rent A Scooter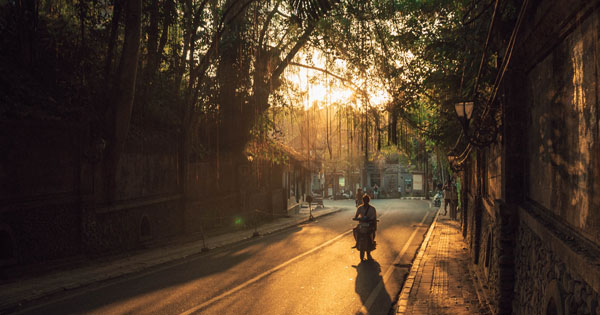 If you are confident to ride a scooter on Bali road traffic, you can hire a motorbike heading to Tegalalang rice terrace. Scooter rental price in Bali around IDR 100,000/24 hours usage without fuel. Also, to get a scooter rental in Bali is quite easy, especially in major tourist sites likes Ubud, Kuta, Legian, and Seminyak.
Please note, when you want to ride a scooter in Bali, please wear a helmet! Also, remember to carry your international driving license.
Transportation FAQ
I want to ride a bicycle when visiting Tegallalang Rice Terrace, is there a place to park a bike nearby Tegallalang Rice Terrace? Is it safe to park a bicycle, and how much does it cost to park a bicycle?
As I mentioned above, along the rice terraces, there are cafes and restaurants, and you can park your bicycle in the motorbike parking area behind the restaurants. You have to lock your bike for safety, and from my experience, I didn't pay bicycle parking.
How can we get to Tegalalang rice terrace from Ubud, Kuta, Legian, Tanjung Benoa, Nusa Dua?
It would be best if you chose the above ways of transportation to get the Tegalalang rice terrace to form your hotel location. There is no public transportation available, and you have to use private transport.
Tegalalang Rice Field Entrance Fee
To enter the Tegalalang rice field, you need to pay IDR 10.000 / person that you need to pay before you enter the site. Also, you require paying a car parking fee, IDR 5.000 / one car.
Read More: "Jatiluwih Rice Terrace The Breathtaking Scenery You Will Not Regret To See" >>>
Tegalalang Rice Terrace Opening Hours
There are no Tegalalang rice terrace opening hours, and the rice field is open 24 hours. However, for the restaurant or cafe, have an opening time, regularly from 08:00 – 18:00.
Tegalalang Rice Terrace Best Time & Month To Visit
Regarding the best time to visit Tegalalang, each people will have a different opinion. However, if you consider less crowd, and want to see the green rice field as the best time to visit, below is my suggestion.
Best Time To Visit
The best time to visit the Tegalalang Rice Terrace is in the morning, especially during sunrise. Sunrise in Bali usually starts around 05:45 – 06:15. If you visit Tegalalang in the morning, you will find fewer visitors around, fresh air, and a more relaxed environment.
Best Month To Visit
If you want to see the lush green rice field, avoid your visit during harvest time — usually the harvest time around December, March, and July. In Bali, the rice will be harvested again in 3-4 months after planting. Not all fields the rice collected at the same time, so you will remain to see some green rice field during harvest seasons.
Find Here, "Popular 1-Day Ubud Itinerary" >>>
Other Way To See Rice Field In Bali
Consequently, if you love the scenery of the green rice field, the best way to enjoy it is by doing white water rafting in Bali. Most of all, there are two main rivers in Bali for white water rafting, and the rivers are:
In conclusion, both of the river rafting routes will offer you green scenery of the rice field with a fantastic waterfall.
Read More, "All Information You Require To Comprehend Concerning Swing Activity In Bali" >>>