Are you currently interested in vacationing in Bali and planning to visit Ubud Bali? If so, I'm sure you will have questions about the best things to do in Ubud? Ubud tourism area has many tourist attractions, and one of them is the Taman Saraswati temple in Ubud. If you want to know about Taman Saraswati temple attractions, please continue reading this page! Information that you will get about Pura Taman Saraswati Ubud such as:
Ubud tourism general information.
The Pura Taman Saraswati Ubud short history.
The Taman Saraswati temple Ubud attraction.
The admission fee.
Saraswati Temple Ubud dance.
Kecak dance performance at Pura Taman Saraswati Ubud.
Attractions location.
Transportation options.
Bahasa Indonesia, "Pura Taman Saraswati Ubud, Sejarah, Daya Tarik & Biaya Tiket Masuk" >>>
Ubud Tourism
Nowadays, the popularity of Ubud is increasingly popular, not only for international travelers but Indonesian visitors also have a high interest in a holiday to Ubud Bali.
Ubud offers many choices of exciting attractions, thrilling holiday activities, culinary tours, and spas. Therefore, most travelers, when visiting Bali, always plan to have a visit to Ubud. Also, there are many hotels in Ubud, from five-star hotels to budget hotels.
The tourist attractions in Ubud are mainly in the form of natural attractions such as the Tegalalang rice terrace and Ubud monkey forest. Also, Ubud is famous for being the best spot to have whitewater rafting trips, better known as Ayung rafting Ubud.
Besides natural tourism, Ubud is also recognized as the center of Balinese art and culture. Like painting, dance, sculpture, and many other Balinese arts. That's why you will find many painting museums in Ubud.
Every day at Ubud, Balinese art performances are held, one of which is the performance of the traditional Balinese dance. Ubud is the best spot to watch Balinese traditional dance in Bali, besides Kecak dance in Uluwatu temple Bali. One of the staging places for the traditional Balinese dance in Ubud is at Taman Saraswati temple Ubud.
Especially for culinary tourism, Ubud offers culinary tours at low prices to culinary delights in luxury restaurants. Ubud is also recognized as one of the best spa destinations in Asia. Spa treatments are available from reflexology, aromatherapy, and massage treatments.
Must Read, "Ten Unique and Unusual Things To See In Bali That You Need To Know" >>>
History of Saraswati Temple Ubud
The architect of Taman Saraswati temple in Ubud is Mr. I Gusti Nyoman Lempad, also known as a sculpture artist. Construction of the Saraswati temple by order of the Ubud Prince, which is Cokorda Gede Agung Sukawati. In 1951, the creation of the Taman Saraswati temple began, and installation was completed in 1952. As the name implies, Saraswati Temple is intended to worship Goddess Saraswati, the goddess in Hinduism, for knowledge. History Source, Wikipedia.
Find Here, "Things To See In Ubud Royal Palace" >>>
Pura Taman Saraswati Ubud Attraction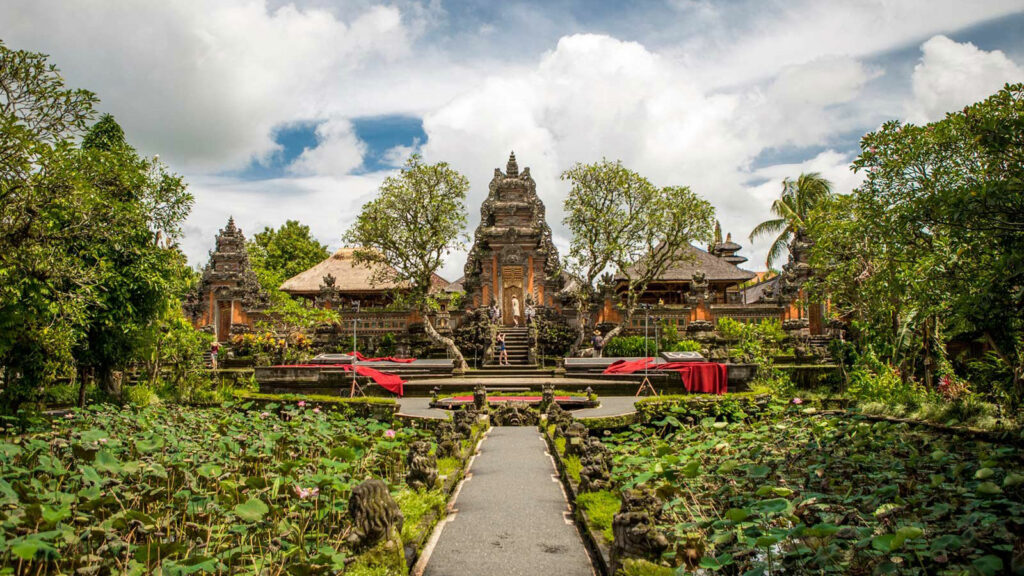 Temple is a holy place of Hindu religion in Bali, and the Ubud Saraswati temple is one of them. According to its name, this temple is a place of worship for Goddess Saraswati (Goddess of Knowledge).
Also, the Saraswati temple in Ubud is a popular attraction in Ubud. To find the temple's location, you can access Jalan Kajeng, which is adjacent to Jalan Raya Ubud.
The exact location of the temple is behind Lotus Café Ubud. If you love seeing Balinese carving, this is the best place to see it. Almost on each part of the temple, there is art carving by Ubud artists.
Read More, "Pura Dalem Agung Padangtegal Ubud – Great Temple Of Death" >>>
Lotus Flower Pond Temple
Pura Taman Saraswati Ubud is slightly different from other temples in Bali. You will see ponds with pink lotus flowers and neatly arranged water parks at this temple. It makes the lotus pond the main attraction of the Saraswati temple in Ubud.
Also, you will see frangipani trees adorning the edge of the pond, and there is a bridge connecting the outer temple area to the main gate area.
When you cross the bridge, you will see many statues lined up on the edge of the bridge. Then you will see the beauty of the main gate with three oversized doors decorated with gold ornaments.
Tourists are prohibited from entering the inner temple area because those who can enter the inner temple area are only visitors who wish to pray.
Find Here, "Gunung Kawi Bali – The Oldest Balinese Ancient Hindu Temple In Ubud" >>>
The Inner Temple Area (Main Area)
When entering the inner temple area, you will see a high wall, and behind the wall, there is a giant statue about 3 meters high. On the northeast side, you will see a shrine called Padmasana.
At the base of the Padmasana shrine, there is a turtle-shaped sculpture encircled by two dragons.
When visiting the Saraswati temple attraction, most tourists will take pictures with the background of Balinese temple architecture with lotus pond arrangements because the combination of temple architecture and lotus pond is perfect for background photos.
Must-Visit, "Tirta Empul Temple Bali – Map Location, Entrance Fee & Opening Hours" >>>
Rules for Entering Temple in Bali
Every visitor who wants to enter the temple area in Bali must obey the same laws for every temple in Bali. Rules that you must abide by to enter the temple area in Bali such as:
Saraswati temple Ubud dress code, wear sarong cloth with a scarf tied around the waist. Also, the sarong is available for rent at the main entrance if you forget to wear it.
For women who are menstruated, please do not enter the temple area. There is a notice on both sides of the main temple entrance that mensurating women are not allowed to enter the temple.
It is forbidden to climb a place of worship.
Littering is prohibited.
Don't say harsh words.
Read More, "Top 10 Temples To Visit In Bali – Popular & Favorite Tourists For Holiday Destination" >>>
Taman Saraswati Temple Ubud Entrance Fee
Most tourist attractions in Bali will charge admission fees, then how much is the Saraswati temple Ubud entrance fee?
It's free entry, so there is no admission fee to enter the Pura Taman Saraswati Ubud.
However, if you want to watch Balinese dance at Saraswati temple, usually performed in the evening, you will be charged for a Balinese dance performance ticket.
The Saraswati temple Ubud's opening hours are from 07:00 – 17:00.
Find Out, "8 Free Things To Do In Ubud Bali For a Budget Vacation Guide" >>>
Balinese Dance Performance at Taman Saraswati Temple
The Saraswati temple has a stage for Balinese dance, such as the Bali Kecak dance and Legong Dance. Also, the lotus ponds surround the stage.
The Balinese dance performances start at 19: 30 and until 20:15, which is 45 minutes dan show. At this moment, the dance show at the Saraswati temple is only held on Wednesday with Mahabarata Dance. While on Saturday, the dance show performs is the Legong dance.
Also, many visitors said Taman Saraswati temple is the best place to see Balinese dance performances at night.
Every visitor who wants to watch a Balinese dance performance at the Saraswati temple Ubud must pay an entrance ticket of IDR 100,000/person. You can buy the dance tickets with the staff who standby at the entrance gate.
Besides purchasing dance performance tickets, you can also watch Balinese dance performances at Saraswati Temple from Lotus Café without entrance fees. However, you have to spend dinner with a minimum order of IDR 200,000, and you need to book a table in advance.
Read Here, "Barong Dance Ubud Bali – Schedule, Location & Ticket Prices" >>>
Kecak Dance Schedule at Saraswati Temple Ubud
Since the Covid Pandemic, there has been no Kecak Dance performance held at Taman Saraswati temple, and this may change at any time.
Previously before the pandemic, the Kecak dance at Saraswati Temple Ubud performs every Tuesday and Thursday. The Kecak dance performance begins at 19:30, with IDR 100,000/person ticket price. The Sandhi Suara dance group performed the Kecak dance performance.
Find Out, "Kecak Dance Ubud Bali – Performance Location, Schedule & Ticket Price" >>>
Attractions Location
The Saraswati temple location is on Jalan Kajeng, Ubud. Also, the temple location is close to Lotus Cafe and Starbuck. If you depart from Kuta Beach Bali, heading to the Saraswati temple Ubud, it will take approximately 1 hour and 30 minutes to travel.
To make it easier for you to find the temple's location, please use Google Maps by clicking the link below!
See Here, "Saraswati Temple Ubud Google Map" >>>
Transportation Options
Public transportation in the Ubud area is rare, and you only can find a taximeter. Therefore, For those of you who do not stay in Ubud and plan to travel to Ubud, there are several transportation options that you can choose to visit Ubud attractions. The following are the choices.
1. Using a Motorcycle
For cost-effective transportation options, you can use a motorcycle. There are many motorcycle rental services in Bali with a range of motorbike rental prices around IDR 100,000 – IDR 200,000 / 24 hours a day.
2. Car Rental Services with Driver
By renting a car + driver in Bali, you will not botter about finding a parking space and thinking about road congestion. In the area of Ubud tourist area, car parking is rarely available. Most people park on the side of the road, and parking spaces are often occupied. Because of this, we strongly recommend that you look for a rental car service provider in Bali with a driver.
3. Book Tour Packages
Because Ubud is very famous and has a high demand from tourists, many travel companies provide Ubud tour packages. The advantage of booking the Ubud tour package is that you are entitled to the transportation, entrance fee ticket, driver fee, car rental cost, and meal to plan your travel budget accordingly.
Summary
So if you are interested in seeing the beauty of temple architecture and lotus pond and want to watch the Balinese dance performance, Saraswati Temple is one of the Ubud attractions you must visit. Besides that, the Saraswati Temple location is very strategic because it is close to other famous tourist attractions in Ubud and offers free admission.
I hope the article about Taman Saraswati temple Ubud on this page gives you all the required information you need when planning to visit Pura Taman Saraswati Ubud. Please use the comments column below for those who have questions and suggestions. I will be happy to answer questions and requests from you.
Read More, "How To Spend A Day In Ubud With 1-Day Ubud Itinerary Schedule & Activities & Attraction Description" >>>