So, you've landed in Ubud, Bali, and you're probably drowning in a sea of choices. Where to go? What to see? Let's cut through the noise: put Taman Saraswati Temple Ubud on your itinerary, and you won't regret it. Let's explore the intricate workings of this place and discover how it can add a sense of wonder to your Bali trip.
Speak Bahasa? Click here for an Indonesian version.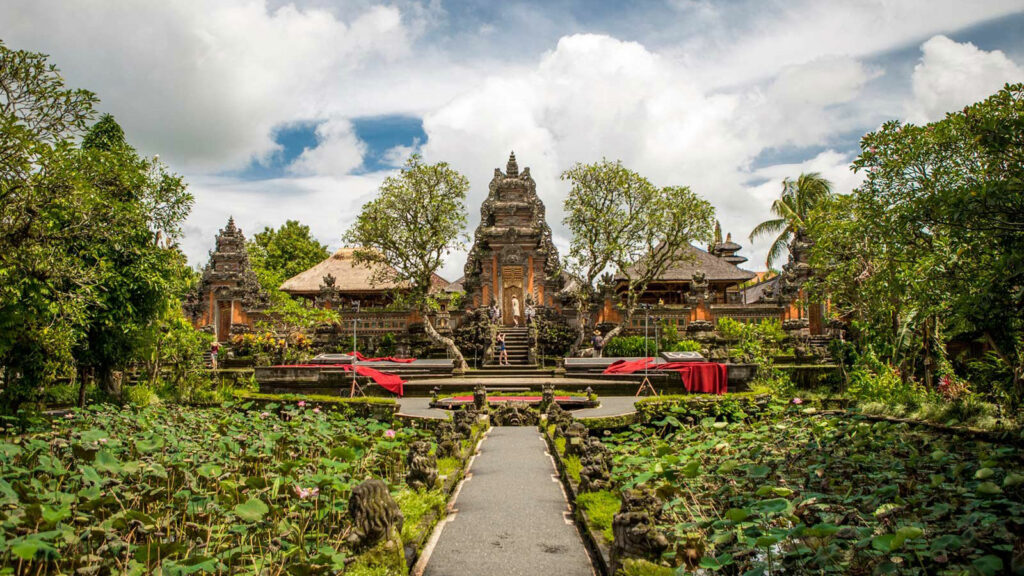 Why Taman Saraswati Temple is a Must-See Ubud Attraction
Ubud! A site where culture, nature, and spirituality conspire to present you with an experience like no other. Furthermore, In the heart of this idyllic Balinese setting lies the Taman Saraswati Temple, known to locals as Pura Taman Kemuda Saraswati.
It's not just a temple; it's a living canvas that paints a vivid vision of Bali's architectural prowess, artistic legacy, and spiritual eagerness. Also, dedicated to Saraswati, the goddess of wisdom in Hindu mythology, this temple enriches your spiritual IQ. It's not just a selfie corner; it's a spiritual corner.
Craving more? If you're feeling like a Balinese temple enthusiast by now and want to see how Taman Saraswati stacks up against the rest, feast on our top 10 Balinese temples you can't afford to miss.
Marvel at the Architectural Splendors of Saraswati Temple
Picture this: You're walking through a lush, serene garden designed by none other than I Gusti Nyoman Lempad, a Balinese architectural legend. This isn't just a weekend DIY project—it was commissioned by Ubud royalty Prince Cokorda Gede Agung Sukawati and finished within a year between 1951 and 1952.
The Insider's Guide to Taman Saraswati Temple
Imagine entering a domain where spirituality meets natural beauty, surrounded by complex architectural marvels. Step into Taman Saraswati Temple—a must-see for anyone exploring Bali's cultural depths. Let's unpack what sets this gem in Ubud apart from the rest.
Cultural Masterpieces: Ubud's Authentic Experience
Far more than just a place for worship, Taman Saraswati Temple is a stage for the Balinese arts. Visitors will discover intricately carved stone and wood masterpieces that are the lifework of local artisans.
The temple naturally weaves itself into Ubud's rich cultural scene, offering a genuine slice of Bali's heritage.
The Lotus Pond at Taman Saraswati Temple: A Slice of Eden in Ubud
When it comes to Balinese temples, Taman Saraswati takes you on a journey that's richly rewarding in its own right. Enchant your senses with a pond in the soft pink of lotus blossoms, framed by carefully designed water gardens. Also, the lotus-filled pond stands out as the temple's crown jewel.
Gracefully arched frangipani trees line the water's edge, their tropical fragrance mingling with the humid air. A meticulously crafted bridge links the temple's outer area to the grand main gate, known locally as 'Kori Agung.' Meanwhile, the bridge itself is adorned with statues that seem to watch over all who pass, leading the eye to three large golden doors that mark the temple's threshold.
Many tourists snap photos against the scenic temple architecture and vibrant lotus pond, immortalising their Balinese adventure in share-worthy Instagram snapshots.
Planning Your Visit: Restricted Areas and Guidelines
Understanding that the inner temple area is sacred and reserved solely for those who wish to pray is essential. Accordingly, Bale Agung Ubud (the local village community) has set policies restricting tourist access to specific parts of the temple.
Visitors are generally confined to the lotus pond area and the Kori Agung gate, offering a glimpse of the more profound spiritual experience.
Essential Rules and Protocols for a Respectful Visit to Taman Saraswati Temple
Visiting Taman Saraswati Temple isn't simply a tourist activity; it's an experience steeped in cultural and spiritual significance. Therefore, to ensure a respectful and enriching visit, here are some essential guidelines:
Quick Guide to Respectful Conduct at Taman Saraswati Temple
Dress Code: Wearing a sarong and shawl is mandatory. Usually included in your ticket price, you can fully engage in local customs without extra hassle.
Boundaries & Cleanliness:
Restricted Areas: Access to designated prayer zones is reserved for worshippers only. Also, pay attention to signs and instructions.
Cleanliness: Use designated trash cans to maintain the temple's sanctity and beauty.
Attitude & Speech:
Physical Conduct: Climbing onto altars or shrines is strictly prohibited. Most importantly, keep your feet on the ground to preserve the sacred atmosphere.
Verbal Conduct: Use polite language and respectful behaviour to enrich your experience and honour Balinese culture.
By following these essential rules, you immerse yourself in the serenity and grandeur of Taman Saraswati Temple and contribute to preserving its dignity and other visitors' experiences.
The Essentials: What You Need to Know About Taman Kemuda Saraswati Temple
When to Go and What You'll Pay: Timing and Admission Details
Basking in the tranquillity of Taman Saraswati Temple in Ubud is an experience available every day from 9:30 AM to 5:30 PM. Wondering about the entry fees? Here's the breakdown:
Category
Age Group
Price (IDR)
International
Adults
35,000 per person
Children (3-10 years)
20,000 per person
Indonesian
Adults
20,000 per person
Children (3-10 years)
10,000 per person
Taman Kemuda Saraswati Temple Ubud Entrance Fee.
But wait, there's more! A separate ticket fee applies to immerse yourself in an ethereal Balinese dance performance at night. For insights into the costs of other Bali adventures, check out our comprehensive guide on 'Holiday Costs in Bali'.
A Night to Remember: Traditional Performances at the Temple
Take a deep breath; you're about to witness artistry in motion. The temple stages iconic Balinese dance performances like Legong and Barong dance. Also, each night offers a fresh palette of dances unique to Pura Taman Saraswati Ubud.
Shows every evening except Friday
From 7:30 PM to 9:00 PM
It's a 90-minute spectacle
Tickets are priced at IDR 100,000 per person.
Children under 10 can relish the performance for free if they share their parents' laps for seating.
Maximise Your Experience: Timing, Tickets, and Alternative Shows
To make the most of your visit, consider the following:
Arrival Time: Secure the best seats by arriving at least 40 minutes early.
Ticket Options: You can purchase tickets right at the entrance, or if you fancy a meal, Cafe Lotus offers free admission with a minimum dinner order of IDR 200,000.
Alternative Shows: Puri Saren Ubud holds parallel performances, including the captivating Legong Ramayana Dance Performance, if your schedule allows.
Location: The Heart of Ubud Awaits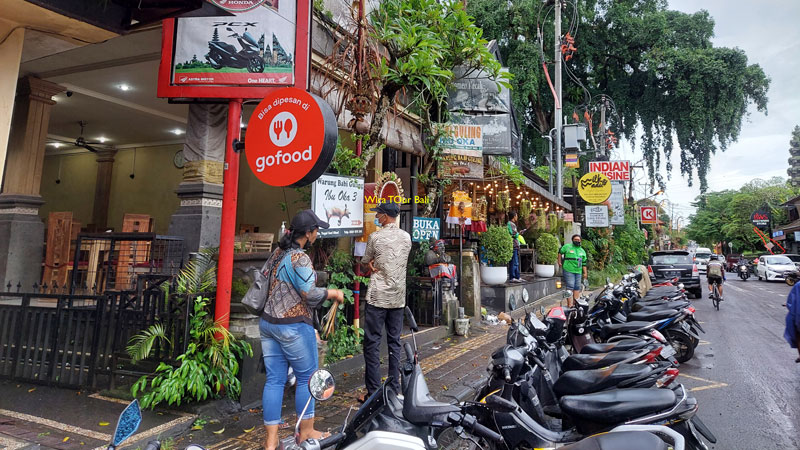 Nestled in the vibrant neighbourhood of Jalan Kajeng, the Taman Saraswati Temple in Ubud is remarkably accessible. Imagine strolling down Jalan Raya Ubud and discovering this gem behind the local favourites—Café Lotus and even a Starbucks.
For the tech-savvy traveller, simply open Google Maps and let technology guide you to this spiritual haven.
Meanwhile, the Ubud Monkey Forest beckons if you're in the mood for a nature detour. Just a 2-kilometre tour away from the temple, the forest allows you to commune with monkeys in a natural setting.
Essential Transportation Tips for Visiting Taman Saraswati Temple
Due to limited public transport and parking options, getting to and parking near Taman Saraswati Temple in Ubud requires some planning. Here's a quick rundown:
Critical Points for Reaching Taman Saraswati Temple
Further Reading: For an in-depth look at Ubud's transportation scene, check out our 'Vacation Transportation Guide in Bali Including Ubud.'
The Essentials for an Unforgettable Temple Visit at Taman Saraswati
Make the most of your time at Taman Saraswati Temple by keeping these essentials in mind:
Best Times and Photography
Best Times: Aim for the morning or evening for a pleasant weather experience and fewer crowds.
Photo Op: The ethereal lighting at dawn or dusk makes for picture-perfect moments you'll want to capture.
Crowd Management
Crowd Avoidance: Visiting during off-peak hours is a wise choice to immerse yourself in the temple's serenity.
Visit Preparedness
Dress Code: Adhering to a modest attire that respects local customs is non-negotiable.
Essentials: A sarong and shawl can add comfort and respect to your visit.
Essentials to Pack
Hydration: A water bottle is a must-have to stay hydrated during your visit.
Photography: Don't forget your camera to capture the enchanting temple and its surroundings.
Planning Ahead
Schedule: Checking temple activities a day in advance will help you make the most of your visit.
Confirm Access: Calling ahead for temple closures due to ceremonies or special events is a good idea.
Above all, by arming yourself with this essential information, you're well on your way to experiencing all the spiritual and artistic richness that Taman Saraswati Temple offers.
Activities and Interesting Places Around Ubud
After you explore the beauty of the Taman Saraswati Ubud Temple, you can try many other exciting activities and places around Ubud.
Final Note
With so many choices of activities and exciting places around Ubud, you can easily plan a day full of activities after visiting Taman Saraswati Temple.
Frequently Asked Questions (FAQ) Regarding Taman Saraswati Temple, Ubud
Can I take photos in the temple area?
You can take photos in the lotus flower pond area and Kori Agung. However, you are not permitted to enter the area in the temple designated for prayer. Remember not to climb onto the altar or shrine when taking photos.
Is there a luggage storage area or locker?
Pura Taman Saraswati Ubud does not provide luggage storage or locker facilities. Make sure you take good care of your belongings.
Are there toilet facilities on site?
Toilet facilities are available at Starbucks.
Is there food and drink sold in the temple area?
No, but Café Lotus and Starbucks are before the temple, so that you can get food and drinks quickly.
Can I buy dance tickets online?
Currently, tickets can only be purchased directly at the location from staff at the entrance gate.
Closing
Taman Saraswati Temple in Ubud is not just an ordinary tourist destination but a blend of Balinese architecture, religion and culture. Built by an artist, Gusti Nyoman Lempad, this place is also a centre for artistic and cultural activities and religious rituals.
If you're in Ubud, a visit here is a must. Always obey local customs and norms, such as wearing a sarong and disposing of rubbish properly, to maintain the beauty of this place.
Therefore, don't miss the opportunity to visit Taman Saraswati Temple while on holiday in Bali. For questions or suggestions, please use the comments column.
Apart from that, if you want to learn more about culture and dance performances in Bali, don't miss reading our article about the Latest 2023 Entrance Ticket Prices for the Uluwatu Kecak Dance Performance.