Want to see a massive, amazing Bali rice field scenery during your holiday? Therefore you should visit the Jatiluwih rice terrace in Tabanan Regency Bali. On this page, you will get information about the Jatiluwih Green Land such as;
Rice Terrace Is One Of The Favorite Things To See In Bali.
Bali Subak Irrigation System.
Jatiluwih Rice Terrace Location & Map.
Jatiluwih Rice Fields Entrance Fee.
Things To Do In Jatiluwih Green Land Tabanan.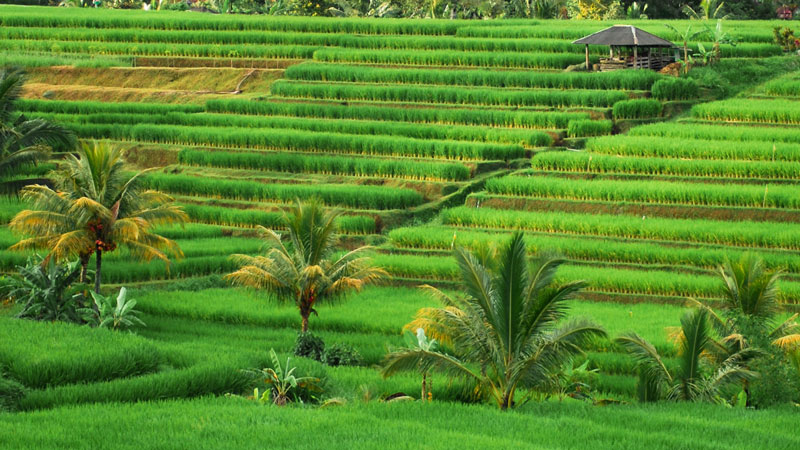 Unique & Exciting Places To See In Bali
The island of Bali is very famous for the white sand beach. Also famous for the sunset view, friendliness of Balinese people, art and culture of the Balinese. For first timer tourists when visiting Bali, Kuta beach is the primary destination. As a result, on a daily basis, Kuta beach crowded with tourist. I am so amazed and proud as Balinese. Due to many tourists love to visit Kuta Beach Bali.
However, the island of Bali has plenty of unique and exciting places to see. Of course, things that you are not going see it in other locations in the world. One of the unique parts of Bali that you should visit is the Jatiluwih rice terrace, Bali. Furthermore, Jatiluwih came from word Jati mean original, and the word Luwih means beautiful.
Rice Terrace Is One Of The Favorite Things To See In Bali
Most travel website like TripAdvisor listed Jatiluwih rice fields as one of the top ten things to see in Bali. For those who look for green scenery and beautiful natural environment spectacle, than Jatiluwih rice terraces is the place that you should prioritize to visit when on holiday in Bali.
Jatiluwih rice terrace Bali located at the center of Tabanan regency. Now have named as one of Bali Cultural Landscape by UNESCO as a part of Balinese Subak System. By most traveler who has visited Jatiluwih Tabanan Bali, knows Jatiluwih Bali as a large area of countryside. Most of the entire hill area occupied with green rice paddies shape as a terrace. The rice terrace stretch from the top of the mountains until the land meets the sea. Jatiluwih rice terrace for some travelers calls with a different name, which is Jatiluwih Green Land.
Bali Subak Irrigation System
The green rice paddies form as a platform. Due to the Balinese Subak irrigation system that manages water distribution to the farmer. Balinese people have preserved the Subak irrigation system for centuries, and every farmer should follow the Subak irrigation system regulation. The unique rice terrace shape creates a green scenic rice terrace landscape. By inadvertence, Jatiluwih rice terrace becomes a tourist destination.
Read More On: "Bali Beautiful Fog Scenery" >>>
Jatiluwih Rice Terrace Location & Map
Jatiluwih rice terrace located at Penebel village, Tabanan regency, Bali. If you would like to visit Jatiluwih rice terrace from Ubud, it will take around 1 hour 45 minutes drive with 41 kilometers distance. To make it easier to find Jatiluwih rice terrace location, please use the Google Map below!
Most of the travelers when they want to visit Jatiluwih Green Land will take Ubud tour packages with the route, Ubud, Lake Beratan Bedugul, Jatiluwih rice fields and Batukaru temple.
Jatiluwih Rice Fields Entrance Fee
Let say If you want to book Bali tour packages and on the itinerary, there is a schedule to visit Jatiluwih rice fields. Commonly the entrance fee was included on your Bali tour packages. However, if you do not want to use tour package services in Bali and would like to visit Jatiluwih rice fields with your transport, you will need to pay Jatiluwih entrance fee, IDR 40.000 / person. For Indonesian citizen, Jatiluwih entry fee is IDR 15.000 / person.
For your comfort during visiting Jatiluwih rice fields, we recommend you to get a car rental in Bali with a driver, due to long trips to get Jatiluwih rice fields location. To get a car rental in Bali with a driver, it is not hard and the prices for MPV 7 seater car + driver + fuel, IDR 500.000 / 10 hours usage.
Things To Do In Jatiluwih Green Land Tabanan
Even though the location of Jatiluwih Green Land is further away from most of the famous tourist site in Bali like Kuta beach or Seminyak Bali, but if you want to see the best rice field view that you can get in Bali, visiting Jatiluwih Green Land is worth for your time. Below is the list of best things to do in Jatiluwih Green Land Tabanan.
1. Lunch With Rice Terrace Panoramic View
Most traveler during their visit to Jatiluwih Green Land, love to have lunch on one of the small restaurants with a beautiful rice terrace panoramic view.
2. Trekking Activity
Jatiluwih Green Land also well known as the best place to have trekking venture. Trekking by following the path, you will be able to see the rice field bit closer and observe how the Balinese farmer does their daily routine and their way of farming.
Read More: "Campuhan Ridge Walk Ubud" >>>
3. Jatiluwih Rice Paddy Cycling Tour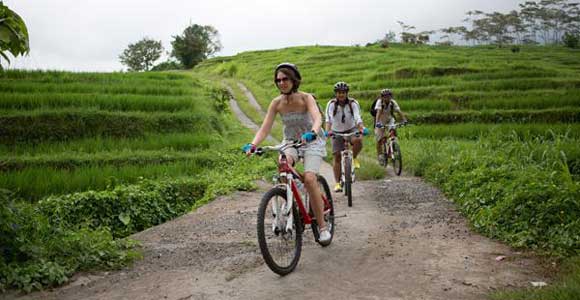 Jatiluwih Green Land cycling activity is now more preferably by tourist and very easy to get on the internet by type the keyword of Jatiluwih rice paddy cycling tour.
4. ATV Ride Jatiluwih Bali
You can try ATV ride at Jatiluwih Bali if you love challenging adventure. Not only viewing and ride the ATV on rice field path but you also can get into the forest and have an adventure ATV ride through the woods.
If you love to see rice terrace scenery and don't want to go far away from Ubud or Seminyak, you can visit Tegallalang rice terrace Ubud.