When planning a vacation to Bali island for the first time, most travelers will wonder! They wonder not about tourist attractions and holiday activities available in Bali. However, they will wonder how much does a trip to Bali costs. Then how about you? I am sure you are also thinking about the Bali cost of living for tourists. Due you found this page, which is about the Bali budget travel guide for the first-timer.
Bahasa Indonesia, "Budget Liburan Ke Bali – Panduan Wisata Low Season, Hemat Biaya & Pemula" >>>
Finding how much does a trip to Bali costs, the reference is comprehensive because some travelers want to have a Bali luxury vacation. A traveler who has an intermediate holiday budget. Also, travelers who wish to have a holiday to Bali with an account are as cost-effective as possible.
Three Bali Budget Travel Guide Criteria
To explain how much a trip to Bali would cost from diverse visitors about the holiday budget to Bali. Then on the page of the Bali budget travel guide, I will share based on three holidays budget criteria, namely;
Bali luxury vacation trip budget.
Intermediate holidays budget to Bali.
Bali budget travel guides the economical way.
By dividing it into three Bali budget travel guide criteria, you can decide on a holiday budget guide to Bali following your financial abilities.
Also, the Bali budget travel guide is based on our experience. Our experience in providing Bali rent car services with drivers, many types of tourism activities in Bali.
Also, the Bali budget travel guide is based on our knowledge in delivering holiday tour packages to Bali. Like the Kintamani Tour or Uluwatu tour package. Therefore, the information you will get about the estimated budget for Bali's holiday on this page is reliable.
Search Here, "Example of a Trip Itinerary on Nusa Dua Bali for 3 Days with a Holiday Guide" >>>
Bali Tourism for All Budgets
Bali Island is now displayed as one of the best vacation destinations in Indonesia, even in Southeast Asia. The main attraction of Bali island that attracts tourists to have a vacation is relying on;
The Bali art & culture uniqueness.
Bali island natural beauty.
The Island of Bali offers comprehensive tourism facilities.
Bali security and safety for travelers.
The Balinese resident's hospitality to a foreigner.
Bali island is also known as a thousand temple island because there are many Hindu temples in Bali. Some famous Hindu temples in Bali include Tanah Lot Temple, Besakih Temple, Uluwatu Temple, and the Ulun Danu Beratan Temple in lake Beratan Bedugul.
Search Here, "Top 10 Leading Hindu Temple Attractions in Bali" >>>
Is Bali Expensive To Visit?
Although Bali island has many luxury resorts and restaurants, Bali is also known as one of the best places for a frugal holiday destination. In Bali, you can find cheap accommodation, cheap eateries, and affordable vacation transportation. Therefore, as a tourist destination in Indonesia, Bali island can accommodate all ranges of holiday budgets.
If you want a luxury vacation, it is available in Bali. Vice versa, if you wish to have a budget-saving break, also available in Bali. Because Bali provides all the criteria for a holiday budget, it is not surprising why Bali's island is well-known as the best tourist destination in Indonesia.
Read Here, "Top 10 Main Things You Need to Know When Creating a Holiday Itinerary to Bali" >>>
When is The Low Holiday Season in Bali?
Airline ticket prices, lodging costs, and transportation expenses will increase during Bali's high holiday season. Bali's peak season occurs during school holidays & Eid holidays (June, July & August) and Christmas & New Year holidays (starting the third week of December – beginning of January).
Then when is the low holiday season in Bali occur?
The low season in Bali occurs in months other than the peak season month. Bali's quiet season month happens in February, March, April, September, October & November.
The question now! How is Bali's weather during the low season, and is it fair to have a vacation to Bali during the low season?
When is The Best Time To Visit Bali?
Not all low season months are the best time to have a Bali vacation due to the weather (rainy season). The rainy season in Bali is the same as in other regions in Indonesia.
The rainy season in Bali occurs in November, December, January, February, and March. So the best time to visit Bali in terms of budget-wise and weather is to combine the low holiday season with the dry season.
Then when is the best time to have a vacation to Bali?
Regarding when the best vacation time in Bali, I have written it on another page. If you require to distinguish further details about Bali's best vacation period, please click the following link! By understanding the best time to travel to Bali, you will save on vacation costs in Bali.
6 Things Influence Your Holiday Budget to Bali
You should recognize six principal points when estimating the vacation cost to Bali, whether for two people, three people, or with family.
The airline cost,
Accommodation expenses,
Type of vacation transportation,
Admission fee for each attraction in Bali that you want to visit,
The price of tourism activities in Bali that you want to try,
Food cost or culinary tourism budget.
In addition to the six main things that impact travel budgets to Bali, other factors are not too significant in influencing travel budgets to Bali. Such as the budget for buying souvenirs, parking fees, and tipping.
Estimate Holiday Cost To Bali
The following is an estimated holiday cost to Bali. You can also use Bali's estimated holiday cost as a benchmark if you want to have a vacation to Bali with a family, honeymoon, or a group. Also, we classify the Bali budget travel guide based on three-holiday budget categories.
Of course, by combining six main things that affect the budget to visit Bali. With the aim, all the information you found on the Bali budget travel guide on this page can meet all the traveler's criteria.
1. Airline Ticket Cost
The most significant thing that influences the airline tickets price is the time you buy and the location where you buy the airline tickets. Of course, other factors affect airplane ticket prices, such as oil prices, currency exchange rates, and flight distances.
However, on this page, we only review the time you bought, the holiday period & the place where you purchased your flight ticket.
For those of you who have no concern about Bali's holiday budgets, you can skip the airline ticket costs. However, for those of you who have a limited holiday budget to Bali, please continue reading!
Vacation Period
If you want to get a cheap airline price with the Denpasar Bali flight route, avoid a vacation to Bali during the high season and weekends. The weekend we mean is Friday, Saturday and Sunday.
Based on our experience in providing tour packages to Bali, many Indonesian tourists prefer to have a vacation to Bali during weekends. The high demand for aircraft seats to Bali during weekends and peak holiday seasons in Bali will affect the airline tickets price.
So when is the cheapest month to fly to Bali from Australia?
From our experience, the most reasonable time of year to fly to Bali from Australia is on August, October, November, and December. However, the most competitive time of year to fly to Bali may differ if you come from another country.
Time & Place of Purchase
The time and place you buy airline tickets will also affect the airline tickets price for a vacation to Bali. Based on our experience, when airlines hold travel fairs, airline tickets are generally offered at a promotional price. To find out the time of travel fair or flight ticket promo for an airline, you must diligently visit the airline website that you prefer to use.
If you miss the best time getting cheap airplane ticket prices, the choice is to buy airplane tickets at the airline ticket agent. Currently, there are many airline ticket agents available online. Therefore, you only need to compare the airline tickets prices offered by each agent diligently.
Examples of Flight Ticket Price To Bali From Australia
For example, the price of airline tickets in April, so you can estimate the cost of a vacation to Bali. In April, the ticket prices for one-way economy class Sydney – Denpasar, around USD 190/person. So the budget for airplane tickets costs for two people to commute, around USD 760. Flight ticket prices may change at any time.
2. Accommodation Qualification
There are places to stay in Bali, from luxury private villas and luxury resorts to cheap lodging. So if you want to vacation in Bali on a low budget, you can choose guest houses, affordable villas, homestays, hostels, and bungalows for your accommodation.
The average price of affordable housing in Bali is from IDR 100,000 – IDR 300,000 / night. If you have a lodging budget around IDR 400,000 – IDR 800,000 / night, you can increase the grade of lodging to villas and 4-star hotels. However, if your budget for accommodation is above 1 million / night, you can get luxury accommodation in Bali.
Besides the accommodation category, the hotel room price is also affected by the hotel location. If the hotel location is very strategic and adjacent to popular tourist attractions in Bali, such as Kuta Bali beach, Sanur beach, Nusa Dua, and Padang Padang beach. Then the price of a hotel room will be higher if you compare it with the hotel that is located far from the tourist area.
See Here, Sanur VS Nusa Dua Bali – Which is the best place to stay?
3. Bali Transportation Service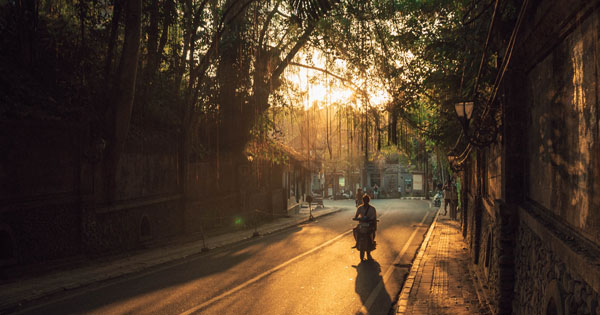 Wherever you are on vacation, you will need transportation facilities, including your holiday to Bali. Therefore, how much is transportation in Bali? Land transportation facilities in Bali are divided by vehicle type.
Two-wheeled motorbikes, with a range of motorcycle rental prices from IDR 75,000 – IDR 300,000 / 24 hours usage. Motorbike rental prices in Bali are influenced by the type of motorcycle you want to rent.
If you do not want to rent or do not want to drive your motorbike, you can use Bali's online motorcycle taxi services. Four-wheel-type cars are available in Bali, such as Toyota Avanza, Toyota Kijang Innova, and Toyota Alphard.
There are two types of Bali rental cars; self-Drive car rental and Bali rent a car with a driver. For example, the price Toyota Avanza self-drive car rental in Bali, IDR 300,000 / 24 hours usage. If you want to use a Toyota Avanza car rental with a driver, the rental price is IDR 500,000 / 12 hours.
Use a minibus/microbus if your vacation participant exceeds seven people.
The minibus types in Bali are used for car rentals, such as; Isuzu ELF with 14 seats or Toyota Hiace with 16 seats. Isuzu ELF rental rates with drivers include fuel in Bali, around IDR 800,000 / 12 hours. While the price of Toyota Hiace car rental in Bali + Driver + Fuel, IDR 1,000,000 / 12 hours.
Read Here, "Guide & Choice of Bali Transportation Service" >>>
4. Attractions Entrance Fee – Bali Budget Travel Guide
The leading destination for holiday travelers visiting Bali is to visit Bali tourist attractions. Bali Island has many exciting tourist attractions, including temples, beach attractions, mountain attractions, and many other exciting vacation spots. Most exciting tourist attractions in Bali will charge an entrance ticket for visitors to pay.
Regarding the holiday budget to Bali, the entrance fee to a tourist place will have a significant effect. So, when you plan a budget trip to Bali, it's a good idea to know the price of the entrance ticket for each tourism attraction in Bali. If you want to know the complete list of entry ticket prices for vacation spots in Bali, please click the link below!
Search Here, "Complete List of Bali Attractions Entrance Fee" >>>
Free Attractions in Bali
There are also several tourist attractions in Bali Bali that do not charge entry fees for visitors. Therefore, if you want a budget vacation to Bali, your priority is to visit a free tourist attraction in Bali. The question now is, is there a vacation spot in Bali that doesn't charge an entrance ticket?
The answer, there are still some tourist attractions in Bali that do not charge entrance fees. Like Kuta Bali beach, Echo beach Canggu, Canggu Berawa Beach, Nusa Dua beach, Jimbaran beach, Petitenget beach Seminyak and several tourist attractions in Ubud.
Even though there is no charge for the entrance ticket, you still have to pay for vehicle parking. Vehicle parking fees in Bali;
Motorcycle, Rp. 2,000.
Four-wheeled car, Rp. 5,000.
Bus, IDR 10,000.
See here, "Top 8 Free Attraction in Ubud Bali for Cost-Effective Holidays" >>>
5. Bali Activities Prices
Besides tourist attractions, the island of Bali offers many choices of exciting holiday activities. Of course, vacation activities in Bali will have prices that you need to pay.
Also, it would help if you considered the estimated value of holiday activities on your Bali budget travel.
There are several exciting tourist activities in Bali love among travelers, such as; whitewater rafting trips, marine tourism activities, submarine tours, elephant riding, cycling tours. Whether they are on their first vacation or who have been to Bali many times, most tourists are always interested in trying water sports activities. The water sports game in Bali is carried out on the river, on the beach, and into the sea.
Bali Rafting
For water sports activities on the river, it is known as the Bali rafting tour. There are two famous river locations for Bali rafting trips, namely;
Also, there are many white water rafting companies in each river, both on the Telaga Waja River or the Ayung river. Then what is the price of white water rafting in Bali? The cost of a white water rafting tour in Bali for each company is different.
Some companies offer low Bali river rafting tour prices, and Bali river rafting companies also provide higher river rafting prices. However, the average cost of river rafting trips in Bali is around IDR 350,000 / person.
See Here, "The Lates Price of Alam Rafting Telaga Waja River Karangasem Bali" >>>
Marine Water Sports
Although the sea surrounds the island of Bali, not all coastal areas in Bali are suitable for beginner water sports activities. There are four locations for water sports activities in Bali suitable for beginners, of course, with different Bali watersport prices. The following is the location of Bali water sports activities for beginners.
Water Sports Tanjung Benoa
Of the four locations for marine games for beginners in Bali, the most popular spot is the Tanjung Benoa beach Bali. Travelers know the water sport rides on Tanjung Benoa beach with the name Tanjung Benoa water sports Bali.
There is a reason that makes Tanjung Benoa beach the most popular location to join Bali water sports. Due to Tanjung Benoa beach location, located close to a popular tourist attraction in southern Bali.
What are the popular tourist attractions in south Bali that are located near the Tanjung Benoa beach?
It is relatively cheap for the price of a watersports ride at Tanjung Benoa Bali if you compare it with the watersports price in other areas in Bali. For example, the price of single parasailing, IDR 110,000 / person.
Search Here, "The Latest Price List for Water Sports In Tanjung Benoa Bali" >>>
The Best Way to Book Bali Holiday Activities
The price of parasailing in Tanjung Benoa beach and the price of river rafting in Bali listed on the Bali budget travel guide is the price if you make an online booking. However, suppose you come directly to the location of the game and make a direct reservation. In that case, you will get a published rate.
Are the activities' publish rate more expensive than online prices? The published rates are higher compared to the online rate. It is almost the same if you book a hotel room, and if you book directly at the hotel, the room price will be much higher than you booked online.
Read here, "3 Verified Ways To Obtain Affordable Bali Water Sports Price During Your Holiday" >>>
6. Meal & Drink Costs – Bali Budget Travel Guide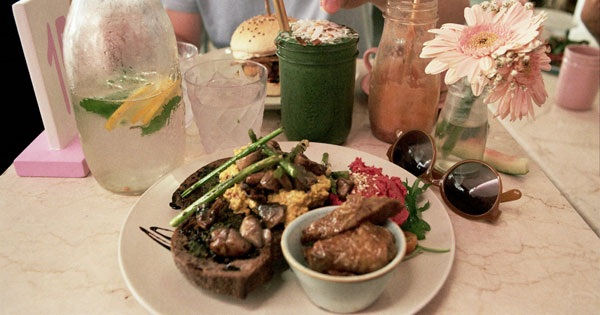 If you don't have a holiday experience in Bali, for sure, you want to know regarding the Bali budget travel guide, specifically on food and drink in Bali. Of course, by understanding the food and beverages price, you can plan your Bali travel budget.
If you ask how much it costs to eat in Bali during the holidays? You will get varied answers. Because it depends on where you eat, and the menu you ordered.
I will not provide information about the cost of food in a restaurant on this Bali budget travel guide. Due to the average price margin being very high, and I don't have much experience dining in restaurants.
Also, if you eat at a restaurant, please pay attention! The food and beverages price in restaurants usually excludes taxes and services.
We can provide information on standard food stalls' prices in Bali on the page of the Bali budget travel guide. The average price of food stalls with the location of food stalls in tourist attractions is around IDR 35,000 – IDR 60,000 / portion. If you eat on the food stall outside the tourist area, then the cost for one share of food will be much lower, around IDR 25,000 – IDR 30,000 / 1 portion.
Halal Cuisine
Most of our customers who book tour packages in Bali are travelers who embrace Islam. So the priority of our customers when joining culinary tourism in Bali is looking for halal cuisine.
Is it hard to find halal food stalls in Bali at low prices?
The answer is no! Finding halal dining places in Bali is very easy! Moreover, looking for halal dining places in the tourism area is more comfortable than finding a non-halal dining place.
Read Here "Affordable Halal Dining Spots In Tanjung Benoa Bali Offer Indonesian Culinary" >>>
Summary On Bali Budget Travel Guide
Is it expensive to vacation in Bali? Going to Bali with a less budget is possible even though Bali is not cheap compared to other travel destinations in Indonesia. When planning an affordable holiday budget for Bali, the six factors affecting your Bali travel budget are the main thing you should pay attention to.
We hope the Bali budget travel guide on this page is helpful for you as a holiday guide to Bali. Especially for those of you looking for a Bali travel guide for first-timers or backpacking vacation tips to Bali.
If you have questions about the Bali budget travel guide, please use the comments column below to ask. , we are pleased to answer your inquiries regarding the Bali budget travel guide, based on our experience.
Find Here, "Kuta Bali Travel Tips For Beginners & First Timer" >>>