Holidays in Bali are a dream for many individuals. One of the essential things that must be evaluated before traveling to Bali is holiday transportation. Car rental for vacation transport in Bali is one of the favored picks by Indonesian and international tourists besides scooters. While on holiday in Bali, there are two transport options by car, namely self-drive car hire or a Bali car rental with a private driver. Each possibility has edges and drawbacks, so evaluating your needs and priorities is essential before determining.
Bahasa Indonesia, Memilih Jenis Penyewaan Mobil Bali: Dengan Supir VS Lepas Kunci.
See Here, Beginner's Guide to Bali Budget Travel – Tips and Advice.
Rental a Car with a Private Driver in Bali
Renting a car with a private driver for holiday transportation in Bali is a popular choice among international and Indonesian travelers. With this option, you only need to pay the daily rental fee for the vehicle and driver, and you can be taken to any sightseeing spot in Bali that you desire.
Renting a car with a private driver has a significant advantage, as you won't have to navigate unfamiliar roads. So you can focus more on enjoying the beautiful scenery while traveling.
Read More, Uncover the Ultimate Kuta Bali Travel Guide for First-Timers and Beginners!
The Benefits of Renting a Car With a Private Driver
You Don't Require to Drive: You can sit back, relax and admire the scenery while riding in the vehicle.
Car Cleanliness: You don't have to worry about washing your car daily. Your driver will clean the vehicle's exterior and interior cabin.
Car Damage: If the vehicle gets damaged during your trip or if you experience a flat tire, your private driver will take responsibility for it and arrange the necessary repairs or replacements.
No Required Documents: When renting a car with a private driver for your holiday transportation, there's no need to provide photos of your documents, such as your driver's license, ID card/passport, or hotel vouchers. In addition, you also don't have to be concerned about showing private documents to the driver.
See Here, Locate the Best Places to Visit in Bali for First-Timers – Your Ultimate Travel Guide.
Disadvantages of Car Rental with Driver:
Slightly More Expensive: Typically, renting a car with a private driver is marginally higher than a self-drive car rental due to the additional expense of paying for the driver's services. Surprisingly, nowadays, renting a car in Bali can be equal to hiring a private driver in Bali.
Shorter Vehicle Use Duration: A car rental with a private driver in Bali is typically about 12 hours daily. If you exceed this limit, an additional overtime fee will be applied.
See Cheapest Time To Visit Bali: A Guide To Lowering Your Expenses.
Self-Drive Car Rentals in Bali
A self-drive car rental might be better if you want to save on vacation costs in Bali. You only need to pay the car rental fee and insurance costs and drive yourself during the trip. The main advantage of renting a vehicle without a driver in Bali is the savings in driver fees. Usually, the cost of a driver in Bali is around IDR 100,000 – IDR 150,000 per day.
However, renting a car without a private driver requires careful consideration of several factors.
One of the aspects to evaluate when determining to rent a car without a private driver is that you need to have an international driver's license and driving experience on busy and winding roads. Information, the roads in the tourist areas of southern Bali and central Bali are almost always busy, and traffic jams often occur. So, it would help if you were ready for slow-moving traffic and jams.
Read More, 10-Day Bali Itinerary: The Ultimate Guide to Must-See Attractions and Activities.
Pros of Self-Drive Car Rental:
Cheaper Prices: Generally, renting a car without a driver is slightly more affordable than renting a car with a private driver. However, some time is equal in cost.
Duration of Use: A self-drive rental car in Bali is commonly rented for 24 hours per day.
See Here, Bali Travel: Your 10-Day Itinerary Guide for an Unforgettable Trip.
Disadvantages of a Rent Car Without a Private Driver
Car Liability: In case of any mishap or damage to the automobile during the rental span, you will be solely responsible for bearing the repair expenses.
Car Cleanliness: The responsibility of cleaning the rental car, including the exterior and interior, lies exclusively on you if you opt for a self-drive car rental.
Self-Driving: If you are unfamiliar with navigating through congested, narrow roads with twists and turns, you may experience fatigue quickly, which could harm your vacation experience in Bali.
Deposit: For a self-drive car rental in Bali, an insurance deposit of IDR 1 million is required from each customer. At the end of the rental period, the customer deposit will be reimbursed if the automobile remains unchanged and the fuel on the tank is identical to when it was received.
Required Documents: When booking a self-drive rental car in Bali, you will be asked to provide photos of necessary documents such as your ID card/passport, international driving license, and hotel vouchers. These photos must be sent via email or WhatsApp. Upon picking up the vehicle, you must present the original documents that match the images you submitted earlier.
Read More, Bali Travel FAQs – What First-Timers Need to Know Before Their Holiday.
Final Thoughts on Selecting a Car Rental in Bali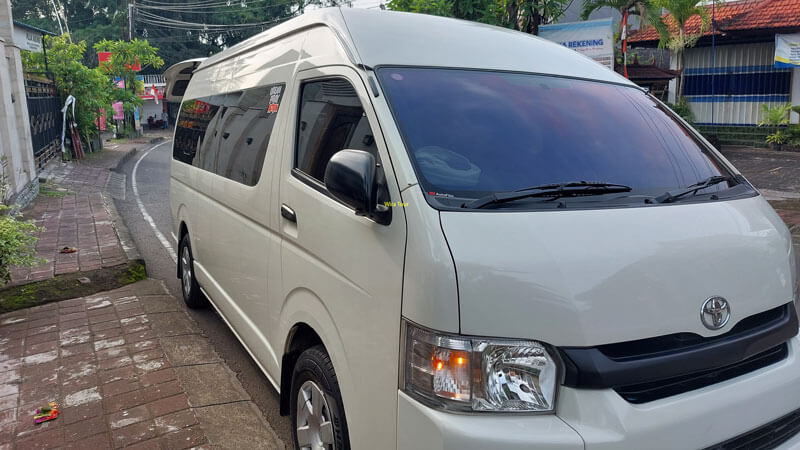 Should you rent a car or hire a driver for transportation during your Bali trip?
If you aim to have a stress-free and comfortable vacation in Bali, where you can fully enjoy your trip without driving, cleaning the car, or dealing with vehicle damage, renting a car with a private driver is recommended.
On the other hand, if you're looking for a more budget alternative and want to experience driving in Bali, don't mind driving in traffic, and prefer to clean the car yourself. A self-drive car rental in Bali may be the better choice.
Consider your needs and preferences before choosing a car rental with a driver or self-drive in Bali. For your information, renting a car in Bali can be just as expensive as hiring a private driver, including car. Plus, you'll need to navigate unfamiliar roads if you drive alone. Furthermore, hiring a driver can provide insider knowledge and convenience during your holiday in Bali.
See East Bali Getaway Guide: Your Ultimate Holiday Planning Companion.