Are you planning a vacation to Bali and this is your first time on a holiday to Bali? The chances are that you will answer yes! Also, I am sure you will have many questions about holiday information to Bali. On this page, I have collected frequently asked questions about a holiday to Bali that are most often requested by tourists who for the first time vacation to the island of Bali. Therefore if you are looking for Bali holiday faq and answers, keep reading this page.
Bahasa Indonesia, "Pertanyaan Yang Paling Sering Ditanyakan Wisatawan Indonesia Sebelum Liburan Ke Bali" >>>
Frequently asked questions about Bali holiday this page, is not an assumption. Instead of all the Bali holiday faq by first-timer, we get from our customers. Our customers who book car rentals for holidays in Bali, tour packages to Bali, and holiday activities on the island of Bali. Holiday activities such as Bali white water rafting and marine water sports in Bali.
First Time Travelers Frequently Ask Questions About Bali
Bali island is one of the main tourist attractions in Indonesia who get the most visit by travellers. For those who often vacation to the island of Bali, a list of vacation questions to Bali on this page will feel irrelevant. However, it will be different for those who never have experience vacation to Bali.
The following are frequently asked questions from tourists who for the first time having a vacation to Bali. We will answer every subject of Bali holiday faq based on our experience. Our experience in providing Bali tour package service and Bali vacation activities for tourists.
Most of our customers who were wondering about Bali holiday faq is from India, Philippines, Hongkong, Malaysia, Singaporean, and European.
List Of Bali Holiday Faq
Does Bali have a rainy season?
Bali's island has two definite seasons, which is the rainy season and dry season. So when is the rainy season in Bali start?

The wet season in Bali begins between late October to early April and the dry season in Bali from May to September. Even though the rainy season month starts, a sunny day, it is still expected.


Does it rain all day in Bali?
Bali island is a tropical island who has two weather season, which is dry seasons and rainy season. As local Balinese, during the rainy season in Bali, the changes for rain all days is less occur even though sometimes it happens. From our experience, the storm will often arise from the third weeks of December till the early month of January.

Read More, Is It Secure To Join White Water Rafting Bali On A Rainy Day?
What is the weather like in Bali in December?
For Bali temperature is always warm, even though during December which is the beginning of the rainy season in Bali. Form the last December weather report, the temperature in Bali with an average 27°C (81°F). While in the beginning weeks of December, we will experience a higher possibility of rain.

Read Here, Going To Bali In December Is It Worthy?
What are the hottest months in Bali?
Every dry season, Bali is always hot. Especially on the southern part of Bali such as Kuta, Seminyak, Jimbaran, Canggu, Sanur, Ungasan, Ubud and Uluwatu. For this years, May is the hottest months in Bali with an average 28°C (82,4°F). On noon time the temperature can reach up to 35°C (95°F).
What is the best month to go to Bali?
From our experience that we get from our customer, the best time to visit Bali is diverse on every traveler.

If you prioritize outside vacations such as visiting beach attractions in Bali, try Bali rafting activities. Then the best time to visit Bali for a holiday is from April to October. Because the climate in Bali from April to October is the dry season and the sky is very bright.

If you want a thrifty vacation to Bali, then the best time to save your holiday budget to Bali is during the low season. Visiting Bali for a holiday during low season you will get low prices or discounted hotel prices.

Read More, "Best Time To Visit Bali" >>>


When is the low season & peak season in Bali?
The low season in Bali is from the end of January, February, March, the first week in April, and the third and fourth week in September.

While the peak season on the island of Bali occurs in late June, July, August, end of December, and early January. If you can't avoid, to have a vacation in Bali during high season, try to book airline tickets and accommodation as early as possible to get promotion price.

Read Here, "The Best Time Travel To Bali With Family & Kids" >>>
Is the price of food & transportation lower during low season in Bali?
For food prices and holiday transportation price in Bali, is not affected by low and peak season. Therefore, there is not much difference between the low season and high season.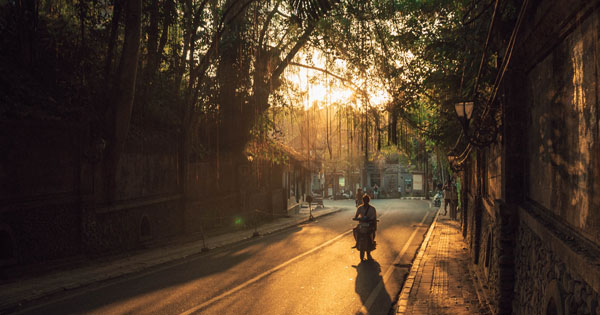 Is October a good time to visit Bali?
October is one of the best time to visit Bali because it's still dry season with less chain occurs. Humidity during October is slightly high. Also, its recommended booking hotel and airline fare as early as possible. Due to on the first two weeks of October school holidays on Western Australian is occurring. As you may know, Bali is the second home for Australian.
How many days should you spend in Bali?
Questions about how many days should spend to have a vacation in Bali, very often we get from Indian, Philippines and Singaporean visitors who order marine water sports game and white water rafting tour in Bali.

Answering about the holiday duration that suits everyone is tough, and of course, only you can answer.

What I can recommend, if you for the first time vacation to Bali, the duration of your holiday in Bali should be six days five nights. With a holiday of 6 days five nights you will be able to visit most popular tourist attractions in Bali.
Are 5 days enough in Bali?
Bali has plenty of things to do and an exciting place to see, even though it is a small island. Therefore, to enjoy your holiday in Bali, you would need to contribute at least 6-10 days of your holiday time.

However, not all of us have a budget to have 6-10 days of vacation in Bali. If your country in Asia, five days of vacation time in Bali is enough. If you feel Bali is an excellent place during your five days holiday, you can plan to revisit Bali next time and visiting other sites that you miss on your previous five days Bali vacation.

Read Here, "Ten Things To Recognize When Planning Bali Itinerary To Be Efficient" >>>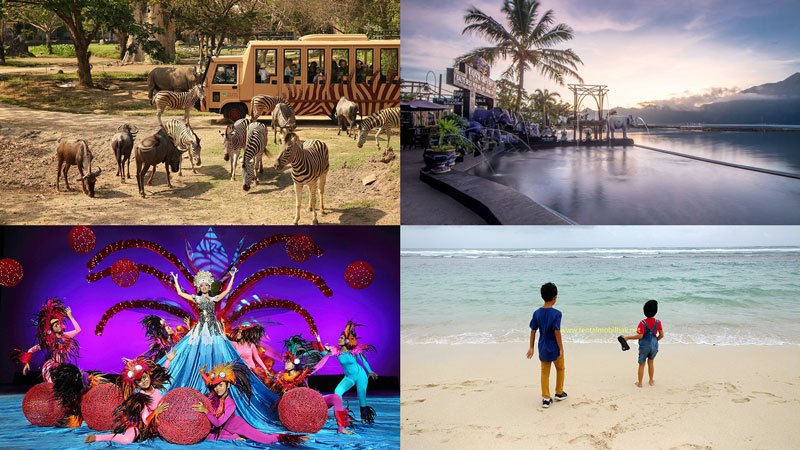 Is Bali safe to visit?
For me, as local Balinese, the island of Bali is a very safe place for local. Also, a safe place to visit for tourist with family or on honeymoon, no matter is day or night. All you need to do to be reliable, don't break the Indonesian government rule.

However, there is nothing wrong if you are always vigilant, and avoid things you don't want to happen during your holiday in Bali. Here are some tips to have safe holidays in Bali.

Save your money in the hotel safety box and only bring enough cash when you are heading out. If you want to shop, some of the shops accept a debit card or credit card; however, cash payment is preparable.

If you plan to get around the island of Bali, you will most likely be interested in renting a car without a driver in Bali. However, if you are not familiar with the roads traffic in Bali, it's a good idea not to drive a car or ride a motorcycle by your self.

In Bali, you can easily find Bali car rental services with a driver. Also, the price of renting a car in Bali with a driver is not much different from the amount of self-drive Bali car rental. By hiring a driver, you don't need to clean the car, and you can relax while traveling, and the one who is looking for a car park is your driver.

Find Here, "Bali Holiday Transport Guide & Tips" >>>
What should I wear in Bali?
Regarding clothes, to wear while on vacation in Bali is dependent on your taste and liking. All you need to remember, Bali has high humidity and hots. Most of the tourist will wear, t-shirt and short with a slipper.

There will be a dress code on specific places in Bali, such as if you want to visit Balinese temple attractions, you need to wear a sarong and scarf tie on your waist.

For more details about clothing guidelines for holidays to Bali, please click the link!


What is the estimated cost of a vacation to Bali?
Every tourist who is planning a vacation to Bali, the first question that arises, is not a question about tourist attractions in Bali and holiday activities. However, questions about the cost of a vacation to the island of Bali. For you to get detailed information about the holiday budget guide to Bali for two people, please click the link!
How much spending money do I need per day in Bali?
Vacation expenses for each tourist will vary. Expenditures depend on the tourist attractions in Bali that you want to visit, places to eat, and holiday activities in Bali that followed. The following is a daily travel budget based on holiday budget categories, exclude hotel and airline fare.

Low budget, IDR 250,000 / person, per day. Eat at food stalls, use motorbike as transportation, only visiting tourist attraction such as a white sand beach. IDR 250,000 equal to USD 17.

Medium budget, IDR 800,000 / person, per day. Lunch or dinner in restaurants, use a private car and join some tourist activities such as Alam Telaga Waja River rafting. IDR 800,000 equal to USD 55.

Top budget, IDR 1,500,000 / person, per day, if you dine in restaurants, private transportation using Toyota Kijang Innova, try lots of holiday activities.
Can you drink alcohol in Bali?
Yes, you can drink alcohol in Bali, alcohol is legal to consume in Bali if your age is above 21 years old.
Is alcohol expensive in Bali?
The answer is Yes and No! Alcohol price in Bali will surprise most of southeast Asian travelers, especially wine, cocktail, and spirit. If the travelers are coming from Australia and European, then they will consider the alcohol price in Bali is cheap, especially Bintang Beer (local beer).

In Bali, you can find local wine and imported wines. However, imported wines tag with a high price in Bali. An average price for a bottle of imported wines cost IDR 400,000 (USD 27).
How much is Bintang beer in Bali?
Bintang is Indonesian beer and one of the most popular beer in Bali. If you have drink Heineken beer, then the taste of Bintang beer quite similar. The alcohol contains on each bottle or can of Bintang beer is 4.7% pilsner. The price of Bintang beer depends on the place you buy it. If you purchase it at a small shop, small bottle Bintang beer cost IDR 25,000/bottle.


Is it hard to get halal food in Bali?
Questions about halal eating places in Bali is the most frequent question we get from Indonesian, Malaysian, and Indian tourists who are for the first time vacation to Bali.

Finding halal food and finding halal eating places on the island of Bali is very easy, especially infamous ​​Bali's tourism area. Such as Kuta, Sanur, Ubud, Legian, Seminyak, Jimbaran, Canggu, Ungasan, and Uluwatu. Even as Balinese, I find difficulties to find non-halal food in the tourism area in Bali.

Read More, "All Things You Need To Know About Halal Dining In Bali" >>>
Can you drink the tap water in Bali?
No, the tap water in Bali is not drinkable, and you should get drinking water in a bottle.

Then how about ice in Bali is safe? If you want to make ice, use the water from the bottle, don't use the tap water. While ice that you will get at the restaurant is coming from the ice companies in Bali that get quality-controlled by the Balinese government, so it is safe.


Do locals drink tap water in Bali?
Some local drink tap water in Bali, usually the locals who live on East Bali where the tap water is still fresh.
Can you brush your teeth with tap water in Bali?
I always use tap water to brush my teeth in Bali, and so far, I don't have any issue with it. However, if you don't feel comfortable, you can use drinking water provided by your hotel to brush your teeth.
Is it safe to shower in Bali using tap water?
The tap water in Bali is safe for the shower or have a bath, I always use tap water in Bali to have a bath, and there is no issue with it as long you don't drink it.
Do you give a tip in Bali?
If you want to give tips in Bali for services that you get is always welcome as long you tell the recipient is a tip. However, there is no tipping policy in Bali; therefore, it is fine not to give some money. My suggestion, most of the local workers in Bali, they don't earn as you might expect. Therefore, if you feel they give an excellent service, a small tip will help their financial.


What is a standard tip in Bali?
IDR 10,000 (less than 1 USD) is the minimum standard tip in Bali. IDR 10,000. From IDR 10,000, you can increase your tips as much as you desire. From my experience, normally tourist gives IDR 50,000 for tips in Bali, if they feel the services meet their expectations.
Are food and drink expensive in Bali?
Food and drink for most tourist are considering cheap, especially if you compare to food and price in Hongkong, Singapore, Australia, or Europe. I have been to Malaysia, specific at Kuala Lumpur, the food price in Kuala Lumpur is almost identical to food price in Bali.

You can get delicious food in Bali for less than USD 3, such as mix chicken rice if you eat at a food stall. It will be different stories if you dine luxury restaurants, you can spend more than USD 100/person if you include wine with your drink.
How do you say hello in Balinese?
The Balinese use two languages, which is Balinese and Indonesian language. However, it is more common for tourist to say hello to Balinese with the Indonesian language.

Selamat Pagi, mean good morning, Selamat Siang means good afternoon, Selamat Malam, mean good evening. For saying thank you, you can say Terima Kasih.
Do they speak English in Bali?
Most Balinese that you see in the popular tourist area can speak basic English, and some Balinese are fluent in English. However, if you go to the village side of Bali, you should ask the young people that you meet, most of the older generation of Balinese are not able to speak English.
Can I use US dollars in Bali?
For any transactional occur in Bali is using Rupiah, the Indonesian Bank Note (IDR/Rp). Therefore, if you bring US dollars, you should change it at one of the money changers, it can be done in your country or while you are in Bali. For your information, you'll have no difficulty finding money changers in tourist areas.

Read Here, "The Best Place To Change Your Money In Bali" >>>
That's all about the information on the Bali holiday faq. By knowing all the answers to an issue that are often asked by tourists. Hopefully, you can use it as tips for your first holiday to Bali.
If you have questions about holidays to Bali that not listed on this Bali holiday faq page. Please use the comments column below to write your question. We will try to answer your holiday questions in Bali. Also, we will list your inquiries as one of Bali holiday FAQ.