Hello, Traveler! Planning a Bali vacation? Great! The suitable accommodation is more than just a comfy hotel – it's about a location that suits your preferences. Above all, with over a decade of guiding tourists, I've identified perfect places for any traveller type and budget. Whether arranging a family journey, a romantic retreat, or a friend's adventure, this holiday guide will help you discover the best place to stay in Bali. Let's find your dream holiday spot!
Bahasa Indonesia, "Area Terbaik Untuk Lokasi Menginap Di Bali" >>>
Why Bali is a Top Destination for Travelers
Above all, Bali, affectionately comprehended as the "Island of the Gods," is a world-class travel destination. Consequently, Its appeal stems from its hospitable locals, diverse accommodations, easy navigation, and rich cuisine. Also, the island's stunning natural beauty, ranging from white sandy beaches to terraced rice fields, enthrals nature enthusiasts.
Likewise, the cultural richness reflected in traditional arts, dances, and Balinese Hindu temples offers an immersive experience. Also, activities from marine water sports to nightlife cater to thrill-seekers. Furthermore, shopping in Bali, featuring malls and local markets, is an adventure. Simply put, Bali captivates every traveller with its diverse experiences. Check out our guide to explore the top 20 most popular and best places in Bali.
Discovering Bali: A Guide for First-Time Travelers
Bali is a treasure trove of experiences with unique attractions scattered across diverse regions. Despite its compact size, it can be overwhelming for first-time visitors, with choices ranging from the lively hub of Kuta to tranquil locales like Ubud. Broadly, Bali's vibrant tourism scene is divided into six areas:
Consequently, check out our "Comprehensive Guide On What To Do For 10 Days In Bali" for a deeper dive into planning your Bali adventure. Let's uncover the best of Bali together!
Navigating: Top Areas to Stay in Bali
Arranging a journey to Bali can be exciting yet confusing for first-timers. It's not just about where to stay but locating the perfect spot for your ideal vacation. Every zone in Bali has its unique appeal – some places offer luxury, serenity, and beautiful beaches, while others are alive with nightlife and bustling markets. Therefore, the article will guide you through each region's appeals and characteristics, allowing you to determine where to stay in Bali. So let's start this virtual tour and discover the best of Bali!
1. Embrace the Bustle: Kuta & Legian As Your Best Place to Stay in Bali
Why Choose Kuta and Legian?
If you're wondering about Bali's most renowned tourist hotspots, look no further than the vibrant beachfront of Kuta and Legian. They're the heart of the island's action and a favourite for many first-time vacationers to Bali.
Accommodation and Accessibility
Kuta Beach's popularity means plenty of reasonably priced accommodations are nearby, many within a stone's throw of the beachfront. Indeed, the strategic location, a quick drive from Ngurah Rai International Airport, makes Kuta and Legian easily accessible for travellers.
Amenities and Dining
In addition, Kuta and Legian have you covered in terms of amenities. For instance, stroll down the coastal roads, and you'll find everything from minimarts and fast-food restaurants to trendy coffee shops, perfect for those who enjoy hanging out.
On the other hand, venture to the outskirts of Kuta for more affordable dining options. You'll stumble upon numerous Halal and budget-friendly eateries in Kuta offering an array of culinary delights, from Asian and Western to Indian and Indonesian cuisine.
Getting Around
Moreover, regarding getting around in Kuta and Legian, scooters are the preferred option for many tourists. They're nimble enough to navigate through traffic and easy to park. However, if you prefer a private car for sightseeing, consider booking a car with a private driver – a convenient choice given the limited parking areas in Kuta and Legian.
Are Kuta and Legian the Best Places to Stay in Bali?
So, is staying in Kuta or Legian the ideal accommodation site in Bali for you? If your holiday checklist includes backpacking, crowd-loving, mall shopping, hanging out, clubbing, affordable eateries, and mesmerising sunsets, then yes! Also, these areas are ideal for couples, singles, beach enthusiasts, and nightlife seekers in Bali.
Curious about more? Check out our comprehensive Travel Guide To Kuta Bali For First-timers and Kuta Bali Area Map on Google Maps for a deeper dive into what Kuta and Legian offer.
2. Seminyak As the Best Place to Stay in Bali: A Luxurious Experience
To clarify, Seminyak is your perfect destination for a luxurious vacation experience. Also, this upscale area, located north of Kuta and Legian, is renowned for its fashionable boutiques, high-end restaurants, and stunning beachfront resorts.
The Beachfront Attraction
Unlike the white sands of Kuta and Legian, Seminyak's beaches feature unique blackish-grey sands, creating a different, equally mesmerising ambience. Indeed, the extensive coastline of Seminyak, with moderately large waves, is a paradise for surfers.
As the sun sets, the beach, particularly Petitenget Beach, becomes a hive of activity, bustling with tourists eager to enjoy Bali's famed sunsets. Also, beach clubs dot the coastline of Seminyak, with Woobar Seminyak being a popular pick.
World-Class Facilities
Seminyak stands out for its world-class amenities. Whether you're looking for designer boutiques, cool cafes, or luxury beach clubs, Seminyak has it all. Consequently, the area is popular among tourists seeking gourmet culinary experiences and luxury accommodations. Although locating cheap eateries in Seminyak might be tricky, finding ATMs, minimarkets, and luxury private villas with pools is easy.
Navigating Seminyak
Like Kuta, the best way to get around Seminyak is by motorbike or on foot. However, if you prefer a more comfortable mode of transport, meter taxis are readily available. And, if you're not staying in Seminyak, renting a car with a driver could be an ideal choice. Above all, given the limited parking spaces in Seminyak, hiring a car with a private driver will save you from the annoyance of locating a parking spot.
Is Seminyak the Best Place to Stay in Bali?
Wondering if Seminyak is the top lodging in the Bali area to stay for you? Furthermore, Seminyak is an excellent choice if your vacation preference includes luxury culinary tours, shopping, boutique experiences, private villas, or cool cafes. Also, it's the perfect place to stay in Bali for couples, singles, and those seeking nightlife close to the beach.
Curious to learn more? Inspect our list of the "10 Best Things To Do In Seminyak Bali," and see Seminyak Bali Area on Google Maps for a detailed view.
3. Canggu Best Place to Stay: As Bali's Hipster Paradise
In recent years, Canggu, located north of Seminyak, has seen rapid development as a favourite tourism destination. The island's hipster paradise offers a unique mix of surf culture, trendy cafes, and bohemian vibes.
An Eclectic Experience
The primary impression you'll get when visiting Canggu is its strong surf culture. The area is a surfers' paradise, with the expansive black sand beaches providing ideal sports conditions. But that's not all. Canggu has a thriving cafe scene, a sizeable ex-pat community, and even rice fields dotting the landscape. However, these green patches may not last forever due to the rapid growth of private villas.
The area features well-known beaches such as Batu Bolong Beach, Berawa Beach, and Echo Beach. Canggu is near the Tanah Lot Temple, one of the island's most popular tourist attractions.
Wide Range of Facilities
Canggu comes with a comprehensive range of tourist facilities. Restaurants, cafes, bars, and food stalls are abundant, catering to various culinary preferences. Essential facilities such as ATMs and convenience stores are easily found along the main roads. As for accommodations, most visitors opt for private villas in Canggu, many of which come with swimming pools.
Getting Around Canggu
Like in Seminyak, Kuta, or Legian, riding a scooter remains the best way to travel around Canggu. However, if you're not staying in the area, taximeters and car hire services with a driver are also readily available options.
Is Canggu the Right Fit for You?
So, is Canggu an excellent accommodation for your Bali stay? If you seek a relaxing atmosphere, love surfing, enjoy hipster cafes, and are looking for reasonably priced private villas, then Canggu fits the bill. Also, the Canggu area is excellent for couples, singles, those seeking proximity to the beach, and nightlife enthusiasts.
Want to know more about what Canggu offers? Check out our comprehensive "Holiday Guide on Best Things To Do in Canggu Bali" and see the Canggu Bali Area on Google Maps for a more in-depth view of this hip and vibrant locale.
4. Jimbaran: Where Tranquillity Meets Culinary Delights
If you're seeking tranquillity, scenic beauty, and mouth-watering cuisine all rolled into one, Jimbaran may be the perfect spot for you in Bali.
The Appeal of Jimbaran Beach
The main allure of Jimbaran lies in its beautiful white sandy beach. The beach's calm waves make it a haven for families with children who adore swimming. It faces west, making it an ideal location for viewing breathtaking Bali sunsets, a captivating spectacle you wouldn't want to miss.
Adding to the charm of Jimbaran Beach is the array of cafes lining its coastline, known for their grilled seafood. Imagine satisfying a great meal while soaking in the spectacular view of the setting sun. It's an experience many travellers relish.
Comprehensive Facilities for Tourists
As a central tourist area, Jimbaran has many facilities to cater to your needs. You'll see everything from budget eateries to high-end eateries, ATMs, and convenience marts. Regarding accommodation, Jimbaran is known for its luxury resorts, such as the Four Seasons Jimbaran. For those on a budget, more affordable accommodation options are available.
Navigating Jimbaran
If you're staying in Jimbaran, most places can be reached conveniently on foot. However, a motorbike can be an excellent way to explore the region if you're based elsewhere. Cars are also an option, with plenty of meter taxis or car hire services with a driver. You'll have no trouble finding parking in Jimbaran, as ample parking spaces near the beach exist.
Is Jimbaran the Best Fit for You?
So, is Jimbaran the right place for your stay in Bali? If you're after a beachfront luxury resort, a beach with low waves and white sand, and mouth-watering grilled seafood, then it certainly could be! Also, Jimbaran it's a top choice for families and honeymooners seeking a serene and enjoyable vacation.
Keen to explore more about Jimbaran? Check out our guide, "10 Reasons Why Jimbaran Bali is the Best Area for a Family Hideaway," and view the "Location of Jimbaran Bali Area on Google Maps" to delve deeper into what Jimbaran offers.
5. Ubud Best Place to Stay: For The Cultural Heart of Bali
Ubud, famous for its lush topography and lively arts scene, is a paradise for travellers desiring to engage in authentic Balinese culture.
The Diverse Attractions of Ubud
Ubud's critical appeal is its blend of picturesque natural scenery and rich cultural heritage. Picture terraced rice fields, protected forests, and Ayung white-water rivers – Ubud has all these. The Tegalalang Rice Terraces are a must-see, offering a unique insight into traditional Balinese farming methods. The Ubud Monkey Forest is another unmissable attraction, where you can see playful monkeys in a lush, sacred forest environment.
Ubud isn't just about nature, though. It's also the island's artistic heartland, with stunning paintings, sculptures, and dance works. And let's not forget about its culinary scene, which ranges from traditional Indonesian fare to a wide variety of international cuisine.
For relaxation, you're spoilt for choice, with an abundance of SPA facilities and yoga studios scattered throughout Ubud, inviting you to unwind and reconnect with your inner self.
Tourist Facilities in Ubud
Ubud is equipped with all the necessary amenities for a comfortable stay. You can easily access ATMs, money changers, restaurants, and convenience stores. As for accommodation, there's something for every budget – from Ubud budget-friendly homestays to luxury resorts nestled amidst lush landscapes.
Getting Around in Ubud
Regarding transportation in Ubud, motorbikes are a popular option due to the ease of finding parking. If you prefer a car, hiring one with a driver is recommended, as parking can be challenging in the central area of Ubud.
Is Ubud Your Perfect Stay?
So, is Ubud your ideal base for premier Bali stay locations? If your vacation preferences include loving natural scenery, a keen interest in exploring Balinese art & culture, an enthusiasm for outdoor activities, and a penchant for SPA & Yoga, then Ubud could be your best place. Also, Ubud is particularly loved by solo travellers, couples, and honeymooners seeking a serene and culturally enriching environment.
For more information on what Ubud offers, examine our guide "The Best Things To Do In Ubud Bali" and locate the "Central Ubud Area on Google Maps". Discover the magic of Ubud for yourself!
6. Nusa Dua Best Place to Stay: To Experience Luxury and Tranquility in Bali
Nusa Dua, located on Bali's southeast side, promises an unforgettable stay for those looking for an exquisite, serene vacation. It's a favourite among those seeking a high-end resort experience synonymous with luxury and tranquillity.
What Makes Nusa Dua Unique?
Nusa Dua takes pride in its clean, white sandy beaches and Bali's renowned five-star hotels. As soon as you step into the ITDC Nusa Dua area, you'll be captivated by the place's elegance, from the meticulously maintained gardens to the uncrowded, well-organised streets.
But there's more than Nusa Dua luxury hotels. Shopping enthusiasts will find retail options at local shopping malls, while foodies can indulge in culinary delights at various restaurants.
What makes Nusa Dua even more appealing is the calm waves of its beaches, making it an excellent area for families with children who want to swim safely.
Facilities in Nusa Dua
Nusa Dua boasts a host of facilities for your convenience. ATMs, money changers, restaurants, and convenience stores are scattered around the area. Consider visiting Jalan Srikandi or Jalan Siligita Nusa Dua for budget-friendly dining options.
Navigating Nusa Dua
Visitors in the ITDC Nusa Dua area often prefer to walk or rent a bicycle to explore the locale. If you're staying outside the Nusa Dua area, using a private vehicle, such as a motorbike or a car, can be a convenient way to explore the ITDC Nusa Dua area and beyond.
Is Nusa Dua Your Best Place to Stay in Bali?
Are you seeking a quiet atmosphere, a luxury area, or a five-star resort and eager to indulge in Bali's water sports activities? If you answer yes, Nusa Dua might be an excellent site to stay while vacationing in Bali. Also, Nusa Dua is particularly favoured by honeymooners and families who enjoy high-end experiences and serene environments.
For more insights on activities suitable for children in Nusa Dua, check out our "List Of Things To Do With Children In Nusa Dua Bali" and see the "Google Map of ITDC Nusa Dua Entrance Location". Enjoy the luxurious tranquillity of Nusa Dua!
7. Tanjung Benoa: Your Go-to Spot for Vibrant Marine Activities
Just to the north of the luxurious Nusa Dua, you'll find the charismatic area known as Tanjung Benoa. This gem of Bali is a popular destination for tourists seeking high-quality accommodation options at a more affordable price than Nusa Dua without compromising the alluring beachside experiences.
Explore the Charms of Tanjung Benoa
Tanjung Benoa is known for its beautiful white sandy beaches, tranquil waves, and water sports activities. Strolling down the coastline, you'll discover numerous water sports game providers. The available activities range from tandem parasailing and jet-skiing to banana boating, intro scuba diving, and snorkelling for beginners.
With its extensive array of water sports recreations and enticingly affordable prices, Tanjung Benoa has established itself as the epicentre of marine tourism on Bali's vibrant island.
Available Facilities in Tanjung Benoa
As with other touristic areas in Bali, Tanjung Benoa ensures the convenience of its visitors. The area hosts an array of accommodations, ranging from budget-friendly hotels to luxury resorts in Tanjung Benoa. Plus, facilities such as ATMs, minimarkets, and money changers are readily available.
Getting Around Tanjung Benoa
Most tourists prefer private transportation options like scooters or cars when exploring Tanjung Benoa, thanks to the ease of finding parking spaces in the area.
Is Tanjung Benoa the Perfect Fit for Your Bali Stay?
If you're seeking a quiet area and love marine tourism recreations, Tanjung Benoa could be the ideal spot for your stay in Bali. Also, it's a favourite among couples and families drawn to its unique combination of peaceful surroundings and vibrant water activities.
For more details about the area, check out the "Location of Tanjung Benoa Beach on Google Maps". Dive into the wonders of Tanjung Benoa and make the most of your Bali vacation!
8. Bukit Peninsula (Uluwatu, Ungasan, Padang-Padang, Balangan, Bingin): Bali's Scenic Coastal Gem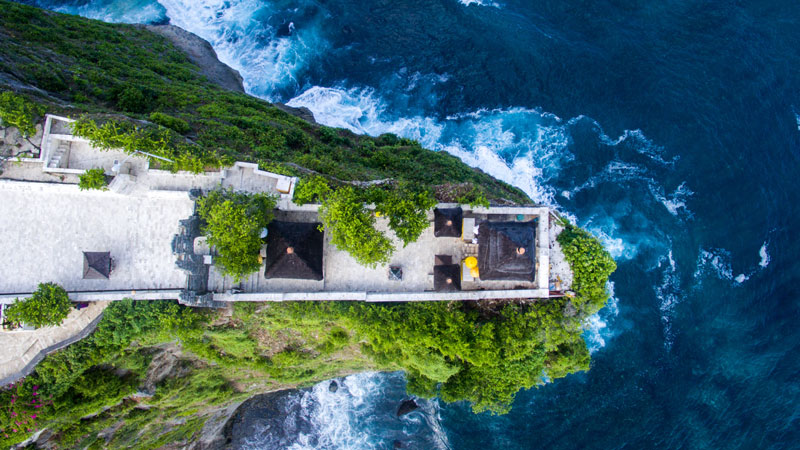 The southernmost tip of Bali homes a hilly expanse known as the Bukit Peninsula, a beautiful area that includes Uluwatu, Ungasan, Balangan, Bingin, and Padang-Padang. Its jaw-dropping cliffs overlooking the blue sea and stunning white sandy beaches, tucked away at the bottom of these cliffs, are enough to captivate any traveller.
Dive into the Charm of the Bukit Peninsula
The natural allure of the Bukit Peninsula lies in its sublime white sand beaches, such as:
Each offers a unique charm, making your beach-hopping experience all the more exciting.
Besides its stunning natural landscapes, the Bukit Peninsula boasts incredible cultural attractions. The Uluwatu Temple, perched on the rim of a magnificent cliff, offers unparalleled sunset views. Don't miss the captivating Uluwatu Kecak Dance performance, which beautifully captures Bali's rich cultural heritage.
Tourists often stay in the Bukit Peninsula for its vibrant cliff-top clubs, such as the Savaya Dayclub Uluwatu, which delivers a blend of luxury and thrill like no other.
Amenities in the Bukit Peninsula
With its rapid development, the Bukit Peninsula ensures visitors' comfort with various accommodations, ranging from budget-friendly hotels to high-end villas in Pecatu. Essentials like minimarkets, ATMs, and money changers are conveniently accessible along the main road.
Getting Around the Bukit Peninsula
Travelling around the Bukit Peninsula is generally done by car, primarily due to the area's warm climate during the day. Convenient parking areas are readily available. However, for the more adventurous, scooters are also famous for zipping around scenic routes.
Is Bukit Peninsula Your Best Place to Stay in Bali?
If you're enthralled by spectacular views of the Indian Ocean from atop cliffs, love beach atmospheres, and enjoy socialising in luxury cliff-top clubs, the Bukit Peninsula could be your dream place to stay in Bali. Also, the Bukit Peninsula is ideal for beach lovers, surfers, and those looking for a relaxed vacation; it's a favourite spot for young couples and solo travellers.
Look at "The Bukit Peninsula Location on Google Maps" to acquire a feel for the zone and plan your unforgettable stay in Bali's scenic coastal gem, the Bukit Peninsula.
9. Sanur Best Place to Stay: For Your Tranquil Getaway in Bali
Nestled on the eastern side of the bustling Denpasar city lies the serene neighbourhood of Sanur. A contrasting twin to its vibrant counterparts like Kuta or Seminyak, Sanur offers a more relaxed and tranquil environment, making it the perfect destination for those seeking an escape from the hustle and bustle.
Unravel the Calmness of Sanur
Sanur's key attraction is the mesmerising beach stretching for 5 kilometres. Its pristine white sand and the calm and shallow waters near the shoreline make it a popular choice for families with young children. The tranquillity of Sanur Beach assures a safe and enjoyable swimming experience for your little ones.
Sanur's inner waters also boast numerous offshore coral reefs, offering a delightful snorkelling experience, particularly for beginners.
Facilities in Sanur
As one of the earliest developed areas in Bali, Sanur is well equipped with a wide range of amenities. From Sanur's budget-friendly hotels to luxury resorts, it has accommodations for every type of traveller. Furthermore, the area is teeming with diverse culinary options catering to all palates, making it a paradise for a food lover.
Other essentials, such as money changers and minimarkets, are easily accessible along the main road in Sanur. To explore what you can do with your children in Sanur, check out our guide on" Best Things To Do With Children In Sanur Bali."
Getting Around Sanur
Private transportation is the go-to option for those staying in Sanur, with options to rent a motorbike or a car for sightseeing around the area. Alternatively, taxis are readily available throughout the Sanur area, providing visitors with a convenient mode of transport.
Is Sanur the Best Place to Stay in Bali?
If your vacation wishlist includes a white sand beach with calm waves and a quieter ambience than Kuta, Sanur is the ideal place to stay in Bali. Particularly suited for families with children and older people members, Sanur ensures a relaxed and enjoyable vacation for everyone.
Check out the "Location of the Sanur Bali Area on Google Maps" and start planning your peaceful retreat in the serene coastal town of Sanur.
How to Choose the Best Place to Stay in Bali
Deciding where to stay in Bali depends on several key factors. It's more than just picking a hotel; it's about identifying what you desire from your Bali experience and aligning it with the perfect locale.
Tips on Booking Accommodations in Bali
When booking accommodations, consider your comfort, convenience, and budget. Bali offers diverse options, from luxury resorts to budget-friendly guesthouses. Therefore, you need to look for conveniences that fit your requirements. Check reviews and compare prices on different booking platforms for the best deals.
What to Consider When Choosing a Best Place to Stay in Bali
Location is crucial as each area in Bali has its unique offerings. Want a quiet beachfront retreat? Look towards Sanur or Nusa Dua. Seminyak or Kuta might be your perfect match for buzzing nightlife and shopping. If you're a history or culture enthusiast, Ubud's Saraswati temples and art markets will captivate you. Adventure lovers should head towards the Bukit Peninsula for surfing and cliff views. Remember to choose a location that resonates with your ideal vacation mood!
Final Thoughts on Finding the Best Place to Stay in Bali
Selecting the perfect spot in Bali can shape your dream vacation. Whether it's a peaceful beachfront, a cultural hub, or a bustling nightlife zone, Bali has it all. Always keep in mind your preferences, budget, and the kind of experiences you seek. Happy planning, and here's to an unforgettable Bali escape!