When visiting Bali Island for a holiday, most travelers will look and love to see white sand beaches in Bali; one of them is Kuta beach Bali. As you know, Kuta Beach Bali is famous for its beach attractions that attract plenty of tourists visit. Furthermore, there are many white-sand beaches available in Bali, not only Kuta Beach Bali. One of them is Balangan Beach Bali. Again, suppose you love to stay in the southern part of Bali island and love to have surfing activities on clean white sand beaches. In that case, I recommend you visit Balangan white sand beaches in Bali.
Bahasa Indonesia, "Panduan Liburan Ke Pantai Balangan Bali" >>>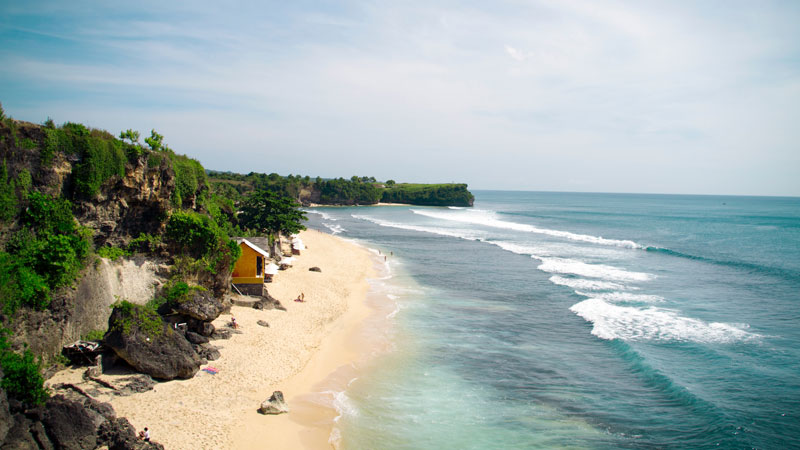 For those who have visited Bali more than once, it will not be hard to find Bali attractions. Also, for sure you must have heard about Balangan Bali or perhaps you have visited this place before.
For those who have not yet visit Bali, there will be many questions in your thought about the beach of Balangan in Bali. So, suppose you are interested in visiting Balangan beach while on vacation in Bali. In that case, I will write more detailed information about the visitor guide to Bali's Balangan beach on this page. Information on vacation guides to the beach that you will get, such as:
The beach location.
Distance & Travel Time.
How to get there.
The beach entrance fee.
The beach attractions.
High cliff area popular tourist spot.
Best things to do on the beach.
Popular locations for prewedding photos in Bali.
Best time to visit.
Pers wrote about it.
Beach attractions near Balangan beach.
The Balangan Beach Bali FAQ.
Read More, "Five Days Honeymoon Trip To Bali" >>>
Balangan Beach Bali Location
Furthermore, Balangan Beach Bali, location is far from the hustle and bustle of Denpasar city and the hustle and bustle of traffic jams around the Seminyak, Legian, and Kuta areas. In addition, the location of the beach is very close to the site of Dreamland beach (New Kuta beach). Therefore, Making Balangan beach is the choice of tourists who want to find tranquillity while traveling to Bali's white sand beach tourist attractions.
The address is in the Ungasan Village area, Jimbaran subdistrict, South Kuta District, Bali. To make it easier for you to find the location of Balangan beach, please use Google Map by clicking the link below!
See Here, "Balangan Beach Google Map Location" >>>
Distance & Travel Time To Balangan Beach Bali
The beach location is not hard to get; it is located in the southern part of Bali and very close to Ngurah Rai Bali International Airport.
Assume you leave from Ngurah Rai International Airport to Bali's Balangan Beach location. In that case, it will cover a distance of 20 kilometers and a travel time of about 55 minutes both by two-wheeled vehicles and four-wheeled vehicles.
If you leave Echo Beach Canggu Bali, heading to Balangan Beach will cover a distance of 34 kilometers with a travel time of about 1 hour 15 minutes. On the other hand, if you depart from Mengiat Beach Nusa Dua, you will cover a distance of 18 kilometers with a travel time of 40 minutes.
From Kuta Beach Bali, you only need 60 minutes with a 23-kilometer distance. It is also located very close to Garuda Kencana Culture Park (GWK Bali), which is only 21 minutes driving and 31 minutes to Uluwatu temple.
How To Get There
When you want to visit Balangan beach, you will need transportation. Then what is the best and available transport to get to Balangan beach Bali?
For public transportation from the tourist area of ​​​​southern Bali to Balangan beach, currently available only taxi meters, online taxis, and online motorcycle taxis. Due to the insufficient availability of public transport, especially from the Balangan beach area to the traveler hotel. Therefore, most travelers who visit Balangan Beach Bali will choose to utilize private vehicles, motorbikes, or cars.
Then where should I look for a private vehicle for a vacation to Balangan beach Bali?
On Bali island, there are numerous vehicle rental services, both in cars and motorbikes. The best way to find a motorbike or car rental provider in Bali is to use a search engine like Google.
See Here, "Guide On What To Do In Canggu Bali" >>>
Motorcycle Rental
The price for motorbike rental on the island of Bali is around IDR 75,000 – IDR 100,000 / 24 hours without fuel. The determination of the motorbike rental price depends on the type of motorbike. If you choose to stay in the southern Bali area, such as Sanur, Kuta, Legian, Seminyak, and Jimbaran, finding a motorbike rental provider is much easier.
Bali Car Rental
If you desire to ride a car, you can look for self-drive car rental services or Bali car rental with a driver. The self-drive Toyota Avanza car rental price ranges from IDR 250,000 – IDR 300,000 / 24 hours without fuel.
Suppose you don't know how to find a car rental company in Bali. In that case, we suggest you use a search engine like Google. Also, on page one of Google, only listed vehicle rental companies are valid for the quality of service credibility of the company. Please always remember, choose a website that is not an advertisement.
If you have never been to Balangan beach Ungasan, I recommend looking for Bali car rental services with a driver. To find the location of Balangan beach, for those who first come here, will have difficulty. In addition, you will not spend a lot of time on the road, because you are confused about finding the location of the beach. Also, by renting a car with a driver, you will not get lost.
Then, the advantage of using a car rental service in Bali with a driver, you don't need to keep the car clean because the driver always cleans the vehicle.
See Here, "Guide On Best Way To Get Around Bali Island" >>>
Balangan Beach Entrance Fee
I'm sure that you will have this question for those of you who have never been to Balangan beach! How much is the entrance fee to Balangan beach? To access the Balangan beach area, for now, visitors are not charged an entrance fee. However, you will be charged a vehicle parking fee.
Scooter, IDR 5,000.
Car Rp 10,000.
See Here, "Guide About Travelling To Bali On A Budget" >>>
Balangan Beach Attractions For Vacation Spots
Balangan beach is offering a half-kilometer stretch of white sand flanked by high coral reefs. Because of the beach's location facing northwest, the sunset view looks breathtaking in the afternoon.
In addition to the charm of the unspoiled beauty of the beach, Balangan beach is a favorite location for world-class surfers. Due to is supported by high, long, and big waves. Therefore, the beach is perfect for surfers who like a challenge and not for novice surfers.
Surfers feel at home on the beach, from morning to evening, beating the waves with their surfboards—especially surfers from Australia who have often come to Bali.
From the shoreline, you can see an airplane approaching for landing at Ngurah Rai airport. In addition to recognizing the airport view, you can also see the beauty of Dreamland beach if you stand on the cliffs of Balangan beach. You can also see the fishing boats on the Kedonganan beach when loading and unloading the fish caught in the morning.
Read More, "Must Visit 10 Bali Hindu Temples" >>>
High Cliff Area Popular Tourist Spot
From the vehicle parking location to the beach, it is very close, and you need to step down several stairs. However, most visitors who visit Balangan Beach Bali do not go straight to the beach. However, travelers go to the cliff area on the right side of the place where you park your vehicle.
From the top of the cliff, you will see the view of the beach from a different angle. You will be able to see the coastline with a stretch of white sand with an extent of blue seawater. In addition, from the top of the cliff, you will see surfers surfing the waves.
If you want to get the best sunset photos, it's a good idea to get photos from the top of this cliff.
See Here: "10 Places To See The Best Sunset In Bali" >>>
Best Things To Do In The Balangan Beach
Most of the activities of tourists who vacation at Balangan beach include taking photos around the beach, swimming, surfing, sunbathing, or sitting on the beach.
Several supporting facilities for tourism objects have been built around the beach area. Visitors can rent loungers belonging to the inn. With long chairs, visitors can rest while enjoying the sun.
Surfing
The Beach in Balangan well knows and get plenty visit by surfer fan from all around the world. You can find one of the best waves on this beach, with fantastic scenery that stretches along the coastline. Besides that, the tide on the Beach offers plenty kind of sections, also offers a 500-meter long ride when you can get an enormous wave.
For you who do not surf, you must be wondering! Is this beach appropriate for me to visit with friends and family, to lay down on the beach?
The Beach Bali is no longer a place to visit only by the surfer. Nowadays, many visitors came to the beach to view stunning sunset views, swimming on clear seawater, and relaxing on a white sand beach.
For those on vacation with children, you can do swimming activities, playing with sand while enjoying the beach view, especially the sunset view. However, when children swim at the beach, they must be under the full supervision of adults.
The Balangan beach area is suitable for swimming, but you have to be good at swimming. In addition, I did not see any lifeguards around the beach area. So, please be careful when swimming.
Looking for a drink, from cocktail to coconut cooler, you can get it here. There are a few small cafes that provide drinks and food that you can buy on the beach. With coconut cooler in hand, lay down on a clean white sand beach while enjoying the stunning view of the sunset; what else that is better than this is your thing to do in Bali.
Read More, "Top Things To Do In Bali" >>>
Popular Locations for Prewedding Photos in Bali
Balangan Beach is one of the favorite prospective bridal couples who want to take prewedding photos in Bali. Every day professional photographers snap a prewedding photo here. The white sand is clean and gently sloping with towering coral cliffs, very supportive of a prewedding photoshoot location.
Balangan Bali beach resort is perfect for you to visit if you expect:
Clean white sand beach.
You can see the sunset view.
Beach visitors are not too crowded.
Best Time to Visit
If you want a sunset view, then the best time to visit is in the afternoon, around 17:00. Sunset time in Bali is around 17:40 – 18:30, depending on the position of the sun. However, in the afternoon, visitors to Balangan beach are pretty crowded, especially during the high season in Bali.
If you like a quieter atmosphere, then it's a good idea to visit in the morning around 08:00.
Read More, "Guide On Best Time to Visit Bali Island" >>>
Pers Wrote About It
CNN Travel wrote about this beach and put the list as the five best-hidden beaches. Of course, they put Balangan beach on the first list. You can read about the five best-hidden beaches in Bali by CNN travel on the link.
If you feel the beach in Bali is too crowded and prefers more quiet and hidden from the public. I recommend you to visit Virgin Beach Karangasem Bali. However, you will need 2 hours driving to get to Virgin Beach Bali from the south part of Bali.
Beach Attractions Near Balangan Beach
Also, the beach area the location is very close to other famous beaches in Bali, such as:
Bali island has so many beautiful beaches with their characteristics and uniqueness. But if you want a vacation to a white sand beach while trying marine tourism activities such as jet skiing, parasailing, or ocean walkers. Then the best beach in Bali for maritime sports games is the Tanjung Benoa beach Bali and Sanur beach Bali.
Water tourism activities on the Tanjung Benoa beach are better known as Tanjung Benoa water sports. I'm sure you are currently curious about the price of Tanjung Benoa Bali watersports games.
See Here: "The Latest Tanjung Benoa Bali Watersport Price List" >>>
Balangan Beach Bali FAQ
In providing Bali river rafting and affordable Bali water sports services for vacationists, we often get questions about holidays to Balangan beach from our customers. Here are some questions frequently asked by tourists when they want to vacation in Balangan Beach Bali.
The distance between Dreamland beach and Balangan beach is very close. Can I walk from Dreamland beach to Balangan beach?
I have not found a path that can easily pass by foot at the peninsula area that separates the two coastal regions. The best way to get to Balangan beach from Dreamland beach is using a motorized vehicle.
I have limited time on vacation in Bali, between Melasti Ungasan Beach and Balangan Beach; which is better for me to visit?
Both beaches have white sand beaches with slightly more refined grains, and cleanliness is maintained. Balangan Beach is more suitable for you to visit if you want a sunset view and love surfing. In comparison, Melasti beach Ungasan is better for you to comprehend if you want to swim comfortably.
Is Balangan Beach suitable for swimming?
The water area of ​​Balangan Beach, 200 meters from the shore, is quite rocky. You can enter the water area to soak and be careful when walking.
If you have been on vacation to Balangan Beach Bali, please write down your holiday experience in the comments column below. We look ahead to your comments or opinions. Your suggestions and comments will be beneficial for other readers and us.