When you are planning a vacation to Bali and are interested in visiting the tourist attractions of Canggu, if yes, you will most likely ask! What is there to do, and is Canggu worth visiting? If you have that question, then on this page, I will provide guidance and information on the best things to do in Canggu.
Bahasa Indonesia: 5 Aktivitas Liburan Populer Di Canggu Bali Favorit Wisatawan Indonesia.
Below is the common question asked by tourists when they, for the first time visiting Canggu Bali. We will answer all the below question. Therefore you get a complete guide on things to do in Canggu Bali.
How We Get The Data On The Best Things To Do In Canggu
Before you read about a holiday guide to Canggu Bali, it's good to know where we get data on popular things to do in Canggu Bali that tourists favour.
During this time, we often read several articles on holiday guides to Bali that are more suitable for Australian tourists, not for Indonesian, Indian, Chinese, and most Asian tourists. For your information, Wira Rafting Bali is a branch of Wira Tour Bali, a legal Tour & Travel agency in Bali. Based on our experience providing Bali white water rafting, Bali marine water sports, and tour package for tourists for ten years. Most Indonesian, Indian, and Chinese tourists prefer holiday activities in Bali, which differ slightly from Australian and European tourists.
Thus, based on the taste differences of each tourist from every country, we cannot create a list of the best things to do In Canggu to meet everybody's criteria. Therefore, the list of best things to do in Canggu on this page will reach a broader audience. If you want to know what Indonesian tourists love doing while visiting Canggu, you can click the link below! However, the page is in the Indonesian language.
General Information
The Canggu area is the name of a village in the North Kuta subdistrict, Badung Regency, Bali. Most of the area is flat, and most of the land consists of paddy fields. Also, it has several regions located on the coast. The village area of ​​Canggu is bordered by Tibubeneng and South Kerobokan areas.
At first, the village was not widely known by travellers as a tourist destination. But with the development of the Seminyak and now Seminyak area becoming a popular tourist destination in Bali. Therefore, making it an alternative destination adjacent to Seminyak.
Read More: Top 10 Bali Things To Do.
How Is Canggu Bali like?
So how is Canggu in Bali now? At the beginning of the Canggu tourism development, most visitors who vacationed there were surfers and expatriates. However, the development of tourism facilities in Canggu, in the form of a cafe, vegetarian restaurant, shop, and private villa, makes it preferred by an expatriate, hipsters, and vegetarian tourists.
Besides tourism facilities, the beach shoreline is one of the best places in Bali to watch the sunset due to the Beach shoreline facing the southwest side of the horizon. Wherever you have a sit near the beach coastline, and the weather is clear, you can see a fantastic sunset.
If you compare it to Kuta Bali or Legian Bali, the area will be less quiet. However, to get around effectively, you will need a scooter because each cafe, restaurant and villa location is spread out. Therefore, if you are looking for an alternative place to stay on the island of Bali, with less quiet than Kuta Bali or Legian, you should consider booking a private villa in Canggu Bali.
Find Here: Best Time Of Year To Visit Bali.
Is Canggu Expensive To Other Places In Bali?
This question is tough to answer. Due to a particular area of Bali, there is a place that offers local prices, and some are expensive. Let's talk about Canggu!
You can still find a cheap place to eat in Canggu, and you can always find a luxury restaurant here, the same as accommodation. If you eat at a local food stall in Canggu, which is called warung makan, you will get a portion of food for IDR 40.000 (USD 3) or around ₨ 220 (Indian Rupee).
I read on the internet Ubud is cheaper compared to Canggu, and others say Seminyak is more expensive than Canggu. From what I know as Balinese and live in Bali, all tourist areas In Bali, especially in the southern part of Bali, offer a wide choice to meet every budget of travellers.
For example, you can easily find luxury five-star resorts in Ubud luxury resorts; in other ways, you can also easily find cheap accommodations in Ubud. Also, the same thing happened in Canggu and other places in the southern part of Bali. Therefore, it will be erroneous to say one place in Bali is more expensive than other locations in Bali.
See Here: Recommended Bali Itinerary 5 Days For Honeymoon.
How To Get Canggu From Other Places In Bali?
Bali is a large island, and there are many tourist areas in Bali. Therefore, how to get to Canggu from other places in Bali on this page is only from Ngurah Rai International Airport, Ubud, and Uluwatu.
Find Here: Top 10 Ubud Things To Do.
How far is Canggu from Airport?
If you depart from Ngurah Rai Airport, then the distance to Canggu Bali from Ngurah Rai Airport is about 22 kilometres. Regarding travel, time will vary depending on your vehicle type.
How far is Canggu from Ubud?
Canggu and Ubud are large areas. For example, if you depart from the Ubud Monkey Forest tourist attraction, heading to Batu Bolong Beach will cover a distance of about 32 kilometres.
How far is Canggu from Uluwatu?
The same things as Uluwatu is also a large area. For example, if you depart from Uluwatu temple to Batu Bolong Beach will cover a distance of about 37 kilometres.
Transportation Options To Canggu
Then what about the transportation options to the Canggu area? There are many transportation options in the area. So which transportation is the best? It depends on the scope of the visit, as well as the budget you have.
If you stay overnight, then from Ngurah Rai Airport, you can get a meter taxi. The average cost of transportation using a taxi from Ngurah Rai Airport to Canggu is around IDR 150,000 – IDR 170,000.
If you move a hotel from Ubud to Canggu, the best transportation option is a rental car with a driver. What about online taxis? In the tourist area of ​​Ubud and some tourist areas in Bali, online taxis are not allowed to take passengers. Therefore, the choice is to use a car rental service with drivers in Ubud, Bali.
How about a scooter? Scooter rental fees will undoubtedly be cheaper than using a car rental service with a driver in Bali. Using a bike will be more suitable for you when moving hotels only carry backpacks, not suitcases. For transportation getting around in Canggu, I will write them down below.
See Here: A Guide Of Bali Transportation To Get Around Effectively.
Can I walk from Seminyak to Canggu?
Yes, you can! All you require to do is a stroll along the beach. Let's say you walk from Petitenget Beach Seminyak to Berawa Beach Canggu, and it will take 45 minutes to walk, and depend on your walking pace.
How much is a taxi from Canggu to Seminyak?
After you walk from Seminyak to Canggu, went you want to get back to Seminyak, you can ride a taxi. The taxi fare from Canggu to Seminyak averages around IDR 110,000 (Rs 607) for 15 minutes ride.
How To Get Around Effectively?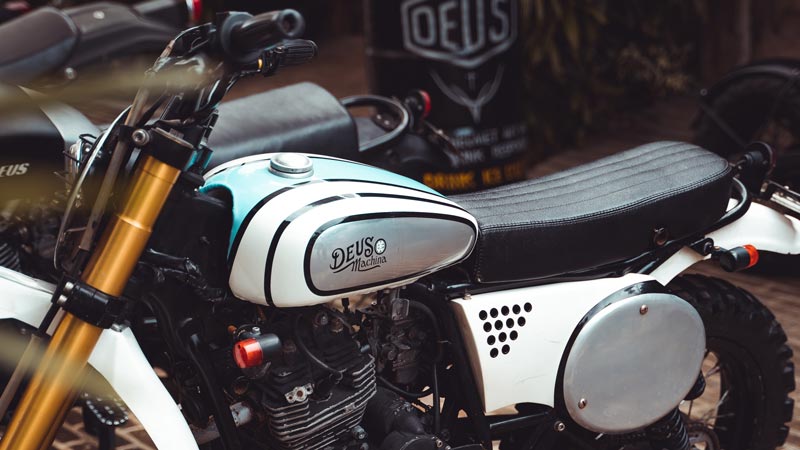 If you stay overnight in Canggu, the best transportation to get around is by scooter. The price of renting a motorbike depends on the type of Bike, usually around IDR 100.000 – IDR 250.000 (Rs 552 – 1.380) / 24 hours without fuel.
Please note some of the roads are not wide, and there are several shortcuts pathway you must pass through. In addition to renting a motorbike, you can use the services of Gojek or Grab Bike (motorbike taxi) for transportation.
Travelling around the area by car can also be an option. But you must be adept at driving a car on a narrow road and accustomed to passing through traffic. Also, car parking areas are limited. Therefore, if you want to get around in the area with a car, using the Bali rental car with drivers is better. So you do not need to consider the car park and the difficulty of passing narrow streets.
See Here: What To Do In Ubud For Free.
Ride A Bicycle
I like to travel to Canggu by riding a road bike (bicycle). Due to I can stroll and freely see the attraction of the area traversed. The obstacle to riding a bicycle is when parking, you must remember to lock your bicycle.
Is there a bicycle rental in Canggu? I do not have experience renting bikes in Canggu Bali because I use my road bike. But you can reach the hotel concierge where you stay to find a bicycle rental shop nearby your hotel.
Can I Swim at Canggu Beach?
There are five known beaches in Canggu, and each beach has different characteristics for swimming. Below are the five beaches in Canggu:
Nelayan Beach.
Pererenan beach.
The best beach for novice swimmers is the Nelayan beach.
The Best Things To Do In Canggu
Indonesian, Indian, and Chinese tourists choose to stay in the Canggu area because they are interested in private villas equipped with private swimming pools at affordable prices. However, for holiday activities, Indonesian, Chinese and Indian prefer to visit places outside the Canggu area, such as;
For holiday activities, Indonesian, Indian, and Chinese tourists prefer water sports activities in Tanjung Benoa or Telaga Waja rafting activities in Karangasem.
While Australian and European tourists choose Canggu as their place to stay due, they want plenty of options for vegetarian cuisine, love to surf, and spend plenty of time hangout while reading books.
1. Sitting by the Beach Waiting for Sunset
In the area, there are several beach attractions. However, the beach attractions in Canggu are all black sand, unlike Melasti Beach Ungasan or the beach on Nusa Penida island, which has white sand. Canggu Beach attractions include Batu Bolong Beach, Echo Beach (Batu Mejan Beach), and Berawa Beach.
Then which beach is the best for viewing the sunset? All beaches in Canggu Bali are perfect for viewing the evening because of the position of the coastline faces southwest. The beaches in the area crowded with tourist visits are Berawa Beach and Echo Beach.
For the Berawa beach, next to the Finns Beach Club, several beach cafe provides bean bag seating in the beach sand area. Most of our customers use car rental services in Bali with a driver like this location to see the sunset on the beach while enjoying a cold drink.
Look Here: 10 Great Sunset Viewing Places in Bali.
2. Visit The Finns Recreation Club
Finns Recreation Club is one of the recreation spots in Canggu that get many visits by Australian, Indonesian, and Indian tourists, especially those on family holidays with children.
Finns Recreation Club has a large swimming pool, water slides, tennis court, fitness centre, restaurant, bar, and bowling alley.
If you must be able to use all the facilities available at Finns Recreation Club, then you have to order a super fun pass package.
If you only want to use the facilities at Splash Water Park, you can order a Splash Day Pass.
Look here: Finns Recreation Club Location Google Maps
3. Walk Around The Rice Fields
I like cycling in rural areas because I can see the views of the rice fields, and the road is not too busy. If you also want the above activity, you can still do it in the Canggu area. You only need to look for the Jalan Raya Seseh leading to the Munggu beach location.
Is the view of rice fields like in the Tegalalang Terrace Fields in Ubud or the Sidemen Karangasem area? Of course, the rice fields in the Canggu area are not like the Tegalalang Rice Terraced in Ubud, but at least you can still find the atmosphere of the rice fields in the area.
The best transportation to see rice fields in Canggu is by motorcycle in the morning and afternoon. If you like biking, then you better ride a bicycle.
See Here: Location of Munggu Beach Google Maps.
4. Hang out at Old Man Bar
The area now gets many visitors because it provides many places to hang out until the evening. One of them is the Old Man Bar. The location of Old Man Bar is on the edge of Batu Bolong Beach. Tourists favour this hangout site because it provides a Live Band and DJ.
Look here: Location of the Old Man Bar Google Maps.
5. Hang out at Finn's Beach Club
Tourists on a family vacation in Canggu choose to visit Splash Water Park, which is different from tourists on their honeymoon or a vacation with friends.
A favourite holiday activity tourists like on their honeymoon in Canggu is a Finn's Beach Club vacation. Finn's Beach Club is one of the most renowned beach clubs in the area. The location is on Jalan Pantai Berawa. Honeymoon couples at the Finn's Beach Club relax, swimming, and enjoying food and drinks until sunset. If you want to know customer reviews about Finns Beach Club Tripadvisor, please click the link.
Look here: Location of Finn's Beach Club Google Maps.
Most Instagrammable Places
In addition to vacation activities, several of our customers ask about most Instagrammable places in Canggu. Here are some instagramable places in Canggu. Please click on the link to see sample photos on Instagram.
For a complete list of instagramable places in Canggu, I will write them on another page later.
Summary The Best Things To Do In Canggu
For Australian tourists, the area is the best spot for surfing activities. Therefore, you will find many places around the area to provide a surfing course. Based on our experience, very rarely Indonesian, Chinese, and Indian tourists who vacation in Canggu will do surfing activities.
Indonesian, Chinese, and Indian tourists for marine tourism activities prefer water sports activities in Tanjung Benoa Beach. Like Bali parasailing adventures, ride a banana boat or a doughnut rolling boat on the shore of Tanjung Benoa. In addition to marine tourism, Indonesian, Chinese, and Indian tourists prefer a vacation by joining Ayung's white water rafting activities in Ubud.
I see the area changing rapidly from what I saw ten years ago. In the past, I still saw many rice fields around the area. But now, many of them are filled with buildings. Even though the Canggu area is busy, like Kuta tourist attractions, you can still find a relaxed impression while on holiday in Canggu Bali.
If you plan a vacation to Bali, you can consider Canggu one of the places to visit in Bali, even if you only visit for a few hours. If you find this article on a holiday guide to Canggu useful, please share it with your friends via social media.