Embark on an Enthralling River Adventure: Welcome to the dynamic world of river rafting in Bali! This comprehensive guide is meticulously crafted to assist you in planning your Bali river rafting trip. It's tailored to ensure a thrilling yet safe experience, catering to the unique needs of both first-time rafters and seasoned adventure enthusiasts. Our 20-step-by-step guide covers everything from selecting the ideal river based on your skill level to essential packing advice. Join us as we navigate the essentials, ensuring your Bali river rafting journey is exhilarating, memorable, and impeccably planned.
Step 1: Choosing the Right River – Beginning Your Bali Rafting Plan
Furthermore, the first step in your guide to planning a river rafting trip in Bali focuses on selecting the proper river, considering your skill level and preferences. Bali's rivers, riveting and rich in natural splendour, offer a range of experiences in intensity and scenic beauty.
Discover the different levels of river rapids in Bali with our detailed guide, "Rapid Classes for White Water Rafting on Bali's Rivers.
A. Ayung River (Ubud):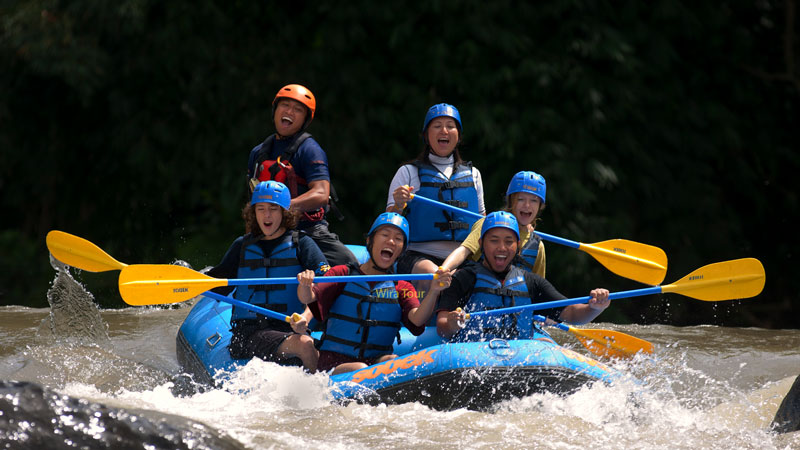 Perfect for beginners, Ayung's gentle rapids are set against a backdrop of lush rice fields and rainforests, offering a serene and scenic rafting experience. Learn about the top six advantages of Ayung River rafting in Ubud.
Testimonial (Alison S, Melbourne, Australia): "An amazing trip down a scenic river, perfect for novices. Our guide's expertise and humour added to the memorable experience."
B. Telaga Waja River (East Bali)
Near Mount Agung, this river promises an intense adventure with moderate to solid rapids, clear waters, and picturesque surroundings, preferred by adrenaline junkies and seasoned rafters. Learn more about the Telaga Waja River Rafting experience and its affordability.
Testimonial (Bayldo, Sydney, Australia): "The continuous rapids along the 13km journey and stunning waterfalls made for an exciting and thrilling adventure. Highly recommend for an exhilarating experience."
C. Melangit River (Klungkung Regency)
Offering moderate rapids and less crowded waters, Melangit is an excellent choice for those with some rafting experience seeking a blend of adventure and tranquillity.
Testimonial (sole dancer, New York): "Our experience with Wira Water Sports on the Melangit River was outstanding. The river was less touristy, the organization was flawless, and the entire trip was valuable."
Discover the excitement of a Bakas Rafting Bali tour on the Melangit River.
Consider travel distance and time from areas like South Bali and Ubud when planning. Each river presents a unique adventure, so choose one that aligns with your skill level and desire for excitement.
Step 2: Selecting a Rafting Company – A Key Decision in Your Bali Rafting Trip Planning
Furthermore, choosing the right rafting company is crucial in planning your Bali rafting trip. Each river boasts a unique set of recommended operators known for exceptional service.
Ayung River Recommendations:
Testimonial for Sobek (Ayung River):
"Last minute, we chose Sobek for our Ubud rafting adventure and were thrilled! Their efficiency, from hotel pick-up to post-rafting arrangements, impressed us. The guide, Candy, ensured our safety while allowing us to enjoy the stunning Ayung River and its waterfalls. The perfect blend of excitement and scenery, with about 1.5 hours on the water, made it ideal for our family with teens. Ellen L – Corte Madera, CA"
Telaga Waja River Recommendations:
Testimonial for BMW Rafting (Telaga Waja River):
"Our rafting trip with BMW on the Telaga Waja River was both exhilarating and scenic. Despite a long drive, hindered by a local parade, the 13km journey was thrilling. Our guide made the experience enjoyable for my two children and me, with just the right amount of challenge and fun. The trip concluded with a delightful meal, a perfect end to our adventure. – RADHD, Mount Gravatt, Australia."
Curious about how challenging it is? Check out the article How Hard Is Telaga Waja River Rafting in Bali?
Critical Considerations for Choosing a Rafting Company:
Ensure they have official licensing and certified guides.
Check their safety record and read traveller reviews.
Assess the guide's knowledge of rafting and local culture.
Confirm the quality and maintenance of equipment.
Prefer companies practising eco-friendly measures.
These guidelines will help you choose a company that aligns with your safety needs and adventure preferences, guaranteeing an unforgettable rafting experience in Bali. Are you new to rafting? Our Bali Rafting Guide for Beginners is an excellent place to begin your adventure.
Step 3: Booking Your Adventure – Advance Planning for Bali River Rafting
Additionally, optimize your Bali river rafting experience by planning. Especially during peak seasons, booking in advance is essential. Here are some key strategies:
Early Booking: Book your spot at least a week before your trip.
Last-Minute Bookings: Off-peak seasons might offer more flexibility for spontaneous plans.
Group Discounts: Travelling with a group? Check for discount options.
Special Packages: Look out for combined experiences, like rafting and ATV Ride, for a diversified holiday.
Customized Experiences: Inquire if rafting tours can be tailored to your group's preferences, ensuring a unique adventure.
Step 4: Partnering with Local Agents – Enhancing Your Bali Rafting Planning Experience
Moreover, enhance your rafting journey by engaging with local travel agents. They provide expert insights and competitive pricing, contributing to a stress-free experience.
Expert Insights: Benefit from their extensive knowledge of Bali's rafting scene.
Competitive Pricing: Local agents often provide deals better than direct bookings.
Sustainable Tourism: Support Bali's eco-tourism efforts by choosing responsible travel partners.
Seamless Booking: Enjoy a stress-free experience as agents manage all booking details.
Cultural and Language Support: Gain valuable cultural insights and overcome language barriers with their assistance.
Local travel agents like us offer more than bookings; they're your gateway to a culturally rich and authentic rafting adventure in Bali.
Step 5: Understanding Cancellation Policies – A Vital Part of River Rafting Planning in Bali
Also, understanding your chosen rafting company's cancellation and refund policies is crucial. This knowledge is essential for flexible planning and avoiding unexpected situations. Key aspects to consider:
Cancellation Fees: Clarify any costs associated with cancelling your booking.
Refund Details: Familiarize yourself with the refund eligibility and timelines.
Rescheduling Flexibility: Check the feasibility and conditions for changing your trip dates.
Being well-informed about these policies will facilitate a worry-free preparation for your Bali river rafting adventure.
Step 6: Weather Considerations – Preparing for Your Bali Rafting Adventure
Bali's weather plays a pivotal role in shaping your rafting experience. Here are the essentials:
Dry Season (April to October): With stable water conditions and gentler rapids, this period is ideal for beginners and family trips. For families looking to join the adventure, our Ultimate Guide to Family-Friendly River Rafting in Bali has all the information you need.
Rainy Season Thrills: Those craving more intense rafting will find the rainy season's higher water levels and faster currents exhilarating.
Adapting to Climate Variability: Bali's weather can be unpredictable. Stay updated and consult your rafting operator regarding daily weather forecasts and their impact on river conditions.
Understanding these Bali weather patterns is critical to aligning your rafting adventure with your preferences and experience.
Step 7: Transport Logistics – Planning Your Journey to and from Bali's Rivers
In addition, plan your journey to and from Bali's rivers carefully.
Hotel Shuttle Services: Utilize the convenient pick-up and drop-off services offered by many rafting companies in Bali to ensure seamless transportation to your rafting destination.
Personalized Travel Options: For a customized experience, consider renting a scooter or a private car with a driver, allowing you to explore Bali at your leisure.
Navigating Remote Locations: Some rafting sites are located in less accessible areas. Plan your travel route and mode of transportation to circumvent any last-minute obstacles, ensuring a smooth journey to your river rafting adventure.
Step 8: Ensuring Safety – Insurance and Precautions for Bali Rafting
Importance of Comprehensive Coverage: While rafting operators generally provide basic insurance, securing additional travel insurance that covers adventure activities like white-water rafting is paramount for complete peace of mind.
Policy Details: Carefully review the terms of both the rafting company's waiver and your travel insurance policy. Pay particular attention to coverage specifics such as emergency assistance and medical evacuation services to prepare for any unexpected situations during your Bali river rafting experience.
By meticulously planning your transportation and insurance, you can embark on your Bali river rafting adventure confidently and efficiently, ensuring an unforgettable experience in the heart of Indonesia's natural beauty.
Worried about safety? Check out our article, "Is White Water Rafting In Bali Safe Or Dangerous & Scary," where we tackle common safety queries.
Step 9: Packing Essentials – Preparing for Your Bali River Rafting Excursion
Also, embark on your adventure with the right gear. Key essentials include:
Quick-Drying Clothing: Choose garments that dry fast and keep you comfortable.
Secure Footwear: Opt for water-friendly shoes that ensure safety and agility.
Sun Protection: Don't overlook sunscreen to guard against the tropical sun.
Change of Clothes: Pack an extra set for post-rafting comfort.
Minimal Valuables: Keep jewellery and expensive items to a minimum. Use waterproof cases for electronics.
Hydration and Snacks: Bring water and light snacks to stay energized.
Uncertain about what to bring for white water rafting in Bali? Our guide on What To Wear White Water Rafting in Bali & Things To Bring has all the answers you need.
Step 10: Navigation and Coordination – Essential Elements of Rafting Trip Planning in Bali
Furthermore, coordinated transportation planning is crucial for a hassle-free rafting experience in Bali. Consider these tips:
Coordinated Transportation: Confirm your rafting journey's start and end locations, as they often differ.
Post-Rafting Transportation: Arrange for your vehicle to be accessible post-rafting or coordinate with your rafting company for transportation.
Advance Discussions: Engage with your rafting provider or a local travel agent beforehand to streamline your travel plans, ensuring a seamless transition from your thrilling river adventure to your next unforgettable Bali experience.
Also, by focusing on these crucial steps, you're setting yourself up for an organized and unforgettable river rafting adventure in Bali.
Step 11: Safety Gear Checklist – Preparing for Your Bali Rafting Experience
Furthermore, safety is paramount in river rafting. Before embarking on your Bali adventure, ensuring your rafting gear is in top condition is crucial.
Helmet Check: Your helmet should fit snugly, offering maximum protection without compromising comfort.
Life Jacket Assurance: A well-fitted life jacket is a non-negotiable safety must-have.
Paddle Inspection: Examine paddles for any signs of damage and request replacements if needed.
Remember, a successful rafting experience starts with proper gear preparation. To access crucial safety advice, explore our dedicated article, 10 Essential Safety Tips for Bali White Water Rafting.
Step 12: Protecting Your Belongings – Smart Packing for Bali River Rafting
Smart packing enhances your rafting experience. Here's how to keep your belongings safe:
Waterproof Storage: Use waterproof bags for electronics to prevent water damage.
Minimize Valuables: Bring only essentials to avoid loss or damage during the rafting trip.
Packing Essentials: Opt for practicality and safety over luxury.
By safeguarding your belongings, you can immerse yourself in the thrill of Bali's rivers without worry. Wondering about the differences between Telaga Waja and Ayung rivers? Explore our article "Telaga Waja River vs Ayung River" for a comparison.
Next is Step 13: Physical Preparedness – Getting Ready for Bali's Rafting Challenges
Embark on Bali's river rafting adventure with physical preparedness in mind.
The journey, especially at the Ayung River, involves considerable walking and climbing.
Locations like Mason Rafting Point feature around 600 steps down to the river and 300 steps back up, with railings for support.
Be aware of potentially slippery steps post-rain.
Assess your fitness level, adapt to Bali's tropical conditions, and seek advice from rafting companies if travelling with children or managing health concerns.
Planning a river rafting trip in Bali with children? Check out our helpful guide, 5 Tips for Bali White Water River Rafting with Kids.
Step 14: Attending Safety Briefings – A Crucial Part of Rafting Trip Planning in Bali
Safety is paramount in your Bali rafting experience.
Pay close attention during the safety briefing, as guides will detail crucial procedures and instructions.
If any information is unclear, ask for clarification.
Familiarize yourself with emergency procedures and respect the river's unpredictable nature to ensure a secure and enjoyable adventure.
Have more questions? Check out our River Rafting in Bali FAQ for additional information.
Step 15: Embracing Teamwork – The Spirit of River Rafting in Bali
Rafting in Bali transcends individual thrill, demanding effective teamwork.
Collaborate closely with your group, follow your guide's instructions, and communicate effectively. This united approach is vital for navigating the rapids safely and enhancing your rafting experience.
Teamwork ensures a safer, more fulfilling rafting adventure for everyone involved.
Next is Step 16: The Rafting Experience – Immersing in Bali's Natural Beauty
Moreover, the most essential part of planning your river rafting trip in Bali is to ensure you have a great time.
Embark on your river rafting journey in Bali, a fusion of thrilling action and serene natural beauty.
During the adventure, seize opportunities for rest and photography at designated stops along the river.
Embrace these moments to capture the essence of Bali's landscapes.
Respect local customs and the natural environment, fostering a connection with the river's ecosystem and cultural significance.
Step 17: Post-Rafting Activities – Relaxation and Exploration in Bali
Conclude your rafting experience with available facilities for a refreshing shower and a change into comfortable clothes. This transition offers a moment of relaxation, preparing you for your next Bali adventure or a peaceful return to your accommodation.
Step 18: Culinary Delights – Savoring Bali's Flavors After Rafting
Post-rafting, indulge in the culinary offerings included in most rafting packages. These meals feature diverse flavours, from traditional Indonesian specialities to global cuisine, ensuring options for every palate.
Please note while the meal is generally included, beverages are often excluded from the package price.
Special dietary needs, such as vegan or allergy-friendly meals, are typically accommodated upon request.
This careful attention to dietary requirements guarantees an enjoyable dining experience for every rafter, rounding off your adventure with delightful tastes.
Step 19: Capturing Memories – Photographing Your Bali Rafting Journey
Capture the essence of your Bali river rafting experience with professionally taken photographs and videos available for purchase. While these souvenirs are showcased post-rafting, allowing you to relive your exhilarating moments, it's important to note that their cost is not included in the rafting package rate. Therefore, bring additional cash should you wish to purchase them. However, buying these mementoes is optional, ensuring you can choose how to remember and share your Bali river rafting adventure.
Moreover, each planning step is crafted to enhance your Bali river rafting trip and adventure, creating a seamless, enriching, and memorable experience.
Step 20: Concluding Your Trip – Efficient Post-Rafting Travel Planning in Bali
Concluding your Bali river rafting adventure requires thoughtful planning for your return trip. Since rafting trips' start and end points often differ, arranging suitable transportation in advance is vital. This ensures a smooth transition, whether you're returning to your accommodation, moving to another destination, or needing to reach a parked vehicle. Coordinated logistics play a crucial role in ending your rafting experience on a seamless note.
Post-Rafting Exploration: Discovering Bali's Essence
The adventure doesn't end with the rapids. Bali's river rafting locations are gateways to exploring the island's cultural richness and scenic beauty. Post-rafting, immerse yourself in the local lifestyle by visiting nearby villages, relaxing at spas, or enjoying the tranquillity of wellness centres. These experiences perfectly balance the exhilarating rafting adventure, allowing a deeper connection with Bali's unique essence.
Conclusion: Seamless Planning for Your Bali Rafting Adventure
With this planning guide, you're equipped for a well-planned and delightful river rafting trip in Bali. It's more than just an adrenaline-filled experience; it's a deep dive into the island's enchanting landscapes and rich culture. This comprehensive guide ensures that your Bali rafting adventure is safe, respectful, and enjoyable. As you ride the rapids and immerse yourself in the vibrant surroundings, each moment becomes integral to your unforgettable Bali journey.