Tirta Gangga Bali once a water park owns by the Karangasem Kingdom, which located in East Bali. Also, currently open for the public as a tourist site. The majority of traveler who is visiting Tirta Gangga royal water garden is Europeans. So, are you interested in attending Tirta Gangga Bali Water Palace Karangasem Regency on East Bali? Find out here, the location with map, Tirta Gangga entrance fee & opening hours, history, accommodation, and the best way to get the site.
Bahasa Indonesia, Lihat Disini: "Tirta Gangga Karangasem" >>>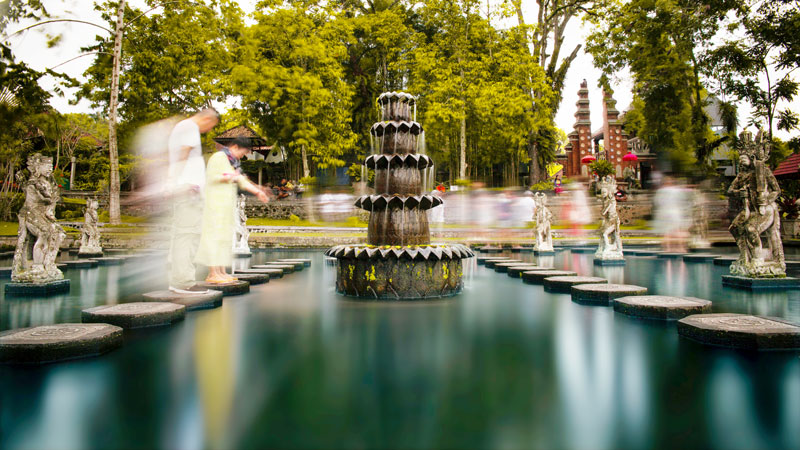 Tirta Gangga Bali Water Palace General Information
Furthermore, there are three main things to see at Tirta Gangga Karangasem, and there are gardens, water ponds, and sculpture. The park Tirta Gangga Karangasem location, in the middle of rice fields. Also, the water in this park comes from water springs call Rejasa water springs. The park owned by the Kingdom of Karangasem but manages by the Karangasem government regent.
The area of the park is 1.2 hectares, which extends and stretches from east to west. Also, there are three levels of the building at Tirta Gangga water palace in Bali. The tallest building there are springs under the banyan tree. In the second flat of the building, there is a swimming pool. Also, building at the bottom, there is an ornamental pond with a fountain.
When you enter the Tirta Gangga royal water garden, the first thing you were gone see is a stretch of the water pool. Also, there is one towering temple on your right side. Visitors can see the fish at the base of the pond. Water in the garden is spotless and fresh because the pool water comes from a spring instead of treated water. The springs at Tirta Gangga Bali by local people in the area around regarded as holy water. Holy water used in Balinese Hindu religious ceremonies.
Water Spring of Rejasa
Water Spring of Rejasa has an enormous amount of water, dismissed and fresh. One-third of the Rejasa Springs water supply sent to houses in Amlapura City (the capital city of Karangasem). Two-thirds are used to fill the pool and the output of the water pond use for agriculture. You also will see a lot of Big Koi fish in the pool, and you are not allowed to swim in this pool. If you go to the inner side of the Tirta Gangga royal water garden, there is a pool that will enable you to swim; changing room and place for rinsing off are available.
Also, I have tried to swim in the Tirta Ganga water pool, and the water is fresh and bright. It was entirely different from the human-made swimming pool. I recommend if you are visiting the Tirta Gangga royal water garden take your time to swim in this pool. The main thing that makes Tirta Gangga love by the visitor is a unique design of water palace, beautiful gardens surrounding the mansion, with stone carving also Balinese statue. The right place if you want to know the old Balinese architecture.
History Of Tirta Gangga Karangasem
Furthermore, Tirta Gangga's name means river Ganges holy water. While River Ganges located in India, of course, the water in this park is not coming from India.
Also, Tirta Gangga Water Park, built-in 1946 by the King of Karangasem, Anak Agung Ketut Karangasem Anglurah. Tirta Gangga Karangasem has previously destroyed by the eruption of Mount Agung in 1963. Also, the regent of Karangasem rebuilt this park and intended for tourist areas.
See Here: "List Of The Best Karangasem Regency Attraction" >>>
Accommodation
So, if you plan to spend a night at Tirta Gangga Bali, therefore, you can get accommodation in Tirta Gangga Hotel. Also, on the way to Tirta Gangga, you will see a lot of rice fields. For your information, most of the rice field photos that you saw on the postcard taken here.
So if you are looking for a quiet place and has beautiful scenery of rice paddy and water fountain, then spend a few days at Tirta Gangga royal water garden is worth to try, and it worth to mention as one of best things to do in Bali. There are small cafes and restaurants on this site. The food price is not high and tasty, but it takes quite a while for them to cook your food. Therefore, it means all the material of your meal is still fresh.
Tirta Gangga Bali Location
Also, Tirta Gangga royal water garden located in Karangasem regency, one of Regency situated in the east part of Bali Island. Therefore, from International Ngurah Rai Airport, it takes 2,5 hours driving, quite long isn't it? However, its place that worth to visit.
There are many exciting places at Karangasem regency that worth to visit, such as Candidasa, Taman Ujung water palace. If you plan to dive Amed, Therefore, you can stop by and visit Tirta Gangga Bali, Tulamben beach (black sand beach beast for scuba diving activities) and the famous one Virgin Beach Bali. Also, if you need a map to get the directions to find the location of Tirta Gangga Karangasem Bali, therefore, please use the map!
Best Way To Travel
If you never visited East Bali. Therefore, we suggest you use the services of car rental in Bali with a driver. There is a reason why I recommend that you use the services of car rental in Bali. As a result, with a driver, you will not get lost and do not waste time on the road.
While the distance from the tourist attractions in southern Bali to Tirta Gangga water palace is far enough, so you can take a nap in the car.  Also, transportation costs become cheaper because the cost of renting a car with a driver in Bali calculated per 10 hours in one day.
Tirta Gangga Entrance Fee & Opening Hours
Furthermore, the opening hours of the Tirta Gangga water temple in Karangasem regency, from 07:00 – 18:00. Finally, to be able to enter the Tirta Gangga water palace, you will charge an entrance fee of IDR 40,000 / person.  If you want to swim, therefore you will be charged an additional fee of IDR 20.000 / person (Foreigner).
Categories
Price
Domestic Entrance Fee
IDR 25.000 / person
Foreigner Entrance Fee
IDR 40.000 / person.
Swim On The Pool Ticket Price
IDR 10.000 (Domestic).
IDR 20.000 (Foreigner).
Car Parking
IDR 2.000 / car
Things That You Might Want To See: "Tree House Karangasem Regency" >>>