Firstly, Bali offers many exciting and fun activities, with whitewater river adventures being one of the top attractions. However, not everyone has experience with these exhilarating rafting activities. Should you be a novice rafter arranging a vacation in Bali, Ayung River Rafting Ubud might pique your interest. Above all, the rafting experience occurs on the Ubud's Ayung River. One of the best rivers in Bali for beginners seeking an adventurous tour. On this page, you will find a guide on the river's rapid difficulty; three recommended companies, how to book online for a lower price, trip duration, and tips for Ayung River rafting in Ubud.
Bahasa Indonesia, Ayung Rafting Ubud Bali – 3 Penyedia Rafting Sungai Ayung Terbaik.
The Ayung River, Ubud, Bali
The Ayung River is classified as a level II – III whitewater rafting rapids difficulty, making it an ideal choice for novices. Therefore, should Ayung Rafting interest you, this piece offers in-depth knowledge about the exhilarating Ayung whitewater rafting journey.
Consequently, the river is named Ayung after the area it flows through, situated in Ubud, Bali's renowned tourist village. For more information about this river, please click this link! Learn more about the Ayung River Ubud here.
Comparing the Telaga Waja River and the Ayung River can help you make an informed decision.
Ayung Rafting Tours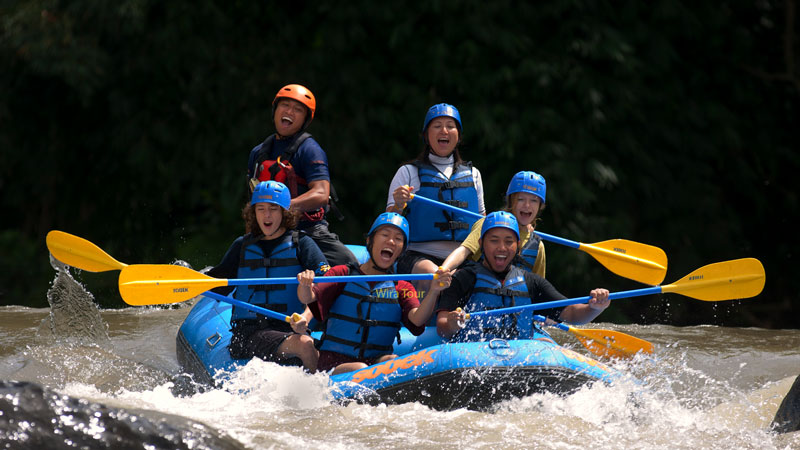 The Ayung River in Bali perfectly fits individuals with minimal rafting experience. Consequently, most rafting companies operating on the Ayung River welcome participants between 5 and 65 years old. Therefore, making it an excellent family adventure. Furthermore, this Definitive Guide to Family-Centric River Rafting in Bali provides valuable insights for family adventure planning.
By participating in Ayung River whitewater rafting, you'll experience excitement, including an adrenaline rush, breathtaking tropical views, and engaging guides who can provide information about rafting on the Ayung River in Ubud, Bali. Meanwhile, here are Six Highlights of an Ayung River Rafting Adventure in Ubud, Bali, that can help you decide.
As you commence your rafting adventure, Bali's unspoiled natural landscapes will unfold before you. The Ayung River in Ubud offers a thrilling sense of adventure, complemented by beautiful scenery, including valleys and cascading waterfalls. Along the route, you'll also spot sacred Balinese Hindu shrines.
Recommended Ayung Rafting Ubud Companies
Many operators provide white water rafting experiences on Ubud's Ayung River. As a reputable rafting agency in Bali, Wira Rafting Bali recommends customers choose companies that provide:
Excellent service.
Well-trained rafting guides.
Professional staff.
Comprehensive insurance.
Engineered steps and easy access to the river.
The Ayung River Rafting Operators We Recommend Are:
1. Sobek Ayung River Rafting Price
Furthermore, Sobek Rafting at Ayung River is well-known for prioritizing safety and the quality of both products and services for its clients. Sobek Ayung Rafting remains one of the leading whitewater rafting companies for Ayung River rafting in Ubud.
| CATEGORY | ONLINE PRICE |
| --- | --- |
| International Travelers | IDR 495.000/person |
Included in Bali Sobek's rafting package:
The price includes government tax and service charges.
Provision of mineral water for clients.
Safety-approved rafting equipment.
Professional whitewater river rafting guide.
Shower facilities and fresh towels for customers.
Well-maintained toilets and changing rooms.
Sobek Ayung river rafting Ubud price includes a variety of buffet lunch options.
Insurance coverage by Bali Sobek Rafting.
2. Mason Adventure Rafting Ayung River Ubud Price
If the safety and dependability of an Ubud whitewater rafting firm are your top concerns, we advocate for Mason Adventure Rafting. Especially if your family members are between 5 and 65, Mason Adventures Rafting on the Ayung River in Ubud suits first-timers and beginners.
Mason Adventure Tours for Ayung River Rafting adheres to incredibly high safety standards. Making their rafting prices slightly higher than other whitewater rafting operators in Ubud. Despite this, Mason Rafting Ubud is one of the best whitewater rafting companies in Ayung River Ubud. Therefore, ensuring each client receives excellent service.
| Participant | Price |
| --- | --- |
| Adult | IDR 770,000/person |
| Child (5-12 Years) | IDR 585,000/person |
| Family (2 Adult & Up to 3 Children) | IDR 2,500,000 |
What's Included in the Price of Mason Whitewater Rafting
Mason Adventures Rafting Tours deliver more than just a thrilling whitewater rafting experience. They provide a comprehensive package to ensure your utmost convenience and comfort. Here's what you can anticipate when you pick Mason Adventures:
Mason Adventures Rafting Tours include pick-up and drop-off services using an air-conditioned vehicle. Please refer to the table for complimentary pick-up areas and timing details.
As part of your adventure, you'll be given a quick walk-through for gearing up with the necessary rafting equipment. Experienced guides will also provide essential instructions to ensure your safety and fun.
Mason Adventures take care of your comfort by including bath towels, hot showers, and changing rooms in their package. Moreover, individual electronic lockers are available for your belongings.
After your exhilarating rafting experience, treat yourself to a gourmet buffet-style lunch. Please note that while the package includes the food, beverages are not. Any drink orders will be billed separately to the restaurant's cashier.
Mason Adventures Rafting provides insurance coverage during rafting trips (provided by PT. Bali Adventure Tours) as part of their commitment to your safety and peace of mind.
By choosing Mason Adventures, you're signing up for an adventure and a comprehensive service that ensures comfort, safety, and satisfaction.
3. Bali Payung Rafting Ayung River Ubud Price
Firstly, Bali Payung Rafting delivers memorable moments on Ubud's Ayung River, recognized for its exciting rapids and picturesque views. Ideal for all age groups, their service includes expert guides who ensure safety and share knowledge about the area.
Bali Payung Rafting uses well-maintained equipment and offers amenities like changing rooms, shower rooms, and meals. Their packages even include insurance coverage. Whether you're an experienced rafter or a novice, Bali Payung Rafting ensures a memorable adventure amidst natural beauty and excellent service.
| Publish Price | Our Online Price |
| --- | --- |
| USD 65 / Person | USD 30 / Person |
Cost Details of Payung Rafting Ubud Experience
When you embark on an adventure with Payung Rafting Ubud, your expense includes the following:
Transportation services include pick-up and drop-off. Note that some regions in Bali may incur additional fees, as per the chart below.
A 21% fee that encompasses both a service charge and government tax.
Refreshing drinking water.
Safety equipment that meets international standards for river rafting.
The assurance of a professional river rafting guide on each boat.
Amenities like shower facilities accompanied by fresh towels.
Provision of changing rooms, lockers, and restrooms for your convenience.
An enjoyable Indonesian lunch.
Bali Payung Rafting provides insurance coverage for all participants.
Please note that the permissible age range for participation in Payung Rafting in Ubud is 7 to 65 years.
Please click the highlighted links above to understand each provider's Ayung River Rafting price. Before making any whitewater rafting booking, we recommend you research each of the companies listed above. This will help you understand what you'll be getting and the rates they offer for an Ubud Bali white water rafting adventure. Of course, booking through us will secure even lower whitewater rafting prices!
Comparing Online and On-Site Booking Prices for Ayung River Rafting
Presently, making online purchases often fetches more economical rates compared to direct, on-site bookings. This applies to Bali's white water rafting as well. Suppose you explore Bali white water rafting on Google and select an option from the first page of the search results (excluding ads). You'll likely find more attractive rates than those offered for direct bookings.
As a rafting tour agent specializing in river rafting trips on Bali Island, we ensure our prices for Ayung River rafting in Ubud are competitive. Consequently, the three companies listed above for the Ubud Bali white water rafting adventure are our top recommendations based on their services and safety standards.
Your Safety Matters: Ensuring a Safe Rafting Experience
Although Ayung River rafting brings a thrill, safety remains the utmost concern. Assessing the Safety of White Water Rafting in Bali: Safe Adventure or Frightening Risk? can help you understand better. Each recommended rafting operator employs skilled guides who are well-trained in water safety and rescue techniques. They also use safety equipment that meets international standards.
You will be provided a safety briefing before starting your river rafting trip in Ubud. Covering the essential paddling methods and security procedures to obey. This briefing is crucial to ensure your safety and help you feel confident while navigating the rapids.
Duration of the Ayung Rafting Experience in Ubud
Above all, the whitewater rafting experience on the Ayung River typically lasts between 2 and 2.5 hours. However, your total time on the trip will be more, considering the pick-up and drop-off service, safety briefing, changing into rafting gear, and post-rafting recovery and lunch.
Additional Recommendations: Making the Most of Your Bali Adventure
If you are preparing a visit to the Ayung River for whitewater rafting, you might also want to explore other attractions in the Ubud area. Here are some recommendations:
Recommended Reading: Bali Marine Watersports.
Tips for Ayung River Rafting Ubud:
Wear comfortable clothing: Quick-dry clothing and water-friendly footwear are recommended. You also can read our guide about What should I wear for rafting trips in Bali?
Don't forget your sunscreen: Bali is sunny, and rafting will expose you to the sun for a couple of hours.
Bring a change of clothes: You'll get wet, and having a set of dry clothes to change into after your adventure can make the rest of your day more comfortable.
Waterproof camera: If you own a waterproof camera or a watertight case for your smartphone, bring it along. The Ayung River scenery is worth capturing.
Here are Five Essential Tips for Enjoying Bali's White Water River Rafting with Children if you bring your kids along. If you have more queries, check out these Commonly Asked Questions about Bali White Water Rafting.
In Conclusion
In conclusion, whitewater rafting on the Ayung River is an exhilarating experience you should not miss on your trip to Bali, with trusted operators like Sobek Rafting. Payung and Mason Adventure, you can embark on this adventure with peace of mind, knowing that safety is their top priority. Enjoy the thrill of navigating the rapids, the stunning views of the Ayung River valley, and the warm hospitality of the Balinese people. Happy rafting!
Learn More, Telaga Waja Rafting.
Excited about your next Bali adventure? Why not try Bali whitewater rafting on the Ayung River? Don't forget to share your experience with us in the comments and check out our other related articles about Bali Adventure activities on our website.