Welcome to the 'Bali Rafting Guide for Beginners,' your essential resource for a thrilling holiday adventure in Bali's stunning rivers. This guide equips you with crucial tips and tricks, from selecting the correct operator to mastering survival techniques in the water, ensuring your rafting experience is safe and extraordinary. Experience Bali's adrenaline rush and natural beauty, where every wave tells a story, and every current has its unique charm.
Bali Rafting Guide for Beginners: Embarking on Your Adventure
Rafting in Bali offers an unforgettable experience, combining adrenaline and the beauty of tropical nature. This guide and tips for whitewater rafting in Bali are designed to help beginners enjoy a safe and delightful rafting adventure.
Discover Bali's Beauty: A Beginner's Guide to Rafting Landscapes
With its enchanting rivers and stunning natural scenery, Bali is the perfect destination for whitewater rafting. From tropical rainforests to terraced rice paddies, rafting in Bali offers a unique natural tourism experience. Read here for a guide to exploring the natural beauty of Bali.
1. Selecting the Best Operator: A Beginner's Guide to Safe Rafting in Bali
Ensuring Safety: Bali Rafting Guide for Novices on Operator Reputation
Choosing a rafting operator in Bali with a good reputation is crucial for beginners. Look for operators with positive reviews and a trustworthy safety record. Advice from local travel agencies on trusted rafting operators in Bali can be a valuable guide.
Find '3 Telaga Waja River Rafting Operators in Bali' in our article for further reference.
Critical Selection Criteria for Safe Rafting
When selecting a safe rafting operator for beginners, pay attention to the following:
Guide Certification: Choose operators with trained and certified guides. This ensures safety and a quality rafting experience.
Safety Standards: Ensure the operator provides adequate safety equipment, including life jackets and helmets.
Customer Service: A responsive operator with clear emergency protocols is essential for your comfort and safety. Read reviews to assess customer service and safety standards.
Choosing the right operator guarantees a safe and enjoyable rafting experience, especially for beginners. For tips and recommendations on operators in Ubud, see 'Ayung Rafting Ubud: Tips and Top 4 Operator Choices'.
Introduction to Rafting Safety Briefing
Before starting rafting, a safety briefing is a crucial step. Whitewater guides will explain the use of life jackets and helmets, basic paddling techniques, and actions in emergencies.
Additionally, they will teach you how to survive if you fall out of the boat, including safe body positions and how to wait for help. Paying attention and following all instructions given during the briefing is essential.
Choosing and Checking Rafting Equipment
Selecting and checking equipment before starting rafting is a vital step.
Ensure the life jackets and helmets provided fit your body size and condition.
Helmets should fit snugly on the head without being too tight or loose, and life jackets should be comfortable without hindering movement.
Check the condition of equipment like paddles and ensure no damage could compromise safety. Don't hesitate to request replacement gear if anything is unsuitable or damaged.
Your safety in the water also heavily depends on the quality and condition of the equipment used.
2. Bali Rafting Preparation for Beginners: Fitness and Health
Essential Fitness Tips: Preparing for Bali Rafting as a First-Time Rafters
Before rafting:
Exercise cardiovascular exercises like jogging or cycling to boost endurance.
Include stretching or yoga for flexibility and balance and strength training for arms and shoulders, which are essential for paddling.
Start these exercises a few weeks before whitewater rafting.
Nutrition Advice Before Facing the River Currents
Before rafting, consume a breakfast rich in carbohydrates and protein, like oatmeal or whole wheat bread, for sustained energy. Avoid fatty meals, and remember to drink plenty of water for hydration. Avoiding caffeine and alcohol is also crucial. Carry light snacks like energy bars for the journey. Read more on what to eat before engaging in physical outdoor adventure activities.
3. Choosing Your Path: A Beginner's Guide to Bali Rafting Routes
Choosing the right rafting path in Bali is essential to guarantee a safe and pleasant experience. Here's a brief overview to help you choose:
Beginners vs. Experienced: Beginners should choose paths with calmer currents, while experienced rafters can try paths with stronger currents.
Physical Condition: Match the path with your fitness level.
Adventure Preferences: Some paths offer beautiful scenery for a relaxed experience, while others emphasize adrenaline.
Ayung River, Ubud: Ideal for beginners, with gentler rapids and scenic nature.
Telaga Waja River, Karangasem: Offers more significant challenges with bigger rapids, suitable for thrill-seekers. Read our article, 'Six Reasons to Love Rafting on Bali's Telaga Waja River'.
Rafting Duration: Ranges from 1.5 to 2.5 hours, depending on the location and strength of the river currents.
Expert Advice on Selecting Rafting Paths in Bali for Newcomers
Consult with Operators: Discuss details and difficulties of each path.
With these considerations, you can find the rafting path in Bali that best suits your needs.
4. Essential Gear for First-Time Rafters: Clothing and Equipment Guide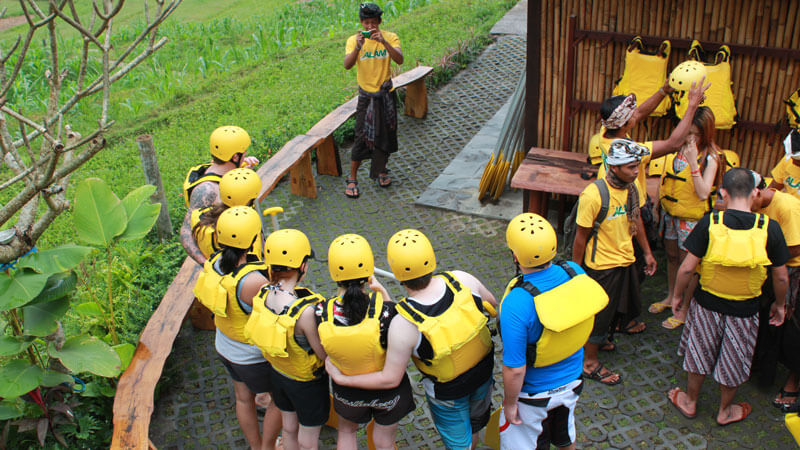 Here's a concise and helpful guide to ideal clothing and equipment for rafting in Bali, including photography tips:
Optimal Rafting Apparel: A Beginner's Guide to Dressing
Clothing: Wear quick-drying and comfortable sportswear. Avoid cotton as it takes long to dry and can lead to chilliness.
Shoes: The best choice is water shoes or trekking sandals with heel straps. Avoid flip-flops or easily removable shoes.
Change of Clothes: Always bring a change of clothes for after rafting, including dry underwear.
For more information on ideal clothing for rafting in Bali, read our article: 'What to Wear for Bali Rafting'.
Equipment Essentials: Bali Rafting Gear Guide for Starters
Sun Protection: Waterproof sunscreen is crucial. Reapply as needed.
Accessories: Sunglasses with a safety strap and a comfortable hat to protect from the sun.
Waterproof Bag: To store valuable items like jewellery, mobile phones, car keys, and money.
Recommendations for Photography
Waterproof Camera: Consider a waterproof camera or a waterproof case for your smartphone. Find the best waterproof camera recommendations for outdoor adventures here.
Safety Strap: Ensure your camera or smartphone has a safety strap.
Photography Services: Some operators offer photography services. This can be a practical option for capturing moments without worrying about damaging your equipment.
5. Before and After Your Bali Rafting Journey: A Beginner's Checklist
Here's detailed and helpful information for travellers about the procedures before and after rafting in Bali:
Registration and Prep: Bali Rafting Starter's Guide
Arrival Time: Arrive earlier than the specified time to avoid rushing. The extra time helps complete administration and get to know your guide.
Health Check: Some operators may ask you to complete a health form or declare certain physical conditions.
Questions and Clarifications: Use the time before rafting to ask about the path, duration, or any safety concerns you have.
Post-Rafting Essentials: A First-Time Rafters Guide to Facilities in Bali
Changing Rooms and Showers: Most rafting locations provide changing rooms and shower facilities for comfort after the activity.
Relaxation Area: Some places also have a relaxation area where you can unwind, eat, or share experiences with other participants.
Photo Documentation: If you use the operator's photography service after rafting, it is the perfect time to view and purchase your photos."
Weather Insights: Bali Rafting Weather Guide for First-Timers
Weather Forecast: Check the local weather forecast a day before and on the day of the activity. Local weather websites or mobile apps can be good sources.
Weather Impact on Path: Weather can affect the difficulty level and safety of the rafting path. Rain can increase river currents. 'Is it safe to join a Bali rafting adventure during rain?' is answered in our detailed article.
Navigating to Your Rafting Spot: Bali First-Time Rafters Location Guide
Navigation to Location: Use navigation apps or digital maps to find the rafting location. Ensure you know the route and travel duration of your accommodation.
Directions from Operators: Most rafting operators in Bali provide directions to the location or even shuttle services. Make sure you have these details beforehand.
6. Safety First: Bali Rafting Safety Tips for First-Time Rafters
Here's detailed and helpful information for travellers about survival tips in the water while rafting in Bali:
Mastering Paddling Techniques: Bali Rafting Guide for New Rafters
Sitting Position: Sit upright with your legs slightly bent for stability.
Paddle Grip: Hold the paddle shoulder-width apart. One hand is at the end of the paddle, and the other is in the middle.
Paddling Motion: Use your arms and shoulders, not just your wrists. Swing the paddle from front to back in a smooth motion.
Synchronization: Coordination with your team in the raft is crucial. Follow the rhythm and instructions of the guide.
Handling Falling Out of the Raft
Don't Panic: If you fall out, stay calm. Panicking will only worsen the situation.
Body Position: Keep your body afloat, facing upwards. If you fall near rocks, point your feet towards them to protect your head and upper body.
Using a Life Jacket: Ensure you wear the life jacket correctly. It will help you stay afloat.
Following the Current: If you're away from the raft, let the current carry you until help arrives. Don't swim against the current.
Signalling for Help: If you're separated from the raft, raise your hand or use visual or audible signals to draw attention.
Actions if the Raft Capsizes
Stay Close to the Raft: If the raft overturns, try to stay close to it. It gives you something to hold onto and makes it easier for the team to find you.
Look for Air Pockets: If trapped under the raft, look for air pockets to breathe.
Understand the Risks: Be aware that rafting is an adventure with certain risks. Understanding these risks will better prepare you.
Preparing for emergencies is vital when participating in activities like rafting. Following this guide can enhance your safety and ensure a more enjoyable and safe rafting experience in Bali. For additional safety tips, don't miss our article: '10 Safety Tips During Bali Rafting Tour'.
7. Embracing Culture and Environment: Bali Rafting Insight For First-Time Rafters
Environmental Friendly Practices: Keep the rivers clean by not littering. Respect the natural environment.
Respecting Local Culture: Rafting in Bali is also an opportunity to learn about local culture. Respect the customs and traditions of the local community.
8. Best Season for Rafting in Bali: A First-Time Rafters Timing Guide
A. Dry Season (April-October):
Clear Weather: Ideal for beginners and families with more stable currents.
Good Visibility: Allows enjoying the surrounding natural beauty.
B. Rainy Season (November-March):
Intense Experience: Suitable for adrenaline lovers with stronger currents.
Lusher Landscapes: Offers more lush and dramatic scenery.
General Tips:
Choose Routes According to Ability: Match with your skill level.
Consult with Operators: Discuss river conditions and recommendations based on weather.
The dry season is generally preferred for more relaxed rafting, while the rainy season offers more significant challenges for adventure seekers.
9. Understanding River Difficulties: Bali Rafting Routes for First-Time Rafters
A. Ayung River, Ubud:
Suitable for beginners. Offers gentler rapids and beautiful natural scenery. It is ideal for those wanting a more relaxed rafting experience. Learn 'Six Benefits of Choosing Ayung River in Ubud for Your Rafting Adventure' in our detailed article.
B. Telaga Waja River, Karangasem: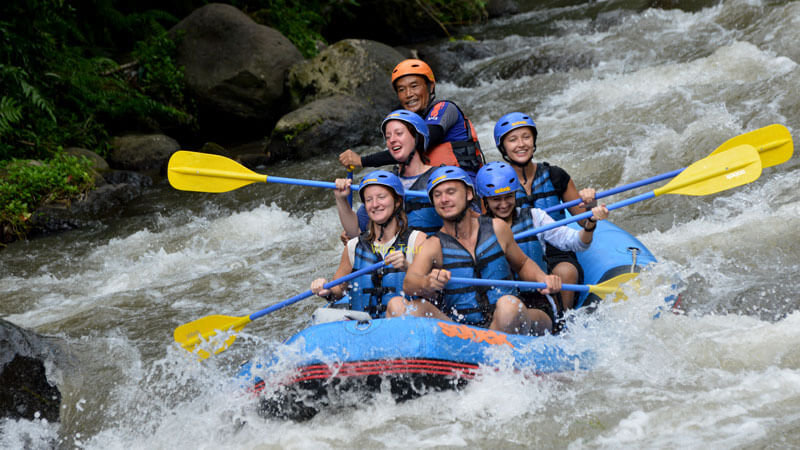 More significant challenges, with bigger rapids and stronger currents. It is suitable for experienced participants seeking adrenaline. For a deeper understanding of the difficulty level of Telaga Waja Rafting Karangasem, read 'How Challenging is Telaga Waja Rafting Karangasem'.
C. Melangit River, Klungkung:
Offers a combination of challenge and beauty. Suitable for those with prior rafting experience or seeking more varied currents. See our article for more details about 'Rafting Melangit River Klungkung'.
Each river has unique characteristics, so choosing a route that matches your skill level and comfort is essential.
Learn more about the classification of river difficulty levels for rafting in our article 'Understanding the Different Difficulty Ratings for Rafting Rivers'. Also, read the comparison between 'The Telaga Waja River and the Ayung River' here.
10. Evaluating Bali Rafting Costs: Budget Guide
The cost of rafting in Bali varies depending on the operator and the kind of package chosen. In general, rafting packages usually include several key elements:
Transportation: Many operators provide hotel shuttle services. There are also rafting packages without transportation, making the cost of rafting in Bali cheaper.
Safety Equipment: The fee usually covers the rental of safety equipment such as life jackets and helmets. See the complete guide on water safety equipment for rafting.
Lunch: Some packages include lunch, often after the rafting activity is completed.
Experienced Guides: Competent and experienced guides to ensure a safe and enjoyable rafting experience.
Additional Facilities: Most operators provide changing rooms, showers, and rest areas.
It's important to compare packages from various operators to get the best deal according to your needs and budget.
11. Transportation Tips: Getting to Bali Rafting Locations
For transportation and access to rafting locations in Bali, here are some essential things to know:
Shuttle Service: The majority of rafting operators offer hotel pick-up services. This eases logistics and reduces worries about navigation or parking.
Private Transportation: If you choose private transportation, check directions and accessibility to the rafting location in advance. Ensure you have an accurate map or reliable navigation app.
Travel Time: Consider the travel time from your accommodation to the rafting location. Leave early to avoid delays, especially if you're staying in an area far from the rafting site, such as the south Bali area.
Knowing these transportation and access details will help ensure your rafting experience is smooth and enjoyable. Find out '5 Reasons Travelers Love Telaga Waja Rafting Bali' in our article.
12. After the Rapids: Post-Rafting Activities in Bali for Newcomers
After testing your adrenaline with rafting in Bali, continue the adventure by exploring additional activities that enrich your experience. Here are some examples of recreational activities after rafting.
Ayung River, Ubud:
Monkey Forest Ubud: A lush green forest offering direct interaction with monkeys, ideal for post-rafting relaxation.
Bali ATV Ride: Add excitement by exploring off-road trails on an ATV, perfect for true adventurers.
Telaga Waja River, Karangasem:
Melangit River, Klungkung:
Bali Safari Marine Park: Feel the thrill of meeting wild animals, a pleasant contrast after rafting.
Kerta Gosa: Offers history and cultural lessons through its architecture and paintings, deepening your appreciation for Bali.
Each rafting location in Bali is surrounded by entertaining activities that provide opportunities to learn more about Bali's culture and natural beauty. Explore and enjoy this variety of activities to make your rafting adventure unforgettable.
13. Bali Rafting for All Ages: A Guide on Age and Fitness
Rafting in Bali is open to a wide range of age groups, with criteria varying depending on the river's difficulty level and the operator's policy.
Generally, children aged 7 can enjoy rafting on calmer rivers like the Ayung River in Ubud, which is ideal for beginners and families.
For more challenging rivers like the Telaga Waja River in Karangasem, it is generally recommended for older participants, usually 9 and above.
Whereas the Melangit River in Klungkung is often chosen by those at least 10 years old with previous rafting experience or seeking more challenges.
Besides age criteria, it's also essential to consider participants' physical condition and readiness. Pick a course that fits your fitness level and comfort or your group's. For more specific information, consulting with rafting operators or official local travel agencies in Bali like us is advisable.
14. Family Rafting in Bali: A Safety Guide
Child and family safety is a top priority in rafting in Bali. To ensure a safe and enjoyable experience for all family members:
Safety Equipment for Children: Choose rafting operators that provide special child safety gear, such as child-sized life jackets and helmets. Get '5 Tips for Rafting in Bali with Children' in our article for family rafting activities.
Experienced Operators: Look for operators experienced in organizing family rafting, ensuring all participants' safety and comfort.
Family-Friendly Routes: Most operators offer rafting routes suitable for families, with difficulty levels adjusted for children. Read our guide on 'Child-Friendly Rafting Rivers in Bali' for more information.
Trained Guides: Ensure your guide is trained in basic paddling techniques and safety procedures, especially for children.
Family Facilities: Inquire about special family facilities, such as changing rooms, rest areas, and other services that support family needs.
Considering these factors, you can ensure that rafting in Bali is exhilarating and safe for the whole family.
Real Stories: Rafting Experiences in Bali for First-Time Rafters
Hearing directly from those who have embarked on rafting adventures in Bali can offer invaluable insights. Here are some concise reviews that reflect the critical aspects of the whitewater rafting experience:
Mason Adventure Rafting: Leila Belkacem praises the professionalism and safety of the Mason Adventure team. Her extraordinary experience highlights the thrills and fun offered by this operator.
Sobek Rafting: Jason D notes the efficiency and availability of Sobek Rafting in handling last-minute bookings. His experience emphasizes the natural beauty and quality of service provided.
BMW Rafting Telaga Waja: Sasha expresses her fondness for the adrenaline-fueled rafting at Telaga Waja, highlighting the enjoyable lunch and excellent facilities.
These reviews offer a genuine glimpse into what to expect when choosing rafting in Bali, covering aspects from safe, scenic views to customer service.
FAQs: Bali Rafting Guide for Beginners' Common Queries
Here are some frequently asked questions about rafting in Bali, focusing on safety aspects, equipment, and weather conditions:
How is Bad Weather Handled During Rafting?
Following the guide's instructions is crucial in case of inadequate weather, such as hurricanes or heavy rain. They might direct you to a safer location or halt the rafting activity for safety.
What Safety Equipment is Provided?
Rafting operators provide standard safety equipment, including life jackets and helmets. Ensure these fit well and are in good condition before rafting.
How to Store Personal Belongings During Rafting?
Operators usually provide a secure storage space for personal belongings. It's recommended to bring only necessary items and use these facilities.
What if Minor Injuries Occur During Rafting?
For minor injuries, rafting guides are typically equipped with first aid kits. In more severe cases, guides will follow established emergency procedures.
Is Rafting Possible for Non-Swimmers?
Yes, non-swimmers can still participate in rafting if they follow all safety instructions and wear life jackets correctly.
Can We Bring Cameras or Smartphones?
Cameras or smartphones can be brought as long as they're stored in waterproof bags. Ensure these devices do not interfere with your rafting activity.
By addressing these questions, we hope to provide clear and helpful information for planning a safe and enjoyable rafting adventure in Bali. Also, find answers to more common questions about rafting in Bali in the article 'Common Questions About Rafting in Bali'.
Building Connections: Bali Rafting's Social Aspect
Furthermore, rafting in Bali isn't just about adrenaline rushes; it's also about rich social interactions. It's a golden opportunity to meet new people, forge friendships, and expand your social network.
In each rafting group, you'll find opportunities to collaborate, share experiences, and support one another, creating bonds and unforgettable memories. Rafting in Bali presents a unique blend of adventure, camaraderie, and captivating natural beauty.
Conclusion: Your Bali Rafting Adventure Begins Here
Summary and Call to Adventure
Rafting in Bali is more than just an unforgettable, fun holiday activity; it's a journey that combines enjoyment, excellent natural exploration, and rich cultural experiences.
Every paddle stroke brings you closer to the wonders of Bali's nature, from the lush rainforests to gently flowing rivers. This experience is not just about the adrenaline rush but also about understanding and appreciating the local natural environment and culture.
With thorough preparation, your rafting adventure in Bali will be more than just an activity; it will be an inspiring journey that leaves unforgettable memories. So, grab your paddle, gear up for the adventure, and relish every moment on the beautiful rivers of Bali. For a broader view of rafting in Bali, read 'River Rafting Bali: Exciting Adventures on the Ayung, Telaga Waja, and Melangit Rivers'.