First, the Island of the Gods is a beautiful destination with fascinating beaches, Hindu temples, waterfall views, and beautiful cultural arts. Furthermore, this attraction offers the Island of the Gods many fantastic tourist destinations. Again, this page will guide you to explore Bali best destinations with car rental and driver. Therefore, you will enjoy a comfortable and efficient trip using a car rental service, including a private driver. In addition, if you are looking for the cheapest time tips for a frugal vacation in Bali, combining our services with these thrifty tips will make your holiday more enjoyable and economical.
Bahasa Indonesia, Eksplorasi Tempat Terbaik di Bali dengan Rental Mobil dan Supir.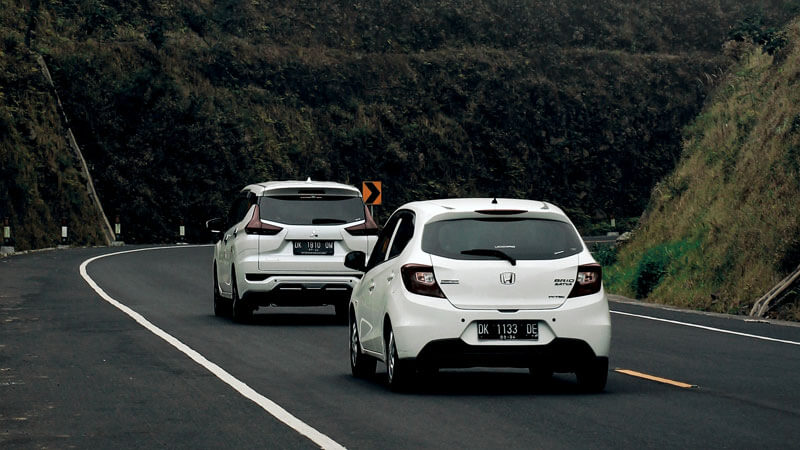 Why Choose Bali Car Rental with Private Driver
Using a rental car + private driver service will save time and effort and avoid fatigue while on vacation. In addition, our experienced drivers will be happy to help you to explore the best tourist destinations with in-depth local knowledge due to years of experience.
Top Bali Destinations to Explore with Car Rental and Private Driver
Now, let us explore Bali best destinations with car rental and driver!
1. Kuta Beach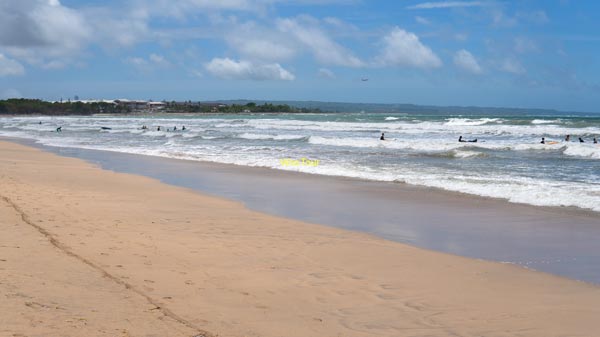 Often regarded as the most famous beach on the Island of Gods, Kuta Beach boasts spectacular sunset views that draw visitors worldwide and a bustling nightlife scene. With its lively atmosphere, and numerous bars, clubs, and restaurants, Kuta Beach has become a hotspot for those looking to experience Bali's vibrant social life.
2. Tanah Lot Temple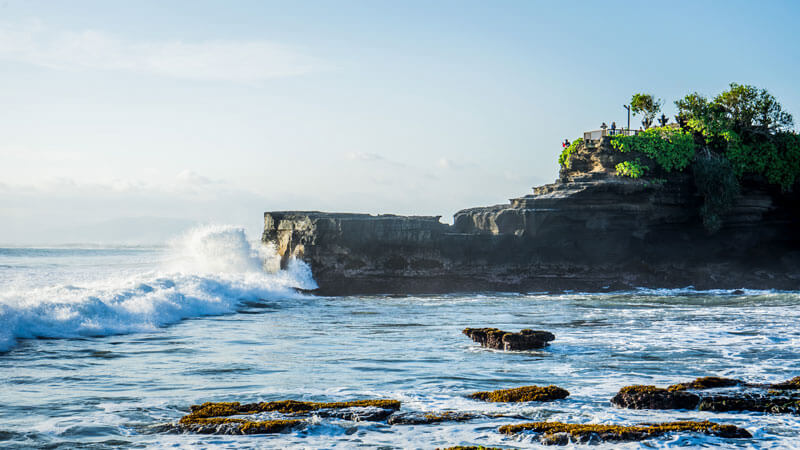 This majestic Hindu temple, perched atop a large rock formation just off the coast, is a must-visit destination in Bali. The unique positioning of the temple offers breathtaking sunset views, as the temple's silhouette stands dramatically against the colorful sky.
In addition to its stunning beauty, Tanah Lot holds great cultural and spiritual significance for the Balinese, making it an essential and unforgettable part of any visit to the island.
3. Ubud Central Bali
This area is a center of culture and arts, famous for the Monkey Forest, the Tegalalang rice terraces, and the Ubud Art Market. If you want to make your vacation in Bali more romantic, especially in Ubud, take advantage of these ten honeymoon destinations in Ubud & romantic things to do. Surely it will make your trip unforgettable and full of beautiful memories with your partner.
4. Uluwatu Temple
Uluwatu Luhur Temple has a unique location because it is located on a cliff that juts into the sea. At the holy site, tourists will be able to catch the scenery of the Indian Ocean, and travelers will be capable of enjoying the Uluwatu Kecak Fire dance at sunset.
5. Nusa Penida Island
This scenic island, discovered just off the southeastern coast of Bali, boasts various displays of awe-inspiring natural terrains. Kelingking Beach's dramatic limestone cliffs and spotless white sands are among its many appeals.
Broken Beach is an incredible natural formation featuring a natural archway and turquoise waters. The island's unspoiled beauty and unique geological features make Nusa Penida Island an essential destination for outdoors enthusiasts and adventure seekers.
6. Lake Beratan Bedugul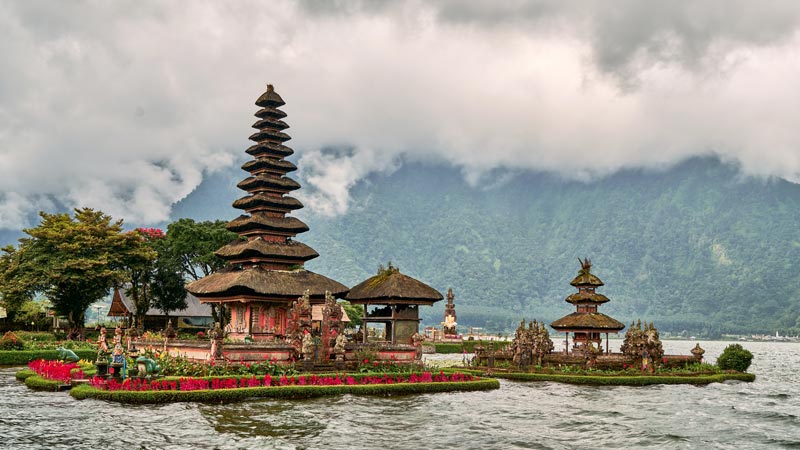 Nestled in the highlands of central Bali, Lake Beratan is a peaceful, panoramic destination that features one of the island's most iconic landmarks – the Ulun Danu Beratan Temple. This sacred Hindu temple complex floats gracefully on the lake's tranquil waters, forming a fascinating sight.
The temple's outstanding architectural arrangement and breathtaking location amidst the peaceful lake and surrounding mountains make it a must-visit attraction for travelers pursuing to experience Bali's natural and cultural marvels.
7. Besakih Temple
For tourists seeking a cultural adventure in Bali, the must-visit Besakih Temple is their holiday destination. Also, the Besakih temple is the island's most extensive and influential Hindu holy site. The sacred place is often called the 'Mother Temple' by international tourists. Furthermore, Besakih temple is a spiritual epicenter for Bali's Hindu population.
This holy complex, set on the slopes of Mount Agung and consisting of several temples, offers stunning scenic sights of the surrounding landscape. Its historical and cultural importance, combined with its panoramic surroundings, makes Besakih Temple an essential destination for travelers exploring the rich heritage of Bali.
8. Penglipuran Village
Penglipuran Village is a traditional Balinese village located in central Bali near Kintamani. Furthermore, Penglipuran is a must-visit destination for tourists desiring to experience authentic Balinese culture during their holiday. Moreover, the village is famous as a tourist destination for its well-preserved culture, fascinating architecture, and spotless area, well-maintained surroundings.
Walking through the village, you'll acquire insights into local customs, witness traditional Balinese homes, and appreciate the balanced way of life preserved for years. Visiting Penglipuran Village is an excellent opportunity to engage in Bali's rich cultural heritage while enjoying the peaceful atmosphere of this beautiful destination.
9. Jatiluwih Rice Terrace
Jatiluwih Rice Terrace is a must-see destination for tourists visiting Bali for a holiday, showcasing the island's stunning natural beauty and traditional agricultural practices. Acknowledged as a UNESCO World Heritage site, these expansive and picturesque terraced rice fields span lush green landscapes, providing breathtaking, genuinely unforgettable views.
As you wander the terraces, you'll witness the intricate and labor-intensive Subak irrigation system Balinese farmers have used for centuries. A visit to Jatiluwih Rice Terrace offers a visual feast of verdant scenery and provides a unique insight into Bali's rich cultural heritage and connection to its agricultural roots.
10. Lempuyang Temple
Lempuyang Temple is one of the island's most sacred and respected temples, located in East Bali. It is an essential destination for tourists pursuing spiritual and cultural knowledge during their vacation. Furthermore, the Balinese holy site is perched on a hilltop, and this ancient Hindu temple complex shows beautiful views of Mount Agung. This active volcano dominates the surrounding landscape.
The iconic "Gate of Heaven," the temple's most popular attraction, is a photogenic spot that captures the majestic temple gateway with the backdrop of Mount Agung, creating a breathtaking and unforgettable scene. Visiting Lempuyang Temple is a chance to explore Bali's rich heritage, engage in the island's astonishing natural beauty, and capture holiday memories that will last a lifetime.
Plan Your Ideal Bali Vacation: Accommodation, Timing, Cuisine, and Itinerary
A. Choosing the Best Area to Stay
Besides exploring exciting places, choosing the best area to stay in Bali will improve the quality of your vacation. In addition, it allows you to enjoy the island's beauty optimally.
B. Timing Your Visit to Bali
Selecting a suitable time to visit Bali is the key to the success of your vacation. To discover the best time to visit this island, don't hesitate to read the best time to visit Bali. It's a travel planning guide & reference that will assist you in designing the perfect journey according to your needs.
C. Savor Balinese Cuisine
Apart from visiting exciting places, take advantage of the opportunity to sample Balinese culinary delights that must be tried. For sure will spoil your taste buds and make your vacation even more complete.
D. Plan Your Itinerary
Suppose you want to plan further travel and seek inspiration. You can see a 10-day Bali itinerary with an example of a tour itinerary. The itinerary includes various attractive destinations and optimal travel itineraries.
How to Book Car Rental and Driver Services in Bali
You can order a car rental service with us, Wira Tour Bali, to enjoy your vacation effortlessly. For your information, Wira Rafting is a Wira Tour Bali sister company. Therefore, contact our customer service department to arrange a car rental service, including a private driver that caters to your specific needs. Additionally, we offer various vehicles tailored to suit your preferences and vacation transportation budget.
If you want to book a car with a private driver in Bali, call us at +62813-3956-3400 (WhatsApp Ready). We will provide you with the best car and experienced driver based on your need and requirements.
Final Thoughts On Explore Bali Best Destinations With Car Rental and Driver Services
Explore the best places in Bali comfortably and conveniently with car rental and private driver services from Wira Tour Bali. Contact us now and start planning your vacation on the island of the gods with your friends, family, children, or partner!"
Further Reading and Related Articles