The charm of Bali, widely recognized as the Island of the Gods, extends far exceeding its pristine white sandy beaches, such as Nusa Dua Beach or the sacred Tirta Empul temple. This renowned traveler destination is also home to many astonishing natural falls, showing enthusiasts spectacular genuine appeals. If scheduling a vacation in Bali is currently on your mind, and you are very interested in seeing the most beautiful cascades on the island of the gods, this travel guide is what you need. This article will reveal the six most popular waterfalls among travelers visiting Bali.
Bahasa Indonesia, Air Terjun Terbaik di Bali: Petualangan Alam yang Tak Terlupakan.
Attractions in Bali Beyond Beaches
There are many explanations travelers are attracted to visit Bali. Safeness, rich cultural heritage, comprehensive sightseeing facilities, and many unique natural attractions contribute to its appeal.
While the island's beaches are the go-to choice for many, Bali's beauty extends far beyond its coastal regions.
Exploring Bali's Waterfalls and Their Locations
Bali presents a riches of attractions, including its captivating natural waterfalls. Most of these are in the island's northern region, specifically in Buleleng Regency.
If your base is in the southern tourist area of Bali, expect a journey of approximately 3 hours to reach Buleleng. Given the distance, we recommend you book a car hire with a driver. Here is a Bali car rental with a driver's guide. This way, you can rest during your journey to the location of the falls.
Bali's natural cascades are often hidden treasures tucked away in secluded areas. Locating these falls involves trekking through dense forests, following winding paths, and crossing rivers. If you're an adventure travel enthusiast, the thrill of uncovering these waterfalls amidst natural obstacles will surely be a remarkable highlight of your holiday.
Discover the 6 Must-Visit Waterfalls of Bali
Here, we reveal a list of six captivating cascades in Bali that should feature on every traveler's itinerary. For more detailed information about each waterfall, kindly navigate to the additional pages of this site.
Simply click on the link for each fall to access comprehensive details such as location maps, entrance fees, and what makes these natural traveler destinations so appealing.
1. Gitgit Waterfall Buleleng
One of Bali's most well-known natural attractions, Gitgit Waterfall, is easily accessible due to its strategic location. Situated a mere 11 kilometers from Singaraja, the capital of Buleleng Regency, it's conveniently close to the main highway connecting Buleleng to Bedugul. This falls remarkably visitor-friendly.
If you're embarking from the tourist area of Kuta Beach, anticipate a travel time of around 2 hours 30 minutes, covering a distance of roughly 76 kilometers (47 miles).
Its easy access makes Gitgit Waterfall one of Bali's most famous cascade destinations. This falls has an impressive natural appeal and plunges from up to 35 meters (115 feet). A canopy of lush green trees surrounds it, enhancing its stunning natural panorama. For a holiday guide to Gitgit Waterfall, please follow the link.
2. Munduk Waterfall
Melanting & Munduk Waterfalls are two hidden gems offering a fantastic natural tourism adventure. Munduk Waterfall is the more frequently visited by travelers of the two, given its proximity to the main road.
To reach Munduk Waterfall, visitors must traverse about 300 meters from the main road along a pathway covered in natural beauty. This cascade is about 15 meters tall (49 feet), and nearby eateries provide ideal rest areas.
To visit Melanting Waterfall required a slightly longer journey of about 1 kilometer (0.6 miles) from Munduk Waterfall. Please follow the link for a holiday guide and travel tips for Munduk Waterfall.
3. Yeh Mampeh Les Waterfall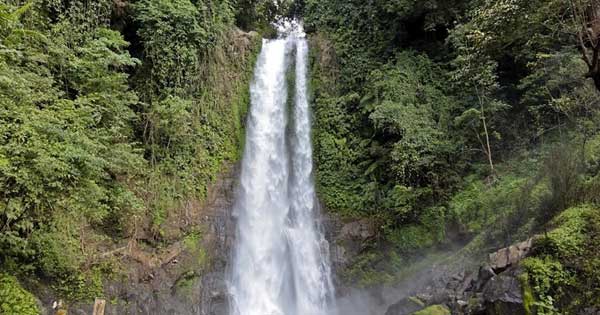 Yeh Mampeh Waterfall, translating to English, means 'flying water' and is located in Les Village, Tejakula District, Buleleng Regency – a genuinely stunning tourist destination similar to east Bali.
If you're seeking towering falls in Bali beside Sekumpul, Yeh Mampeh should be on your list. With a peak reaching up to 30 meters (98 feet), Yeh Mampeh waterfall presents spectacular natural panoramas. It's a hidden treasure waiting to be uncovered.
Accessing Yeh Mampeh Waterfall can be a bit of a challenge due to its secluded location. Therefore, we recommend that visitors utilize the services of a local tour guide.
Moreover, equip yourself appropriately, including comfortable trekking shoes and a camera to capture the striking natural beauty. Checking the Bali weather forecast before visiting is also recommended, ensuring optimal viewing conditions. Please follow the link for a holiday guide to the Yeh Mampeh waterfall, Les Village.
4. Sekumpul Waterfall Sekumpul Waterfall
Nestled within the village of Sekumpul in Buleleng Regency, Sekumpul Waterfall holds acclaim as one of the most panoramic cascades in Bali. Towering at an impressive height of approximately 80 meters (262 feet), it's the tallest waterfall on the island, making it a noteworthy natural attraction. Sekumpul Waterfall offers a challenging yet rewarding experience for nature and trekking enthusiasts.
To fully appreciate the allure of Sekumpul Waterfall, visitors must prepare for a trekking adventure along footpaths, slippery rocks, and river crossings.
Given its somewhat remote location, I suggest employing the services of a local guide to ensure a safe journey to the falls. These guides will prevent you from losing your way and direct you along the best routes.
Wear comfy trekking shoes and carry water, snacks, and a camera to catch the spectacular scenery. Also, remember to inspect the weather forecast before your visit, and always respect nature by leaving no litter behind. Please follow this link for a holiday guide to Sekumpul Waterfall in Bali.
5. Tegenungan Waterfall
Tegenungan Waterfall, located in Kemenuh Village, Sukawati District, Gianyar Regency, is a remarkable tourist destination in Bali besides Lempuyang Temple. Unlike other cascades in North Bali's highlands, Tegenungan Waterfall offers a unique experience with its strategic location and easy accessibility.
The appeal of Tegenungan Waterfall lies in its proximity to other popular tourist attractions in Gianyar Regency, such as the Sukawati Art Market and Bali Zoo Park. This makes the falls an excellent alternative for sightseers wanting to experience the spectacle of natural cascades without the long journey to North Bali.
As you surround yourself with Tegenungan Waterfall, a tranquil view of the green forest and rapidly flowing natural springs will treat you. Its strategic location establishes Tegenungan Waterfall as a must-visit destination in Bali for first-timers. Please follow the link for a more detailed holiday guide to Tegenungan Waterfall.
6. Nungnung Waterfall
Nungnung Waterfall, one of the hidden treasures in Bali, promises an unforgettable experience for all travelers. Situated in Nungnung Village, 900 meters above sea level, this cascade delivers a stunning natural landscape with clear, swift water.
Nungnung Waterfall stands out for its towering height of 50 meters and the untouched natural beauty that surrounds it. Enveloped by forest and abundant greenery, it's the perfect spot to experience the freshness of Bali's nature.
The journey to Nungnung Waterfall is an adventure in itself. You'll have to navigate around 500 steps before reaching the site, but this falls, breathtaking views make every step and effort worth it.
So, if you're seeking an exciting and unique adventure during your holiday in Bali, don't miss out on Nungnung Waterfall, a spectacular natural tourist attraction in Bali.
How to Travel to and Navigate Waterfall Destinations in Bali
Upon arriving in Bali, transportation becomes a pivotal element in exploring and savoring the splendor of this island of the gods. Amongst the type of transport choices available in Bali, this guide will assist you in determining the optimal way to reach Bali's most enchanting fall destinations. Please follow this link for a comprehensive guide on holiday transportation in Bali.
Tips and Tricks for Visiting Waterfalls in Bali
A. Optimal Visit Times For Cascading Water of Bali
The ideal time for a holiday to visit cascade traveler attractions in Bali is during the dry season, typically from April to October. Although waterfalls may exhibit more robust water flows during the rainy season, accessing it can be challenging and potentially unsafe due to slippery roads and flooding.
Furthermore, visiting during the dry season allows you to partake in other activities around the location of the falls without the concern of sudden rainfall. Plan your holiday to Bali flawlessly! Click here to learn about the best time to visit Bali.
B. Additional Activities Nearby Bali's Natural Falls
Waterfalls in Bali are near other tourist attractions. For instance, Gitgit Waterfall is nearby Lake Beratan and Ulun Danu Beratan Temple.
Close to Munduk and Melanting Waterfalls, you can appreciate stunning views of Buyan and Tamblingan lakes.
Meanwhile, when you visit Tegenungan Waterfall, don't miss the chance to see Bali Safari and Bali Bird Park.
C. Safety Tips During Bali Waterfalls Visits
Your safety is of utmost importance when visiting cascades. Here are some recommendations that you can use:
Avoid swimming alone, particularly in waterfalls with deep pools.
Exercise caution around slippery rocks, especially during the rainy season.
Adhere to signs and instructions. If a sign prohibits swimming, do not attempt to ignore it.
Utilize a local guide. They usually know the best conditions and terrain to reach the falls.
Bring sufficient supplies, including drinking water and snacks.
A list of FAQs on Bali Waterfalls
What is the loveliest waterfall in Bali?
Many consider Sekumpul Waterfall the most beautiful waterfall in Bali, given its scenic surroundings amidst the lush jungle and its unique appearance of seven cascades.
What are the 16 waterfalls in Bali?
There are many waterfalls in Bali. Some of the most popular include Sekumpul Waterfall, Gitgit Waterfall, Tegenungan Waterfall, Nungnung Waterfall, Banyumala Twin Waterfall, Aling-Aling Waterfall, Munduk Waterfall, Melanting Waterfall, Yeh Mampeh Waterfall, Kanto Lampo Waterfall, Tibumana Waterfall, Goa Rang Reng Waterfall, Leke Leke Waterfall, Tukad Cepung Waterfall, Blangsinga Waterfall, and Jembong Waterfall.
Which is the biggest and tallest waterfall in Bali?
Sekumpul Waterfall is one of Bali's most prominent and tallest waterfalls, plunging from approximately 80 meters (262 feet).
What is the most Instagrammable waterfall in Bali?
Many often regard Sekumpul Waterfall as the most Instagrammable waterfall in Bali, thanks to its stunning scenery of multiple cascades set amidst the lush jungle.
Is it safe to swim in waterfalls in Bali?
Generally, it is safe to swim in the waterfalls in Bali. However, taking precautions, such as not swimming alone, is crucial, especially in deep pools. Always adhere to any posted signs or warnings, and consider hiring a local guide to ensure your safety.
Is it secure to swim in falls in Bali during the rainy season?
Swimming in waterfalls during the rainy season is generally less safe due to potentially strong currents and slippery rocks. Always be cautious and check local weather conditions before planning your visit.
Conclusion Of Bali Waterfalls
Beyond offering beautiful beach sceneries, the island of Bali also boasts a range of natural attractions in the form of falls, from the easily accessible Gitgit Waterfall to the slightly more challenging Nungnung Waterfall.
Moreover, each cascade provides a unique experience for tourists. Consider the time of your visit, plan additional activities in the vicinity, and adhere to safety tips to prepare well for exploring the beauty of Bali's cascades.