The island of Bali has multiple compelling traveler destinations, including the Tanah Lot Temple. How about you? Are you preparing a vacation to Bali, and are you interested in seeing the Tanah Lot temple attraction? If so, you most likely have this question! Is Tanah Lot temple worth visiting while on vacation to Bali? Then I can answer yes! There are many exciting and unique things that you can see at Tanah Lot Bali, one of which is the beauty of the Tanah Lot temple sunset.
Bahasa Indonesia, Keindahan Sunset Di Pura Tanah Lot Tabanan.
For that, please continue reading this page because you will discover details on tours to Tanah Lot Temple, such as:
Discover the Beautiful Sunset Views at Tanah Lot Temple – A Premier Bali Destination
Bali island is a travel destination renowned for its natural beauty, friendly locals, distinctive culture, and traditions. These Bali attractions have attracted millions of visitors worldwide to the island.
Furthermore, Visitors can discover many exciting and popular destinations on Bali Island, such as Bedugul, Kintamani, Nusa Penida, and Nusa Lembongan. In addition to these scenic vacation spots, the Tanah Lot Temple retains its position as one of Bali's premier travel destinations and is on the island's southwestern coast.
Tanah Lot Temple, one of Bali's most unique Hindu temple spots, provides visitors with a unique combination of architecture, cultural heritage, history, and stunning natural sceneries. Among the many breathtaking views at Tanah Lot, the fascinating sunset remains a favorite for sightseers.
With all these fascinating attractions in mind, it's no surprise that Tanah Lot Temple is a must-see destination for anyone visiting Bali.
In this article, I'll focus on the fantastic attractiveness and charm of the sunset views at Tanah Lot Temple. Follow the link for a comprehensive guide to visiting the Tanah Lot temple.
Exploring the History and Significance of Tanah Lot Temple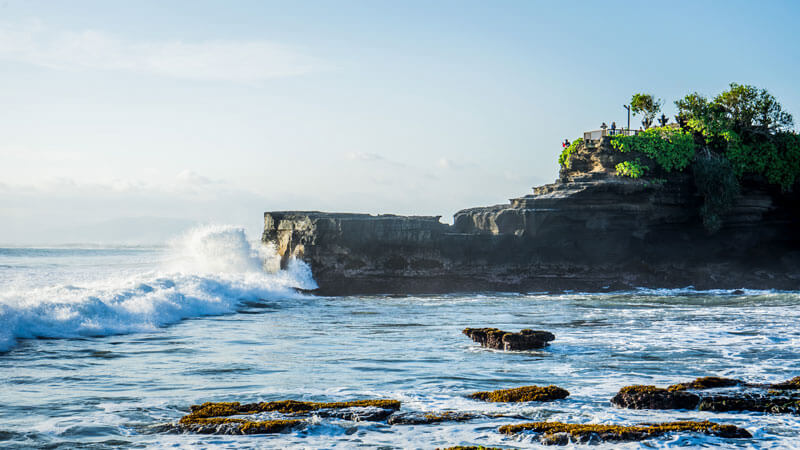 A. Sacred Sanctuary: Tanah Lot is One of the Six Sad Kahyangan Temples
Tanah Lot Temple is an integral part of the Sad Kahyangan Temples, a group of six influential temples for Balinese Hindus that are guardians of the island's spiritual harmony. These Sad Kahyangan Temples are strategically located across the enchanting Island of the Gods.
You may have heard of or visited other Sad Kahyangan temples, such as Besakih Temple, Lempuyang Luhur Temple, and Uluwatu Temple.
As one of the Sad Kahyangan Temples, Tanah Lot Temple is crucial in worshipping the sea god (Varuna), ensuring everyone's safety, prosperity, and well-being.
If you want to know about the short, fascinating history of Tanah Lot Bali, please follow the link provided!
B. The Fascinating Location of Tanah Lot Temple Amidst the Ocean
In addition to the captivating beauty of the Tanah Lot sunset, the temple's unique location in the sea leaves a lasting impression on visitors.
This sacred site is perched upon a large rock formation, surrounded by the Indian Ocean. The temple appears floating in the sea during high tide, creating a unique sight. Also, Tanah Lot Temple serves as a silhouette against a breathtaking sunset backdrop in the evening.
The spectacular sunset views, extraordinary location, and mesmerizing beauty never fail to fascinate visitors.
Tanah Lot is not the only temple found amidst the sea at this sightseer spot; another temple is situated atop a cliff, similar to Uluwatu Temple. Interestingly, this cliff features a hole on both sides, reminiscent of Broken Beach in Nusa Penida. This temple is known as Batu Bolong Tanah Lot Temple.
The Beauty of the Sunset View and Tourist Activities at Tanah Lot Temple
One of the primary causes visitors flock to Bali is the stunning natural beauty, particularly the spectacular sunset views. The primary attraction of the Tanah Lot Temple is the glorious sunset, as the coastal area faces the southwest, making it one of the best places to catch the sunset in Bali.
As the sun sets, the sky turns vibrant and scenic, with the temple's silhouette surrounded by the ocean. The coastal area becomes crowded with visitors, all eager to experience this stunning sunset view.
Even if travelers have previously visited Tanah Lot Temple, they are always keen to return during their next Bali vacation. Therefore, witnessing the beauty of the Tanah Lot sunset is a must-do activity for most Bali tourists.
Rules & Etiquette for Visiting Tanah Lot Temple
A. Dress Modestly
Although there are no specific dress code requirements when visiting Tanah Lot, it is highly recommended that visitors dress modestly. Nevertheless, wearing traditional attire is mandatory for visitors who want to pray and enter the sacred areas.
When visiting the Tanah Lot Temple, it is essential to dress modestly out of respect for the sacred area. Both male and female sightseers are expected to wear shirts covering their shoulders. Although not required, wearing a sarong and a sash is always acceptable.
I have previously written about the dress code for visiting temples in Bali. If you want more detailed information about temple attire, please read it by clicking the link!
Follow the Instructions of Tour Guides or Temple Guards
When exploring the temple area, adhere to the guidance of tour guides or temple guards. Please note that the Tanah Lot is a coastal region with high waves and cliffs. Always pay attention to the signs and instructions at the tourist site for your safety and comfort.
Opening Hours
Tanah Lot Temple is open daily for visitors who want to explore and enjoy their vacation from 6:00 AM to 7:00 PM. During these hours, sightseers can explore the area, take in the views, capture photos, and watch the traditional Kecak Dance at Tanah Lot.
Additionally, each visitor must pay an entrance fee. For the latest prices, please check the updated entrance fees for Tanah Lot Temple here.
Address & Map of Tanah Lot
Tanah Lot Temple is located in the Tabanan Regency of Bali, precisely in Beraban village, Kediri sub-district. To help you find the location of Tanah Lot, please use Google Maps by clicking this link: Tanah Lot Temple Location on Google Maps.
Experience the Sunset at Tanah Lot Temple: Best Time and Tips for Your Visit
When is the best time to visit Tanah Lot Temple?
Most tourists visit Tanah Lot to witness the stunning sunset. Therefore, the best time to visit is before sunset. The evening at Tanah Lot Temple typically occurs between 5:30 PM and 6:30 PM, depending on the sun's position.
To know the exact sunset time, please click this link: Sunset Time in Bali. Most visitors arrive at Tanah Lot about an hour before sunset and leave after it ends.
Transportation to Experience the Beauty of Tanah Lot Sunset
There are various transportation choices to reach Tanah Lot Temple, such as:
Utilizing private vehicles, either a motorbike or car. We also offer car rental services, with options for renting a car with or without a driver. For more information about renting a car in Bali with a driver, read the guide here: Bali Car Rental with Driver Guide.
Taxis and public transportation. Visitors rarely use these options but can be considered for getting to Tanah Lot Temple.
For more detailed information about transportation choices in Bali, please click the link.
If you want to see a sample travel itinerary, you can check it here: Tanah Lot Temple Bali Vacation Itinerary Example.
How Far is Tanah Lot Temple from Seminyak?
The traveling area of Seminyak in Bali is vast, so I will use Petitenget Beach in Seminyak as a reference point. From Petitenget Beach, Tanah Lot Temple is about 18 kilometers (11 miles) away, with an estimated travel time of 50 minutes.
If you start from Kuta Beach in Bali, the distance to Tanah Lot Temple is approximately 22 kilometers (13.7 miles). However, due to traffic congestion on the way to Tanah Lot, the travel time may take around 1 hour and 10 minutes from Kuta Beach.