Firstly, many newlywed couples choose a honeymoon vacation to the island of Bali, both from Indonesia or couples from abroad. Since you found this page, you will likely be interested in a honeymoon in Ubud, Bali, before you decide to have an unforgettable Ubud couple's retreat. Finding a list of 10 romantic things to do in Ubud that newlyweds favor is essential. Above all, the 10 honeymoon destinations in Ubud you see on this page are about romantic activities in Ubud and attractions that honeymoon couples visit. So it's not about honeymoon accommodation destinations in Ubud.
Bahasa Indonesia 10 Hal Romantis Yang Dapat Dilakukan Di Ubud Saat Bulan Madu.
Besides 10 romantic things to do in Ubud that newlyweds like you will also find information on the holiday guide to Ubud, such as;
These might be what you are looking for; How do I plan a 7 days Honeymoon trip to Bali?
Ubud Tourism Attraction
Furthermore, Ubud has become one of Bali's most famous tourist attractions, competing with popular destinations like Kuta, Seminyak, Canggu, Jimbaran, and Nusa Dua. Also, almost every day, Ubud is crowded with international and domestic tourists making it a must-visit destination in Bali.
So, what makes Ubud so attractive to tourists? Is Ubud suitable for a honeymoon destination? Each traveler may have different reasons for choosing a vacation to Ubud, but in general, the appeal of Ubud lies in the following:
Art and culture: Ubud offers daily dance performances and famous painting and sculpture galleries.
Rice fields: Tourists can enjoy the scenic Tegalalang Terrace rice fields.
Temples: There are several Hindu temples in Ubud, such as Taman Saraswati Temple and Goa Gajah Temple.
Facilities: Ubud offers a variety of accommodations, restaurants, spas, and shopping spots.
Discover more about getting married in Ubud Bali here.
How To Get To Ubud From Ngurah Rai Airport
Two main transportation options for getting to Ubud from Bali Ngurah Rai Airport are taxis and private transportation. Also, the best choice will depend on your budget.
Travel time to Ubud from the airport, depending on the Ubud area you are going to and the road traffic. The average time from Ngurah Rai Airport to Ubud is around 1.5 – 2 hours.
Taxis can be found at the exit gate of the arrival terminal. The taxi cost from Ngurah Rai Airport to Ubud depends on your destination. For example, if your hotel is in central Ubud, close to Ubud Palace, the taxi fare will be around IDR 350,000.
Car rental in Bali is available with a driver or self-drive option. Most honeymoon couples opt for car rental services with a driver. For example, renting a Toyota Avanza with a driver, including fuel, costs IDR 600,000 for 12 hours. You get 12 hours; then, you can use the car to get around after arriving at the hotel.
Meanwhile, if you book a honeymoon tour package in Bali, airport shuttle services are usually included in the price.
Learn more about unique hotels in Bali that you should know and try here.
The Best Way to Get Around in the Ubud Area
Furthermore, for a better experience getting around Ubud, it's essential to consider a few things. The Ubud area is vast, with significant distances between each tourist attraction. Thus, knowing the distance from your hotel to the places you want to visit in Ubud is crucial.
Plan to explore central Ubud, such as Ubud Palace (Puri Saren), Saraswati Temple, and the Ubud Art Market. You also can take a taxi from your hotel to the central area. Be mindful of the distance from your hotel to central Ubud. Once there, you can easily walk around.
Meanwhile, finding car parking in central Ubud can be challenging, and roadside parking is not allowed. Therefore, most honeymooners in Ubud choose car rental services with a driver.
Finding Car Rental Services with Drivers in Ubud
Additionally, the best way to find car rental services with drivers in Ubud is by using Google. You'll find numerous Bali car hire providers with drivers on the search results page.
Also, the price of renting a car with a driver in Ubud depends on your car type. For example:
Toyota Avanza rental price with driver + fuel in Ubud: IDR 600,000 / 12 hours.
Toyota Innova rental price with a driver, including fuel in Ubud: IDR 900,000 / 12 hours.
Please note that online taxi services like Grab or Uber are unavailable in Ubud due to restrictions on picking up passengers in tourist attraction areas.
Read More, "How To Get Around In Bali In Terms Of Transportation" >>>
List of 10 Romantic Things to Do in Ubud
Honeymoon Couples may choose luxury vacations or budget-friendly holidays in Bali. Regardless of your budget, a trip to Ubud is a must if you're on a honeymoon in Bali.
In Ubud, you'll find attractions such as rice fields, whitewater rivers with lush forests, and scenic waterfalls.
Here are the most romantic things you can do in Ubud. We gathered information about the top 10 romantic things to do in Ubud that tourists love from our customers who book white water rafting in Bali and Bali marine water sports.
1. Experience Tandem Bali Swing Activities for Couples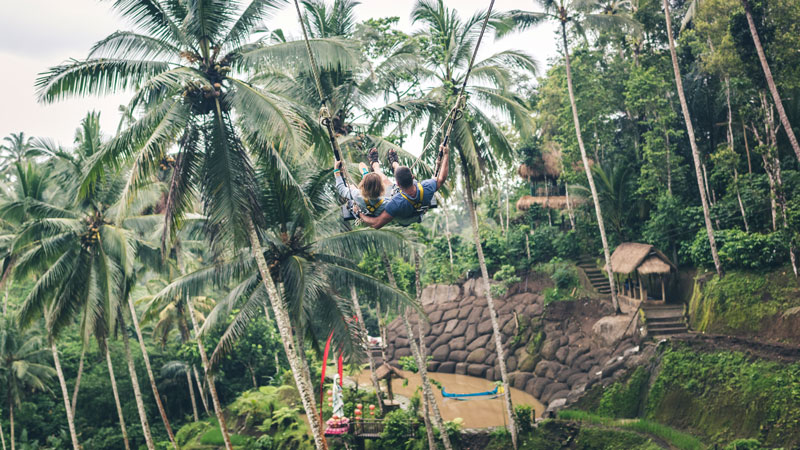 Furthermore, the Bali swing is one of the top 10 romantic things to do in Ubud. Numerous providers offer Bali swing activities in Ubud, one of the most prominent being Bali Swing Bongkasa. In addition to individual swings, Bali Swing Bongkasa also offers tandem swings for couples.
Located above a canyon with a waterfall backdrop, Bali Swing Bongkasa provides breathtaking panoramas of the valley and waterfalls as you swing with your partner. The package price is IDR 500,000 per person, which includes access to seven different types of swings:
Three single swings.
One adrenaline swing.
One single swing bed.
One couple Swing.
For other photo spots besides swings, there are seven nest locations, forest boats, sky-beds, and two large rocks on the edge of the valley with views of the canyon and river waterfalls. The Bali Swing Bongkasa package includes a buffet lunch and drinks (Balinese coffee, tea, and mineral water).
Additional Information
2. Enjoy a Candle Light Dinner on the Banks of the Ayung River in Ubud
A romantic dinner with your loved one is necessary during your honeymoon in Bali. Why not elevate the experience with a candlelit dinner by the river?
Swept Away Restaurant at The Samaya Ubud is a popular choice for honeymoon couples seeking a Candle Light Dinner on the banks of the Ayung River. The most sought-after seating option is Table 19, offering a dining atmosphere surrounded by the Ayung River and hundreds of candles adorned with flowers.
To secure Table 19, be sure to reserve in advance. For pricing and reservations, you can contact the restaurant at +62 361 973 606. Find the location of Swept Away Ubud Restaurant on Google Maps here.
3. Discover Campuhan Ridge Walk
Embark on a scenic walk at Campuhan Ridge during your honeymoon in Ubud. As you stroll along the neatly maintained path, take in the lush green hills and valley views surrounded by trees. Known as the Campuhan Ridge Walk, this activity is free of charge.
To reach Campuhan Hill, ride a motorcycle or ask your rental car driver to wait at the entrance. For a quieter experience, visit at 07:00, as the area tends to get crowded around 16:00.
Campuhan Hill Walk Ubud Google Map.
4. Indulge in a Spa Session in Ubud
A spa treatment is a must-do for honeymooners in Ubud. After a day of exploring and activities, unwind with your partner at one of the many spa providers in the area. Most hotels and villas also offer spa facilities. For recommendations on the best spa providers for honeymooners in Ubud, click the link!
5. Visit Ubud Monkey Forest
Ubud Monkey Forest is an iconic tourist attraction among honeymooners and families. Home to long-tailed grey monkeys, the protected forest area is safe to explore if you stick to the designated pathways and avoid encroaching on the monkeys' territory. Trained staff members are stationed throughout to ensure visitors' safety.
Additional Information
6. Explore Tegalalang Rice Terraces in Ubud
You often see the terraced rice fields pictures when looking for a holiday guide to Bali on Youtube and the website. For your information, there are two best locations to see the terraced rice field in Bali. Namely, Jatiluwih terraced rice fields and Tegalalang Ubud terraced rice fields.
Moreover, visiting Tegalalang Rice Terraces is essential for honeymooners and couples in Ubud. The breathtaking terraced rice fields are set in a valley, and dine at one of the many restaurants overlooking the stunning landscape. For a more immersive experience, venture down the paddy fields and walk along the terraced paths.
Additional Information
7. Experience Ayung River Rafting in Ubud
For adventurous couples, try Ayung River Rafting in Ubud. With various rafting companies catering to different budgets, you can choose from options like Sobek Rafting Ayung River and Mason Adventure. Sobek Ayung Rafting offers a free shuttle service, making transportation hassle-free.
8. Embark on an Elephant Ride at Taro Ubud
In addition, make your Bali honeymoon unforgettable by riding an elephant through the forest with your partner. We recommend Taro Elephant Park Ubud for this unique experience, where you can feed the elephants.
Additional Information
Best time for an elephant ride: Morning.
9. Cycle Around Ubud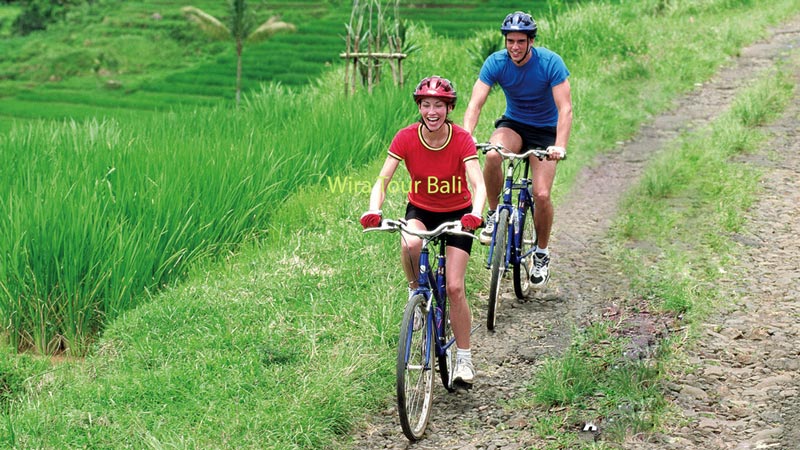 Alternatively, explore Ubud on a bicycle for a romantic and leisurely experience. There are two ways to enjoy cycling in Ubud: join an organized Ubud cycling tour or rent a bike and choose your route. To find a bicycle rental service, ask your hotel staff for recommendations.
10. Enjoy a Romantic Picnic Lunch on a boat
Lastly, round off your romantic activities in Ubud with a picnic lunch on a boat. Sail along a lagoon amidst a tropical garden for a unique dining experience.
Additional Information
Conclusion:
In summary, Ubud offers many romantic activities for couples looking to create memorable memories on their honeymoon or romantic getaway.
From exploring the stunning Campuhan Ridge Walk and relaxing with a luxurious spa session to sharing thrilling experiences like Ayung River Rafting and enjoying a candlelight dinner by the Ayung River, Ubud has something for every couple.
Don't miss the opportunity to make your trip to Bali even more special by indulging in these 10 romantic activities that showcase the beauty and charm of Ubud.
Now that you've found these 10 romantic things to do in Ubud, I love hearing about your favorite experiences or suggestions. Share your opinions in the comments beneath.
Read More, What can you do in Ubud for free?